Cooler Master had been pretty silent since Computex 2017, with a few announcements here and there. As CES2018 is here, Cooler Master announces a bunch of new products ranging from cases, peripherals, power supplies, and also coolers.
One notable change in the current lineup of Cooler Master products is the illuminated outline of the Cooler Master's distinctive logo shape instead of the words themselves. That's interesting.
There are a total of 22 products (yes, 22) announced in CES2018, so let's go over them one by one.
Cases
MasterBox MB500
The all-new MasterBox MB500 takes on an interesting geometry for the front bezel, as it reminds me of spartan helmets since it does not cover the mouth area. With that said, the MasterBox MB500 is a mid-tower case that can install up to 3x 120mm or 2x 140mm fans at the front, 2x 120mm fans at the top, and 1x 120mm fan at the rear.
The MasterBox MB500 can support up to a 360mm radiator, 400mm long graphics card, 160mm tall CPU coolers, and 180mm long power supplies.
It comes pre-installed with 2x 120mm fans at the front and 1x 120mm fan at the rear. All these are RGB fans, and Cooler Master is kind enough to include a 1-to-3 RGB splitter cable, too.
Looking at the innards of the Masterbox MB500, it's actually pretty similar to the MasterBox Lite 5 that we did a showcase build here and the MasterBox MB600L that we reviewed here. Essentially, it seems like Cooler Master tweaked the existing chassis, changed the front bezel, and included a 4mm edge-to-edge tempered glass side panel instead.
MasterBox Q-series
The MasterBox Q-series is something new from Cooler Master that we have not seen before. It's an mATX case that has modular aspects that does not compromise its thermal performance.
The MasterBox Q300L is surprisingly good-looking with the patterned dust filter at the front that looks like orthogonal 3D cubes laid throughout the entire front bezel.
For both MasterBox Q-series cases, the I/O panel is placed at the side panel, and can be relocated to be at the top, front, or bottom of the case. There's also an option to mount it behind the motherboard tray too, if you wish to do so.
As for the MasterBox Q300P, it looks like an mATX version of the COSMOS C700P. It even has the handles and a very similar overall geometry. Comes with DarkMirror front panel too.
The MasterBox Q300L and Q300P can mount up to 2x 120mm or 140mm fans at the front, 2x 120mm at the top, 1x 120mm at the rear, and another 120mm at the bottom. The MasterBox Q300L has a single 120mm fan pre-installed at the rear. The MasterBox Q300L but comes pre-installed with 2x 120mm RGB fans at the front and one 1x 120mm non-RGB fan at the rear.
MasterCase H500P Mesh White
Cooler Master has finally heard of many HAF series lovers' common complaint – the closed-off front intake. How does Cooler Master circumvent this whole debacle? By releasing the H500P with a total whiteout throughout the entire case – including the fans' frames.
The new MasterCase H500P Mesh White, as the name implies, comes with a mesh front and a total white finish throughout the internals of the case. The main focus here is the meshed front intake, as there are countless complaints of how the front panel is choking the two 200mm fans at the front and preventing proper cooling performance.
Everything else is the same as the original H500P.
MasterCase MC-series
The current MasterCase has been remastered, and Cooler Master is touting a brand new standard for internal and external case modularity. It's improved based on Cooler Master's community feedback.
The new frame allows the partition palte and M-Port to be removed or reallocated. Both the MasterCase MC500M and MC500Mt comes with an RGB partition plate out of the box. This RGB partition plate is also available for sale as an accessory so users can upgrade the standard steel partition plate to the new, flashy RGB version.
The MasterCase MC-series comes pre-installed with 2x 140mm fan at the front and a 140mm at the rear. It supports up to 3x 120mm/140mm fans or up to 360mm radiator at the front, 1x 120mm/140mm fan or radiator at the rear, and 2x 120mm fans or 240mm radiator at the top.
Stryker SE & Trooper SE Refresh
This feels like a throwback to 6-7 years ago as Cooler Master is bringing back the Stryker and Trooper with the SE postfix, signifying its refresh.
Externally, they're both identical to its old self, but changed dramatically in the inside. It now has a tinted edge-to-edge light-grey tinted glass side panel, 4x SSD mounts in vertical position for you to show off, and two additional PCI slots for vertical graphics card mounting.
Perhaps the most useful feature, the X-Dock, is returning to both the Stryker SE and Trooper SE. The X-Dock is a 2.5-inch hot-swappable bay, so you may just pop in and out any 2.5-inch drives without opening the case. It's a boon for those who are always swapping disks. Though, I find it weird that Cooler Master still retains the eSATA cutout on both the Stryker SE and Trooper SE.
Another notable difference here is the removal of the CM Storm branding, since it no longer exists.
Peripherals
Cooler Master is announcing a new series of peripherals under the name M800 gaming series. It consists of two keybords – MK850 and MK851, MH850 headset, MM830 mouse, and MP860 RGB dual-sided mousepad. This series of products have combined features such as Aimpad technology, hidden D-Pad, Focus FX, and precision wheel what works across the series of products.
Cooler Master will initiate a beta testing program, where users can sign up for a test run and provide feedback for all of these M800 gaming series peripherals.
Keyboards
The brand new MK851 keyboards have what Cooler Master is calling it the Aimpad technology. If it does ring a bell or two by looking at the name itself, then you might be right. It's actually a cluster of 8 analog keys, including WASD.
Analog keys are pressure sensitive buttons that can give you the granular control instead of a hard on/off on traditional keyboards. For example, these analog keys can let you control how much to step on the brakes or gas pedal on a racing game.
Due to the pressure sensitive nature of the Aimpad technology, the MK851 is only available in Cherry MX Red switches. The MK850 does not have Aimpad technology, so it wil be offered in both blue or brown Cherry MX switches.
Both these keyboards have a cobalt aluminium top plate, dedicated multimedia keys, wrist rest, and two precision wheels that work in tandem with the rest of the series.
Mouse
The brand new MM830 comes with one feature in particular – hidden D-pad buttons on the thumb rest. These buttons are low-profile and integrated into the thumb rest area itself, so you can press them without lifting the thumb.
There's also a tiny 96px*94px OLED screen at the side for customization. The MM830 comes equipped with the top-tier Pixart 3360 sensor and up to 24,000 DPI capability.
Headset
The MH850 headset comes with a virtual 7.1 surround and has Focus FX technology. Focus FX isolates the mid and high tones so you can listen to quietest footsteps without any issue. Turning off Focus FX instantly enhances bass, providing an immersive gaming atmosphere.
As it's already 2018, the MH850 is equipped with cloth and leather ear pads for comfort, controls on the earcup itself, and also a detachable USB-C and 3.5mm cables. To further improve the user experience, the MH850 comes with a removable flexible boom microphone, precision wheel, complete RGB customization, and a fold-flat design.
Mousepad
Interestingly, the MP860 is a dual-service mousepad. One on side, it's meant for speedy movement. On the flipside, it's meant for greater precision. It's a hard mat mousepad, so it'll be easy to clean.
Power supply
Cooler Master just announced the MasterWatt V and the MasterWatt Maker with Cooler Master Connect v2.0 power supplies. The MasterWatt V series adds a new line of high quality, gold rated power supplies to Cooler Master's PSU library, while the MasterWatt Maker with Cooler Master Connect v2.0 has superior performance.
MasterWatt V Series
The brand new MasterWatt V series will be available in 550W, 650W, and 750W models, and are fully modular. It comes with 16AWG PCIe cables and EPS connectors for better efficiency. Also, the MasterWatt V series is 80 PLUS Gold rated.
Cooler Master is confident that the new MasterWatt V series is superior, as it has a 10-year warranty. It claims to maintain smooth and safe operation even at a maximum operating temperature of 50℃ while being cooled by its 135mm FDB fan.
MasterWatt Maker with Cooler Master Connect v2.0
The new MasterWatt Maker with Cooler Master Connect v2.0 is an 80 PLUS Titanium rated power supply that's encased in an aluminium frame, and promises an efficiency of 94%. With 3D circuit design, the number of components within the PSU is greatly reduced, hence improving airflow and reducing temperatures. It will be available in 1200W and 1500W options.
As for the Cooler Master Connect v2.0, one of the biggest improvements is the incorporation of Overlay.live. It's a new application that was created through cooperative efforts by Cooler Master, independent app developers, and extreme overclockers, like the world renowned Wizerty, of France. This application allows users to monitor their power supply's performance in real time, digitally, and store the data in the cloud. In addition, the data can be used as an overlay during live streams. Overlay.live's low resource usage allows users to monitor their system without the software hindering performance.
As part of the cooperation for this project, Wizerty will be presenting this software at various events, worldwide, throughout 2018. In Addition, Cooler Master's own MasterPlus+ integrated solution enables users to monitor several MasterWatt Maker with Cooler Master Connect v2.0 PSUs, simultaneously. This new suite of tools also allows users to monitor the performance of every Cooler Master product connected to a system in real time without hardware. Users will also be able to access their data from the cloud, making system management and monitoring a seamless process.
You can even connect to your iOS or Android smartphone to monitor the status, too.
The MasterPlus+ software is available now.
Coolers
MasterAir G100M
This new cooler is a uses the new custom Heat Column technology. With a Heat Column of 46.3mm, Cooler Master claims that the MasterAir G100M to be able to dissipate a TDP of 130W with such a compact design.
Of course, it has an RGB ring and RGB fan too.
MasterAir MA620P/MA621P
Cooler Master did tease an upcoming dual-tower air-cooler on Facebook a few days ago, and it's finally ere! Introducing the MasterAir MA620P and MasterAir MA621P. They're both essentially identical, with the difference being the mounting and size of the base plate.
The MasterAir MA620P supports all of the usual CPUs except AMD Ryzen's Threadripper, whereas the MasterAir MA621P only supports Threadripper's TR4 socket.
Both the MasterAir MA620P and MA621P comes with 6 heatpipes, each with a diameter of 6mm, equipped with dual 120mm fans, and has the dimension of 116×110.1×158.4mm.
MasterLiquid ML120R/ML240R/ML360 RGB TR4
Cooler Master continues to update their MasterLiquid series with more bling, and they now have Cooler Master's latest ARGB feature. More on this later.
The ML120R and ML240R now comes with even brighter RGB lighting on both the CPU block and fans.
The ML360 RGB TR4has been updated to have RGB fans and is made specifically for AMD Threadripper's TR4 socket.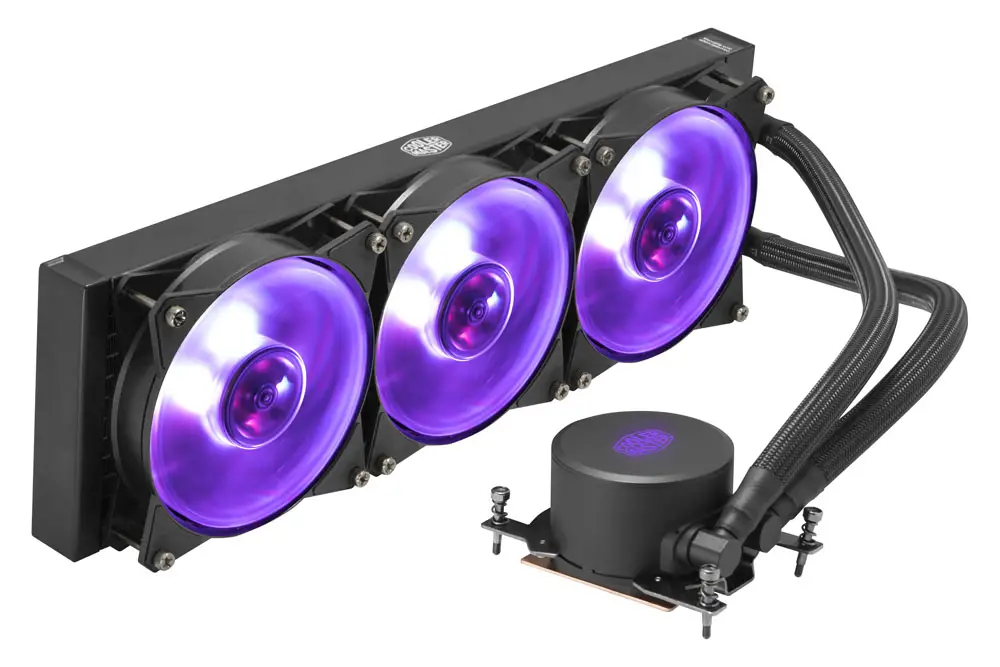 New
Certified Addressable 16.7 Million Color RGB LED with Temperature Detection
Cooler Master introduces addressable RGB LED lighting with temperature detection to liquid and air coolers. The MasterLiquid ML240 SMART and MasterAir MA410M come fully equipped with addressable RGB lighting, RGB controller and are fully certified by ASUS, Gigabyte, MSI, and Asrock. The MasterLiquid ML240 SMART and MasterAir MA410M, not only have stunning 16.7million color RGB customization, but also features a SMART temperature detection that changes the RGB lighting based on the temperature of the CPU.
Other addressable RGB coolers and fans without the temperature detection include:
MasterLiquid ML240R

MasterLiquid ML120R

MasterFan MF120M

MasterFan MF122R 

Addressable RGB.