ASUS today announced its new innovative feature upgrade, the AiMesh for selected ASUS routers. This new feature allows users to easily create a flexible and powerful whole-home Wi-Fi system with the selected routers.
AiMesh overcomes many of the limitations found in alternative off-the-shelf whole-home Wi-Fi systems, such as mesh-networking systems. Although these systems can be convenient all-in-one solutions, they are often only available in fixed bundles, with a limited choice of Wi-Fi speeds, hardware features and upgrade paths. It allow users can create a completely flexible whole-home Wi-Fi system tailored to their needs, while continuing to enjoy all the functions of each individual ASUS router, such as extreme Wi-Fi performance and exclusive advanced networking features. It also offers convenient central management and control via either the ASUS Router mobile app or the ASUS WRT web interface.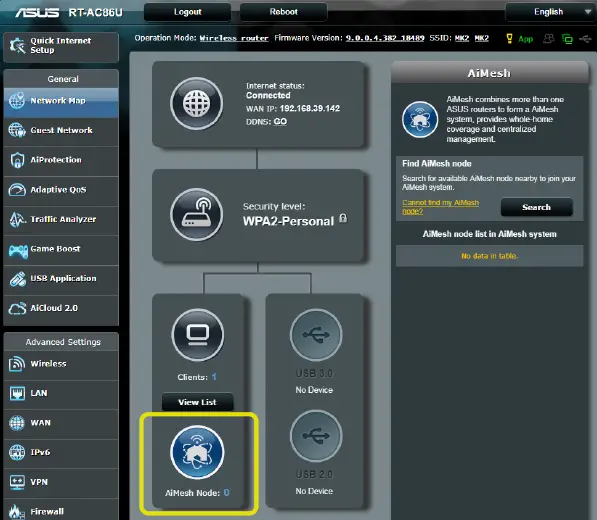 Enabling AiMesh on a compatible ASUS router is easy -and free. A firmware update is all you need to allow the router to be added to any AiMesh network. Users can mix and match models according to their budget or needs with this new feature. The best part is, they can even make good use of their old router when they upgrade.
AiMesh is an unbeatable solution for discerning users looking for the ultimate whole-home Wi-Fi system, adding yet another dimension to the award-winning family of fast and reliable ASUS routers.
Unrivaled Flexibility
Most modular mesh systems are limited to only a single SSID. AiMesh on the other hand, offers seamless roaming with either a single SSID for the entire AiMesh coverage area. It's also capable of separated SSIDs for each frequency band.
Unlike off-the-shelf mesh systems with a fixed feature set, AiMesh is designed to give users unrivaled flexibility. Users can tailor the functions of their whole-home Wi-Fi system to suit their preference and needs. AiMesh-enabled routers retain all their original networking features and capabilities — including ASUS AiProtection, Adaptive QoS, Parental Controls and more — so users have no need to compromise their individual networking preferences. Additionally, the features of the primary router are shared with the entire AiMesh network, regardless of the models used.
The setup and management can be done with ease using intuitive ASUS Router App, or the ASUS WRT web interface from a PC or laptop. All settings and preferences are centrally controlled and synced to all routers in the network.
Full Coverage and Powerful Performance
Off-the-shelf mesh networking systems are often more focused on improving overall coverage than on delivering raw performance. This can be frustrating, especially for those users who demand both full coverage and extreme Wi-Fi speeds.
With AiMesh, users can harness even more the power ASUS' high performance routers to create an unbeatable Wi-Fi system. In actual laboratory tests using the latest dual-band ASUS RT-AC86U router we measured Wi-Fi speeds that were 5.5X faster than a router from a dual-band, tri-hub mesh system.
Availability & Pricing
ASUS AiMesh is a free update for selected ASUS routers, and is available worldwide.
MODEL
PRICING
AVAILABILITY
RT-AC68U
RM 1,049
Click here for more information on the firmware upgrade.
RT-AC86U
RM 1,569
RT-AC88U
RM 1,829
RT-AC5300
RM 2,299
ROG Rapture GT-AC5300
RM 2,529
ASUS Lyra
RM 1,999