It's been almost a year since AMD launched its B550 motherboards and surprisingly enough, some actually packs a lot more punch than quite a number of the higher-end X570 motherboards despite being positioned below the X570 chipset.
In this test, we'll be putting the BIOSTAR B550GTA to the test and see if it's just as good as the rest of the B550 chipset motherboards we've tested so far. We haven't really tested any BIOSTAR motherboards since the Racing series Z170GT7 and we're really curious to know what kind of performance and features can we expect from the B550GTA.
Specifications
CPU support

AMD AM4 Socket Ryzen 3000 seiries / Ryzen 5000 series processors
Support for future AMD Ryzen processors with BIOS update

Chipset
AMD B550
Memory

3rd Gen AMD Ryzen Processors (Matisse CPUs)

Support for DDR4 4400+(OC) / 4000(OC) / 3800(OC) / 3600(OC) / 3200 / 2933 / 2667 / 2400 / 2133 / 1866

3rd Gen AMD Ryzen with Radeon Graphics Processors (Renoir APUs)

Support for DDR4 4933+(OC) / 4800(OC) / 4600(OC) / 4400(OC) / 4000(OC) / 3800(OC) / 3600(OC) / 3200 / 2933 / 2667 / 2400 / 2133 / 1866

4 x DDR4 DIMM Memory Slot, Max. Supports up to 128 GB Memory
Each DIMM supports non-ECC 8/ 16/ 32 GB DDR4 module

Expansion slots

1 x PCI Slot
1 x PCIe 4.0/ 3.0 x16 Slot (PEX16_1):
Supports x 16 lanes with AMD Ryzen™ 3rd Gen processors. (Matisse only)
Supports x8 lanes AMD Ryzen™ with Radeon Vega Graphics processors. (depended on CPU)
1 x PCIe 3.0 x 16 Slot (PEX16_SB_1): Supports x 4 lanes
3 x PCIe 3.0 x 1 Slot

Storage

6 x SATA III Connector (6Gb/s) : Supports AHCI & RAID 0, 1, 10
2 x M.2 (M Key) Socket:
Supports M.2 Type 2242/ 2260/ 2280 SSD module
Supports PCIe 4.0 x 4 (64Gb/s)/ 3.0 x 4 (32Gb/s) – NVMe/ AHCI SSD
Supports SATA III (6.0Gb/s) SSD

Network

Realtek RTL8125

10/ 100/ 1000/ 2500 Mb/s auto negotiation, Half / Full duplex capability
Supports Realtek 2.5GbE LAN

Other Features

VIVID LED DJ
M.2 Cooling Protection
A.I FAN
Iron Slot Protection
PCI-E M.2 4.0
LED ROCK ZONE

Back I/O Ports

1 x PS/2 Keyboard / Mouse
1 x DVI-D
1 x DP
1 x HDMI
1 x LAN
1 x USB 3.2 (Gen2) Type-C Port
1 x USB 3.2 (Gen2) Type-A Port
4 x USB 3.2 (Gen1) Port
2 x USB 2.0 Port
3 x Audio Jack

Audio

ALC1150

7.1 Channels, High Definition Audio, Hi-Fi(Front)

Internal I/O Ports

6 x SATA III (6.0Gb/s) Connector
2 x USB 2.0 Header (each header supports 2 USB 2.0 ports)
1 x USB 3.2 (Gen1) Header (each header supports 2 USB 3.2 (Gen1) ports)
1 x 8-Pin Power Connector
1 x 24-Pin Power Connector
1 x CPU Fan Connector
1 x CPU water cooling connector (OPT_FAN1)
2 x System Fan Connector
1 x Front Panel Header
1 x Front Audio Header
1 x Clear CMOS Header
1 x S/PDIF out Connector
1 x COM Port Header
2 x LED Header (5V)
1 x LED Header (12V)

Accessories

User´s manual
PC cleaning guide (???)
4 x SATA 6Gb/s cable(s)
1 x Driver and Utility CD
1 x BIOSTAR Sticker

Form factor
ATX Form Factor (305mm x 244mm)
Unboxing
Starting off with the packaging, we can see that BIOSTAR has decided to tone down the RGB design and went on with a simple and cleaner design that actually looks good, in my opinion. There are not many features highlight at the front of the box as most of the information on the features and specifications are printed at the back of the box. Though I am surprised to see that BIOSTAR actually offers a 4-year warranty for the B550GTA.
Other than the extras i.e the BIOSTAR sticker and PC cleaning guide(?), the accessories that come together with the B550GTA are pretty standard for most of the motherboards in the same category: a user's guide, driver and utility CD, and 4 x SATA 6Gb/s cables.
The BIOSTAR Racing B550GTA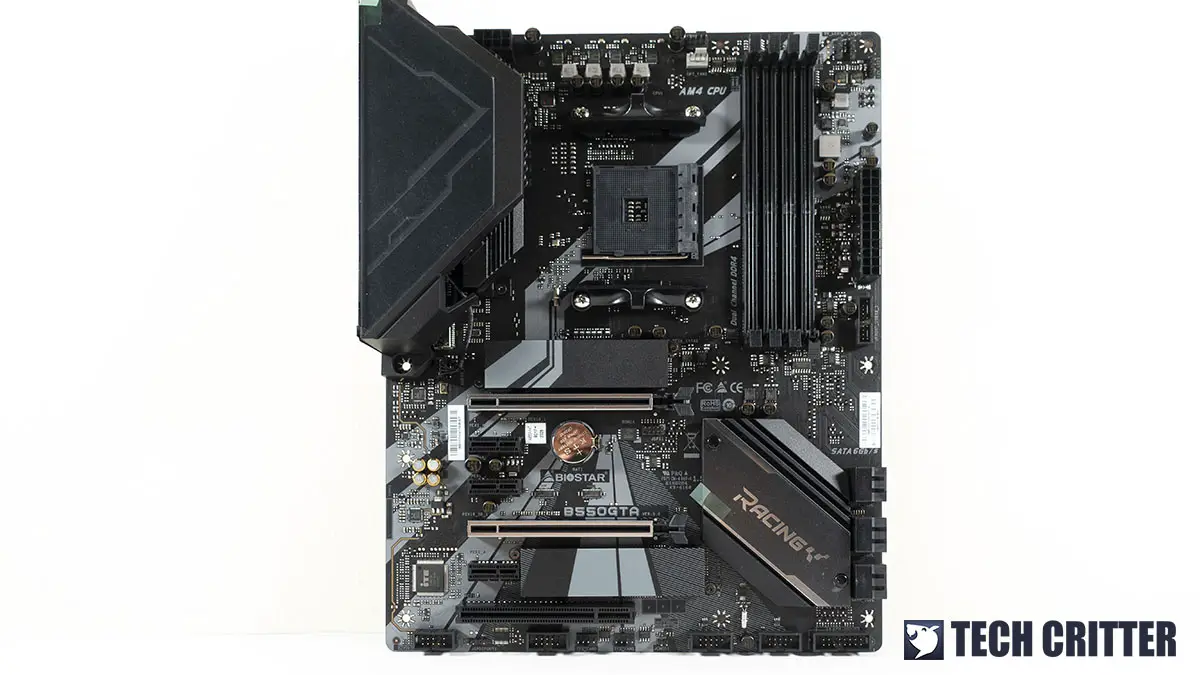 BIOSTAR has ditched the checkered flag-inspired design since the AMD 400 series chipset motherboards and went on with the new line design. The B550GTA has a similar design to that and it's also equipped with a much better-looking heatsink and RGB lightings than its predecessors.
Everything seems fine at first until I take a closer look at the overall layout of the motherboard itself – I didn't expect the B550GTA to not come with any debug LED. It might not be a big deal to some users, but having even a simple debug LED will really help to simplify the troubleshooting process for the users. I do hope BIOSTAR can really consider including the debug LED feature for its upcoming motherboards.
The B550GTA only comes with a single 8-pin EPS12V but since it's made for the mainstream users as BIOSTAR claimed, that's actually more than enough for the majority of users as long as they don't try to do some crazy CPU overclocking on this board.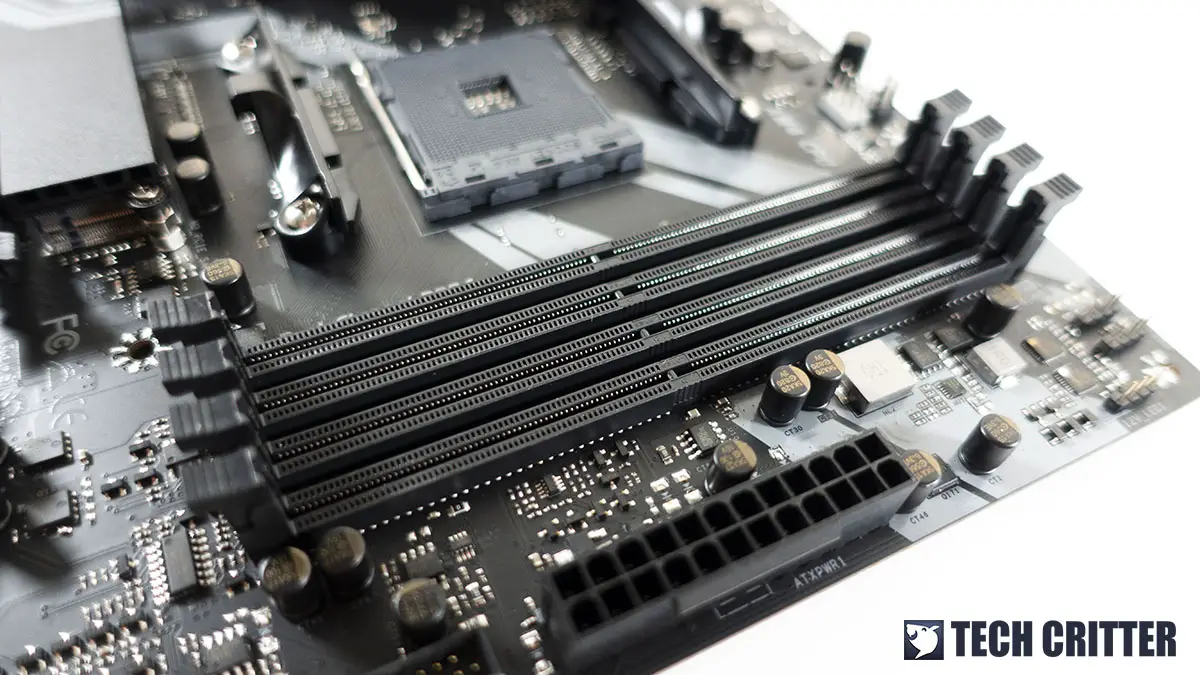 We didn't have much information on the memory layout but looking at the memory specifications which stated the B550GTA can support up to DDR4-4933+, it should be the daisy chain memory layout that has become more common on newer motherboards nowadays.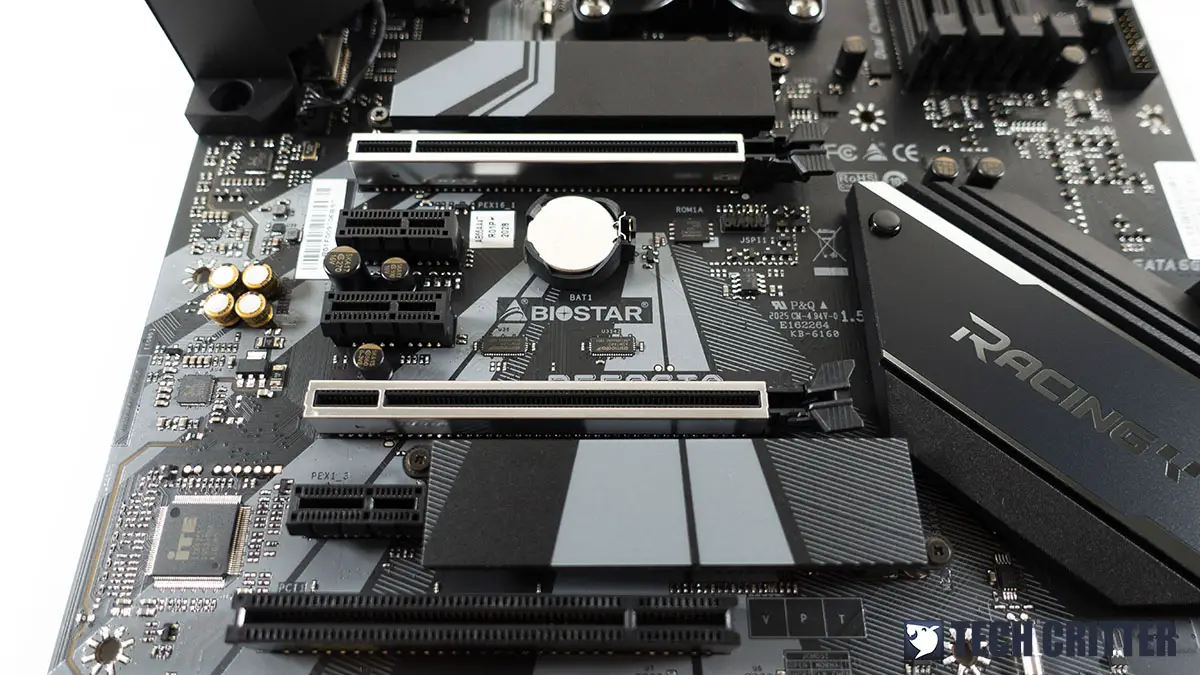 On the expansion slots area, you'll find a total of three PCIe X1 slots, two PCIe X16 slot, and a PCI slot. The first PCIe X16 and M.2 slot will support both PCIe 4.0 and PCIe 3.0 but the remaining second PCIe x16 slot and M.2 slot will only support up to PCIe 3.0. Unless you need a lot of PCIe 4.0 storage for your system, the B550GTA here has more than enough PCIe 4.0 slots for the majority of mainstream users.
Apart from the two M.2 slots, you can also install up to 6 x SATA SSD or HDD on the B550GTA but you will need to get two additional SATA cables for this because BIOSTAR only included 4 pieces of SATA cables in the accessories pack.
The B550GTA also comes with a pair of heatsinks for the M.2 SSDs but the design itself is only suitable for slower SSD i.e M.2 SATA SSD that is unlikely to hit 60ºC load temperature even during load. If you plan to use a high-speed SSD with 3000MB/s+ sequential read and write speed, it's best to stick with the heatsink that comes with the SSD, or maybe a decent 3rd-party heatsink to keep the temperature under control.
As for the VRM and chipset heatsink, it has the aesthetics for sure but it's not exactly the kind of heatsink that does wonders for sure. The actual VRM heatsink is rather small, hidden under the RGB cover. Of course, the heatsink will still keep the temperature under control but it's best to not push it too hard because it's not exactly a board designed for those who like to challenge the limit of their hardware
The power design consists of 6 x ISL99390FRZ (Vcore) and 4 x ISL99390FRZ (SoC) smart power stages, both rated at 90A, an 8-phase RAA229004 PWM controller working in 6+2 phase, and  2 x ISL6617A doublers. Even though it's stated in the official specifications that the B550GTA is equipped with a 10-phase design, the components we're seeing here shows that it's not exactly a true 10-phase because of the use of doublers on the SoC rail.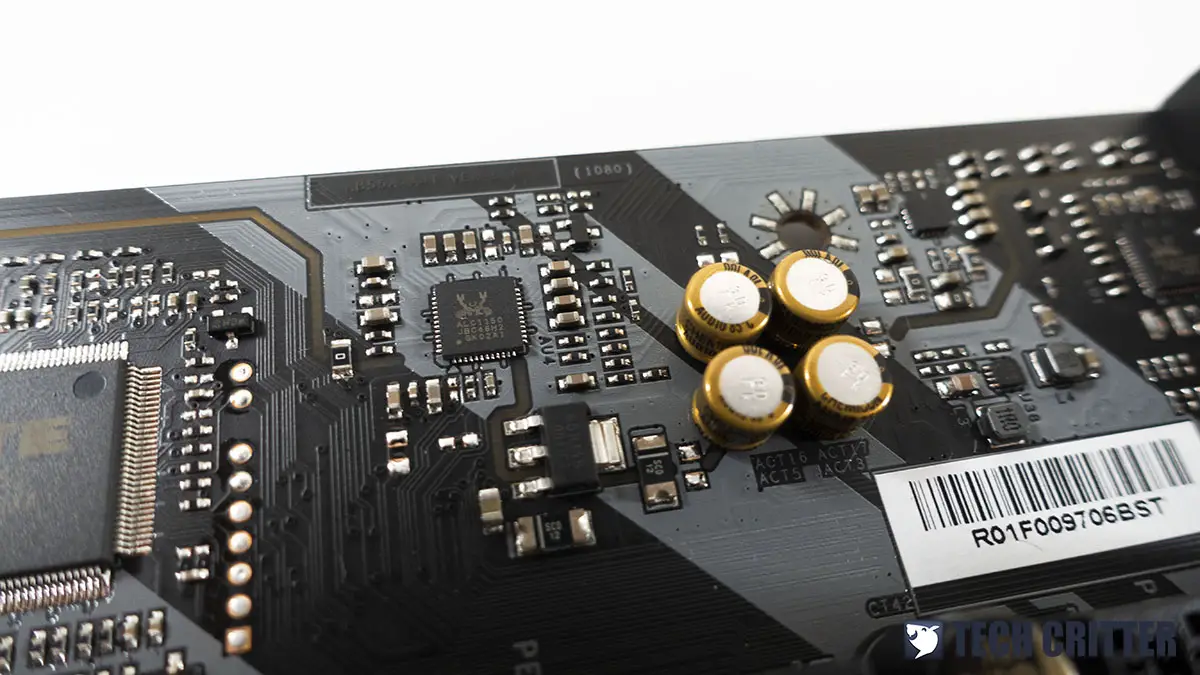 Moving on to the onboard audio, the B550GTA is equipped with a Realtek ALC1150 chipset and audio-grade capacitors from Nippon Chemi-con as its onboard audio solution.
With more and more manufacturers now offers preinstalled rear I/O shields on their motherboards, it's good to see that BIOSTAR is doing the same for their users. For a board that's made for the mainstream users, BIOSTAR equipped the B550GTA with a reasonable amount of USB ports and a number of legacy input and output.
BIOS Layout
Although the EZ mode seems pretty straightforward and easy to deal with, those who have gotten used to the interface on the mainstream motherboard brands i.e ASUS, ASRock, Gigabyte, and MSI which share many similarities might need a while to get familiarized with this. We have yet to see the options available on the higher-end X570 models but some of the options available in the Tweak tab seem to be very limited, especially the DRAM voltage, which only allows you to choose from either 'Auto' or by offset.
Test System
CPU
AMD Ryzen 9 5950
Motherboard
BIOSTAR Racing B550GTA
Memory

G.Skill TridentZ RGB DDR4-3200 CL14 16GB
TEAMGROUP T-Force XTreem ARGB DDR4-3200 CL14 16GB
PNY XLR8 Epic X DDR4-3600 CL18 16GB
KLEVV BOLT XR DDR4-3600 CL18 16GB
XPG Spectrix D60G DDR4-3600 CL 14 16GB
XPG D50 Extreme DDR4-4800 CL19 16GB

Graphics Card
ROG Strix Radeon RX 6800 OC Edition
Power Supply
Cooler Master V1200 Platinum
Primary Storage
Corsair Force Series Gen4 PCIe MP600 2TB
Secondary Storage
WD Black 6TB
CPU Cooler
Cooler Master MasterLiquid ML360R Liquid Cooler
Chassis
Streacom BC1 Open Benchtable
Operating System
Windows 10 64bit version 20H2
CPU Overclocking
CPU overclocking seems fine throughout our tests but we did notice that our Ryzen 9 5950X will need a slightly higher Vcore value to run stable on 4.5GHz. When tested on an MSI MEG X570 GODLIKE, our Ryzen 9 5950X will need at least 1.262V on the Vcore to survive a 1-hour long stress test on RealBench. Using the same Ryzen 9 5950X, the B550GTA require a higher Vcore at 1.27V for the same set of test which we've done on the MSI MEG X570 GODLIKE.
Even when we leave the settings to auto or default, the same Ryzen 9 5950X can only boost up to 4.54GHz at most when it's installed on the B550GTA. On the MSI MEG X570 GODLIKE, we can see the CPU clock gets boosted as much as 4.7GHz when the necessity arises.
| | | |
| --- | --- | --- |
| CPU Bench | MSI X570 GODLIKE (Stock) | BIOSTAR Racing B550GTA (Stock) |
| WPrime 1024M | 36s | 38s |
| SuperPi 32M | 384s | 369s |
| HWBot X265 Benchmark 1080p | 111 | 107 |
| HWBot X265 Benchmark 4K | 28 | 28 |
| Cinebench R15 – Multi-Core | 4349 | 4159 |
| Cinebench R15 – Single-Core | 264 | 250 |
| Cinebench R20 – Multi-Core | 10014 | 9520 |
| Cinebench R20 – Single-Core | 623 | 593 |
| WinRAR Multi-threading | 37840 | 35847 |
| 7-Zip Benchmark Compression | 88686 | 81680 |
| 7-Zip Benchmark Decompression | 203470 | 195471 |
| Corona 1.3 Benchmark | 47s | 50s |
| V-RAY Benchmark 4.10.07 | 290714 | 28748 |
| Blender 2.82 – BMW 2.7 CPU Benchmark | 90s | 93s |
Memory Overclocking
Memory overclocking on the B550GTA is much more difficult than CPU overclocking due to the limited adjustment on the DRAM voltage / Vdimm. Being limited to only 'Auto' and offset mode leaves me with no choice but to experiment with the offset value. As it will not recover itself from memory overclocking failure, and the clear CMOS jumper located under the PCI slot is the only solution to this.
You can definitely overclock your memory kit on the B550GTA but I won't recommend going more than DDR4-4000 as it'll take a lot more time and effort than DDR-3600 if you're not familiar with BIOSTAR's interface. For most gaming purposes, I'd recommend sticking to a decent DDR4-3600 kit, which is more than capable enough to give you a reasonable gaming performance. Just make sure that the kit you're getting is in the memory QVL list of the B550GTA.
Final Thoughts
Feature-wise, despite the limitations and lack of some of the features which enthusiasts might find useful for overclocking, the B550GTA still has plenty to offer to a specific group of mainstream users who prefers to have a decent plug-and-play experience. You can still overclock your system to a certain extent but personally, I wouldn't recommend it to those of you who like to challenge the limit of their hardware because the B550GTA is just simply not designed for that purpose.
For the price of RM 629, I still find it a little difficult to recommend to the bigger mainstream crowd nowadays because of the support for the legacy interface like PS/2 and DVI-D. There are motherboards in the same price segment that offers more USB ports which is more practical for the modern-day mainstream users who need more USB ports than a legacy interface like the DVI-D. Unless you're that specific group of users that are still rocking on a legacy DVI display as determined by BIOSTAR as the mainstream user group when designing the B550GTA, the B550GTA will remain as the option which falls under the 'only get it if you really need it' category.
 Pros
Pre-installed rear I/O shield
A reasonable amount of USB ports for a mainstream motherboard
Support PCIe 4.0
Comes with 2.5GbE LAN
Cons
Limited option for DRAM voltage makes memory overclocking difficult
Troubleshooting system error is rather difficult without the debug LED
Subjective
Support for PS/2 keyboard or mouse
DVI-D can be useful for APU users who still use a monitor with this interface