Okay, so it's been quite some time since we published our benchmark results of the new ROG Zephyrus Duo 15 SE GX551Q. It packs the latest AMD Ryzen 9 5900HX, NVIDIA GeForce RTX 3080 Laptop, 32GB RAM, and double 1TB NVMe SSD in RAID 0. But, at the end of the first benchmark test we did – we said that you should take our test with a grain of salt since we're using pre-released drivers, BIOS, and firmware.
Today, we have new drivers, new BIOS, and many more updates that you will get when you go out and buy this Zephyrus Duo 15 SE GX551Q.
After we published our initial video about the Zephyrus Duo 15 SE, we got a brand new NVIDIA GPU BIOS update through the ASUS Live Update utility. This is something that rarely happens, but ASUS pushed it out as an update – so we updated it. It also claims to have better GPU performance for gaming – so we have more reasons to install it.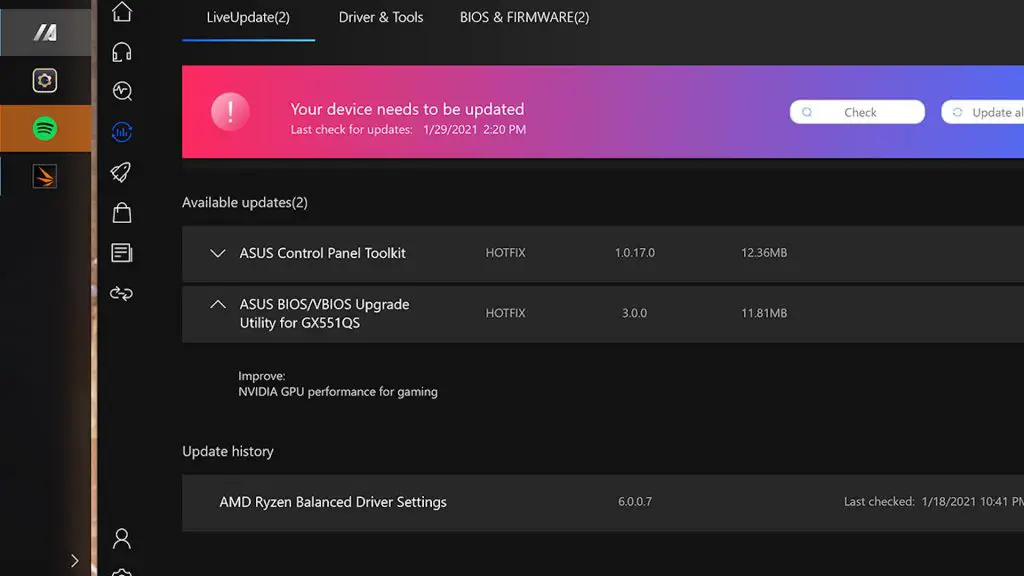 Also, this enabled resizable BAR, which means the CPU can directly access all of the GPU's VRAM. But, as far as I know, there is no way to enable or disable it. But, the only way you can check if resizable BAR is working or not is by going into device manager, head into your GPU, and check the resources tab. If you see there's a resource type called "large memory range", then you have resizable BAR.
Then the motherboard's BIOS. We were originally using BIOS version 400, but ASUS sent us another version of the bios version 401 which fixed some weird quirk that we discovered.
Anyway, let's start with the benchmarks. We added a game, retained all of the same graphical settings as before but tested using 3 different resolutions – at 1080p, 1440p, and 2160p – also known as 4K.
Cyberpunk 2077
First, we start off once again with Cyberpunk 2077. At 1080p resolution with maximum raster graphics with medium ray-tracing and DLSS at balanced – we got about 45 to 58 fps range. The big frame rate discrepancy here is because of how different scenes affect ray-tracing. As we can see at the top right corner, both CPU and GPU are not at 100% utilization.
Then comes 1440p resolution. With the same graphical settings, we managed to get about mostly around 40 to 50fps. Sometimes it drops to about 35fps and we did see it dropped to 33fps – but generally, it's at a very playable refresh rate, honestly.
As for 4K resolution though – it did improve quite a lot. Initially, before doing all the updates, we got about 27fps. Now, we get mostly around 30fps, sometimes dropping down to 27fps but sometimes going up to around 32 or 33fps too.
Cyberpunk 2077 without ray-tracing or DLSS
Then, we disabled ray-tracing and DLSS.
For 1080p, we got mostly at around 60fps. That's good, though sometimes it drops to about 50fps but it's generally still okay.
Then comes 1440p. Depends on how busy the scene is, we saw frame rates ranging from 37 to 48fps.
As for 4K, just don't. It's running at around 22 to 24fps and that's it. This game benefits the most with DLSS at high graphical settings.
GTA V
Okay, enough about Cyberpunk. We move on to GTA V.
Same settings at 1080p, it can go around 60 to high 80fps depending on scene, but it's consistently above 60fps.
Then at 1440p, it goes mostly at around 48 to about 55fps most of the time – and that's about it.
Now, for 4K. In our first test, we got only around 15fps at 4K. Now, after all the updates, we got around 30fps – which is a huge improvement over the pre-update test.
CS:GO
Then comes CS:GO. I know no one plays esports games with the highest graphical settings – but hey, we're here to test a laptop's performance.
At 1080p, we get about 180 to 200fps.
As for 1440p, we get about 165 to 180fps.
On 4K, we have 110 to 125fps and that is still a huge improvement over our initial test.
COD Warzone
Lastly – COD Warzone. At the highest graphical settings with ray-tracing turned on, we jumped into the battle royale.
At 1080p, we have about 110fps – and this nearly hit the limit on CPU, GPU, and VRAM.
As for 1440p, we got about 90fps and I think that's still okay.
Then at 4K, we got mostly at around 60fps – and that's completely playable
Conclusion?
Well, after updating the firmware, BIOS, and drivers – there is a big improvement over the initial test that we did. However, I highly urge every laptop manufacturer to publish the wattage of its respective RTX 30-series Laptop GPUs are running at, so users can get an idea of what they're going to get.
For example, this Zephyrus Duo 15 SE GX551Q is rated at 115W typical, but it can boost up to 130W with Dynamic Boost 2.0. However, some other laptops with the same RTX 3080 Laptop might not be able to get 115W typical – hence having lower performance despite that both laptops are using the same GPU.
Either way, this is our conclusion for the Zephyrus Duo 15 SE GX551Q with its performance.