Having a gaming notebook isn't always the best solution for gamers on the move as some prefers to have all the fun at home and focus on their work when they're outside. Instead of purchasing a gaming notebook, there are a small group of enthusiasts who modified their mobile devices to work with external graphics adaptors so they can enjoy that extra performance boost with any graphics card that they can get their hands on.
While these external graphics adaptor mods are able to breath new life to any notebooks and all-in-one devices with less powerful GPU, not everyone is capable of such feat due to limited knowledge in the parts that they're dealing with.
There are quite a few known brands that provide easier solutions with ready made, plug and play external graphics adaptor for the non-technical users. ASUS is one of the many, with their GeForce 8600GT powered XG Station for this purpose. Of course, we're not going to look at the XG Station in today's review, but instead, the new ASUS ROG XG Station 2 that is capable of supporting the latest NVIDIA GeForce and AMD Radeon graphics cards.
Specifications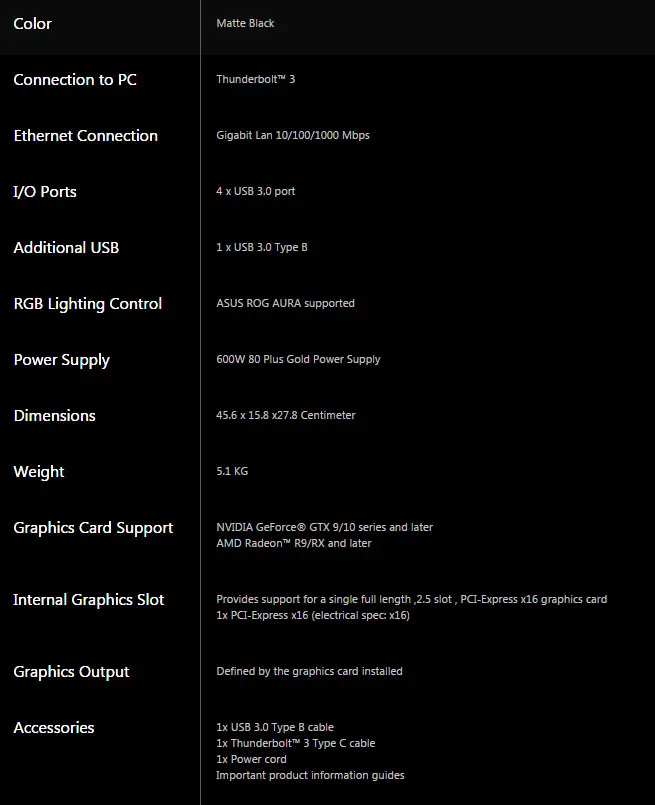 Unboxing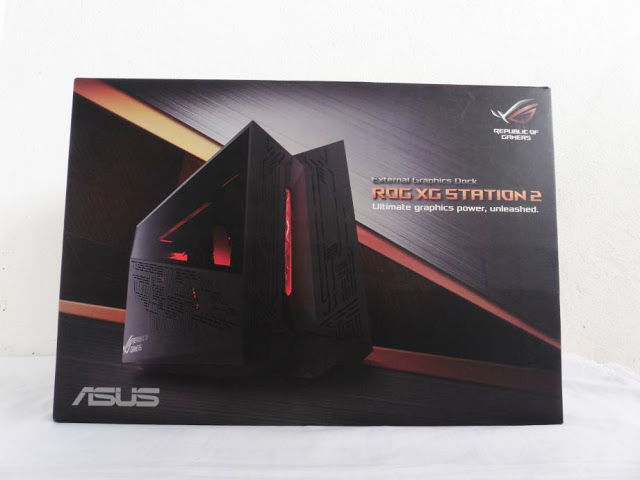 The ROG XG Station 2 ships in a huge box, which really surprised us at first as we weren't expecting for it to be this big. If you're planning on carrying this back from the store, we recommend that you're driving.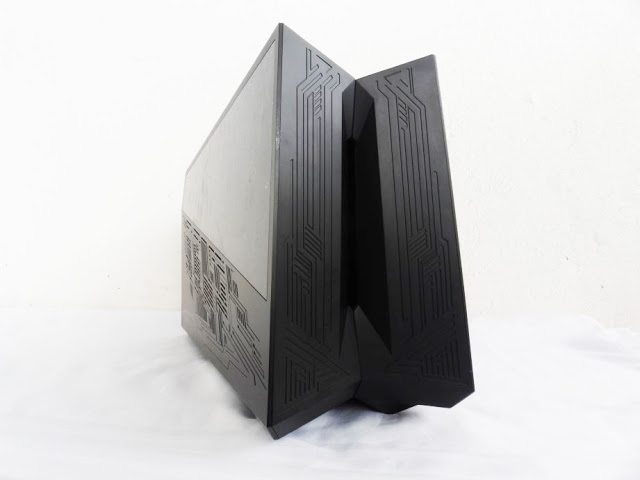 Right out of the box, you'll get the a gorgeous looking ROG XG Station 2 with the usual Mayan-inspired patterns around its enclosure. It's appearance somewhat reminded us of the ROG G20 in a stretched form.
The side view of the ROG XG Station 2. On the left, you'll find a display window that is made for graphics card showcase,  the shroud design in particular. The other side is a opaque side which the 60 PLUS gold 600W power supply resides at.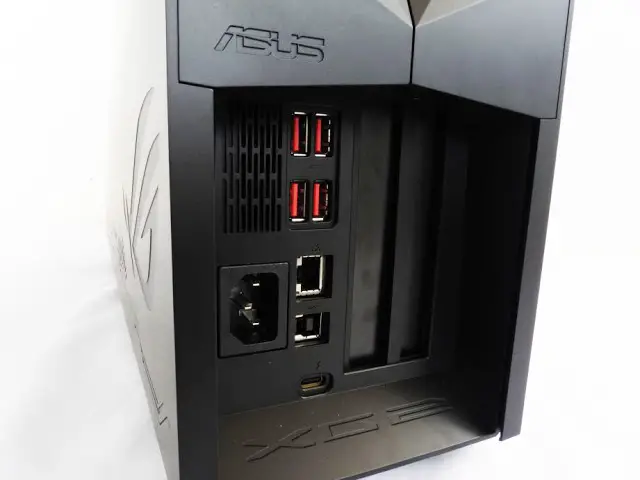 The ROG XG Station 2 can be connected or disconnected from your notebook or PC without having to restart the device. It comes with 4 x USB 3.0 ports and a Gigabit Ethernet port for simultaneous keyboard, mouse, VR headset, monitor, and internet connectivity, providing all the connectivity you need while gaming on it.
How the inside looks like. You'll have an array of LEDs for light show, in case you need that rainbow color cycle as a mood lifter.
Although it has all the fancy features, LEDs etc, the ROG XG Station 2 only allows a single GPU configuration like most of the external graphics card alternative you'll find on the market. Do note that the PCIe slot uses a side push lock design due to the limited space inside the ROG XG Station 2, so removal is a tricky one for first time users.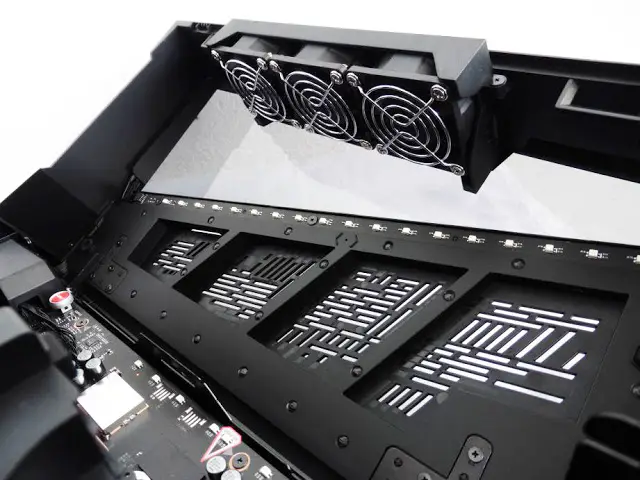 For cooling options, the ROG XG Station 2 features an array of cooling fans located at the inner-top section that draws heat out from the enclosure without making too much noise.
The built-in power supply unit is a 80 Plus Gold 600W from Compuware, a brand known for its power supply units for servers.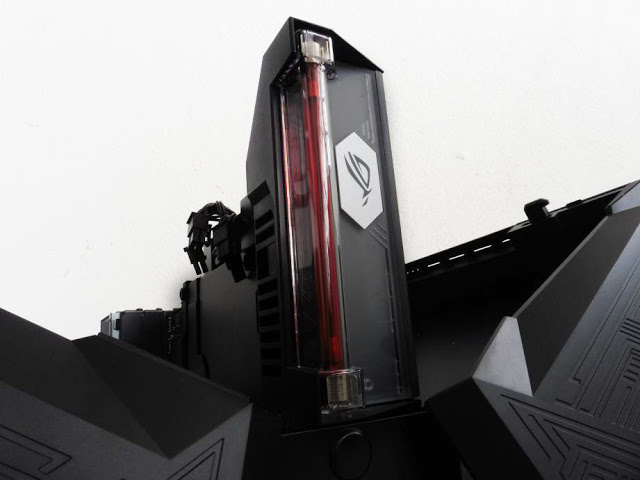 And last but not least, the plasma tube as the ultimate eye candy. If you've seen the Avexir Raiden Rog Red Tesla before they went down, that's the same effect you'll see once it's powered up.
Powering up the ROG XG Station 2, the mood lifting LEDs finally brightens up. The does works with ASUS Aura Sync, but the RGB LEDs on the ROG XG Station 2 appears to be brighter and somehow, overshadowed the RGB lighting on the ROG Strix GTX 1080 Ti we have here.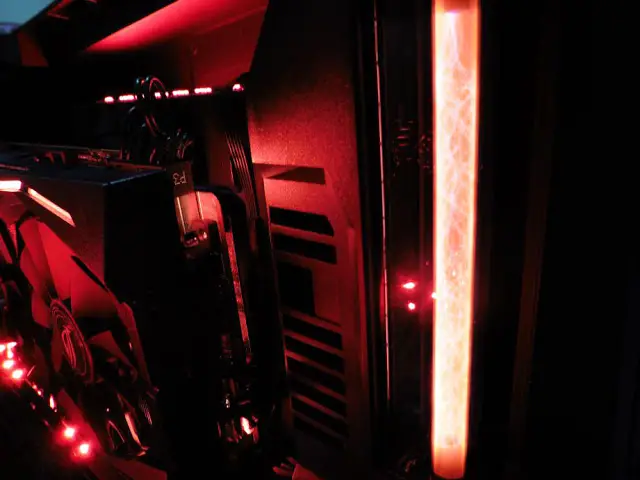 The plasma tube in action, all the bragging rights you can get. Of course, it's only for the aesthetics and will not make you play better.
Games Benchmark – ROG Strix GTX 1080 Ti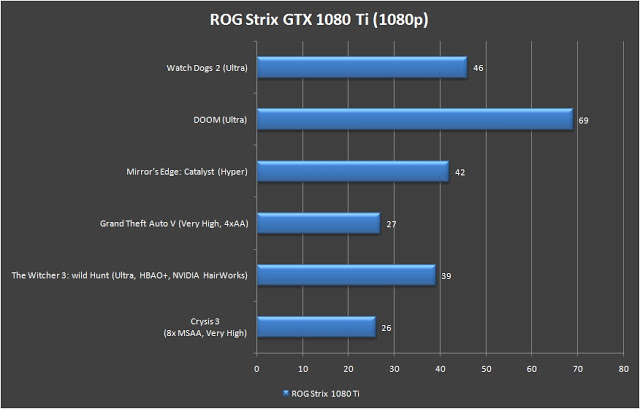 The ROG XG Station 2 are then connected to the ASUS Transformer 3 Pro T303UA for game performance test. It doesn't requires any setup and all you have to do is to plug it directly to the Transformer 3 Pro to start  your gaming session – It's really that easy!We've selected a few titles that taxes quite a lot on the GPU i.e Watch Dogs 2, DOOM 2016, Mirror's Edge: Catalyst, GTA 5, The Witcher 3: Wild Hunt and Crysis 3 at the highest possible settings and the result is as shown in the chart above.
It's obvious that the result is telling us that we're not getting the full performance from the ROG Strix GTX 1080 Ti, but if we were to compare its performance to a gaming notebook, it comes really close to one that comes with a GTX 1080. Which is still pretty acceptable we'd say.
Final Thoughts
Performance wise, we'd say that the ROG XG Station 2 is not something that will really interest the PC enthusiasts who is into everything about system performance. The ROG Strix GTX 1080 Ti is no doubt one of the most powerful graphics card for the consumer market, but you're actually losing quite a significant amount of performance once you installed to the ROG XG Station 2 – especially after paying RM 2499 just for the thing itself, no graphics card included.Still, that's doesn't means that the ROG XG Station 2 is an unworthy product that shouldn't even exists in the first place. While the performance enthusiasts wouldn't even consider of getting one, there are a couple of users with the following needs might probably consider for one:
Users who wanted a normal notebook / ultrabook for work and wanted to game when they're at home.
Intel NUC (with Thunderbolt 3) users who really wanted to play some AAA titles on their device
AIO system users who wanted to game on the latest AAA titles but was unable to upgrade the built-in graphics of their system
If you're in the list that we've mentioned above and really have that extra cash to spend on, then the ROG XG Station 2 is one of the solution that you'll probably can consider for.
Pros
No extra drivers installation required
No reboot required for your device to detect the ROG XG Station 2
Provides a significant graphics performance boost
Packs with a whopping 80 Plus gold 600W power supply
Good ventilation design
Works with ASUS Aura Sync for the RGB lightshow in case if you need it
Provide extra connectivity and charges your device at the same time
Cons
Very costly
Not able to fully utilise the graphics card's processing power
Removing graphics card with bigger shroud can be tricky