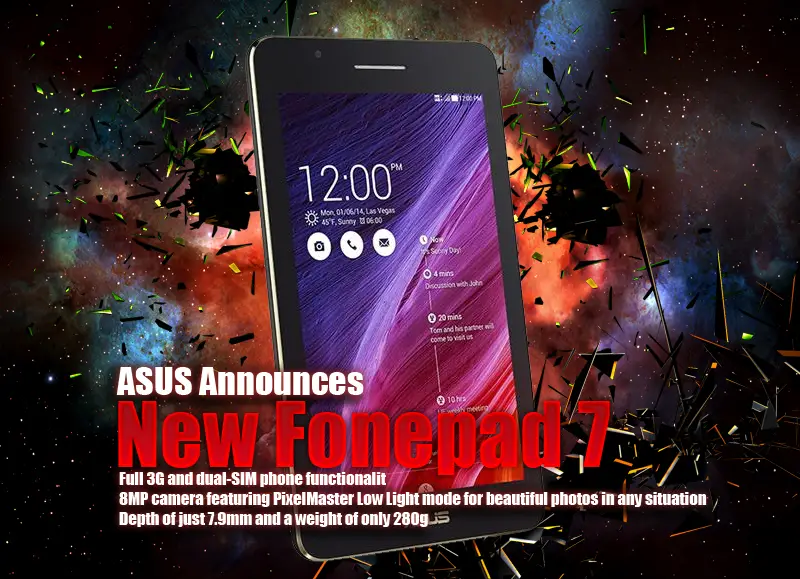 ASUS today announced the new ASUS Fonepad 7 (FE171CG), a 7-inch phablet with full 3G and dual SIM phone functionality. The new ASUS Fonepad 7 features an all-new design that is thinner and lighter than the previous Fonepad 7 (FE170CG), and fits comfortably in one hand for increased ease of use and maximum mobility.
Fonepad 7 has an 8MP rear-facing autofocus camera with a large f/2.4 aperture lens and a blue glass optical filter that delivers incredible camera performance. As the company's first phablet to feature ASUS PixelMaster Low Light mode, the new Fonepad 7 makes it effortless to capture sharp, vivid photos in low light situation.
With a beautiful IPS display that has a wide 178-degree viewing angle, accurate color reproduction, and improved color clarity and brightness, the new Fonepad 7 provides a fantastic picture for immersive entertainment experiences and general daily use.
Thin and lightweight design
The new ASUS Fonepad 7 has a completely-revised design that is thinner and lighter than the previous FE170CG model. With a depth of only 7.9mm and a weight of just 280g, the new Fonepad 7 is 2.8mm thinner and 10g lighter than its predecessor. It has a narrow, 9.24 mm bezel that reduces Fonepad 7's overall width and, together with its thin and lightweight design, makes it easy to hold in one hand. The narrow bezel also enables a maximized screen to body ratio, so Fonepad 7 can deliver a big screen entertainment experience in a compact, mobile package.
Fonepad 7 is available in a choice of Black, White, Gold, and Red colors, each with a unique texture that enhances Fonepad 7's style and makes it easier to grip. The display is framed by a beautiful metallic band finished with non-conductive vacuum metallization (NCVM) technology for an additional stylish accent.
8 MP PixelMaster camera
The new ASUS Fonepad 7 comes equipped with an 8 MP rear-facing auto-focus camera for incredibly rich, detailed photos of life's memorable events. It has a large f/2.4 aperture lens for increased camera performance in a variety of lighting conditions and is the first ASUS phablet to incorporate a blue-glass optical filter to reduce light scattering and flare for capturing brilliant photos with accurate color.
Fonepad 7 is also the first ASUS phablet to feature Low Light mode, an ASUS-exclusive PixelMaster camera technology that significantly increases camera performance in poorly lit scenes. By merging adjacent pixels, the camera increases light sensitivity by up to 400%, resulting in clear and bright photos and videos without the need for flash.
In addition to the 8 MP rear-facing camera, Fonepad 7 also has a 2 MP front-facing camera that's perfect for making video calls with family and friends.
Beautiful IPS display with ASUS TruVivid technology
The ASUS Fonepad 7 experience centers on its 7-inch IPS display that provides accurate color reproduction and enhanced saturation for unparalleled picture quality, as well as a wide 178-degree viewing angle that makes it easy for users to share onscreen content with other people nearby. ASUS TruVivid, a full lamination display technology that reduces thickness and weight, and provides higher optical transparency than traditional touchscreen displays, delivers brighter, more vivid colors to make movies, photos, and apps look their best.
Dual SIM convenience
As a full-featured 7-inch phablet, ASUS Fonepad 7 has a built-in dual-SIM, dual-standby 3G phone. The two SIM card slots make Fonepad 7 the perfect travel or business companion, allowing users to have two phone lines on Fonepad 7 so they can keep in touch from anywhere.
Availability & Pricing
Available at local IT stores and ASUS authorized resellers by 2nd week of February 2015.
ASUS Fonepad 7 (FE171CG) RRP: RM 529