Leading AIO liquid cooler manufacturer Asetek today announced its new Rad Card GPU cooler, aimed to bring hassle-free liquid cooling solutions for GPU in space-constrained PC cases. Asetek claims that the Rad Card GPU cooler is the first slot-in PCIe Radiator Card in the industry which will not only solve clearance issues but also provide a cleaner look for PC cases.
According to Asetek, the unique, one of a kind design of the Rad Card GPU cooler provides numerous benefits such as:
Space: Rad Card enables a liquid-cooled GPU in a chassis where space is constrained while leaving room for a liquid-cooled CPU in the same case.
Performance: In space-constrained PC cases, Rad Card provides superior cooling over an air-cooled GPU, ensuring GPU stability and limiting thermal throttling.
Aesthetics: Rad Card eliminates the hassle and clutter of tube routing for a clean and sparse system environment.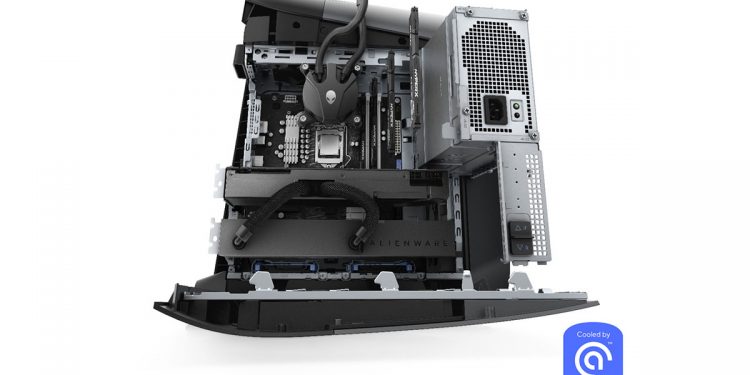 The Alienware Aurora R11 PC is currently the first known prebuilt system that incorporates the Rad Card GPU cooler into its system to cool down the GeForce RTX 2080 SUPER. According to the report on KitGuru, Asetek claims that the Rad Card GPU Cooler can operate with 69% less noise as compared to the traditional air cooler with fans and heatsink while delivering 20% better cooling performance.
"When Alienware approached us to develop a solution to enable GPU cooling in space constrained cases, we were up for the challenge," said John Hamill, Chief Operating Officer at Asetek. "The result is a completely redesigned approach to GPU cooling."
As of now, the Rad Card GPU cooler is only available for OEM partners and Alienware is the earliest adopter for the new cooler. More information on the Asetek Rad Card GPU cooler can be found at the following link: https://www.asetek.com/gamingenthusiasts/technology-for-gamingdiy/gpu-cooling/rad-card