AC730, a military-grade shockproof portable hard drive equipped with USB 3.1 Gen 1, is the latest from Apacer. Built with high standards against pressure, shock, vibration, water, dust, extreme environments, and accidental impacts, AC730 is all about solid protection. It is also crushproof, with pressure resistance up to 1500KG and compliant with Mil-Spec drop test and IP68 test.
Imagine yourself a secret agent who is out on a mission with your own portable hard drive to steal confidential secrets. You must travel a dangerous journey, going through desert, jungle, swamp, and streams, as well as moving at off-road conditions involving tumbling rides, along with drastic physical movements like rolling and running. To make sure all the data stays securely stored, AC730, a military-grade shockproof portable hard drive, will be your best choice to withstand the rough conditions. 
Strong Durability with 1500KG Pressure Resistance
AC730 is encased in a finely casted aluminum alloy exterior that can sustain far more impact than the regular plastic material used on portable hard drives. The matte finish of the surface is designed to maintain friction to prevent slipping from hand. Almost nothing in the common environment can cause harm to AC730. Apacer takes pride in the advanced level of crush protection of the exterior: it is able to resist up to 1500kg of weight. For example: the case will remain undamaged even when run over by a military armored fighting vehicle. In case an AC730 is somehow dropped to the ground and a car happens to be coming, you can be confident that all the data will stay intact. 

Mil-Spec for Superb Data Protection
AC730 is compliant with MIL-STD-810G method 516.6 Procedure IV (Transit Drop Test), meaning its anti-impact ability is sufficient for accidental drops, jars and knocks, for up to 1.2 meter in height. This protection is enabled by a suspension structure built between the case and the core, which forms a buffer for external forces from any direction. In case of impacts during data accessing, this design can minimize the harm and effectively ensure extended life of the portable hard drive.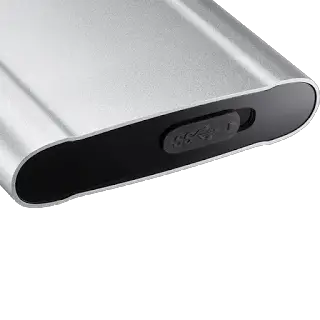 All-Purpose, IP68 Rated
Compliant with IP68 standard, AC730 is hermetically designed with dustproof and waterproof features that promise the best of protection against the environment. When exposed to in a dusty environment, or when dropped into sand, the fully sealed interior can keep out specks of dust. Common liquid exposures like spilled coffee or pouring rain will not stop AC730 from guarding your important data, which will also stay unaffected even in 1-meter depth of fresh water immersion for up to 60 minutes. 
Large Memory Capacity with SuperSpeed Processing
Available in 1TB and 2TB, AC730 offers rapid access with USB 3.1 Gen 1 interface, which can transfer data at maximum speed of 5Gb/s. The vast memory space is able to hold more than 833 hours of video, 500,000 songs, or 1 million images. If supreme efficiency, reliability, and space is what you demand, look no further than AC730.