Apacer AC631 USB 3.1 Gen 1 military-grade shockproof portable hard drive brings data protection to a higher level! It is military-grade compliant and has passed various international safety certifications. Besides, AC631 was awarded from Taiwan Excellence 2018 among over one thousand products.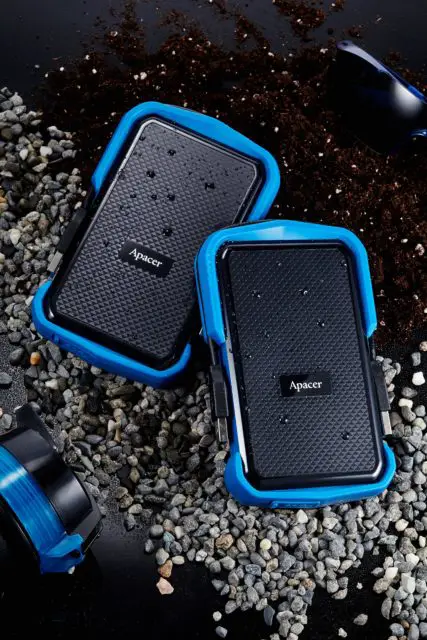 Fully Sealed Structure Brings Triple Protections
Thanks to the advancement of technology, we can now store our precious data in a portable storage device instead of the traditional methods. Still, these device are prone to damage from shock, dust and water, which can lead to lost of data. Instead of being cautious trying to keep your hard drive safe, now you can simply leave it to AC631.
It is also compliant with MIL-STD-810G 516.6 Procedure IV (Transit Drop Test), capable of withstanding shock from up to 1.22-meters in height.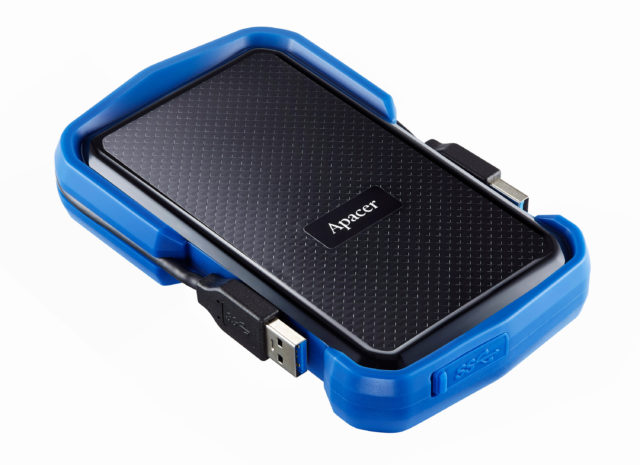 Protective Rubber Structure and Convenient Cable Carry Design
The strong rubber frame functions as a strong buffer to absorb shocks during falls or strong impacts. The unit are also capable of resisting scratches or fingerprints, effectively reducing the damage caused by friction. The slot design allows user to keep the cable neatly stowed when it is not in use. 
Durable USB Type-A Female Connector
AC631 adopts USB Type-A female connector which is test-proven with a durability of 10,000 times plug and unplug cycles, providing safety guarantee for users. The AC631 utilizes USB 3.1 Gen1 with transfer speed of up to 5Gbps to efficiently process large video or sound files. It is available in 1TB and 2TB; the latter can store up to 1 million photos, half a million mp3 music files, or 833 hours of full HD videos. Have AC631 as your data guardian, you can enjoy your journey without worries!
To learn more information on the Apacer AC631 portable hard drive, kindly visit the product link at http://consumer.apacer.com/eng/content.php?sn=1354