Alienware's very first attempt at external GPU (eGPU) can be traced back to 2014 where the Alienware Graphics Amplifier's capability of delivering superior graphical processing power towards any laptop has been a lifesaver for mobile users ever since. But now, the Concept Polaris shown at CES 2022 is prepared to elevate every aspect.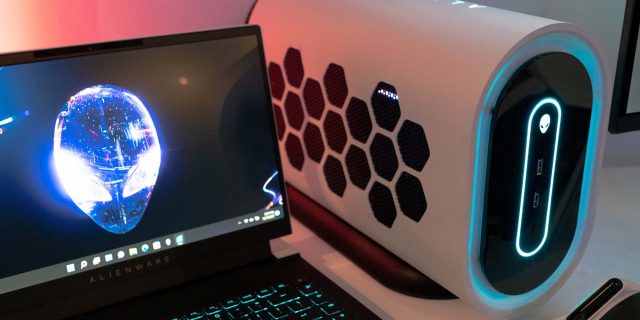 Designed with tons of feedback from fans of the community, Concept Polaris is going to stay true to its core audience which is the core Alienware customers who prioritize performance-driven benefits first with other things coming later. Since eGPU are made to compliment laptops to become as powerful as a desktop machine, Alienware is also bringing some of the desktop advantages over to Concept Polaris to fully realize a mobile battle station. Looking at the appearance, the current build of the project features an Alienware Legend 2.0 ID with soft rounded edges, well-placed cable routing cut-ins together with the Alien FX loop lighting where the unit can be placed vertically and horizontally with 2 blocks of 330W/425W external AC adapters (model dependent) driving the entire thing to maximum effectiveness. While that's a bummer compared to the old Alienware Graphics Amplifier with a built-in power supply, this does mean that the heat from the PSU is not dissipated within the chassis so that's something.
Made to host any 16-inch desktop-grade GPU, the internals is liquid-cooled with the brand's 240mm Cryo-Tech solution that includes the Element 31 thermal interface material for quicker heat transfer while the plethora of I/O ports consisting of Thunderbolt 3, Thunderbolt 4, and USB 4 essentially gives Concept Polaris unmatched compatibility across any modern laptop it pairs with while the other USB-As and USB-Cs with 2.5 GbE round up the entire "desktop-like experience" we talked about just now.
Although this may look exciting/disappointing to some people, Concept Polaris is still a concept that may come out as an entirely different thing when launched commercially but we'll see how it will move the eGPU market or by simply setting a standard for other competitors to match towards.