Among the plethora of products announced over at the [email protected] live stream, we'll be covering the trippy part which is the stereoscopic 3D gaming space that includes a gaming laptop and a couple of external displays.
First up is the "united we stand" formation of SpatialLabs and Predator in the form of the Predator Helios 300 SpatialLabs Edition gaming laptop. Utilizing a 15.6-inch UHD 2D panel and dedicated eye-tracking software, the stereoscopic 3D effect is rendered in real-time and presented to gamers on the spot with 50+ supported titles announced at the event. The SpatialLabs technology basically grabs the information of depth and position from the game engine to create a profile for specific games therefore despite it being a non-generalized formula, if you do play those titles, you're in for a treat.
Of course, to run all these additional layers of add-ons, the machine can be configured to run up to the 12th Gen Intel Core i9 CPU, NVIDIA GeForce RTX 3080 Laptop GPU, 32GB DDR5 RAM, and PCIe 4.0 SSD in RAID 0 in order to maximize performance and drive home with smooth and silky gameplay running in 4K resolution. A healthy range of ports such as 1x Thunderbolt 4, 2x USB-C 3.2 Gen 2, and HDMI 2.1 alongside a Killer DoubleShot Pro and Wi-Fi 6E (E2600+1675i) connectivity option to leverage any bottleneck the system can find.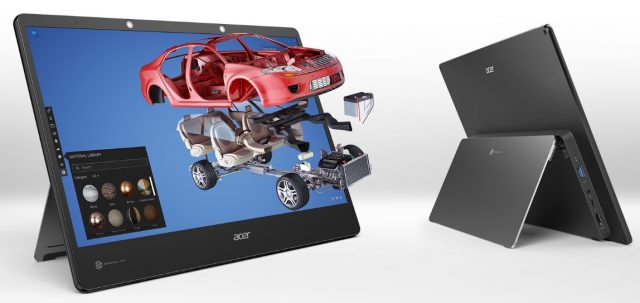 On the other hand, the new standalone displays are the SpatialLabs View and SpatialLabs View Pro. By making them portable and easy to carry around, gatherings such as LAN parties and homie hangouts will definitely be way more fun with them because everyone will be able to enjoy glass-free stereoscopic 3D on the spot thanks to the SpatialLab TrueGame tech at work (basically the same thing as the one used by the Predator Helios 300 SpatialLabs Edition).
These 15.6-inch 4K screens not only cover 100% of the Adobe RGB color gamut so creators can use them without any issue but they can also take advantage of the SpatialLabs Model Viewer to get into 3D modeling with an entirely different experience in applications such as Revit, Solidworks, and Cinema 4D by installing
the Datasmith export plugin. Exclusively to the Pro model, quality-of-life support for Maya and Blender can be found to smoothen out the workflow even further.
Reference Price
The Acer Predator Helios 300 SpatialLabs Edition is given a USD3399.99 price tag while the SpatialLabs View series displays start from USD1,099.