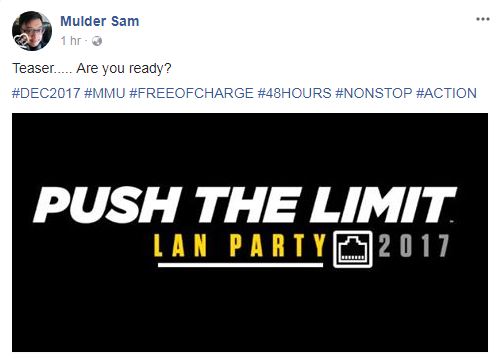 ZOTAC has been very active in the Malaysian PC gamers and enthusiasts community in the recent years, notably its gamers gathering with NVIDIA around Malaysia and some of its community-oriented events on various social media channels.
Just a few hours ago, Mulder Sam, the local ZOTAC representative that we all know, posted a teaser of an upcoming LAN party on his Facebook wall. From the teaser, we can see that the 48 hours LAN Party will be held at MMU Cyberjaya this coming December, but Mulder has yet to announce the confirmed date for the LAN Party.
Stay tuned to find out more about Zotac's LAN party as the more information becomes available in due time.
Alright – so who's up for more hints about the event? Over the course of a few hours today, ZOTAC posted hints about the upcoming 48-hour LAN party. Here they are.
From what we can gather thus far, it'll be a 48-hour of LAN party gaming madness straight, it'll be totally free of charge to participate, and it'll be held from the 1st of December to 3rd of December 2017. As for the final "400++"? I'm not sure, seems like there will only be about 400++ seats available.
ZOTAC may or may not drop more hints regarding the event later today. We'll definite update this post when we have more information, so stay tuned!