The rise of social media and user-created content platforms has brought up a whole new category of PC users – Content Creators. They are the contributors to the endless amount of online media, be it text, image, audio or video that aims to engage, educate and entertain the mass online audience.
Just like professional photographers and moviemakers, content creators heavily depends on their computer to produce multimedia contents with ease. The PC industry took notice of this rising trend and started releasing hardware and software made especially for content creators. Intel also highlighted the importance of this user category during their keynote presentation at Computex 2018.
In this article, we shall have a look at how creator laptops differ from a standard gaming laptop and why it is a better choice for content creators despite the spec sheet may look similar.
Clean & Practical Design
Creators used to purchase gaming laptops to make them work with all the rendering needs. They had no choice even if the gaming laptop's edgy design doesn't really suit their taste. Today, as brands introduce laptops for creators, the laptop design is more focused on clean design and its practicality.
For instance, the Gigabyte AERO 15 OLED is packed with all the important IO selections for ease of expandability. Copying footage from your camera SD card? There's a fast UHS-II (300MBps) SD card reader. Multi-monitor setup? No problem with the miniDP 1.4 and HDMI 2.1 ports. Access to fast external storage device? There are a total of three USB 3.2 Gen1 ports for that.
If all of the aforementioned expandability is still not enough, the 11th Gen Intel Core Processors natively supports the latest Thunderbolt 4 standard. At 40Gbps transfer speed, it is eight times faster than the USB 3.1 and with just a single cable you can connect it to an external Thunderbolt 4 hub for high-speed data transfer while outputting up to 4K video, all at the same time.
Colour Accurate Display
A huge majority of the multimedia content on the internet is visual-based, such as photos and videos. According to Statista, as of May 2019, 500 hours of video are being uploaded to YouTube every minute. That's about 720,000 hours of video uploaded every single day. While gaming laptops are excellent at churning out video renders, they are lacking when it comes to the monitor's colour reproduction performance. What content creators need is not an ultra-fast 240Hz or 300Hz panel but instead, a colour accurate display.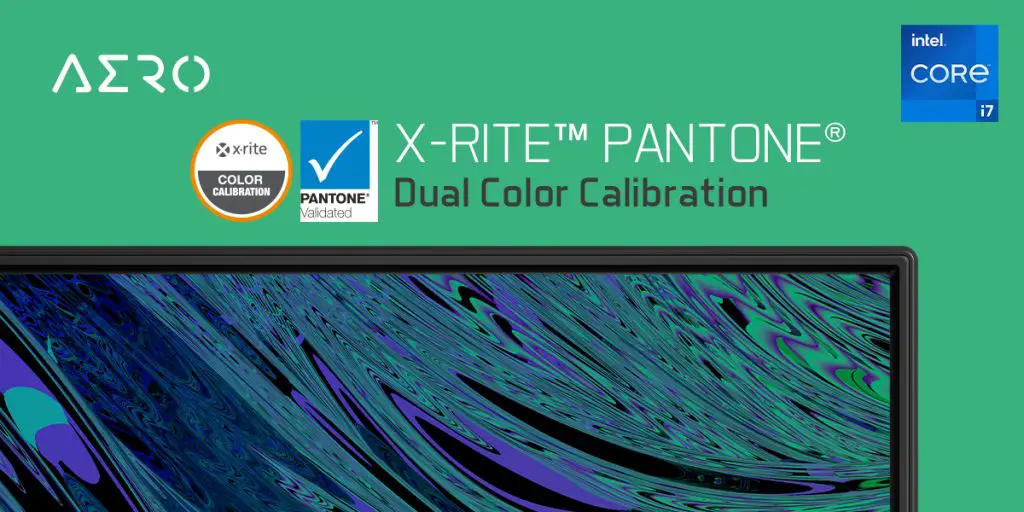 The Gigabyte AERO 15 OLED as the name suggests, uses the Samsung-made 4K AMOLED panel which has an excellent contrast ratio and deep black level. Each and every panel are factory calibrated and validated by X-rite Pantone. The outcome? A stunning looking true-to-life monitor that covers 100% of the DCI-P3 colour gamut. It will surely assist content creators in their video and photo editing that resembles what they have envisioned in their mind.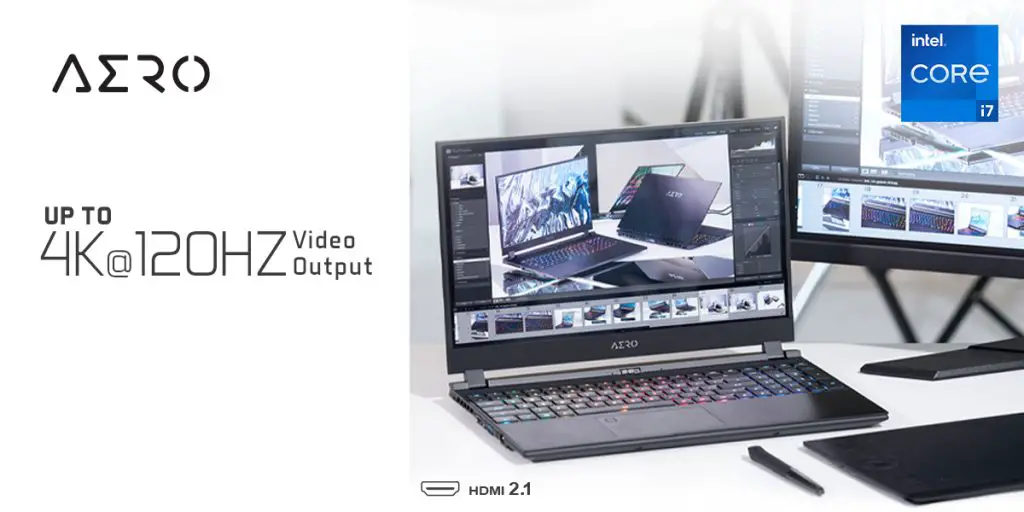 Since multimedia editing requires a lot of screen real estate, creators can expand their virtual workspace through an external monitor. The HDMI 2.1 port is capable of outputting up to 4K resolution at a 120Hz high refresh rate or even 8K resolution at 60Hz standard refresh rate.
Synergy Between Hardware & Software
Rendering multimedia contents especially videos will take up a lot of hardware raw performance and this is the primary reason why creators used to buy gaming laptops. It was the easiest option to get their hands onto a high-performance CPU and GPU package without splurging on a workstation laptop that cost an arm and a leg. Besides, normal retailers usually don't carry workstation laptops since they were sold to corporations in bulk.
This is how creators' laptop step into the equation and fulfil the creators' demand. The Gigabyte AERO 15 OLED is equipped with the latest 11th Gen Intel Core i7-11800H eight-core CPU that is feature-packed with all the sophisticated Intel technology for desktop-class the content creation experience.
Adobe being the most prominent creative software suite in the market has been working closely with Intel to ensure Adobe's software tools run great on Intel technology. For instance, Intel Quick Sync Video (QSV) has been used to optimize the Adobe Premiere Pro video transcoding operations. Even our in-house video editor would vouch for its performance improvements and how it brought desktop-class user experience to a laptop.
Pairing with Intel CPU is NVIDIA's GeForce RTX 30 series GPU. We have previously discussed how NVIDIA has been working on the Studio Series laptops to accelerate creators in their workflow. As such, the Gigabyte AERO 15 OLED has the option of either RTX 3070 or RTX 3080 to go along with the NVIDIA Studio Driver for optimal content creation performance.
To ensure the chips performing within their ideal temperature range without generating too much noise, the Gigabyte's WINDFORCE Infinity cooling technology with 5 heat pipes and twin 71-blade fans increases the heat dissipation by 30% compared to normal laptop cooling solutions.
Conclusion: Creators' Companion
To recap, gaming laptops are designed for gamers while the creator series laptops are made to meet the creative industry's demand for a portable workstation. The Gigabyte AERO 15 OLED we have featured here is an excellent example of what a creator needs. The chassis has a sleek design that easily blends into a professional working environment. It packs with the industry-leading 11th Gen Intel Core processor and NVIDIA GeForce RTX graphics for a smooth and fast rendering experience. The colour accurate 4K OLED display making sure photographers and filmmakers vision are precisely represented in the final edit.
Gigabyte AERO 15 OLED: Where to buy