Starting the month of February is the 51st edition of the Weekly Sun Cycle report, where they have announced loads of NZXT products and several gaming chairs from noblechairs; let's take a look at them.
Starting off with all the NZXT items, the H9 Flow and H9 Elite are both mid-tower cases built to provide excellent airflow with eye-catching glass panels that highlight all of the components within.
Capable of holding either 10 fans or three 360mm radiators, the H9 Flow is packed with four F Series 120mm Quiet AIrflow fans and a perforated top panel for additional cooling.
Similarly, the H9 Elite also has the same capacity for fans or radiators but instead has three F Series 120mm RGB Duo Fans and one F120Q Fan, as well as a built-in RGB and Fan Controller.
Up next are the N7 Z790 and N7 B650E motherboards which have all the features of the new Intel Z790 chipset and AMD B650E chipset and look pretty well together with the cases above. Supporting memory overclocking speeds of up to 6000MHz with Intel XMP 3.0, the N7 Z790 features 16+1+2 DrMOS Power Phase Design with 2oz Copper PCB.
On the other hand, the N7 B650E has a 16+2+1 Power phase design with 90A Smart Power Stage, alongside digital fan control for convenient fan profiles with seven independent fan channels.
Following that are the F120 RGB fans and F140 RGB fans, which adopt smart frame design with anti-vibration rubber edges that reduces noise, as well as a patented Fluid Dynamic Bearing that lasts up to 60,000-hour lifespan.
Furthermore, both the F120 RGB Triple Pack and the F140 RGB Twin Pack include an RGB controller that allows users to freely adjust the lighting to their liking.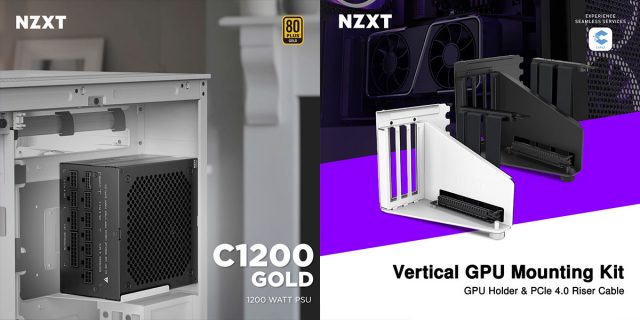 Moving on to the C1200 Gold PSU, its 6-pin PCIe 12VHPWR connector is able to provide up to 600W of power to all the new generation GPUs while maintaining highly efficient yet low-noise performance, all thanks to the high-quality Japanese 105°C capacitors and 135mm PWM fan with fluid dynamic bearing.
The final NZXT item on the list today is the NZXT Vertical GPU Mounting Kit, which is designed to fit the H5, H7, and H9 Series cases. Its sturdy steel bracket can steadily hold GPUs vertically, and the bundled 175mm PCIe 4.0 Riser Cable is flexible, backward compatible, and allows high-speed data transfer.
With all the NZXT stuff done, we have the high-end LEGEND Series and HERO ST Series gaming chairs from noblechairs. Created with the brand's high-tech PU leather, these simple yet stylish gaming chairs can support up to 150kg and boast adjustable 4D armrests, a recline mechanism of up to 125°, adjustable lumbar support, and a rocking mechanism.
Pricing and Availability
Good news this week, as all of the mentioned items above are now available for purchase in the Malaysian market at the following prices:
NZXT H9 Flow Mid-Tower Case (Black/White) — RM699
NZXT H9 Elite Mid-Tower Case (Black/White) — RM999
NZXT N7 Z790 Motherboard — RM1,389
NZXT N7 B650E Motherboard — RM1,489
NZXT N7 B650E Motherboard — RM1,489
NZXT F120 RGB 120mm Single Pack (Black/White) — RM99
NZXT F120 RGB 3 x 120mm Triple Pack (Black/White) — RM369
NZXT F140 RGB 140mm Single Pack (Black/White) — RM109
NZXT F140 RGB 2 x 140mm Twin Pack (Black/White) — RM279
NZXT C1200 – 1200W ATX modular PSU 80+ Gold — RM959
NZXT Vertical GPU Mounting Kit (Black/White) — RM299
noblechairs LEGEND Gaming Chair (Black Edition) — RM1,849
noblechairs LEGEND Gaming Chair (White Edition) — RM1,759
noblechairs LEGEND Gaming Chair (Black/White/Red) — RM1,899
noblechairs LEGEND TX Fabric Gaming Chair (Anthracite) — RM1,609
noblechairs HERO ST TX Gaming Chair (Black Edition) — RM1,899
noblechairs HERO ST TX Fabric Gaming Chair (Anthracite) — RM1,699