Welcome back to the 70th edition of the Weekly Sun Cycle report, where they have brought in a bunch of new items. Let's have a look at what's on the table.
The first item this week is the Glorious Model I 2 wireless gaming mouse, which weighs 75g in a modular ergonomic design. The mouse is equipped with a BAMF 2.0 26K Optical Sensor with up to 210 hours of battery life and features 2.4GHz wireless and Bluetooth 5.2 LE connectivity, 9 programmable buttons, as well as swappable magnetic side buttons.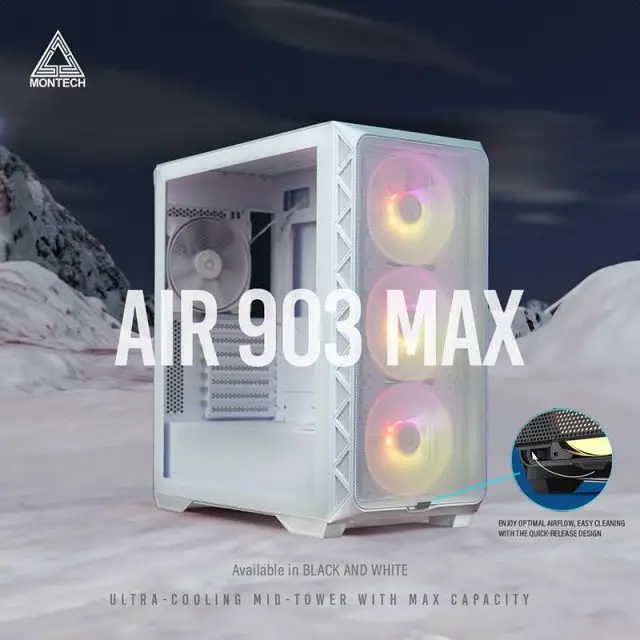 Up next is the Air 903 Max from Montech, a mid-tower chassis that boasts a spacious interior to accommodate any new generation GPUs. It offers support for a 360mm radiator at both the top and front or 180mm in height for an air cooler. Plus, the case also has a mesh front panel that further boosts airflow to ensure the system runs at an optimal temperature.
Following that is the Tecware VXM2 Dual Chamber ARGB MATX PC case, which is capable of holding up to 320mm GPU length, 155mm air cooler height, 160mm PSU length, as well as mATX motherboard. On top of that, it has 2 x Super Speed USB 3.0 and an audio jack combo for the I/O panel, alongside 2 x 3.5″ HDD, 1 x 2.5″ SSD, and 4 x PCIe expansion slots.
Also from Tecware, we have the Eclipse ARGB liquid cooler that adopts an LCD screen for users to freely customize, combined with high-performance fans that operate at low noise levels below 30dB and a pure copper base for increased contact surface area.
Onto today's final section, we have loads of new monitors from MSI, Samsung, and Tecware. To make things simple for you guys, here's a list of the monitors' specifications:
| | |
| --- | --- |
| Monitor | Specifications |
| Tecware Prime F2716IQ | 27″ IPS panel QHD, 165Hz, 1ms Response Time, Flat, 100% sRGB, G-SYNC/FreeSync compatible |
| Samsung Odyssey G50A | 27″/32″ IPS panel QHD, 165Hz, 1ms Response Time, Flat, G-SYNC/FreeSync compatible, Pivot up to 90° |
| MSI MAG401QR | 40″ IPS panel UWQHD, 155Hz, 1ms Response Time, Flat, Adaptive Sync |
| MSI G274QRFW | 27″ IPS panel WQHD, 170Hz, 1ms Response Time, Flat, G-SYNC/FreeSync compatible |
| MSI PRO MP341CQ | 34″ VA panel UWQHD, 100Hz, 4ms Response Time, Curved, FreeSync compatible |
Pricing and Availability
While the Glorious Model I 2 Wireless is still in its finalizing stage, Malaysians may now acquire all the items mentioned today at the following prices:
Montech Air 903 Max (Black/White) — RM329/RM349
Tecware VXM2 Dual Chamber MATX (Black/White) — RM189/RM199
Tecware Eclipse 240 LCD Screen Liquid Cooler (Black/White) — RM499/RM519
Tecware Eclipse 360 LCD Screen Liquid Cooler (Black/White) — RM569/RM589
Tecware Prime F2716IQ — RM789
Samsung 27″ Odyssey G50A — RM1,099
Samsung 32″ Odyssey G50A — RM1,299
MSI MAG401QR — RM1,999
MSI G274QRFW  — RM1,349
MSI PRO MP341CQ — RM1,199