Welcome back to the 38th edition of the Weekly Sun Cycle report, where they have revealed plenty of mouse-related products as well as a few PC cases that are ready to be brought into Malaysia. Let's check out what are the new stuff.
Starting off with the Pulsar Xlite V2 wireless mouse, it features a PAW3370 sensor with 50 to 20,000 dpi, Kailh GM 8.0 switches, and an ergonomic design that is dedicated to right-handed users. Weighs at 59g, the mouse also comes with a fully customizable sensor, keys, and macros.
There's also a Mini edition that weighs only 55g for users who prefers to grip an even smaller and lighter mouse in their hands.
Of course, you'll also need a mousepad to go along with the mice mentioned above, right? The Pulsar ParaSpeed V2 is made of an ultra-durable and liquid-resistant Cordura Fabric, which delivers less roughness when gliding and a softer surface than a traditional CORDURA mouse pad. As for the ParaControl V2, it boasts a textured non-woven Control Fabric on its surface that combines the benefits of both a soft and a hard mouse pad.
On the other hand, the ParaBreak V2 uses a tightly and precisely woven water-resistant microfiber that gives greater stopping power than any cloth pad. Ideally, you would want to use it with a lightweight mouse or a Pulsar Superglide mouse skate to perform sudden stops and micro-control easily. Another peace of mind for users, the mouse pad is also very easy to keep clean while being durable against humidity.
In case you needed more stop powers, the Superglide mouse skates from Pulsar got you covered. It features a polished aluminosilicate glass with perfect round edges, providing users with an amazingly smooth gliding experience and higher advantages in micro tracking. Furthermore, it offers a wide range of options for various brands such as Razer, Logitech, Glorious, and Endgame Gears.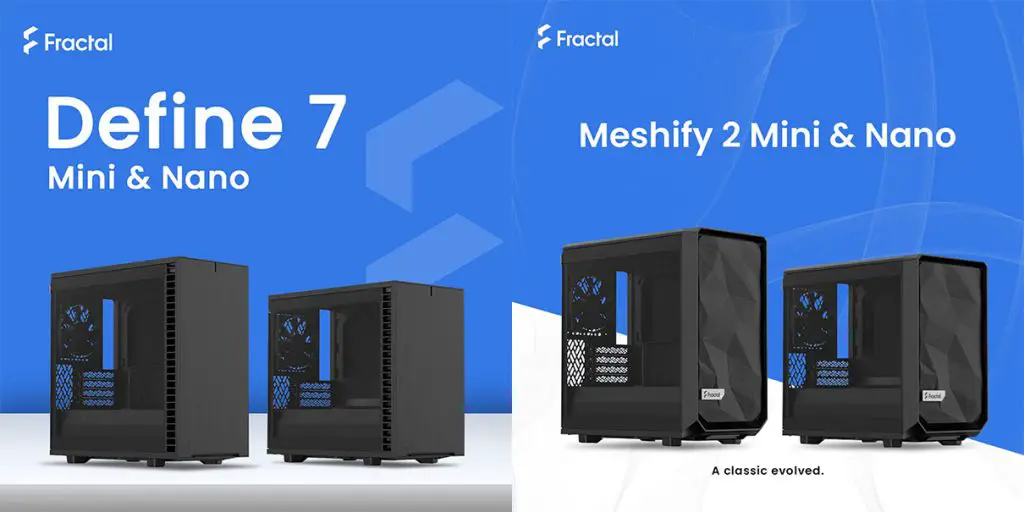 With all the mouse stuff done, let's move over to the PC casing section. Let's start with the Fractal Design Define 7 Mini and Nano, which have many of the same features as their larger siblings but in a smaller form factor. The Nano model can support any Mini ITX and Mini-DTX motherboards while the Mini one is able to accommodate mATX and Mini ITX motherboards.
With the Mini and Nano models, the Meshify 2 also offers small form factor enthusiasts with an impressive balance of airflow and flexibility. Despite its small size, the Meshify 2 Mini has enough space for GPUs up to 306 mm long including front fans, whilst the Meshify 2 Nano can hold a GPU of up to 331 mm.
Pricing and Available
While the Fractal Design ones are still in the works, all of the Pulsar items are currently up for grab on the market at the following prices:
Xlite V2 Wireless Mouse Black/White — RM309
Xlite V2 Mini Wireless Mouse Black/White — RM309
ParaSpeed V2 Mouse Pad Black XL — RM95
ParaSpeed V2 Mouse Pad Black XXL — RM129
ParaControl V2 Mouse Pad  Black/Red XL — RM95
ParaControl V2 Mouse Pad Black/Red XXL — RM129
ParaBreak V2 Mouse Pad Black XL — RM95
ParaBreak V2 Mouse Pad Black XXL — RM129
Superglide Mouse Skate — starting from RM89