As the month of March moves into the third week, Sun Cycle has revealed a lot of things that they are ready to bring into Malaysia, emphasizing on the "ready" because almost all of these have no finalized pricing yet. But here we are so let's see what are the new stuff.
Starting off with the first item is the Tecgear Beam Monitor Light Bar that provides a reliable light source that does not screen-glare or destroy your eyes in seconds within dark environments. Ideal for students, designers, office workers, or anyone that needs to work in low light surroundings, it can be tuned to emit either warm or cool lighting through the touch controls with its easy-to-use clamp design capable of mounting onto most if not all monitors out there. Just plug in the USB cable into any power source and enjoy your night light life.
The Glorious Panda Toy "switch toy" is also coming into the country that houses a Panda unit within a cute panda casing made of high-quality, sturdy vinyl that stands 3-inch tall and is capable of staring at you at all times.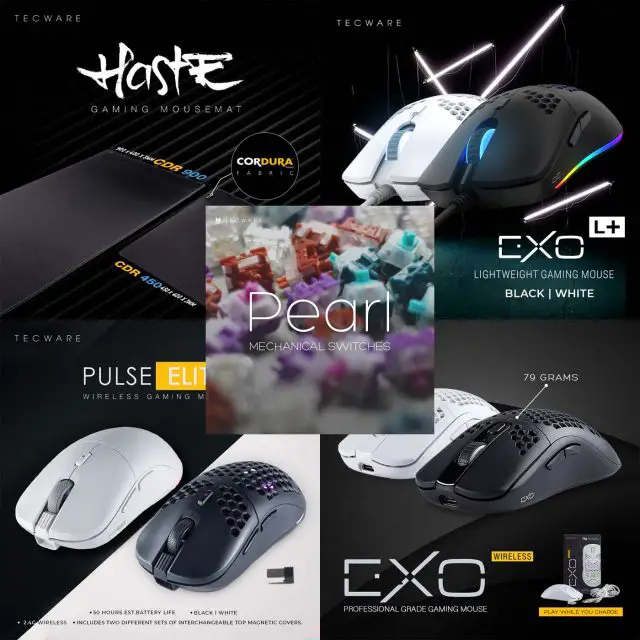 Tecware is also one of the big clients this time around as the products include the Tecware Pearl mechanical switches, Haste Cordura Fabric mousepad, EXO L Plus/Wireless, and Pulse Elite gaming mouse. The Pearl switches come in 4 varieties that offer users of all ranges to pick the one that suits their style the most while the Haste Cordura Fabric mousepad provides fast glides and fluid tracking to match the needs of players that seeks precise mouse tracking and ample control over their aiming tool. Speaking of aiming tools, the EXO L Plus now hosts a new A825 sensor that can reach up to 12,800 DPI while the EXO Wireless is the wireless version for those that just don't want that extra weight pulling their legs back.
Tecware aside, ID-Cooling is also joining the fray with several AIO and air coolers, case fans, and thermal paste. Running a new water flow pump design that is bigger for the Auraflow X and Frostflow, both of these AIO liquid coolers have higher density fins to create a better rate of heat dissipation while the newly included 8 pieces of rubber dampeners are to make your entire rig quieter than ever. Meanwhile, the SE-224-XT ARGB V3 and IS-40X V2 have been improved as well with a 30% extra contact area compared to previous iterations so you may pick the large boy for a standard build or the thin and compact guy for the ITXs with uncompromised memory stick clearance.
On the other hand, there's also the ARGB case fan to light up your rig or give it more cooling power through the high static pressure variant in Black color. Lastly, the Frost X25 CPU thermal paste is as good as money can buy.
Pricing
As far as we can tell, the Glorious Panda Toy is priced at RM59 while the rest is still at the pending phase. Gotta wait longer I suppose.