Local distributor Sun Cycle just brought in some good news right after the brief CNY holidays where all the revealed products are spinning fans, one way or another. Let's find out.
The first one is the Phanteks T30 120mm fan that is created in collaboration with SUNON, a leading fan manufacturer. Featuring an aerodynamic blade design hosted within a 30mm thick frame, the vibration and sound are restricted controlled thanks to the sturdy build resulting in a high performance, low noise cooling operation.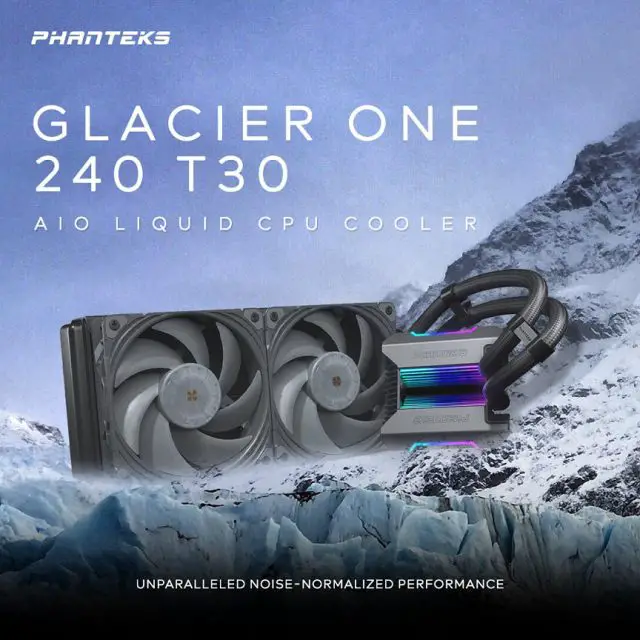 Amping the ante up and there's the Phanteks Glacier One 240 T30 AIO CPU cooler made of glass fiber reinforced Liquid Crystal Polymer for superior durability with the 3-phase motor and multiple fan modes taking care of the cooling job while the tempered glass infinity mirror with 3D D-RGB effect ramps up the "gaming essence" of your rig to your taste. Compatible with Phanteks's own D-RGB controller and other verified casings and motherboards, the 240mm size is just the sweet spot for most of the mid-size builds out there.
Tracking back to the casing fan topic, DeepCool's new CF120 PLUS 3-in-1 ARGB fan is created to get things done with plenty of lighting. Hosting 18 individually ARGB LEDs across the fan blades powered by the +5V 3-pin connector. Fully controlled through PWM and comes pre-equipped with a controller and motherboard sync cables, the CF120 PLUS is easily the choice to go for both games of cooling and aesthetic.
Also by DeepCool, there are 3 different lineups of power supply units consisting of the top tier PQ-M series offering up to 90% power efficiency thanks to the full set of Japanese electrolytic capacitors within a fully modular factor whereas the PM-D series is providing the same properties only with a non-modular design that may sound a bit bothersome for some builders while the PF series offers a bang-for-buck steady and safe current with the 80 PLUS Standard efficiency rating.
Pricing
Pretty good news for this week as Sun Cycle has already pushed stocks into the market and all of them are readily available at the following SRP:
Phanteks T30 120 – RM135
Phanteks Glacier One 240 T30 – RM719
Deepcool CF120 Plus ARGB 3 in 1 Fan (Black / White) – RM179
DeepCool PQ1000M Power Supply – RM699
DeepCool PF550 Power Supply – RM189
DeepCool PF650 Power Supply – RM219
DeepCool PM750D Power Supply – RM359
DeepCool PM850D Power Supply – RM389