---
Well, this is a surprise. Out of nowhere, Steam announces the arrival of this new product called Steam Deck. Not to be confused by Elgato Stream Deck – because I did – and it is an AMD-powered handheld PC. And it also looks to be "heavily inspired" by the Nintendo Switch.
There are… way too many similarities between the Steam Deck and the Nintendo Switch family. From the overall idea of a hybrid dockable handheld PC to its vent placement at the back, volume and power button placement, audio jack placement, and the inclusion of a microSD card slot.
Taking a look at the specs sheet, Valve packed in an AMD APU chip inside. While Valve didn't specifically mention which AMD APU is used specifically, we kinda know that it is indeed a chip using the Zen 2 architecture.
Here is a quick rundown of the important specs:
Display

7-inch LCD screen
1280×800 pixels in resolution
16:10 aspect ratio
60Hz refresh rate
Touch-enabled
Able to output display via DisplayPort 1.4 Alt Mode via USB-C

AMD APU

CPU: Zen 2 with 4C/8T @ 2.4-3.5GHz
GPU: 8 RDNA with 2 CUs @ 1.0-1.6GHz
Power draw: 4-15W

RAM : 16GB LPDDR5 RAM
Storage is either:

64GB eMMC (PCIe Gen 2 x1)
256GB NVMe SSD (PCIe Gen 3 x4)
512GB NVMe SSD (PCIe Gen 3 x4)

Has a microSD card slot with UHS-I support
Dual-band WiFi on 2.4GHz or 5GHz,

2×2 MIMO
Supports up to WiFi-5 (802.11ac)

Bluetooth 5.0 for controllers, accessories, audio
Now this is more like a Nintendo Switch Lite, everything is built inside a single chassis. The controllers are not removable a la the Joy-Cons – but the Steam Deck does have four more triggers at the rear – two on the right and two on the left. I mean we're dealing with PC games which were developed for mouse and keyboard input to begin with. 
The dock comes with DisplayPort 1.4 port, HDMI 2.0, a USB-C port for charging, an Ethernet port, and a few more USB ports. Great additions, I'd say. But hey – if it transitions between handheld and docked as smooth and seamless as the Nintendo Switch, then color me surprised. We all know how some OS can be very fussy when dealing with different the display resolutions and scaling. Still, it depends on how Steam is going to take advantage of their Big Picture mode.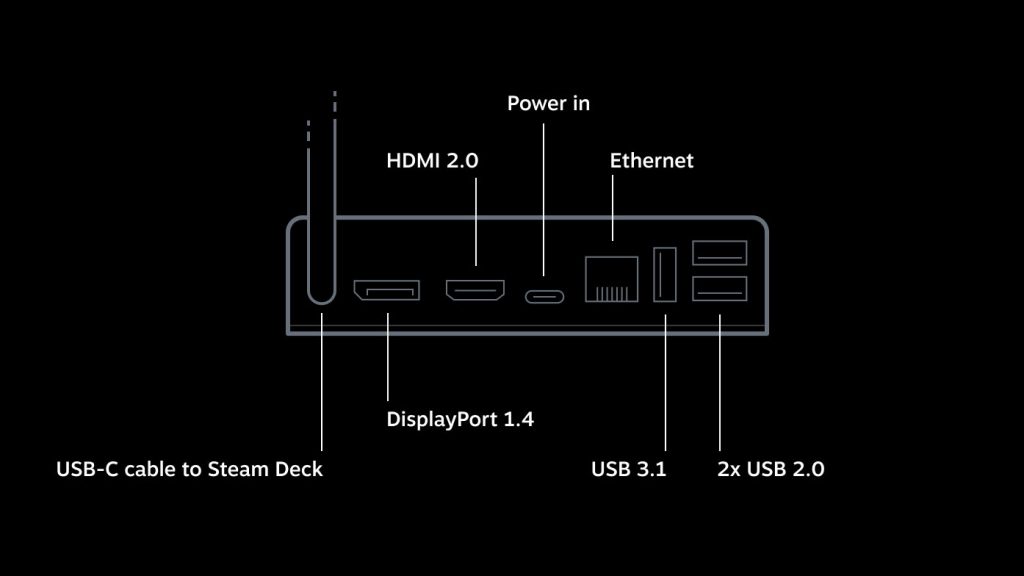 The Steam Deck is available in a total of 3 different variants with different accessories bundled:
USD $399

64GB eMMC internal storage
Carrying case

USD $529

256GB NVMe SSD internal storage
Faster storage
Carrying case
Exclusive Steam Community profile bundle

USD $649

512GB NVMe SSD internal storage
Fastest storage
Premium anti-glare etched glass
Exclusive carrying case
Exclusive Steam Community profile bundle
Exclusive virtual keyboard theme

Steam Deck Dock (not official name) will be sold separately. No price as of now.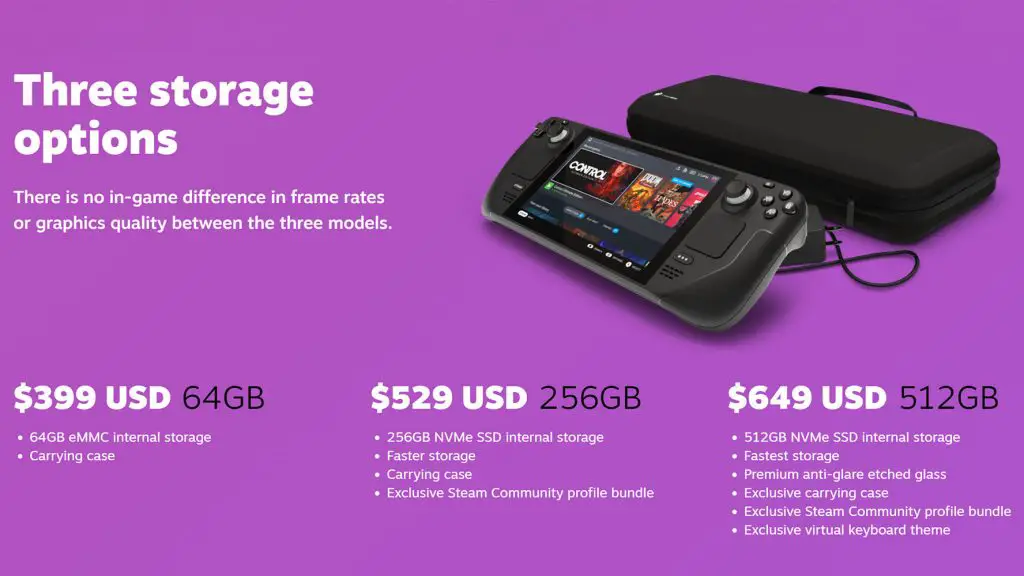 As for availability, it'll be first available in the United States, Canada, European Union, and the United Kingdom. Valve states that they'll bring the Steam Deck to more regions in 2022.
If you want to make your order and reserve a unit of the Steam Deck for yourself, click here.