Yeah I know, there's a new piece of tech and techies are skeptical about the new piece of tech – what's new, right? But I can't help but compare the Steam Deck with the Nintendo Switch. They both share a lot of similarities.
And I have a few questions that arose after I looked at this Steam Deck. Firstly, this is technically a Nintendo Switch that plays PC games, plus a few differences like the rear triggers.
And yet, if we're talking about PC games, then loading times matter and I don't think eMMC storage is good enough for PC gaming at all. The last version of eMMC that I've used was eMMC 5.0, which was commonly found in smartphones about 3 years ago. Since then, every single smartphone has switched over to UFS 2.1 and beyond now.
Also, 64GB for the base $349 model? Seriously? I can't even install GTA V on this thing.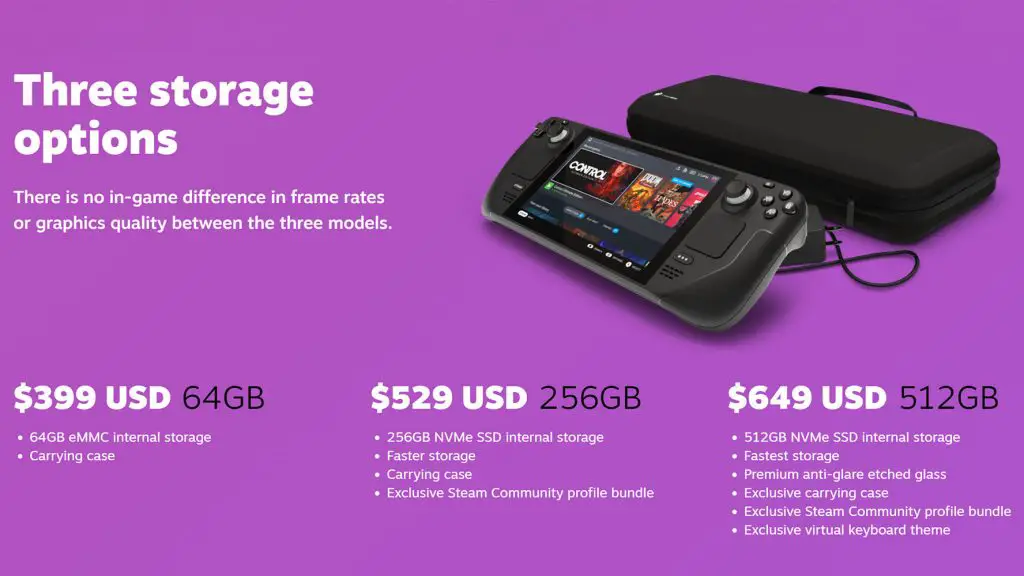 If microSD cards are introduced – then the speed is also significantly lower than eMMC. Remember – the Steam Deck only supports up to UHS-I SD cards and UHS-I speeds are limited to about 100MB/s only.
I'm not sure if there's an option to stream games from another PC to the Steam Deck – I guess it's only logical that Steam includes this feature. And I think being locked down to only 802.11ac maximum is a bit of a letdown. We're seeing WiFi-6 being adopted by most new smartphones now – and there's no reason not to support it.
And another thing – if I want to play it docked, then I need to buy the dock separately and also buy another wireless controller to play those games because the controllers are hardwired to the unit itself. Oof.
Still, I think that the Steam Deck overall is just… expensive. Sure, there's a novelty in playing PC games on a handheld but you're definitely paying a premium for that.
I truly hope that the Steam Deck works just as seamlessly as the Nintendo Switch – going in and out of the dock without a hitch and also able to suspend the game and go to sleep and wake from sleep at any time.