Foldables. They seem to be the newcomer that captivated everyone's attention. First, we have foldable smartphones – and now, we have a foldable laptop. Many people say that laptops are already foldable – but no, I mean it in a literal sense – as in the laptop has a single big screen that can be folded in half.
We have done another video talking about why foldable laptops are the future – but in this video, we're going to talk about how is it like to actually use the Zenbook 17 Fold OLED UX9702.
Let's go through a quick rundown of the device and what it has to offer. Firstly, it is obviously a foldable laptop. This is a 17.3-inch OLED screen with an aspect ratio of 4:3 and a resolution of 2560×1920. If we put the keyboard on top of the laptop again, the resolution cuts half to 1920×1280. Interesting, right?
If we look at the back of the device, there are a bunch of stickers – and one of them is BOE – which literally is the abbreviation for "Best On Earth". They are the manufacturer of this foldable OLED screen.
From our color accuracy test, we did something different this time. We split it into three tests – the left and right side of the screen, and also right smack in the middle where the crease is.
Surprisingly, the color accuracy is very consistent across all tests and it is virtually covering 100% of both sRGB and DCI-P3 color gamuts, and about 94% of Adobe RGB. That's very good!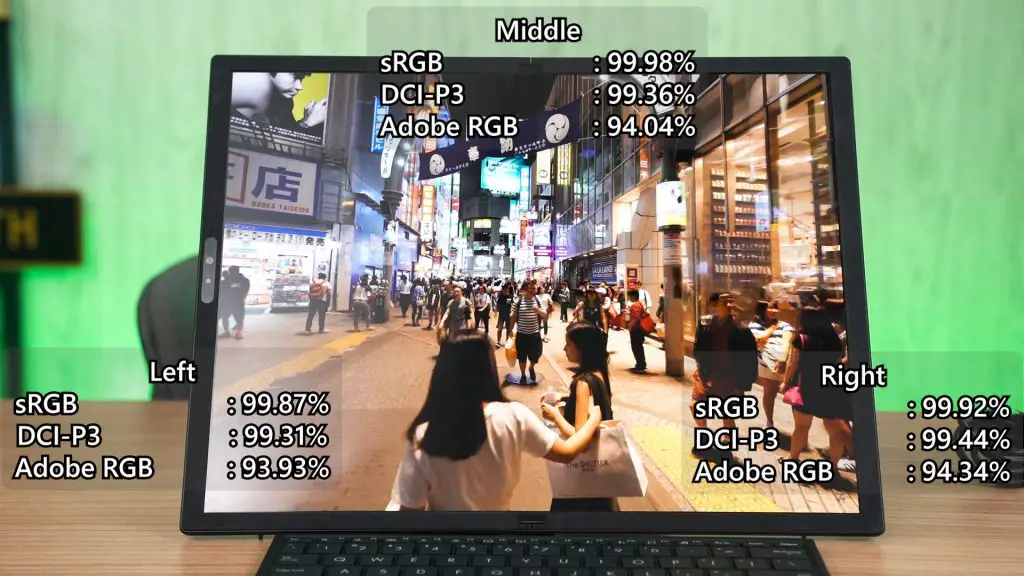 But, using the Zenbook Fold is a little weird due to the scaling issue. Honestly, scaling on Windows is a lot better than on a Mac – and we'll talk about that in a future video. I think the scaling issue that I found stems from how the foldable display is detected by the software.
In my mind, I thought that the display reports two different modes. Mode 1 is when the keyboard is seated on the laptop, hence only half of the display is lit up. Mode 2 is when the keyboard is removed from the laptop, maximizing the display. Turns out, ASUS just used one ID for both modes.
That poses the issue of Windows scaling. You see, in the display settings, you can select how many percent you want to use for scaling. For me, I prefer to use Mode #1 in 125% scaling and Mode #2 at 150% scaling. But since the software doesn't allow the different scaling percentage while using different modes, I end up getting stuck with 150% on Mode #1, which made everything humongous.
I really wish that ASUS finds a way to make it scale differently on both modes – that would be excellent.
I also realized another issue. The brightness slider doesn't seem to be logarithmic rather than linear. From our colorimeter, it seems like from 0% to about 70%, it's rather dim. Then suddenly from 70% to 100%, it's extremely bright.
The volume slider though, is pretty weird. Even at 10% volume, it's already quite loud. Imagine playing music at about 50% volume. Speaking of that though, the speaker does sound pretty good – and I have a speaker sample at the top of this video. Go watch it there.
Then comes the keyboard. This one is a weird one. This seems to be a proprietary keyboard made for the Zenbook 17 Fold only, and it has a few special features. For example, the keyboard has a magnet that snaps onto the laptop and also trigger the aforementioned Mode #1.
However, the only method this laptop sends keystroke data to the laptop is via Bluetooth. That means it is powered by an internal battery and it has to be charged separately. As in using its own USB-C port.
I do understand the dilemma here, though. If ASUS made pogo pins for the keyboard to be connected like a cable, then switching to wireless mode when transitioning to Mode #2 will take some time as the keyboard will need to enter Bluetooth mode and establish a connection with the laptop. However, ASUS could have made pogo pins or a wireless charging coil to charge the keyboard – like the Apple Pencil.
There is a redeeming point here since the keyboard can connect up to 2 different devices. You can then switch between those devices by pressing either F9 or F10.
The keyboard in itself is actually very nice to type on. The keys are just stiff enough to give a fantastic bounceback and I also like how it sounds when I'm typing. And for whatever reason, ASUS made the keyboard to be similar to ASA profile keycaps. The shape is not as obvious, but it can definitely be seen and felt.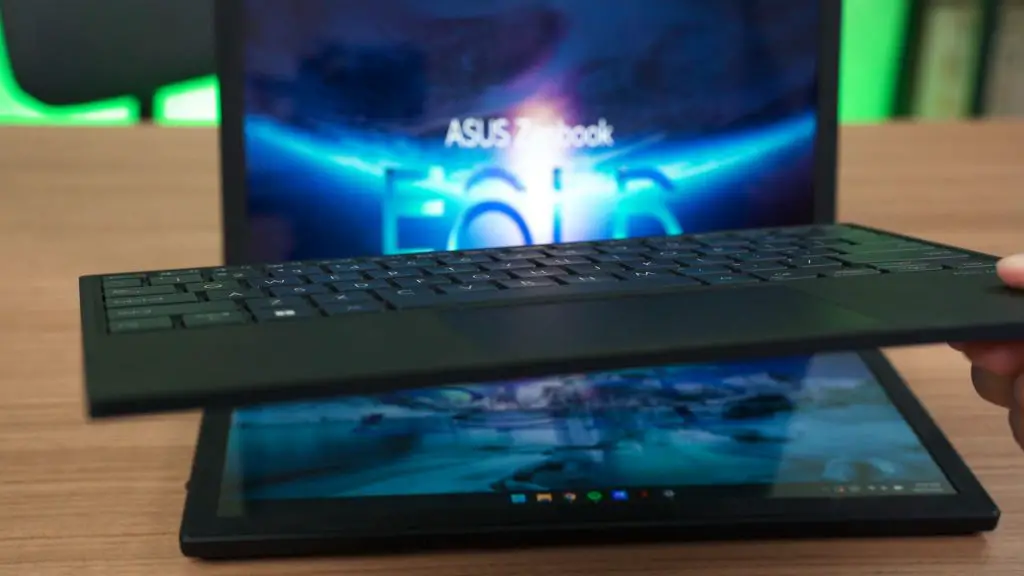 If you're typing on this keyboard while using it in Mode #1, then it'll definitely flex a lot around the middle part – though nothing can really be done to solve this issue since that part is hollow underneath.
Also, there is no backlighting on this keyboard so you'll need to be a touch typist if you want to use it in the darkness.
I also want to talk about the kickstand a while. We did mess around with the prototype version about 6 months ago and at that time, I was concerned about the kickstand. Luckily, ASUS improved on that kickstand and made it super solid. Unluckily, the kickstand only opens and closes, allowing a single angle to be used. For me, I think the angle is a bit too extreme and there's just no way to get around it.
Carrying the entire setup though, is something that I really wish ASUS will improve in the next generation. It also comes with a PU leather pouch – similar to the PU leather that is on the laptop itself.
I really don't like the pouch, honestly. It's a bit too tight and the two side flanges closes inward, which makes it even more difficult to put the device inside. And which orientation should face the bottom of the pouch? If the hinge faces downward, then taking out the Zenbook Fold is going to be difficult since the metallic part is slippery. You'll have to invert the pouch to get it out.
If we put the Zenbook Fold inside the pouch with the hinge facing upward, then because of the tightness of the pouch, I can't fit my fingers inside and grab the device. I end up inverting the pouch to get it out too.
I mean – come to think of it, maybe the pouch is kinda pointless. It doesn't offer any more compartments to maybe storage a slim Bluetooth mouse or some paper documents – or even the power brick. Maybe we can have a design like those iPad cases where there is a flap that comes from the back and wraps around the front, then snaps in magnetically? That will be handy.
What about the performance, then? Well, this device is definitely not made for gaming. It is powered by the Intel Core i7-1250U and coupled with 16GB LPDDR5 RAM, it is sufficient enough for my type usage. Spotify, jumping through multiple tabs back and forth on Google Chrome with some YouTube in the mix, and surprisingly, you can technically play games on the Zenbook 17 Fold thanks to the Iris Xe integrated graphics. I mean, look at Genshin Impact. It runs.
Before you ask, I tried folding the device when the game is running. Surprisingly, it doesn't crash – but the game got squished, so everything is just fat and short – and that was the initial issue I discovered. Somehow between the time of scripting this and filming, ASUS or Microsoft managed to get it fixed.
And before I forget – the ports. It has two Thunderbolt 4 ports and that's it. Depending on how you look at the device, there is always one port at the "top" and one at the "side". You'll need to sacrifice one of the ports for charging but you don't really need to charge it often since the battery life of this device can easily reach 8 hours with my usage and I swap between Mode #1 and Mode #2.
Should you go out and buy one today?
So, I think it's clear that this Zenbook 17 Fold OLED is not perfect. There are some glaring issues and annoyances that I think can be improved for a better user experience. Despite all of the things that I complained about, I still find myself loving the core idea of a foldable laptop.
If you have the money to splurge, then go ahead and get one today. It's an interesting experience. Your personal preference on how you want to use your device may vary, but it'll be an eye-opening experience. Just an expensive one.
At the price of RM14,999, I think it's very steep. But, since this is considered the "first generation" of such a device, then I think ASUS is going through what Samsung went through with the first Galaxy Fold. It was expensive, but eventually went down in price as the years go by while also improving the product in both hardware and software.
ASUS said that they are committed to the Fold lineup of laptops – and they will have generation 2 of this device. I am genuinely looking forward to that.
Where to buy? (Affiliate links)