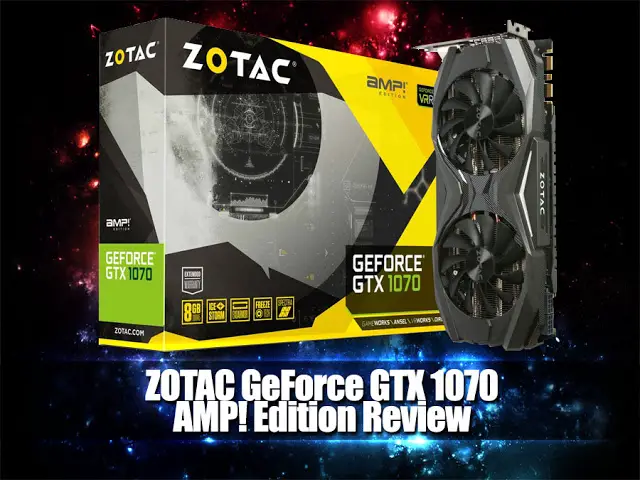 ZOTAC is known for its highly factory overclocked AMP! Edition graphics card as well as the insanely long 5-year warranty over the years, something which not many of NVIDIA's AIB partner will offer. Like other NVIDIA's AIB partner, ZOTAC has its own design for the company's latest Pascal architecture GPU graphics card under its AMP! Edition lineup that offers factory overclocked performance, a brand new custom cooler and more. 
We'll be checking out on the ZOTAC GeForce GTX 1070 AMP! Edition in today's review, special thanks to both ZOTAC Malaysia and Sun Cycle Malaysia for the provision of the ZOTAC GeForce GTX 1070 AMP! Edition for making this review possible. 
(The ZOTAC GeForce GTX 1070 AMP! Edition retails at RM2219)
Specifications
Graphics Processing

GeForce GTX 1070

Core Clock

Boost: 1797 MHz / Base: 1607 MHz ( with 1920 CUDA Cores)

Memory Clock

8000 MHz

Process Technology

16 nm

Memory Size

8 GB

Memory Bus

256 bit

Card Bus

PCI-E 3.0 x 16

Memory Type

GDDR5X

DirectX

12

OpenGL

4.5

PCB Form

ATX

Digital max resolution

7680×4320 (requires 2*DP1.3 connectors)

Analog max resolution

4096×2160

Multi-view

4

Output

Dual-link DVI-D *1
HDMI-2.0b*1 (Max Resolution: 4096×2160 @60 Hz)
Display Port-1.4 *3 (Max Resolution: 7680×4320 @60 Hz)

Recommended PSU

500W

Power Connectors

8 pin*2

Card size

H=58 L=300 W=148 mm
Unboxing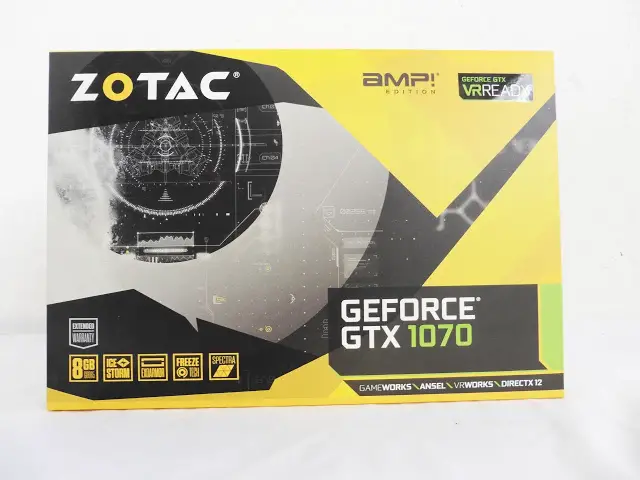 Packaging wise, ZOTAC has definitely nailed the design this time as this is probably the best-looking design throughout the history of ZOTAC's graphics card.
At the back of the box, details such as the prominent features, system requirements, and specifications are kept simple and easily comprehensible.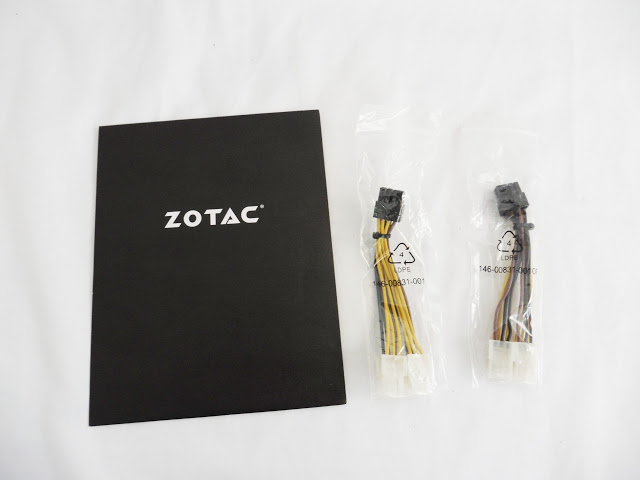 Accessories wise, you won't be getting anything fancy except for the basic user's guide, 2 x Y-Splitter for 2 x 6pin to 1 x 8pin PCIe power connector.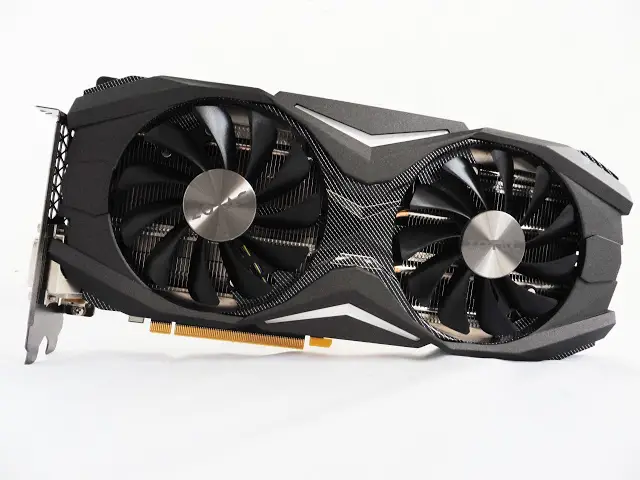 Triple cooling fan design isn't something you'll be getting this time. The ZOTAC GeForce GTX 1070 AMP! Edition comes with a brand new cooler with twin cooling fan design, which is a rather a surprise if we were to compare the current design to the previous generation AMP! Edition cards with Maxwell GPU. 
The ICESTORM and FREEZE on the ZOTAC GeForce GTX 1070 AMP! Edition: 5 variably configured copper heat pipes and a new design 100mm cooling fans to maximize the cooling performance, as well as the fans that are designed to stop spinning if the GPU goes idle for the acoustic performance. 
The ZOTAC logo on the side of the cooler is RGB lighting capable, meaning that you can control the LED modes, the color of the LEDs via the ZOTAC Firestorm software.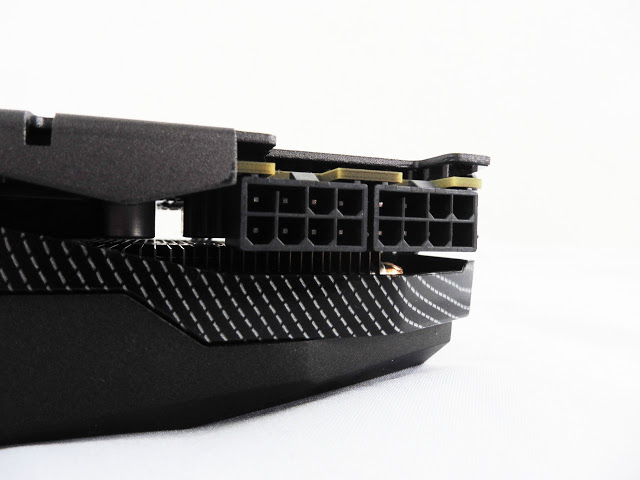 While the card can still be powered up with a 500W power supply, you'll have to make sure that the 500W power supply you're using comes with 4 x 6pin for the Y-splitter included, or 2 x 8pin PCIe power connector as it's not something common on a lower end 500W power supply. 
At the back of the card, you'll find a badass looking metal backplate as an enhancement to its rigidity in overall.
SLI fingers are still available on the card, but as NVIDIA discourages any setup beyond 2-way SLI. NVIDIA and its partners have released a new SLI bridge that is supposed to support only 2-way SLI and improved performance compared to the older version of SLI bridge that used to come along as an accessory with motherboards.
Just like the previous generation of AMP! Edition cards, the ZOTAC GTX 1070 AMP! Edition comes with the similar Power Boost design to ensure minimal power fluctuation and ripple so that you can expect the best possible performance from this factory overclocked card. 
The display output option is pretty common nowadays, 1 x DVI-I connector, 3 x DisplayPort and 1 x HDMI port.
Performance Test
Test Rig Configuration

CPU Cooler

Raijintek Triton 240

CPU

Intel Core i7 4790K @4.6GHz

Motherboard

ASUS Maximus Hero VII

Memory

G.Skill TridentX 2400MHz

Primary Hard Drive

Crucial M500 120GB

Power Supply

Be Quiet! Straight Power 10 600W

Chassis

Vector Bench case
We mounted the ZOTAC GeForce GTX 1070 AMP! Edition on our test bench as above and each and every benchmark is conducted in a room of about 30C° ambient temperature.
Performance 
We ran a few graphically demanding games and synthetic benchmarks in our possession on a selected settings at 1080p, which is considered as high for much of our test as usual.The final result of each benchmark is presented in the form of the graph below:
Performance Comparison With NVIDIA GeForce GTX 1070 Founders Edition
We've done a performance comparison with a Founders Edition of the GeForce GTX 1070 and the result of the clash between the two beasts of a card is as following:
Overclocking
We ran the same graphically demanding games and synthetic benchmark on 1080p with the highest achievable clock speed for both its memory and GPU that is stable enough to be able to complete each benchmark with the following values:
132MHz raise on the GPU core clock
623MHz raise on the memory clock
Extra 12% gain on the power
We weren't able to go above the 2100MHz like what the Founders Edition from our previous review, but we still managed to hit a beefy 2088MHz GPU clock speed on boost during our benchmark session. 
Performance Comparison With NVIDIA GeForce GTX 1070 Founders Edition
We've done a performance comparison with a Founders Edition of the GeForce GTX 1070, both overclocked and we're seeing a fairly similar results as following:
Temperature
Temperature wise, we've observed a pretty decent temperature record of 40°C during idle and 75°C on load while running on default clock speed. Bumping up the GPU core clock with an extra 136MHz results in a higher temperature of 77°C, but it's still considered safe and it's optional to ramp up the cooling fan speed if you're looking into a much lower temperature. 
Verdict
The ZOTAC GeForce GTX 1070 AMP! Edition is already a very capable graphics card right out of the box, capable of handling a lot of AAA game titles just as good or better than the GTX Titan X and GTX 980Ti. Despite having 2 x PCIe 8pin power connector, its overclocking headroom isn't as much as a Founders Edition card. Still, the slight 132MHz boost on the GPU clock did manage to get a pretty beefy effective GPU clock of 2088MHz. The ongoing Green Light program is definitely the culprit but this can be fixed easily with a custom BIOS from the enthusiast community to further unlocking the capability of the GTX 1070.
While the observed cooling performance isn't too much of a different to the Founders Edition, we consider it reasonable for both full load on stock GPU clock and overclocked GPU clock with the acoustic performance taken into account. You can, of course, ramp up the fan speed for a better cooling performance by sacrificing some of the acoustics, only if it's really necessary. 
While the ZOTAC GeForce GTX 1070 AMP! Edition can beat the previous generation Maxwell GPU with ease, the price of RM2219 is still a steep price to pay for if we were to compare it with the lower cost alternative for other AIB partners with their own design of GTX 1070 that go as low as RM1999. Still, the awesome 5-year limited warranty is definitely something which makes that extra buck is worth paying for.   
Pros
Combination of both aesthetics and solid build quality
Covered by 5-year limited warranty
Goes on par or better than both GTX 980Ti and GTX Titan X with ease
Very decent of out the box performance
Good software with simple UI
Reasonable price for the build quality and performance that it can deliver
Cons
Limited overclocking headroom despite having 2 x 8pin PCIe power connector