Fancy RGB lightings and endless customization with custom keycaps started as a trend that only the mechanical keyboard users get to enjoy. With the expiry of Cherry MX switch patent (US 4467160A), more and more users get to enjoy cheaper mechanical keyboard alternatives with imitation switches such as Kailh, Gateron, Outemu, etc has sprung up like mushrooms after the rain but not all these lower cost alternative are able to deliver a smooth transition on its LED lighting.
We have the MasterKeys Lite L here at Tech Critter's lab today, Cooler Master's latest keyboard and mouse combo in the MasterKeys lineup. Unlike the Pro model in the MasterKeys lineup, the MasterKeys Lite isn't actually a mechanical keyboard but rather, a "memchanical" keyboard just like the Devastator II with a twist RGB goodness.A big thanks to Cooler Master Malaysia for the provision of the review unit for MasterKeys Lite L and with no further adieu, let's check out what makes the MasterKeys Lite L a worthy set of peripherals to own.
(The Cooler Master MasterKeys Lite L will be available at the price of RM299)
Packaging
The Cooler Master MasterKeys Lite L ships in a stylish black minimalist packaging that shouts "premium" on this keyboard mouse combo from Cooler Master.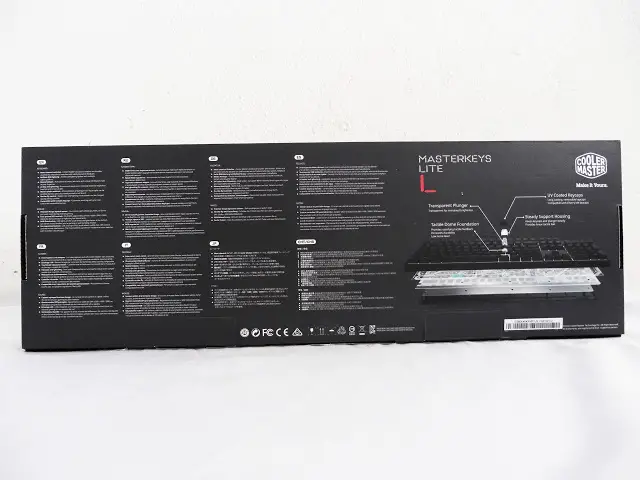 At the back of the box, you'll find a labelled diagram depicting Cooler Master's exclusive "mem-chanical" switch along with multilingual description on its prominent features.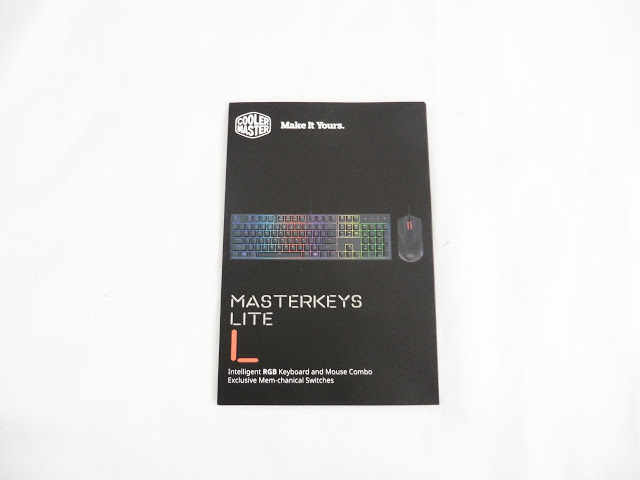 Inside the box, you'll find this quick start guide, the only extras that comes together with the keyboard and mouse combo.
MasterKeys Lite L: Keyboard
Keyboard Specifications:
| | |
| --- | --- |
| Switch Type | Cooler Master Mem-chanical |
| Color | Black |
| LED Color | RGB |
| Polling Rate | 125 Hz |
| Repeat Rate | Normal 1x / Turbo 8x |
| On-the-fly system | Lighting / Multimedia / Win LK |
| Cable | Non-Detachable Rubber Cable |
| Connector Cable | USB 2.0 |
| Cable Length | 1.8 Meters |
| Dimensions | 439*129*41mm |
| Product Weight (without cable) | 967g |
| Warranty | 2 years |
The Keyboard
At first glance, we can see that the MasterKeys Lite L keyboard are kept simple and clean to maintain that minimalism wow factor throughout the MasterKeys lineup – no more exaggerated design for good!
The cable used rather soft compared to all previous MasterKeys keyboard we've come across and the USB connector isn't the gold plated ones that we usually see on a gaming keyboard. However, it's good to see that Cooler Master decided to attach a ferrite core to the cable to eliminate any potential noise and interference that could affect your overall experience with the keyboard.
The favorable ergonomic curve that's been a standard for most gaming keyboard nowadays.
The function keys to adjust the keyboard LED modes to your personal preference. While the pre-programmed LED modes on the MasterKeys Lite L keyboard are limited, you'll still be able to adjust the LED modes to your preference on certain LED modes i.e. static color that can be adjusted with F2~F4 keys, programmable region.
Other functions such as input rate adjustment between 1x to 8x, keyboard lock and Windows key lock are some extra features that will come in handy in the time of needs, i.e. increase input rate for MMO games, keyboard lock to prevent accidental trigger when you're working on other tasks on your desk, Windows key lock to prevent accidental trigger that has been troubling gamers for years.
Cooler Master has opted for the design where multimedia function keys are located right above the arrow keys since the Quick Fire Rapid-i, which makes it a lot easier to access compared to the traditional design that places these keys at the F1 to F12 row.
"Mem-chanical" switch, also known as plunger switch to the keyboard veteran but with a twist of Cherry MX compatible stem design is Cooler Master's exclusive design to bring the maker concept not only to the mechanical keyboard section but also a cheaper alternative when it comes to keyboard customization.
The keycaps are made of ABS material with very high translucency to allow more lights to shine through the keycaps.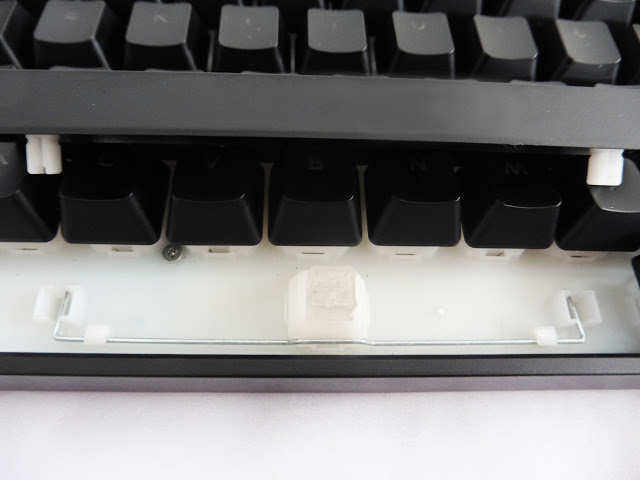 Metal wire stabilizer is used on longer keycaps like the spacebar, modifier keys for a better overall experience.
The bottom of the keyboard looks nice and clean, no screw holes, no cable routing path.
The keyboard feet comes with a large rubber base and rubber tip to provide that extra grip to keep the keyboard stationary on your desk.
The MasterKeys Lite L keyboard with its LEDs on rainbow wave mode.
Unlike individual mechanical switches with dedicated slot for LED, the MasterKeys Lite L keyboard got its fancy lighting from these very bright LEDs shining through a translucent acrylic sheet and the rubber domes to light up each and every key on the keyboard.
LED Modes Preview
Key Rollover Test
We started off with the key combination used by renown music rhythm games, the maximum amount of keys that can be registered without involving the modifier keys is 11 in total – good news for those who needs more keys getting registered at the same time.
For FPS games wise, we're glad to report that the major key combination for movement is clear from any signal blocking nor ghosting effect.
MMO games that need the combination as above is safe from both signal blocking and ghosting effect, CLEAR!
The arrow keys are clear from signal blocking and ghosting as well.
MasterKeys Lite L: Mouse
Mouse Specifications:
| | |
| --- | --- |
| Sensor | Optical AVAGO 3050 |
| Switch Type | Omron 10M |
| Color | Black |
| LED Color | RGB |
| On-the-fly system | Lighting / DPI |
| Cable | Non-Detachable Rubber Cable |
| Connector Cable | USB 2.0 |
| Cable Length | 1.8 Meters |
| Dimensions | 114*64*39mm |
| Product Weight (without cable) | 91 g |
| Warranty | 2 years |
The Mouse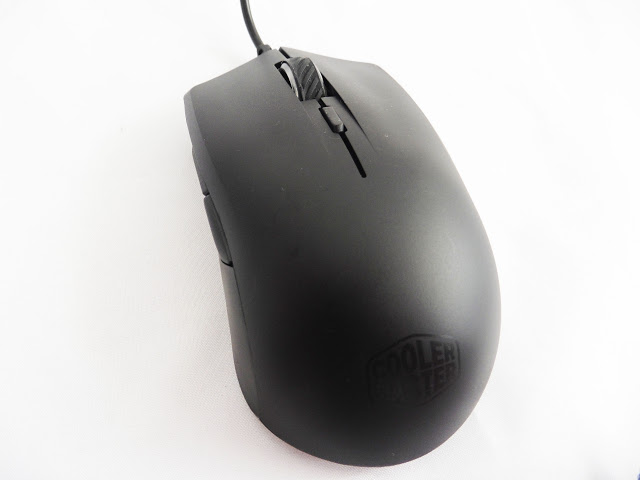 The mouse included in the MasterKeys Lite L is none other than the very basic version of the MasterMouse that we saw during our visit to Cooler Master's booth at Computex 2016.
Same goes to the mouse, the USB connector isn't gold plated and a ferrite core is attached to the cable to eliminate potential noise and interference that goes through the cable for a better overall experience with the mouse.
Its ambidextrous design that will do just well for both left-handed and right-handed users, except for the side buttons that goes really awkward for left-handed users.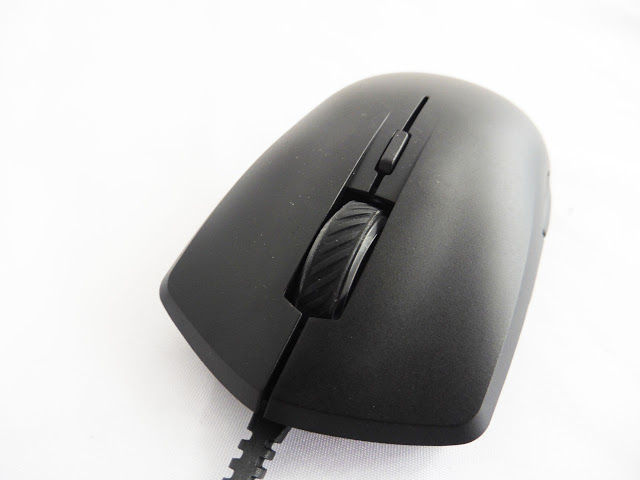 Easily reachable DPI toggle button and solid scroll wheel on this mouse are the traits that you don't usually get on a mouse from a keyboard mouse combo.
The side buttons are made to go along with the curve on the side of the mouse for a more comfortable grip and ease of trigger, but it feels less clicky, rather mushy to our liking.
The translucent lining at the end of the mouse that is meant for LED to shine through, aesthetics matter.
At the bottom of the mouse, you'll find these Teflon mouse feet for the best gliding experience. The AVAGO 3050 Optical Sensor used supports a wide range of DPI from 500 to 3500 with 4 DPI level that can be changed with the use of the DPI change button on the mouse.
The mouse with its LED lit – looks much better than we've expected!
Testing
We've tested the mouse  on one of our favorite game so far, Tom Clancy's The Division and here's what we think about it, tip to the end:
Glide: The mouse glides smoothly on hard rigid mat but not on soft mat due to its mouse skates that is rather thin, causing the side of the mouse to brush against the surface of the soft mat if additional force is exerted to the mouse while gliding on thicker soft mat (5mm thickness).
Grip: The mouse is rather small in size and not really favorable to those with larger palm size. Still, palm grip and claw grip style work great if you have smaller palm size, its ambidextrous design allows right-handed and left-handed users to have a good grip without much issue, but the side buttons are made much more comfortable for right-handed users.
DPI Button: The DPI toggle button is fairly easy to reach with minimal movement on the index finger and is less prone to be triggered by accident.
Weight: The mouse itself is a little light for our preference but it'll work great for fast paced games like RTS, MMORPG, etc.
Verdict
Custom keycaps is definitely a plus but just so you know, Cherry MX keycap compatible plunger switches isn't exactly something new and it's not really something that makes it stand out of the competition. Its RGB lighting however, is definitely the best we've seen to date, even better than most value mechanical keyboard with limited RGB lightings and modes. In addition, you're getting not only the keyboard, but a pretty decent mouse with RGB lighting and is capable of 500 to 3500 on the DPI selection as well.Aside of its RGB lightings and compatibility with Cherry MX keycaps, the MasterKeys Lite L keyboard also comes with input rate toogle function, Windows key lock and full keyboard lock function, and gaming optimized key matrix to meet the demand of gamers nowadays. The mouse too, is able to meet most of our demand as a gamer, but due to its size and design, there are minor compromises such as not being able to do a comfortable palm grip for users with large palm size, and the brushing sensation while gliding sideways if too much force is exerted to the mouse.
The Cooler Master MasterKeys Lite L's RM299 price tag might sound a little ridiculous for a keyboard mouse combo with non-mechanical keyboard, but it's pretty obvious that the MasterKeys Lite L managed to pull this off with a few of the qualities mentioned above which makes it worth of that price tag.
Pros
Keyboard is clean and sturdily built
UV Coating on the peripherals ensures long lasting pleasant experience
Unique plunger switches design
Compatible with Cherry MX keycaps
Smooth transition on the RGB lighting
Mouse comes with wider range of DPI selection – 500 to 3500
Tracks well on both cloth and hard mat
Gaming optimized key matrix
Reasonable price
Cons
Limited LED modes
While it's ambidextrous design, the mouse side buttons are designed only for right-handed users
Subjective
The mouse will brush against the surface of a cloth mousepad if too much force is exerted to the mouse while gliding sideways