We haven't seen any new thermal compound from Cooler Master for the past 2 years and it is revealed that Cooler Master is reinventing its branding and products line up towards the 'Maker' direction, something which is the root of Cooler Master during the early days. During our visit to
Computex 2015
, we're first introduced with the all new MasterCase series of chassis, followed by a series of gaming peripherals, Cooling solutions etc. 
We took on a smaller product from Cooler Master, this time, thermal compound – a small but vital 'thing' for every PC out there (yes Macs too we believe). MasterGel Maker Nano is Cooler Master's latest thermal compound which the company claims to be made with highly thermal conductive nano-diamond particles for the best of performance, to take on some of the market's very best thermal compound available.
(The Cooler Master MasterGel Maker Naro retails at RM65.00)
Specifications
| | |
| --- | --- |
| Model | MGZ-NDSG-N15M-R1 |
| Color | Gray |
| Thermal Conductivity (W/m-K) | 11 |
| Specific Gravity (g/cm3)(25°C) | 2.6 |
| Volume (ml) | 1.5 |
| Net Weight (g) | 4 |
| Scraper | Yes |
| Grease Cleaner | Yes |
Overview
The MasterGel Maker Nano comes in a clear plastic covered packaging, no marketing gimmicks is found at this point.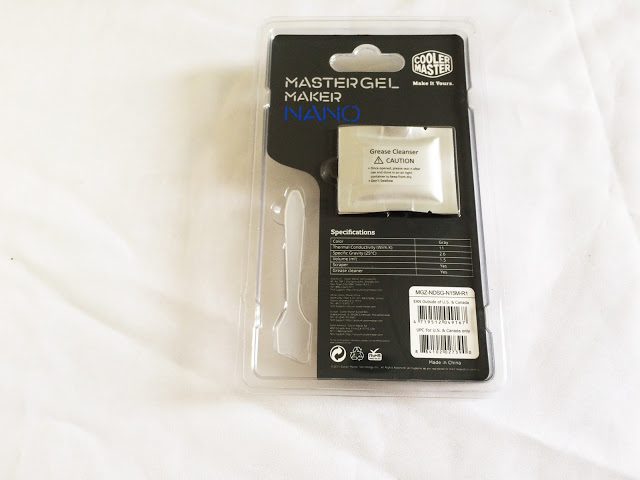 At the back of the package, you'll find the specifications of the MasterGel Maker Nano, a plastic spreader, and a pack of alcohol swab to clean up the surface of your CPU before application.
The content of the package as a whole.
Thermal Performance Test
We've conducted the test with an Intel i7 4770K and 4790K running on 4.6GHz using a Raijintek Triton 240 liquid cooler and the grain of rice application method. We've conducted a set of burn-in test to see how well will each of the thermal compound used performs – The difference isn't noticeable if the test is done within few hours, so we divided the burn-in test into few sets and each set of test is to run for days. Temperature reading is then recorded and presented in the graph as below: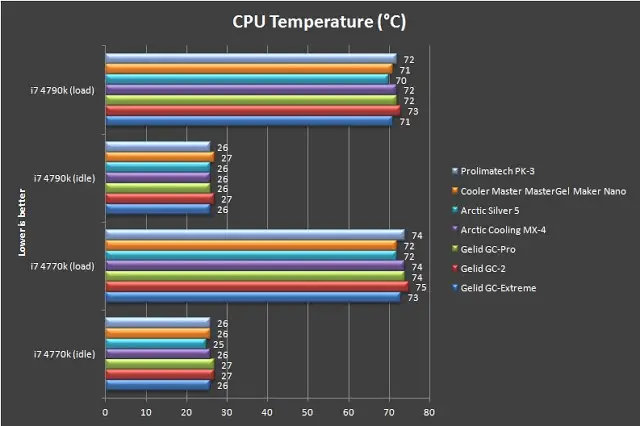 The difference during idle isn't much but each thermal compound behaves a little different in terms of temperature build up, but we can see that he MasterGel Maker Nano is slightly on par with the renown brands like Gelid GC-Extreme, Arctic Cooling MX-4, and Prolimatech PK-3. When we ramp up the heat with prime95 for maximum heat output, we can observe temperature peaked in the range of 76°C ~78°C for all of the thermal compound used during the first set of test. The temperature goes lower after a few days when a different set of stress tests conducted, which is exactly as what's populated on the chart you're looking at now. 
The thermal compound that requires less burn-in time is the Prolimatech PK-3 that makes it to the final temperature reading as shown in the chart first, followed by Cooler Master MasterGel Maker Nano, Gelid GC- Extreme, Artic Cooling MX-4, Gelid GC-Pro, Arctic Silver 5 and Gelid GC-2.
Verdict
While the price of the MasterGel Maker Nano is a little on the premium side, we can see that Cooler Master has done a pretty good job on their new thermal compound. Not only that it managed to keep up with some of the market's very best with the similar amount and application method used, it also comes with a very decent burn-in time that is pretty similar to the Gelid GC-Extreme.
With all of that taken into account, we'd say that the MasterGel Maker Nano might not be the best choice for those who wants the best price over amount ratio, but at the price of RM65, seems more reasonable for what it can deliver where burn-in time is vital, especially for competitive overclocking – we wouldn't mind paying a little extra for that performance.
Pros
Good performance
Less burn-in is required to reach optimal performance
No signs of bleed
Cons