Colossal aftermarket coolers are to remove heat from your components more effectively, but the heat that remained in your PC requires a fan or two to feed your components with fresh air and/or exhausting the heat from your PC at the same time. While a pair of high RPM fans is able to get the job done, fan blades spinning at high speed will lead to turbulence which contributes to noise. Manufacturers came up with different variation of fan blade designs to minimize turbulence and noise, these fans is commonly referred to as silent fans. 
We have the be quiet!'s Pure Wings 2 140mm with us for today's review, courtesy of be quiet!. Pure Wings 2 is retailed at $ 10.90 (approximately RM36) and can be purchased from
NCIX
and
Amazon
. Without any further adieu, let's get the show on the road with be quiet!'s Pure Wings 2!
Specifications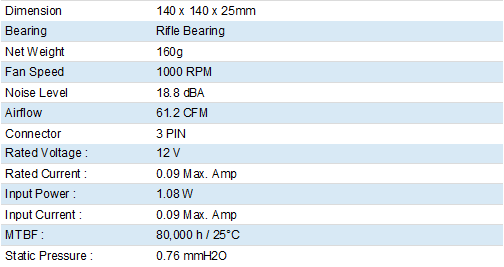 Unboxing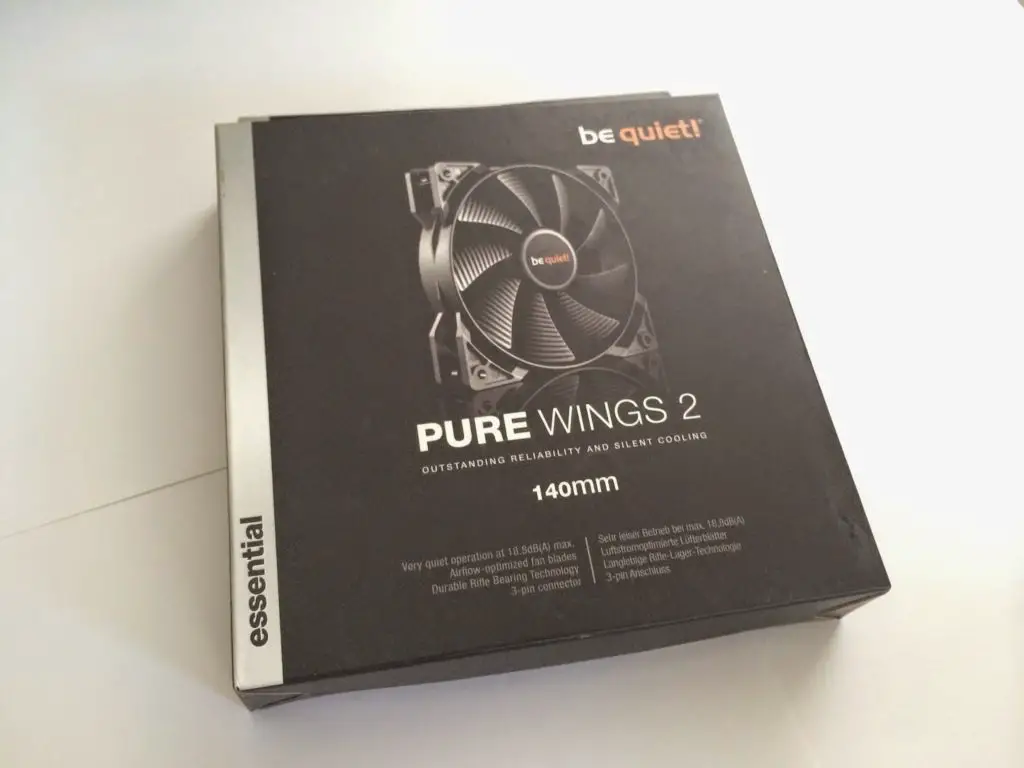 A dark minimalist themed box displayed the be quiet! branding on the top right with a small image of the Pure Wings 2 in the middle. The bottom part displayed the name, size of the fan and a pretty convincing slogan of "Outstanding reliability and silent cooling". 
A brief detail on the specifications of the fan can be found at the back of the box.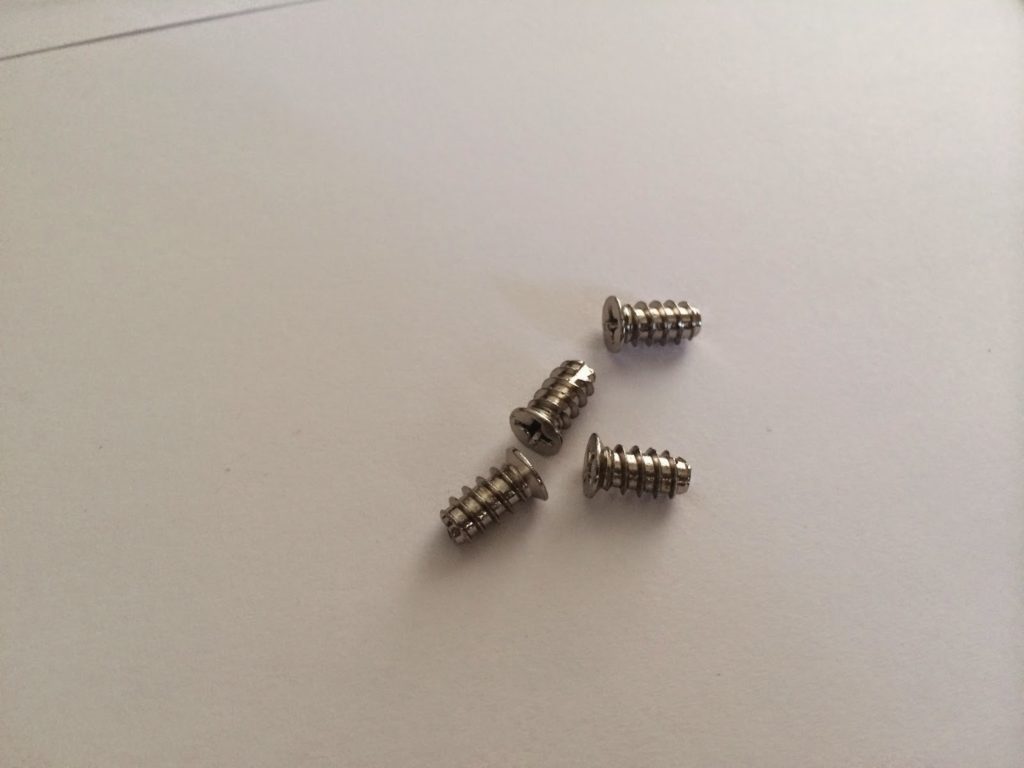 There are no other accessories included except for these screws.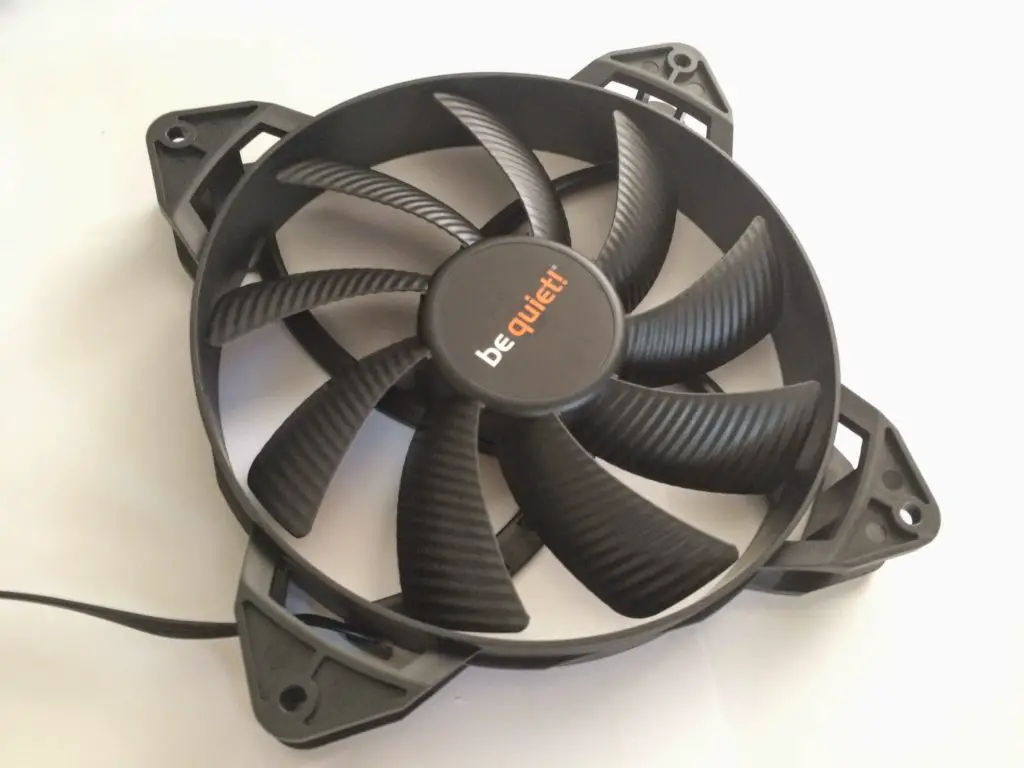 And here's the Pure Wings 2, bears a strong resemblance to the frame design of Corsair's AF series fans except for the design of its fan blades.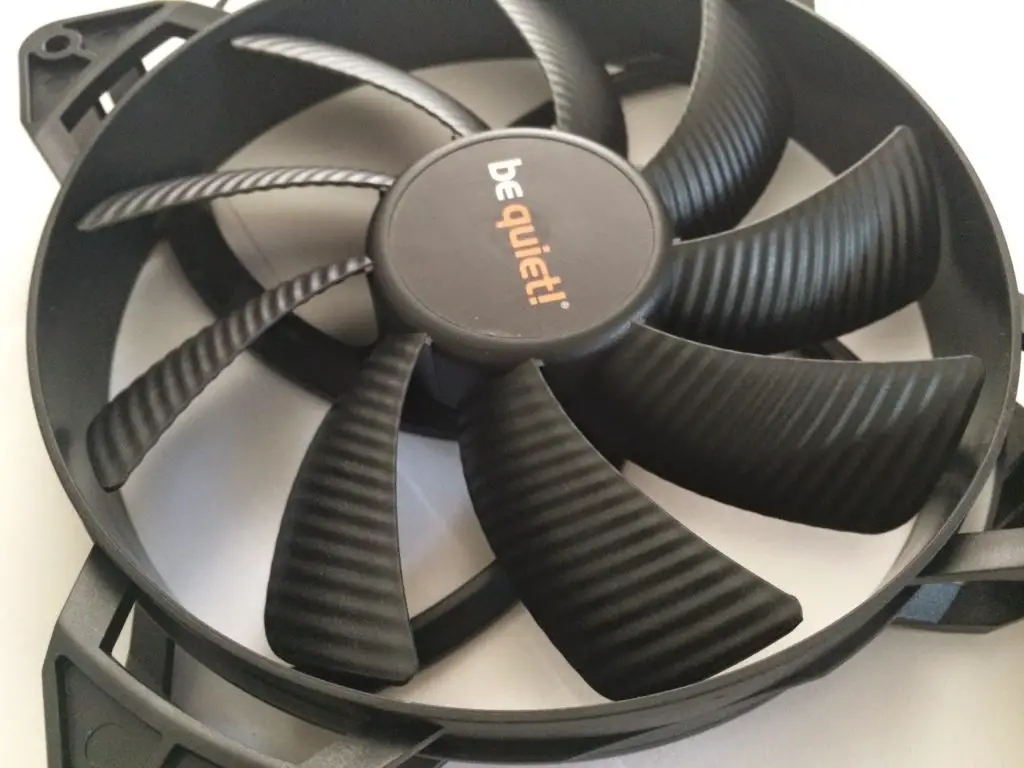 The wavy surface of the fan blades are supposed to provide better airflow on low speed and minimizing turbulence that produces noise.
At the back of the fan, we find the similar wavy surface on the fan blade too. With both sides having the same wavy surface, we're really looking forward to see how well can the fan perform.
It comes with plain black colored cable and feeds on power from this 3-pin fan header.
Performance Test
Test Rig Configuration

CPU Cooler

Corsair H80

CPU

Intel Core i5 3570K
@4.5 GHz

Motherboard

ASUS Sabertooth Z77

Memory

Corsair Vengeance @ 2133MHz

Primary Hard Drive

Crucial M500 120GB

Power Supply

SilverStone ST60F-P
600W

Chassis

Corsair Carbide 300R
We've conducted a system stress test with the test rig as above to generate the amount of heat needed for our test with the Corsair H80 as the only exhaust to remove heat from the chassis.
We've added few 140mm fans for performance comparison:
be quiet! Pure Wings 140mm
Prolimatech Ultra Sleek Vortex 140mm with Static Booster 14
Corsair 300R Stock Fan 140mm
Fractal Design Silent Series R2 140mm
Each and every fan is set to run at a maximum speed of 1000 RPM with a fan controller for better precision and the result of the test is presented with a graph as below: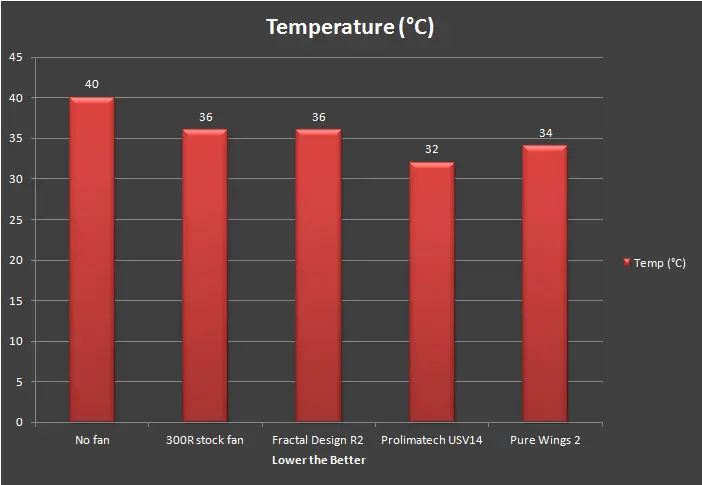 With ambient room temperature of 30°C, we started off by building up the heat inside our system and 40°C is the highest achievable temperature without any intake fan to feed the system components with fresh air.
Among the 4 fans tested,  Prolimatech USV14 leads the race with the lowest temperature of 32°C while the celebrity of today's review takes the second place with a slightly higher temperature of 34°C. As we've noticed that both Corsair 300R stock fans shares many similarities in design, the temperature is somewhat expected.
Moving on to noise level test, our ambient noise level is measured at 41db but as we move our noise level meter near to the test system, we're picking up extra 2db from the system without front intake fan which appears to be coming from other moving parts in our system.
The noise level meter is left stationary in front of the fan tested for 5 minutes each and the average reading is taken as our final data. be quiet! Pure Wings 2 turns out to be the quietest among 4 fan tested with 45db, just 3db extra from the fanless.  
Final Thoughts
We're totally fascinated to see what Pure Wings 2 is capable of, as being able to produce quite an amount of air while staying almost inaudible isn't easy and be quiet! has clearly achieved that and lives up to its reputation of "Outstanding reliability and silent cooling".
Pricing wise, $10.90 (approximately RM 36) for a Pure Wings 2 is definitely worth the money as there are fans from other competitors at higher price point but not being able to offer the silent operation that most silent freaks wanted. 
Pros
Aesthetically pleasing
Solid build quality
Near silent operation
Surprisingly powerful
Highly affordable
Cons
Absent of 4-pin molex to 3-pin fan header adapter