As a TM Unifi subscriber ourselves, we find that modem router provided is only sufficient for most general use and limited amount of users. Whenever the devices connected to the modem router exceeded its limit ( 5 device in our case ), other devices might experience slow down in download and upload speed or worse, unable to connect to the internet.
We believe that we're not the only that has such experience and getting a 3rd party modem router is the alternative that has been used by majority of those who experienced the same issue. In today's review, we have the Aztech DSL8800GR(S) Wireless-N dual band gigabit modem router in courtesy of Aztech Malaysia. The Aztech DSL8800GR(S) is retailed at RM 319.00, so let's check out if it's a worthy investment for a better experience with your internet speed.
Key Features:
Dual Band
USB 2.0 Host
WiFi Protected Setup Feature
"One Touch" WPS Button
Universal Plug and Play Support
2.4GHz Band up to 300Mbps PHY rate and 5GHz Band up to 450Mbps PHY rate
Share the files and video clips via NAS, printers and etc.
Filtering for Wireless links
Easy and secure establishment of a wireless home network
Makes it easy for users to do home networking for UPnP-enabled devices
Unboxing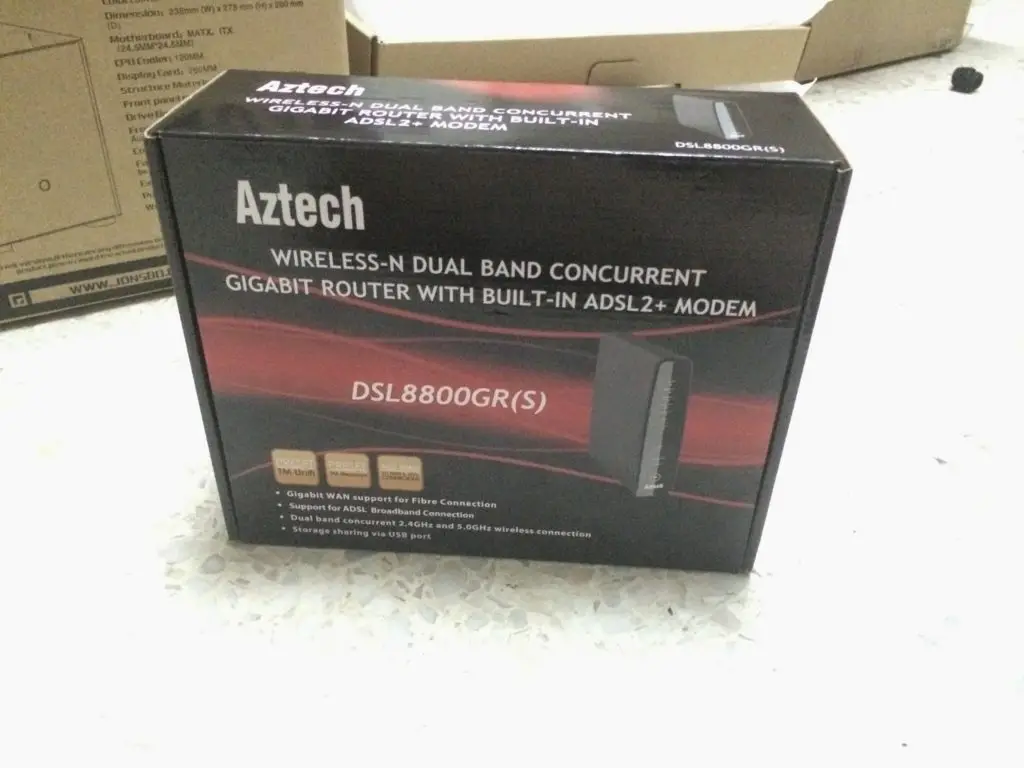 Here's the front of the packaging, features such as dual band wireless connection (2.4GHz and 5.0GHz) seems pretty common nowadays, but what truly caught our attention is the TM Unifi and Streamyx certified badges and USB storage sharing.
We can see the features and specifications of the Aztedh DSL8800GR(S) at the back of the packaging.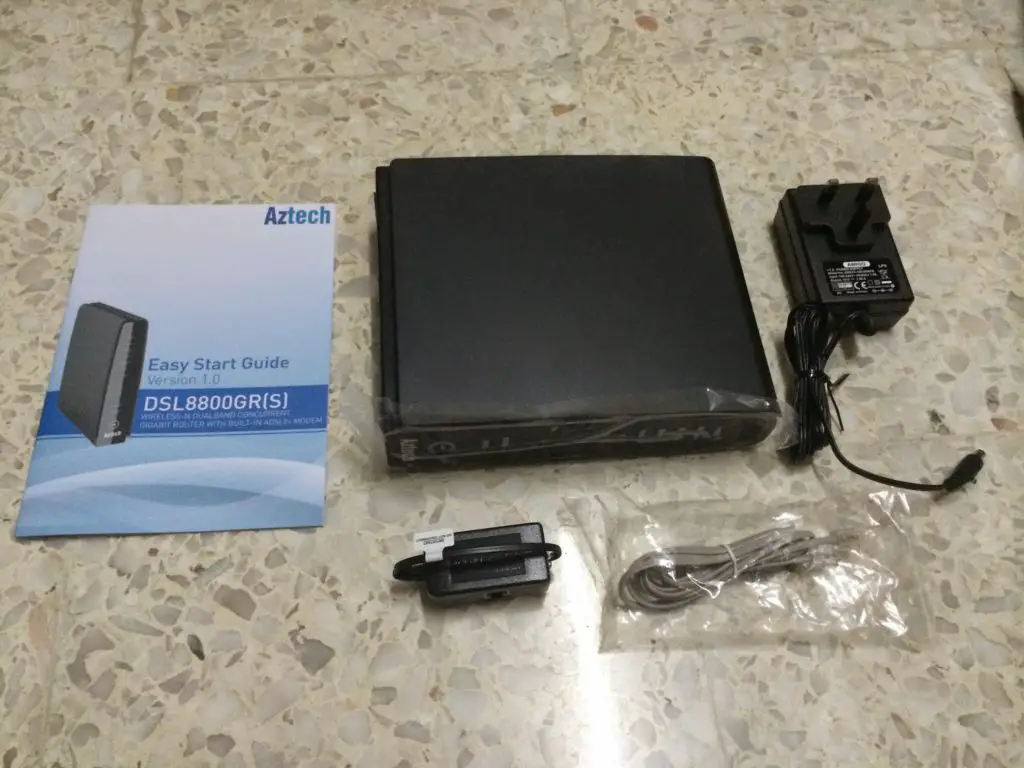 The content is pretty common we'd say, user's manual, splitter, a RJ11 phone cable, power adapter and the Aztech DSL8800GR(S).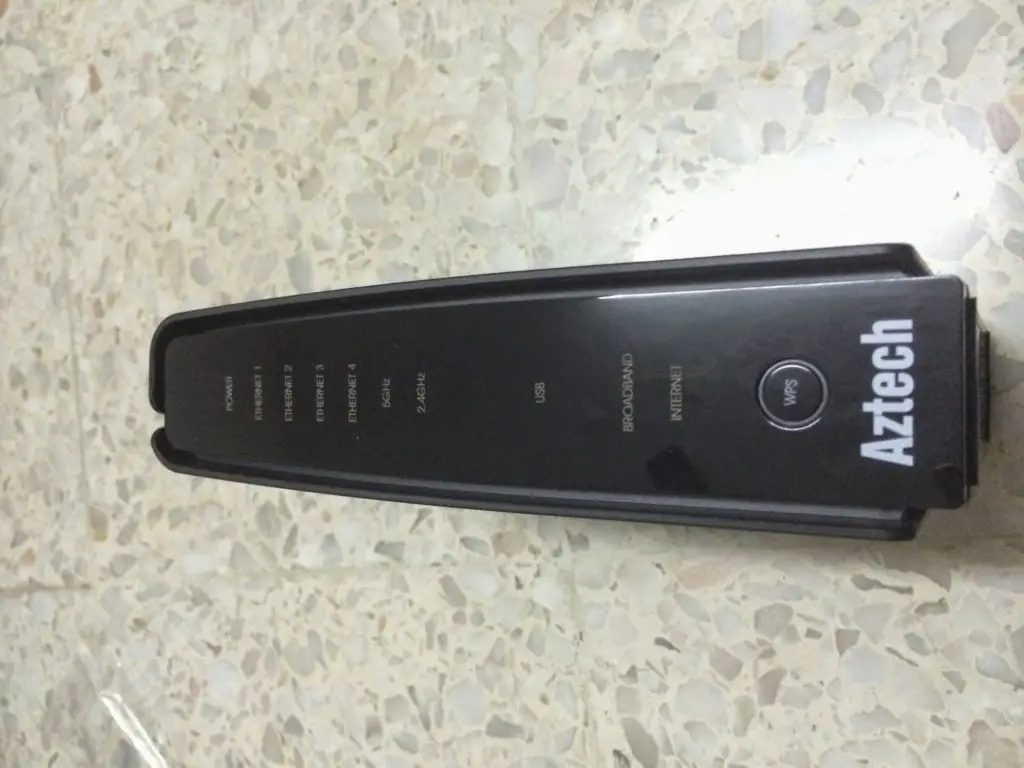 Front panel of the DSL8800GR(S)
Moving on the the back, we don't see any antenna sticking out from any where of the DSL8800GR which gave it a cleaner look compared to any generic models out there with antenna.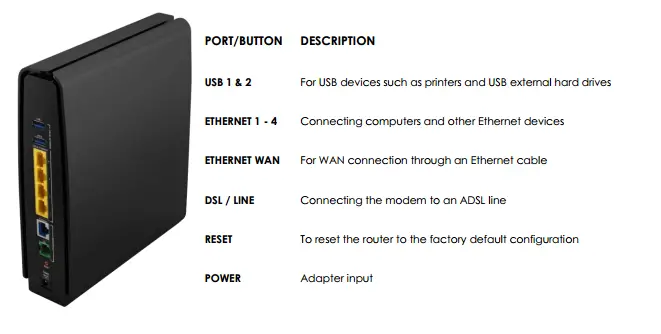 Web Configuration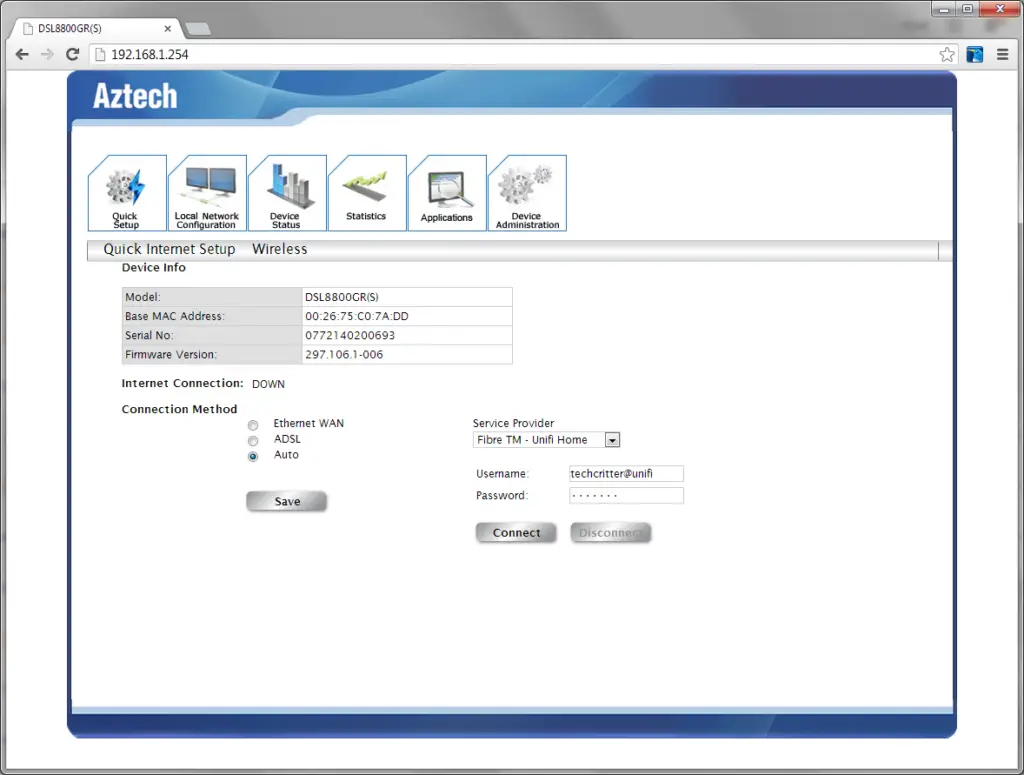 The initial access to the web config requires the default login name and password which is admin for both. Upon successful access, we first greeted by the Quick Internet Setup in the Quick Setup tab for connection configuration. Aztech did a very good job here in keeping the configuration as simple as possible, users will only have choose the connection method (recommended auto) and their service provider followed by the username and password for accessing the internet.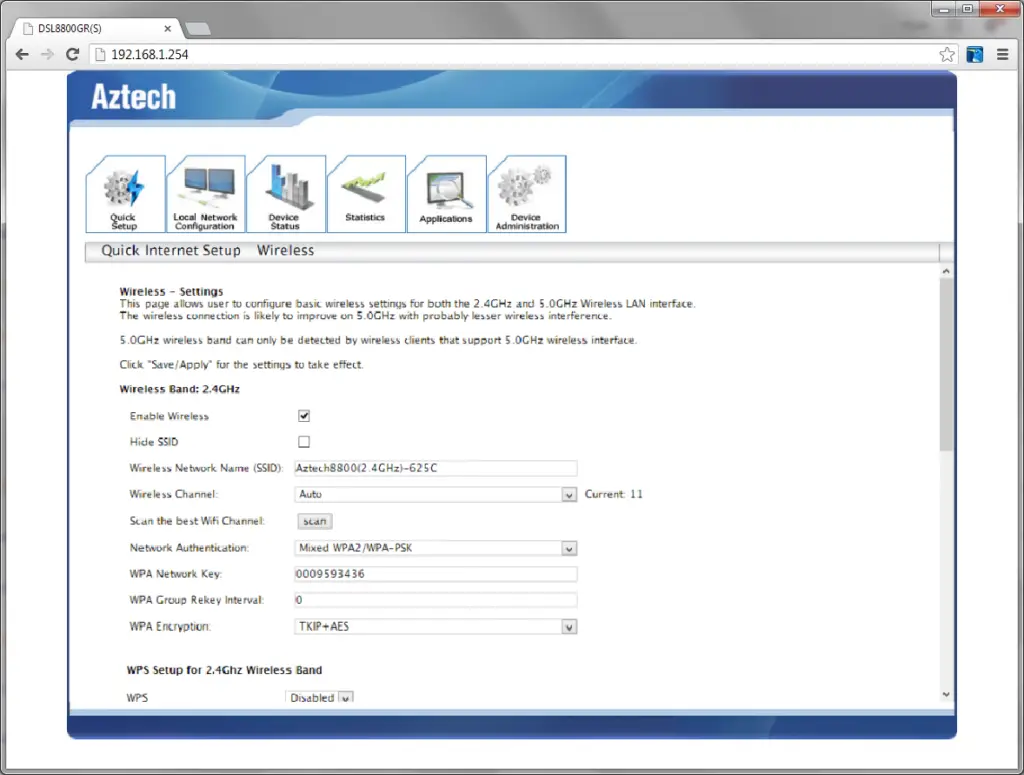 At the wireless tab, the options available is very straight forward we'd say. Users can modify the default SSID and the wireless password to their desired pass-phrase, configure the WPS device pairing and more.
In the Local Network Configuration tab, we can configure the DSL Router's IP Address, Subnet Mask, Host Name and Domain name for the DSL8800GR(S) LAN interface to be recognized in Windows Network Map. There's also options to disable/enable and configure the DHCP server, enable/disable the Public IP Pass through and the VPN Pass through settings. Once everything has been configured, simply click on the Save/Reboot to save your configurations and reboot to take effect.
For DHCP reservation, you can configure to reserve an IP address to a specific device based on its MAC address. i.e: We reserve the IP address 192.168.1.30 to the MAC address of our PC, so every time that PC is connected to the router, it will always have the same IP address. It's a useful feature for LAN games, file sharing, etc.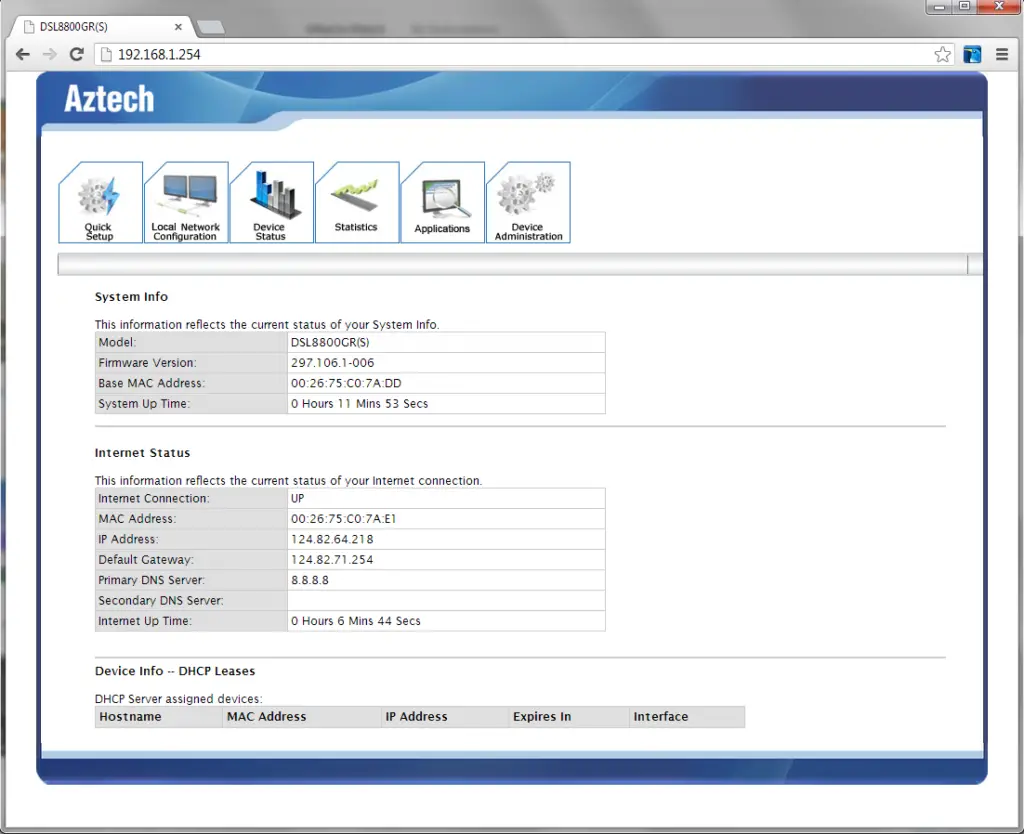 Moving on to the Device Status tab, there's some information that we find very useful:
System Up Time: We can check if the DSL8800GR(S) has been turned off before
Internet Connection: If its status is UP, there's internet connection, otherwise it will be DOWN.

In Statistics tab, you can find information regarding to the total Upstream and Downstream of your connection, the data rate, etc.
In the Application tab, we can find more advanced features such as firewall and port forwarding that is useful for those who is hosting their own server at home. The firewall settings allows you to create a filter to block outgoing traffic or accept incoming traffic for better security.
Port forwarding is usually used for routing traffic to a specific IP address and port number of a server hosted in a network with multiple active computers. You can have multiple servers hosted in your network and use the port forwarding feature to point the traffic to each respective servers.
NAT or Port Triggering is slightly different that port forwarding as it will dynamically opens a specific port range for certain application. As a Call of Duty player ourselves, NAT is a very familiar terms when it comes to configuring for multiplayer game mode as it requires NAT to be enabled.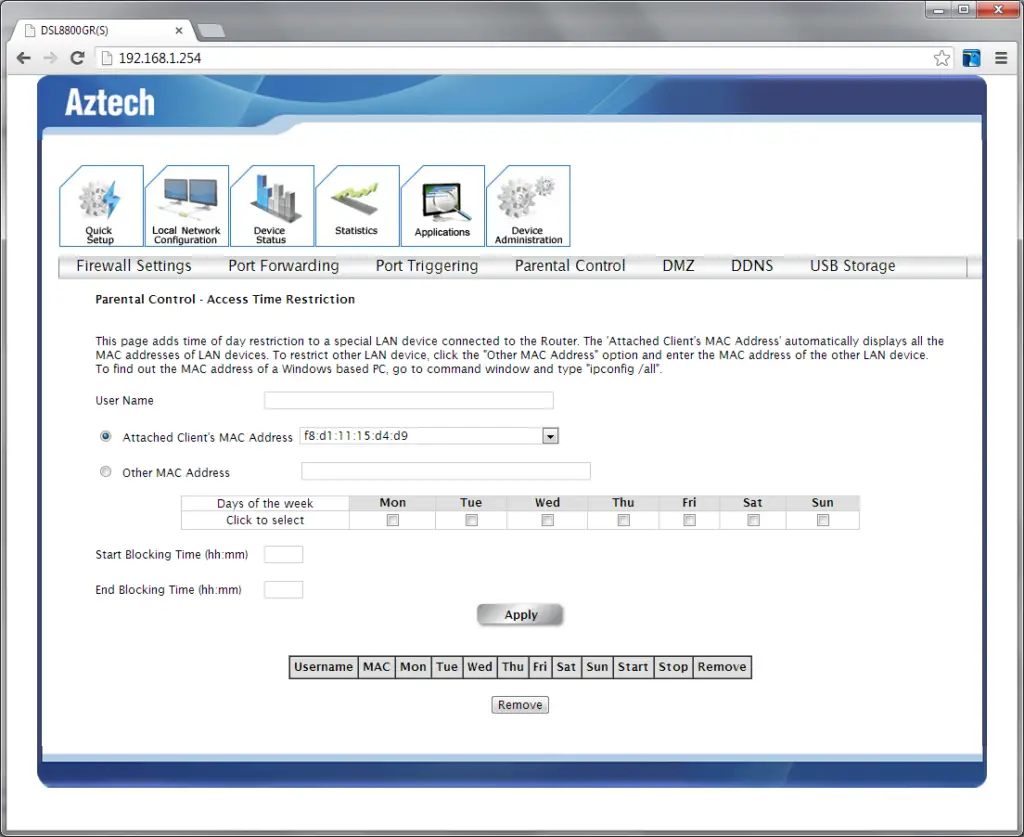 Parental Control allows you to configure the network access for specific devices on a specific time frame, great feature for those who wish to have a better control of the internet access of their children to avoid addiction and unsafe content.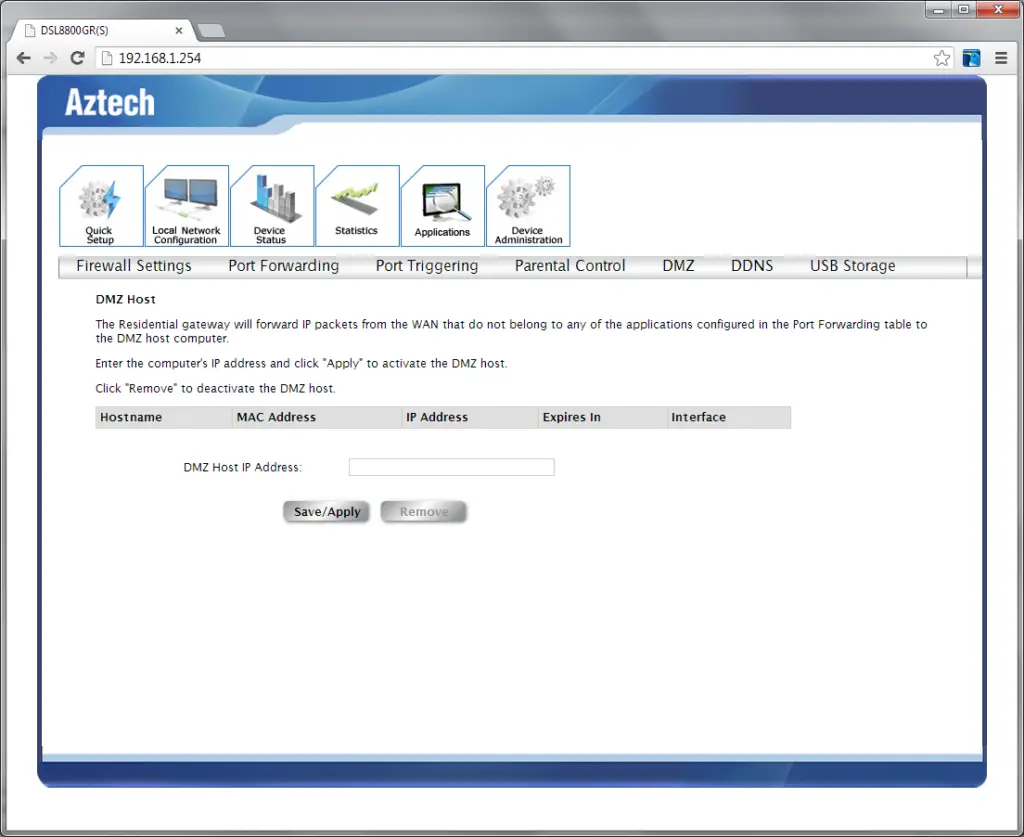 DMZ is a feature to allow a device to be placed in front of the firewall and traffic that is not configured for port forwarding, etc will be directed to the device.
DDNS is a very useful feature for those who host their server on a dynamic IP address. Enterprise servers often uses fixed IP address so their domain name can be pin pointed to that IP address every time without the needs of re-configuring settings in your domain name. If you're hosting on a dynamic IP address, you will have to re-configuring the domain name settings every time your internet connection is refreshed so others can access your server.
DDNS allows you to register for a domain name and will automatically update the IP address of the domain name whenever the internet connection is refreshed.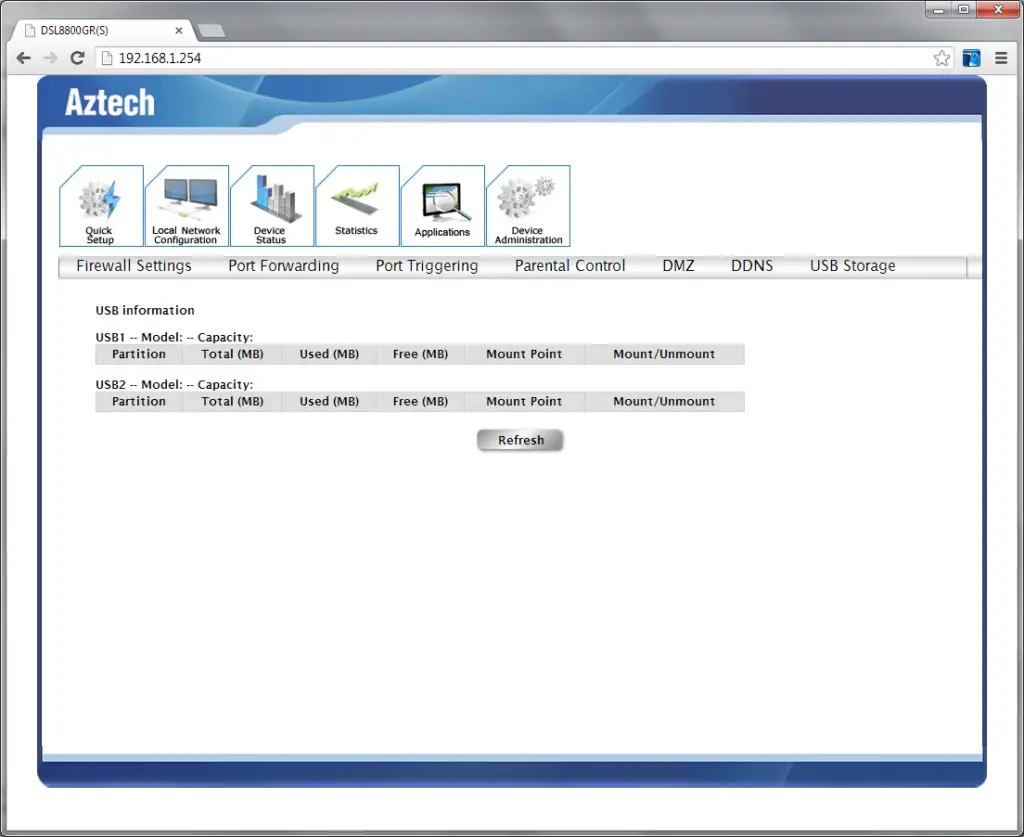 Here's something you don't get to see everyday, USB Storage sharing on a modem router. It allows you to plug in your USB storage devices directly to the DSL8800GR(S) and share its content throughout the network.
Device Administration tab allows you to configure settings related to the DSL8800GR. In Configuration, you can perform backup for the current settings and save it to a configuration file, update the current settings with a saved configuration file and restore to factory default settings without having to press on the reset button on the DSL8800GR.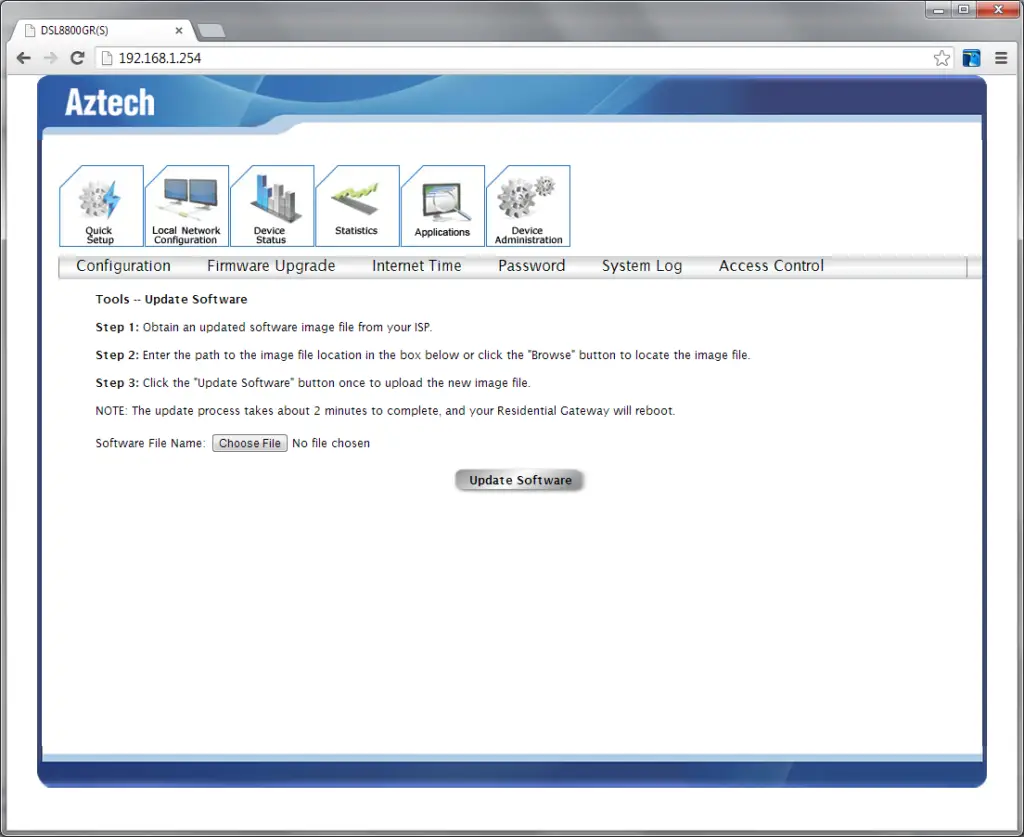 Firmware Update is pretty much self-explanatory, you can update the firmware for DSL8800GR with firmware updates downloaded from Aztech Officials.
Internet time allows you to configure the time server so the DSL8800GR can synchronize its time and date from the configured time servers.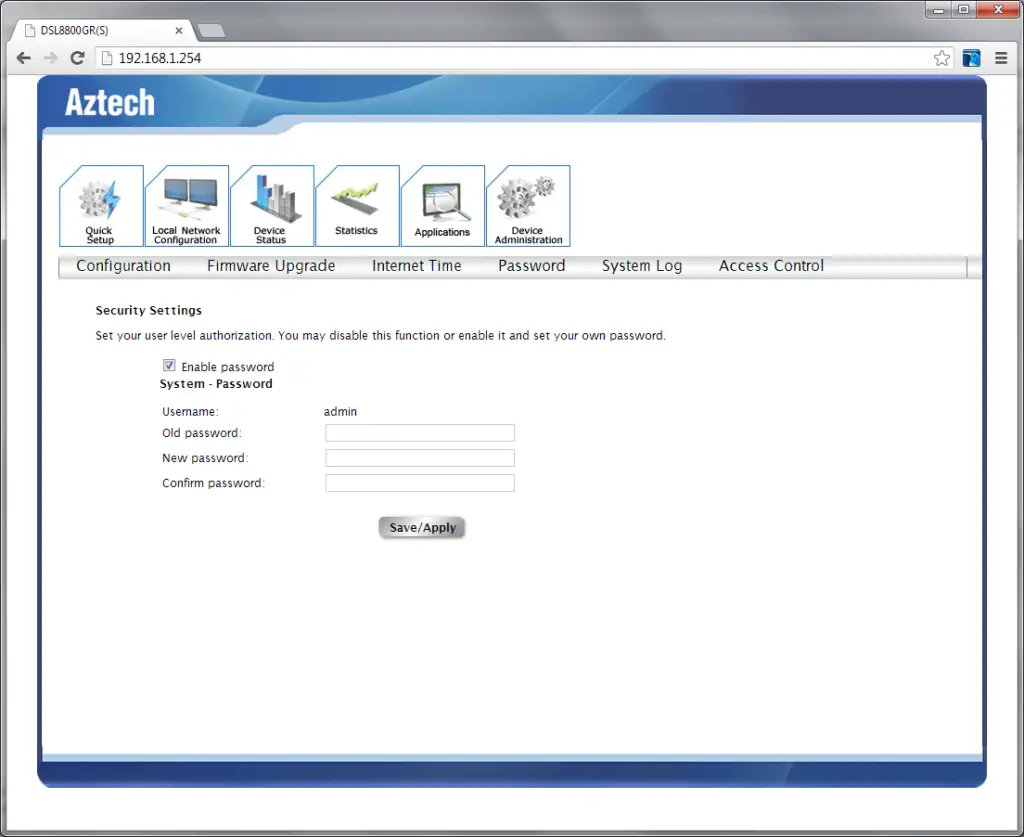 The initial access to the DSL8800GR is 'admin' for both username and password, if you wish to change it to your own pass-phrase or disable it totally, this is the place.
The system log keeps track system activity history for future references if necessary, especially when the modem is unable to connect to the internet, you can easily find out the problem with the details recorded.
The Access Control allows you to enable or disable the HTTP service based on port numbers, ICMP (pinging in general) and Telnet service.
Ping Test
Started off with a quick ping test to google.com using the modem router provided by TM, we're getting a fairly good result with time lower than 10ms most of the time but there's a minor fluctuation between 4ms to 9ms.
After switching to the DSL8800GR and pinging with the same IP address, we're seeing a stable and lower time. Unlike the fluctuation we're getting with the TM modem router, the result with DSL8800GR(S) stays low at 3ms to 4ms, which is plenty enough for you to enjoy your online gaming session with less chance of getting any unpleasant stuttering.
Speedtest Result
We've ran a quick speedtest on speedtest.net and we're satisfied with the result.
Signal Strength
The screenshot above shows the signal strength difference, the DSL8800GR(S) is proven to have a much stronger signal strength compared to the signal strength from TM modem router.
USB Storage
We've mounted a USB 3.0 storage device to the DSL8800GR(S) and the device is shown in the list almost immediately.
By connecting to the DSL8800GR(S)'s IP, we can see all the files from the USB 3.0 storage device that we've mounted. It's a very convenient feature that resembles a NAS and we're getting a pretty decent speed of 1 MB/s in average for streaming a 1 GB video from the USB 3.0 storage devices.
Conclusion
As we've mentioned earlier, TM modem router is allows only 5 devices to function properly but we're able to get 8 device connected without any issues. Aside from its ease of use and stability, its USB Storage Sharing feature is our favorite among the features available. It might not be the best modem router you can get but if we were to compare it with the modem router given by TM, the Aztech DSL8800GR(S) is definitely a much better option to go for and we wouldn't mind paying a little extra for it.
Pros
Easy to setup
Dual band support
Good wireless signal strength
Able to support more devices connected via wireless connection
USB storage sharing that act like a NAS for quick and easy file sharing
DDNS for easy web hosting with dynamic IP address
Cons
Limited ISP support, it is confirm that the DSL8800GR(S) doesn't works with Maxis Fiber