Hello Ladies and Gentlemen , this is Jack from Tech-Critter bringing you coverage of Western Digital's product launch which was held at St Giles The Gardens – The Garden Hotel & Residences just last week.
Western Digital has invited us here to enlighten us about the expansion of their line of My Cloud NAS. This time specifically designed for creative professionals, pro-sumers and small businesses. After a warm welcome from the emcee and a lovely speech given by Sales Director of Asia South, Western Digital, Margaret Koh. Simon Whitford, Senior Regional Marketing Manager, Asia-Pacific Western Digital provided a very insightful presentation of what Western Digital has to offer.
This time, Western Digital has expanded it's line of NAS which stands for "Network Attached Storage" with two new series each offering two new products. The Expert Series of My Cloud NAS offers the EX2100 and EX4100 which is a two-bay and four-bay NAS respectively. Powered by the latest dual-core Marvell ARMADA processors, these NAS's are designed for prosumers and creative professionals to reliably save, share, back up and manage large amount of data.
Next up was the Business Series which includes the DL2100 and DL4100 which is yet again, two-bay and four-bay respectively. These two, powered by a different processor, Intel Atom dual-cores, are built to provide reliability, security and scalability for growing businesses which need a central storage system. These models even come with upgradable ram and hotswap bays to make sure that small businesses have the performance and scalability to meet and fulfill their requirements.
Now what these four have in common is that they're both designed from the ground up using Western Digital's red drives in mind to ensure the reliability needed to maintain daily usage. With reliability in mind, these products can run in multiple raid options (model dependant) ranging from RAID 0, 1, 5, 10 JBOD and spanning modes.The Business models even include AES 256-bit volume encryption to protect the data of small businesses. They are also designed for ease of use and accessibility. The products have a short setup time of 5 to 10 minutes to get everything up and running and is also fitted with all types of bells and whistles. They all have a one touch button to copy files from USB devices at a touch of a button. 
They also come with a very well designed and intuitive User Interface making it smooth and easy for users to access, from basic settings to the highly specific ones for users who like to get down and dirty, they seemed to have thought of it all and manage to pack it into a very attractive dashboard program. This paired up with mobile apps on both Android and iOS makes the accessibility to said NAS's almost second to none.
After the very detailed and in-depth presentation by Simon, last but not least, local blogger and entrepreneur Vernon Chan shared his personal experience while using said NAS. He also shared some of his opinions on the problems faced with storage and the backing up of it, and how NAS will be a major game changer and potentially solve all of this.
The My Cloud Expert and Business Series come with a 3-year warranty for the populated products and a 2-year warranty for the diskless products. The MSRP for said products are listed as below.
My Cloud EX2100
Diskless unit MSRP RM 1,099.00
4 TB unit MSRP RM 1,919.00
8 TB unit MSRP RM 2,529.00
12 TB unit MSRP RM 3,289.00
My Cloud EX4100
Diskless unit MSRP RM 1,769.00
8 TB unit MSRP RM 3,339.00
16 TB unit MSRP RM 4,739.00
24 TB unit MSRP RM 6,559.00
My Cloud DL2100
Diskless unit MSRP RM 1,549.00
4 TB unit MSRP RM 2,359.00
8 TB unit MSRP RM 2,849.00
12 TB unit MSRP RM 3,829.00
My Cloud DL4100
Diskless unit MSRP RM 2,359.00
8 TB unit MSRP RM 3,799.00
16 TB unit MSRP RM 5,229.00
24 TB unit MSRP RM 6,899.00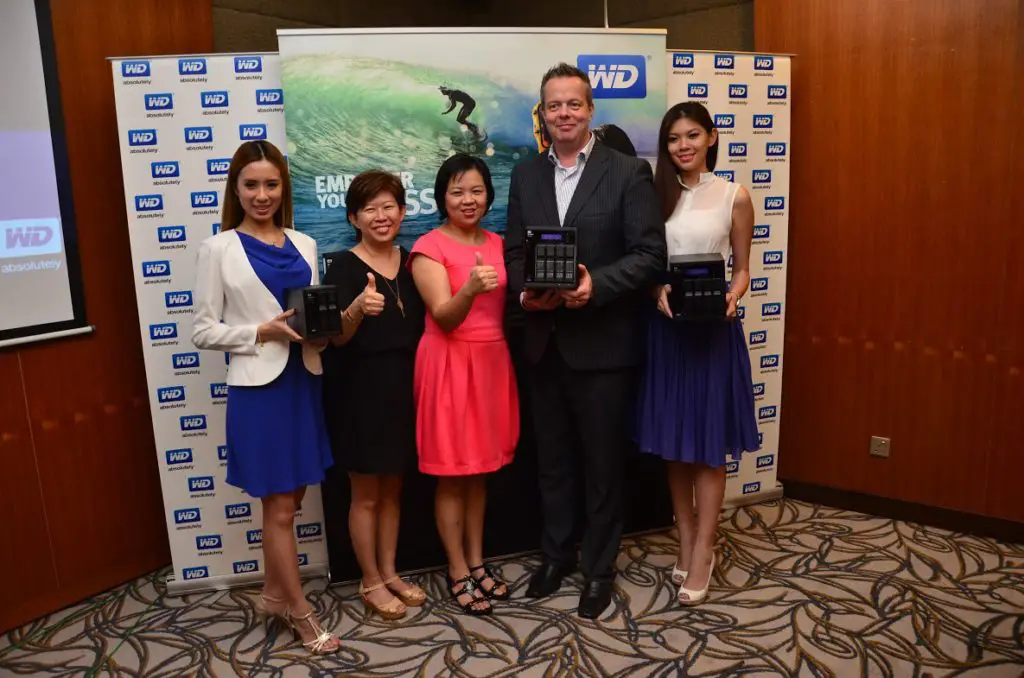 Overall, we hope that this move towards NAS by Western Digital will change how the average household manages their data and storage methods for the better. Once again this has been Jack bringing you event coverage of the Western Digital My Cloud NAS Launch Event, stay tuned for anything and everything tech related right here at Tech-Critter. Thank you for reading and I hope you have a nice day!