ASUS unveiled its ROG Swift PG279Q that comes with a whopping 165Hz refresh rate, which the company claims to be the first gaming monitor ever to come with such insanely high refresh rates.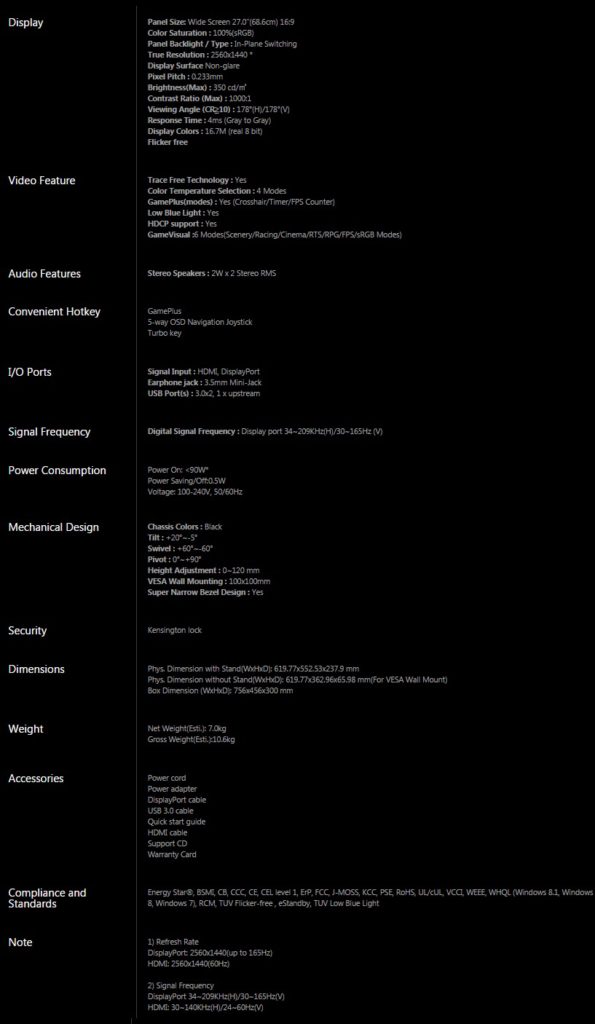 The ROG Swift PG279Q comes packed in the huge box as usual, with its prominent features are highlighted on the top of the box.   
The ROG Swift PG279Q looks pretty much identical to most of the ROG Swift monitors available nowadays, but you'll spot the difference on closer inspection.
Here's an added bling that has been around since the first ROG Swift monitor and it's something that ROG fans would greatly appreciate – an ROG logo that glows red. 
The screen has adjustable height feature and can be tilted 20° to the front and 5° to the back, rotatable to both left and right by  60°, and can be pivoted 90° clockwise. 
Located behind the monitor are the buttons for power on/off, OSD menu etc and a fancy looking red colored 5-way joystick for multi-directional OSD toggling.
Right under the monitor, you'll find the built-in USB 3.0 port and 3.5mm audio jack. The display input option for the ROG Swift PG279Q is the now common DisplayPort and HDMI port, but you will have to resort with the DisplayPort if you wanted to use the NVIDIA G-SYNC function. 
One of the features that makes the ROG Swift PG279Q unique is its ability to go up to 144Hz, which above the 60Hz refresh rate that is commonly seen on the mainstream monitors. On top of that, you can push it a little further to a whopping 165Hz via the refresh rate overclocking function.