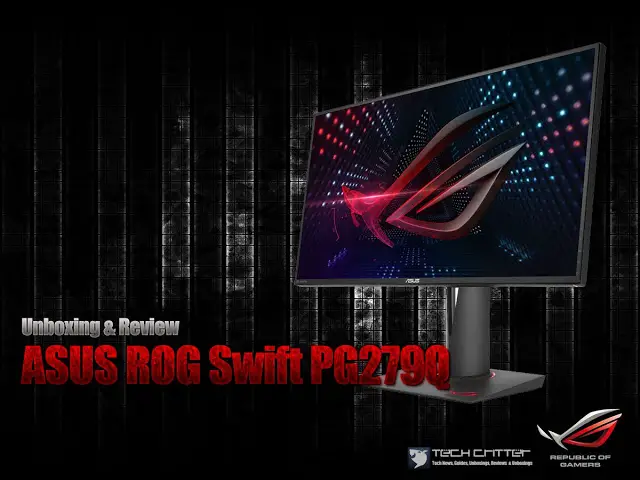 ASUS unveiled its ROG Swift PG279Q that comes with a whopping 165Hz refresh rate, which the company claims to be the first gaming monitor ever to come with such insanely high refresh rates. 
In response to our curiosity, we have the ROG Swift PG279Q monitor here today, special thanks to ASUS Malaysia for sending over the review unit. The ROG Swift PG279Q comes at an extremely taxing SRP of RM 4219 that will definitely scare away gamers that are on a tight budget looking for a decent gaming monitor., but let's put that aside for now and see just how good the ROG Swift PG279Q is and if it's worthy enough to pay that amount of cash for?
Specifications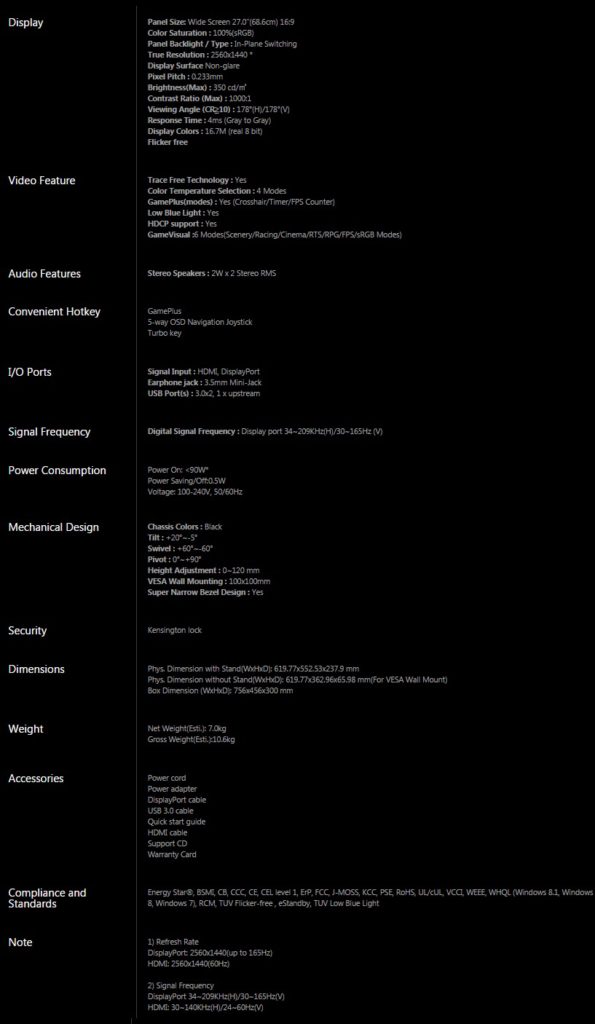 Unboxing
The ROG Swift PG279Q comes packed in the huge box as usual, with its prominent features are highlighted on the top of the box.   
The ROG Swift PG279Q looks pretty much identical to most of the ROG Swift monitors available nowadays, but you'll spot the difference on closer inspection.
Here's an added bling that has been around since the first ROG Swift monitor and it's something that ROG fans would greatly appreciate – an ROG logo that glows red. 
The screen has adjustable height feature and can be tilted 20° to the front and 5° to the back, rotatable to both left and right by  60°, and can be pivoted 90° clockwise. 
Located behind the monitor are the buttons for power on/off, OSD menu etc and a fancy looking red colored 5-way joystick for multi-directional OSD toggling.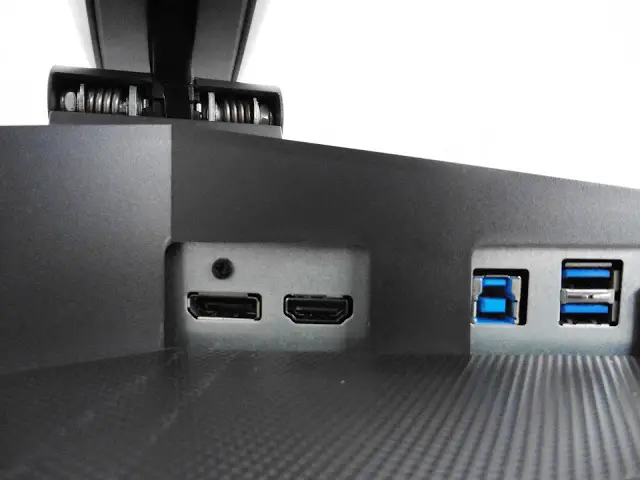 Right under the monitor, you'll find the built-in USB 3.0 port and 3.5mm audio jack. The display input option for the ROG Swift PG279Q is the now common DisplayPort and HDMI port, but you will have to resort with the DisplayPort if you wanted to use the NVIDIA G-SYNC function. 
Monitor OSD Menu
The OSD menu can be accessed by pressing down the tiny red joystick located behind the screen. There's a wide range of options in the OSD menu, ranging from the normal function that is common for most monitors, to feature that is present on certain brands of monitors.
Refresh Rate Overclocking
One of the features that makes the ROG Swift PG279Q unique is its ability to go up to 144Hz, which above the 60Hz refresh rate that is commonly seen on the mainstream monitors. On top of that, you can push it a little further to a whopping 165Hz via the refresh rate overclocking function.
Once you've selected that feature, you'll be prompted to reboot your system for the settings to take effect.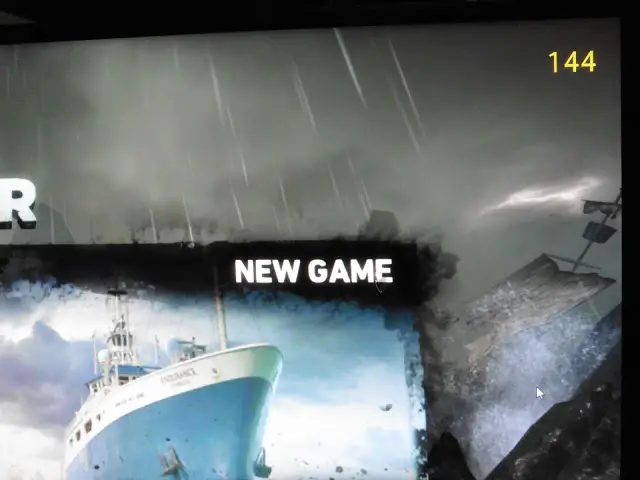 We gave the new refresh rate settings a quick run on the classic Tomb Raider with VSYNC enabled and we're getting a very steady 144 frames on the fps count. So what's the hype? If you're using an AMD Radeon graphics card, you will definitely not going to have the G-SYNC feature enabled. 60 fps lock is pretty common for the mainstream monitors when VSYNC is enabled, as the refresh rate is limited at 60Hz. The ROG Swift PG279Q however, can compensate for the fps limitation of VSYNC with the ultra high refresh rate that will get you pretty much a tearing-free gaming experience that goes above 60 fps.    
GameVisual
And here's the GameVisual mode, a list of specialized preset made for each specific purpose. 
Scenery mode, it somehow makes the pictures brighter and clearer for various scenery. 
Racing mode, specialized for racing games – or what they're claimed to be.
Cinema mode increases the contrast and saturation for more vivid visuals when you're enjoying your movies. The lipstick face demon from Insidious seems amused alright.
RTS/RPG mode, things does looks a whole lot better for Dota 2 when we switched to this mode. Good saturation and contrast, the brightness are just good, a definite yes for this mode if you're a Dota 2 player.
FPS mode, everything looks pretty normal for first-person shooter games but one thing we've noticed is that the brighter scenes in overall. We have better visual on enemies who hides in darker areas, take that for those who tries to blend in the shadow. 
Blue Light Filter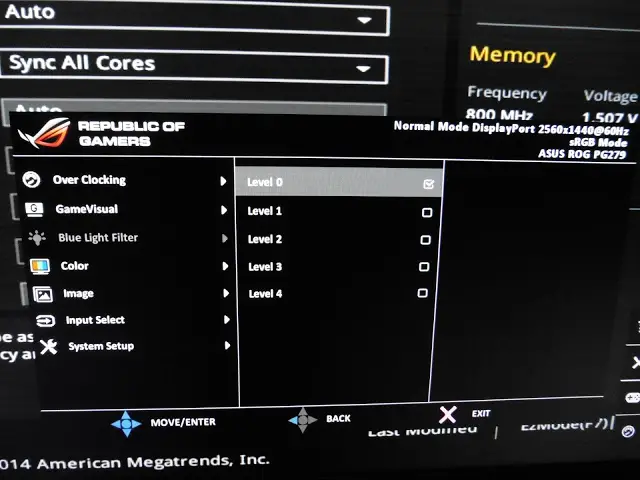 Studies suggest that the blue light spectrum could cause serious long-term damage to your eyes if exposed over time. The blue light filter basically allows you to adjust the blue level of you display up to 5 level in total, which helps to reduce the amount of blue light emitted.     
OverDrive
OD or better known as overdrive basically overdrives the pixel response rate for better smoother display in overall.
Extreme – Improves the response rate to the max, but the difference between normal and extreme is barely noticeable
Normal – Improves the response rate, the image trailing observed when OD is disabled has significantly reduced
Off – Disable OD, minor image trailing can be observed
GamePlus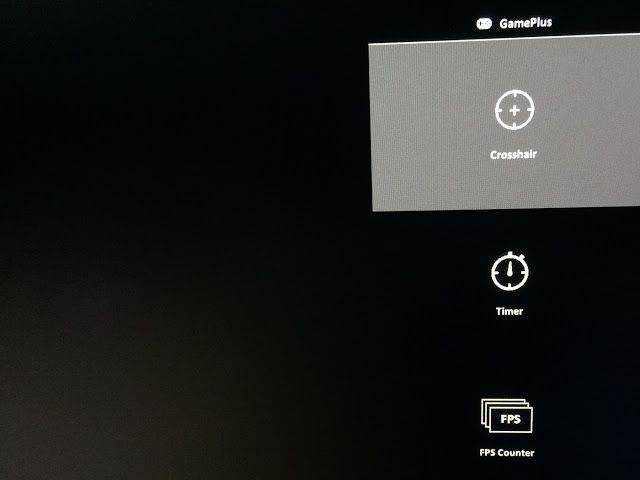 GamePlus is a unique feature that has been going on since the first ROG Swift monitor, specially made for FPS gamers. On-screen crosshair for external aim assist, the timer for timing training and FPS counter to display the frames per second of the game that you're currently playing. 
Here's a quick demonstration of the on-screen crosshair with Far Cry 4.
Final Thoughts
The ergonomics of the ROG Swift PG279Q like its adjustable height, tilt, swivel, and pivot are among the advantageous features for gamers which most mainstream monitors couldn't offer and it's really good to know that ASUS is actually paying attention to it. 
Features such as the refresh rate overclock, Blue Light Filter, G-SYNC, GameVisual, and GamePlus is definitely useful in many ways, rather than just being a marketing gimmick to push their products and take away our money without any actual good benefit in return. 
Capable of going up to 165Hz on the refresh rate is a sweet feature to have as it improves the overall visual experience and it breaks that 60 fps lock bottleneck issue that has been troubling many who enables the VSYNC, but then you will be needing a GTX960 or its equivalent at least in order to experience this feature to its full extent – ouch.  
Blue Light Filter isn't really that preferable for gaming due to its yellowish tinge, but it does put less strain on the eyes when you're working on something that requires long hours of intensive reading on the screen. 
The revolutionary G-SYNC which NVIDIA claims to be able to be the sweet spot for a tearing-free gaming experience without losing as much of the frame rates when VSYNC is enabled now works on both full screen and windowed mode, but it only works on DisplayPort and NVIDIA GPUs that supports G-SYNC 
GameVisual, and GamePlus that helps to improves the overall gaming experience for all sorts of games without having to go through the hassle for monitor color calibration
At the end of the day, the cost itself is something that concerns many of us. The ASUS ROG Swift PG279Q isn't at all a bad monitor, but a pretty kickass one to own if your pocket is deep enough for it as it's definitely going to cost you both arms and legs to own one.  
Pros
Easy to set up
Able to reach and remain stable at a very high refresh rate of 165Hz
Packs with NVIDIA's latest G-SYNC technology
Good ergonomics 
Easy navigation with the 5-way joystick
Comes with a USB 3.0 hub with 2 x USB 3.0 port
Rich color profiles for different purpose with GameVisual
Cool game assist feature (GamePlus Crosshair and Timer)
Low blue light and flicker free eye care feature 
Cons
Very costly
G-SYNC will only work on GTX 650 Ti Boost or higher spec graphics cards with DisplayPort output
The benefit of 144Hz monitor can only be fully experienced with a minimum requirement of NVIDIA GTX 960