The Microsoft Surface Studio has been officially unveiled at the Microsoft October event today, and it is a gorgeous looking all-in-one desktop PC that Microsoft specially designed for creative industry users.
The Studio's 28-inch PixelSense display is enclosed in a forged aluminium chassis and has a 3:2 aspect ratio with 4500*3000 pixel resolution, which translates to 192 PPI pixel density. According to Microsoft's devices team lead, Panos Panay, the Studio has the world's thinnest LCD monitor ever built and the display outputs 63 percent more pixel than a 4K television.
The Surface Studio's display also comes with a feature called TrueColor that supports expanded colour output, allowing creative industry users such as photographers, videographers, illustrators and designers to render the exact creation in their mind.
What comes afterwards is the specially designed Surface Studio hinge that attaches from the base to the display. The Zero Gravity Hinge is constructed in a way that allowing the display to be adjusted to various orientation for writing and drawing.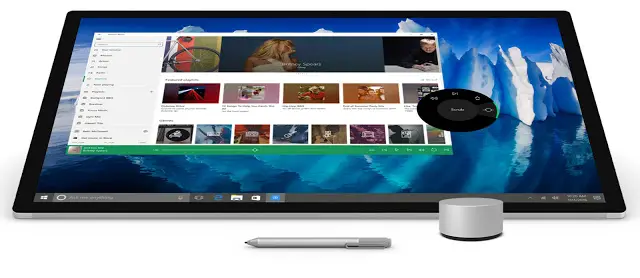 Other than supporting the Surface Pen, the Surface Studio also supports a new peripheral – the Surface Dial. It is a radial accessory that can either be used on the table or placed directly on the Studio's display for all sorts of control adjustment, such as scrolling, colour adjustment and more.
As for the specs, the Surface Studio comes in 6th generation Intel Core i5 or Core i7 processors, with DDR4 RAM configuration of 8GB, 16GB and 32GB. The storage comes in 1TB or 2TB rapid hybrid drive options. Then the graphics configuration comes in GTX965M 2GB GDDR5 and GTX980M 4GB GDDR5 for the highest grade i7 + 32GB RAM configuration.
Connectivities include a 3.5mm audio jack, full-size SD card reader, Mini DisplayPort, 1-gigabit ethernet port and 4 USB 3.0 Type-A.
While the Surface Studio will arrive in Microsoft Stores for hands-on demo starting October 27, too bad Malaysia doesn't have any physical Microsoft Stores and we certainly hope to see this amazing device in person.
Surface Studio is available for pre-order now and it is going to ship in limited numbers by this holiday season, price as below:
i5 8GB 1TB GTX965M – USD 2,999 (approx MYR 12461.74).
i7 16GB 1TB GTX965M- USD 3,499 (approx MYR 14539.39).
i7 32GB 2TB GTX980M – USD 4,199 (approx MYR 17448.10).
That price, though…