Samsung has just showcased the latest models of the Odyssey, ViewFinity, and Smart Monitor at CES 2023, all of which offer picture quality on a new scale with a variety of innovative features to further enhance user experiences.
For starters, the Odyssey Neo G9 Gaming Monitor offers a 7,680×2,160 resolution and a 32:9 aspect ratio with a 240Hz refresh rate. And with that, its 1000R curved 57″ screen employs a matte display designed to decrease light reflection, as well as quantum mini LED technology with VESA Display HDR 1000 standard for excellent imaging in any game environment.
In addition, it supports DisplayPort 2.1 and can transfer data up to twice as fast compared to the previous DisplayPort 1.4 while allowing lossless industry-standard Display Stream Compression to transmit information without distortion.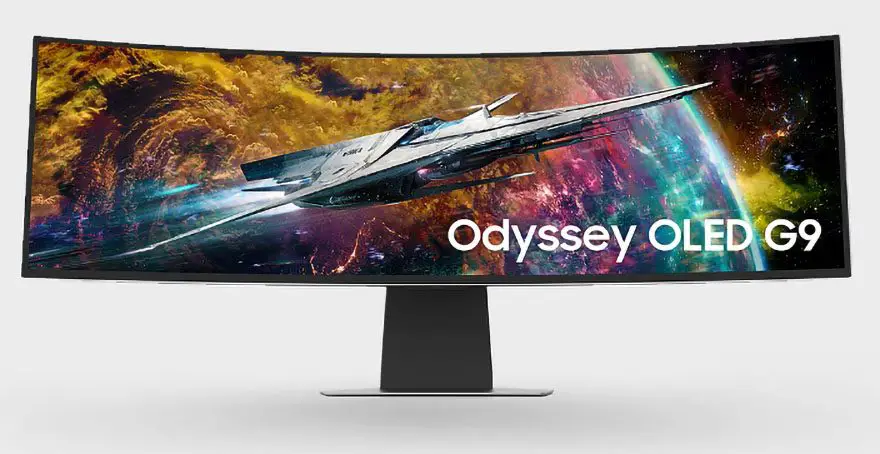 Following that is the Odyssey OLED G9, which features a dual quad-HD 49″ 1800R curved display with a 32:9 ratio, as well as 0.1ms response time and 240Hz refresh rate. The monitor also adopts the company's quantum dot technology OLED lighting to deliver a dynamic contrast ratio of 1,000,000:1.
What's more, the Odyssey OLED G9 also includes Smart Hub and Samsung Gaming Hub to allow users to browse their favorite content and games seamlessly.
Up next is the ViewFinity S9 specially tailored for creative professionals. It packs a 5K 27″ matte display with a wide color gamut of 99% DCI-P3, and a built-in Color Calibration Engine that assure precise screen color while enabling users to adjust color settings with their smartphones.
Additionally, the monitor comes with a 4K SlimFit camera and supports native video conferencing via apps like Google Meet that are included in the Samsung Smart Hub. Another plus is that users are able to connect cameras or other devices through USB-C and Thunderbolt 4 connections for transferring large files from storage devices to their PC.
Last on the list is the Smart Monitor M8, which features a stylish and slim design and comes in a new 27″ size with 4K resolution. Available in four color options: Daylight Blue, Spring Green, Sunset Pink, or Warm White, the display is capable of pivoting 90 degrees to aid users in viewing long documents.
Similarly to the ViewFinity S9, this monitor is also equipped with Samsung Smart Hub, alongside a newly integrated SlimFit camera that supports 2K resolution.
Availability
All of the above-mentioned Samsung displays' pricing and availability will be unveiled later on, so stay tuned for further updates from us!