The new AMD Ryzen 3000XT series desktop processors are finally available in the market and while it's still based on the same Zen 2 architecture as the previously announced Ryzen 3000 series CPUs, the Ryzen 3000XT series is what AMD refers to as the much more optimized Zen 2 that are purpose-built to maximize performance under any workload.
We'll be taking a quick look at what the Ryzen 7 3800XT has to offer, other just being another questionable existence after the Ryzen 7 3800X, which some might claim to be unnecessary and can be easily replaced by an overclocked Ryzen 7 3700X.
Specifications
| | | | | | |
| --- | --- | --- | --- | --- | --- |
| MODEL | CORES/THREADS | BOOST/ BASE FREQUENCY (GHz) | TOTAL CACHE (MB) | TDP (WATTS) | Price (MSRP) |
| Ryzen 9 3900XT | 12/24 | Up to 4.7/3.8 | 70 | 105 | MYR 2299 |
| Ryzen 7 3800XT | 8/16 | Up to 4.7/3.9 | 36 | 105 | MYR 1899 |
| Ryzen 5 3600XT | 6/12 | Up to 4.5/3.8 | 35 | 95 | MYR 1199 |
The Ryzen 7 3800XT
Starting off with the box, we can see that the Ryzen 7 3800XT ships in a smaller box this time because for some reason, AMD decided to not include a CPU cooler for two of the Ryzen 3000XT CPUs – the Ryzen 7 3800XT and Ryzen 9 3900XT. If you're serious about getting yourself a Ryzen 7 3800XT or Ryzen 9 3900XT for your next build or upgrade, you will have to get a CPU cooler separately.
Test System
| | |
| --- | --- |
| CPU | AMD Ryzen 7 3800XT |
| Motherboard | MSI MEG X570 GODLIKE |
| Memory | T-Force Xtreem ARGB DDR4 2x8GB DDR4-3200 |
| Graphics Card | NVIDIA GeForce RTX 2080 Super Founders Edition |
| Power Supply | Cooler Master V1200 Platinum |
| Primary Storage | Corsair Force Series MP600 2TB Gen4 PCIe X4 NVMe M.2 SSD |
| Secondary Storage | WD Black 6TB |
| CPU Cooler | Cooler Master MasterLiquid ML360R RGB |
| Chassis | Streacom BC1 Open Benchtable |
| Operating System | Windows 10 64bit |
CPU Overclock
The Ryzen 7 3800XT does have a slightly higher boost clock of 4.7GHz as compared to the non-XT variant, but that applies only to single-core performance on a specific core that only kicks when necessary. For most of the tests we've done, the Ryzen 7 3800XT will boost up to 4.36GHz on all its cores during load instead of going all the way up to 4.7GHz.
4.7GHz on all the cores can be done manually on the Ryzen 7 3800XT but our test here shows that it will require at least a 1.6V on the Vcore just to be able to boot into the operating system and it will still fail in some of the benchmarks i.e PCMark 10, 3DMark Time Spy Extreme. The best possible settings we can go on our Ryzen 7 3800XT is 4.5GHz with 1.35V on the Vcore, which is still within the range that our Cooler Master MasterLiquid ML360R RGB liquid cooler can handle.
If you prefer to go with good old air cooling instead, we strongly recommend powerful air coolers like the Noctua NH-U12A, which we're able to achieve a 4.4GHz with it. We've recorded the load temperature for all different settings we've tried on the Ryzen 7 3800XT and here are the numbers for your reference:
Auto: 81°C with Noctua NH-U12A
Auto: 76°C with Cooler Master MasterLiquid ML360R RGB
4.4GHz at 1.28V: 86 °C with Noctua NH-U12A
4.4GHz at 1.28V: 82°C with Cooler Master MasterLiquid ML360R RGB
4.5GHz at 1.35V: 95°C with Noctua NH-U12A
4.5GHz at 1.35V: 88°C with Cooler Master MasterLiquid ML360R RGB
4.7GHz at 1.6V: too much for both coolers to handle
Memory Overclock
For memory overclock, we're using the T-Force XTREEM ARGB DDR4 DDR4-3200 kit this time, and tests are done separately using the Ryzen 7 3800XT and Ryzen 9 3900X.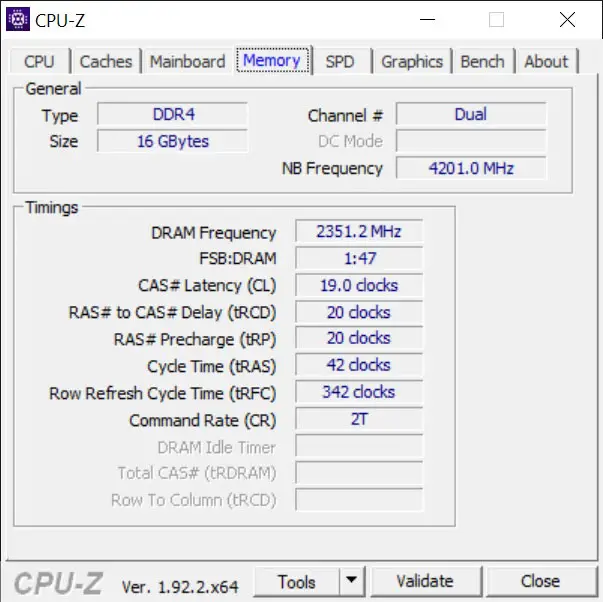 We did manage to get a slightly higher memory clock on this kit with the Ryzen 7 3800XT (DDR4-4700 CL19-20-20-42, 1.5V on the VDIMM) as compared to what we get on the Ryzen 9 3900X (DDR4-4533 CL18-18-18-38, 1.5V on the VDIMM), without any adjustments done to the NB/SoC voltage (Auto).
Do note that we're only doing this for fun, as we have yet to see any major performance increase on both work and gaming after going beyond DDR4-3600 on the current Ryzen 3000 series. With that said, we settled down with DDR4-3600 CL14-14-14-34, which is the setting that we'll be using for all of the tests and benchmarks this time.
Synthetic Benchmark
For the benchmarks, we don't have a Ryzen 7 3800X with us to compare the performance difference between the XT and non-XT variant. We'll be running the same set of benchmarks on both the Ryzen 7 3800XT and Ryzen 9 3900X instead, just to get an idea on the performance difference both CPUs.
Cinebench R20
HWBot X265 Benchmark
7zip Benchmark – Compression & Decompression
V-RAY Benchmark 4.10.07
Blender 2.82 – BMW 2.7 CPU Benchmark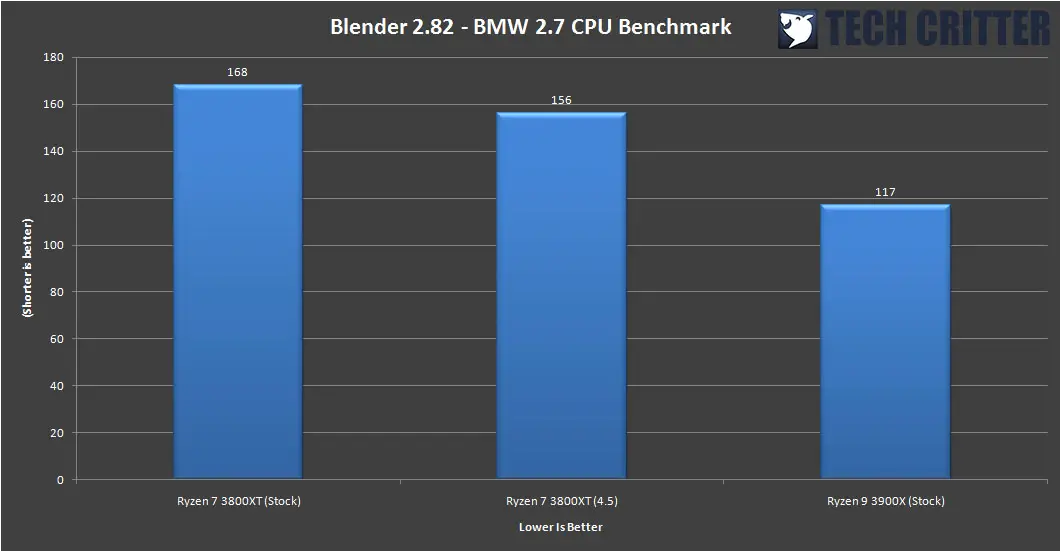 Corona 1.3 Benchmark
SuperPi 32M
Wprime 1024M
The result is pretty obvious for this one, with the Ryzen 9 3900X smashing almost every benchmarks we have on the list without any overclock done to it. The Ryzen 7 3800XT on the other hand, still far from overpowering the 12C24T Ryzen 9 3900X when it comes to multi-thread performance.
Games Benchmark
Moving on to gaming performance, we won't be overclocking both the Ryzen 7 3800XT and Ryzen 9 3900X as we have previously confirmed that games will benefit from Precision Boost more if you're not running the Ryzen CPUs at a crazily high clock which will require a much more powerful cooling solution to keep the CPU temperature cool.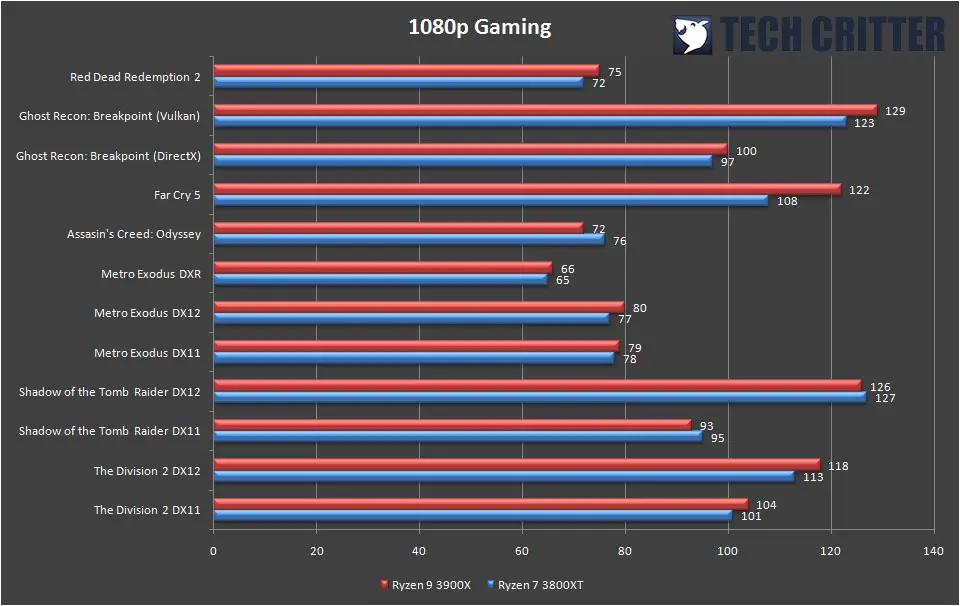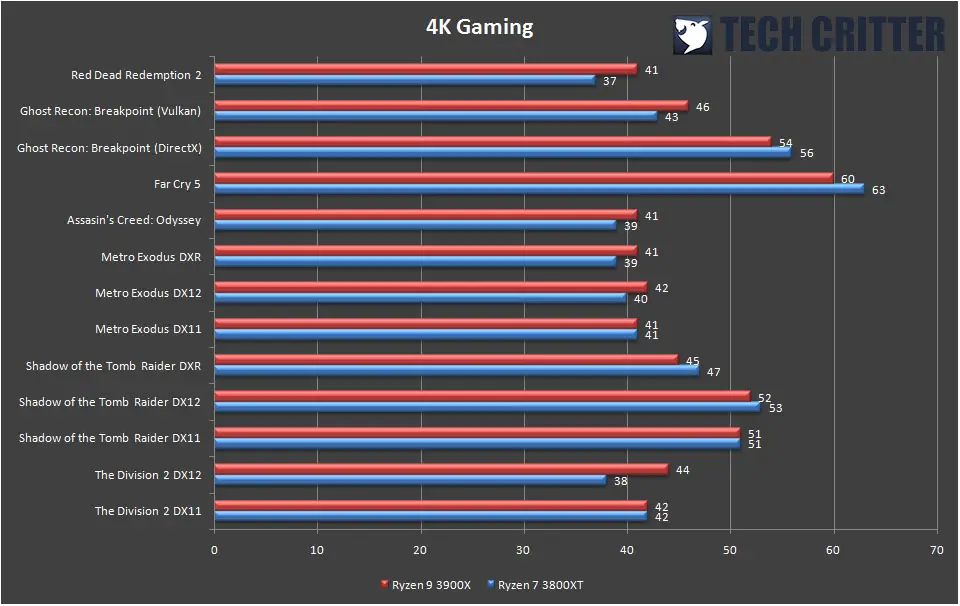 The Ryzen 9 3900X still does better overall but we can see that the Ryzen 7 3800XT isn't falling too far behind and it can still perform nearly on par with the Ryzen 9 3900X for some titles.
Final Thoughts
As much as we look forward to giving the other Ryzen 3000XT a try, the existence of the series itself is somewhat questionable at this point in time. It is definitely a faster and better version or perhaps, revision of the existing Ryzen 3000 but only for users looking for an upgrade from their old Zen or Zen+ CPUs. If you're already using a Ryzen 3000 series desktop processor on your current PC, we don't really see any valid reason to take the leap unless you're going for more cores i.e from 3600X to 3900XT.
For the Ryzen 7 3800XT, some might say its existence is almost as unnecessary as the Ryzen 7 3800X because of the similar specifications as the Ryzen 7 3700X which can yield a similar performance if overclocked. We can't really verify the credibility of such a claim without a Ryzen 7 3700X and 3800X but the Ryzen 7 3800XT does seem to clock better than our Ryzen 9 3900X in both our memory and CPU overclock test. Even if it's not overclocked, the Ryzen 7 3800XT still packs quite the performance you'll need for most of your gaming and creative work needs although the price is much higher as compared to the Ryzen 7 3700X.
While everyone will have their own preferences when it comes to choosing the right processor for their needs, it's still very hard for many to ignore the fact that both the Ryzen 7 3800X (RM 1799) and 3800XT (RM 1899) comes at a higher price than the Ryzen 7 3700X with pretty much the same specifications. Unless you have some extra cash to spend, the right cooling solution, and wanted to give it a big push, we find it hard to recommend the Ryzen 7 3800XT to anyone who is looking for a Ryzen CPU that is the best value for money even if it has better silicon quality in overall. The Ryzen 7 3700X, priced at RM 1399 would be a much better deal than both the Ryzen 7 3800X and Ryzen 7 3800XT.
Pros
Impressive overall performance
Easier to overclock than the existing Ryzen 3000 series
Supports PCIe 4.0 on both B550 and X570 motherboards
Bundled with Assassin's Creed: Valhalla
Cons
Higher price
CPU cooler not included
Definitely still not as fast as Intel when it comes to gaming