This is an interesting device. It's a portable monitor – and yet it has a touchscreen. And ViewSonic being a company that makes displays, I don't expect less from ViewSonic at all. So, I've used this across multiple different devices – and here are the things we want to share with you about this portable monitor – the ViewSonic TD1655.
For this review, I highly recommend you watch the video instead, because there is a lot of that can be shown through video and articles cannot convey the information properly.
Firstly, the specs. this is a 15.6-inch IPS LCD screen with 1080p resolution running at 60Hz maximum, and it's a glossy touch screen. The thing that makes this ViewSonic TD1655 rare is because it's portable too.
Okay, so in the box, you get the ViewSonic TD1655 screen, a cover, a massive 60W charger with a few different swappable power headers, a passive capacitive stylus with a low-friction tip, a USB-C to USB-C cable, another USB-A to USB-C cable, and also a mini-HDMI cable to full-sized HDMI cable.
All of these included cables go hand in hand with the ViewSonic TD1655's ports – because yes, this portable monitor has double Type-C ports and a single mini HDMI port and an extra combo audio jack too.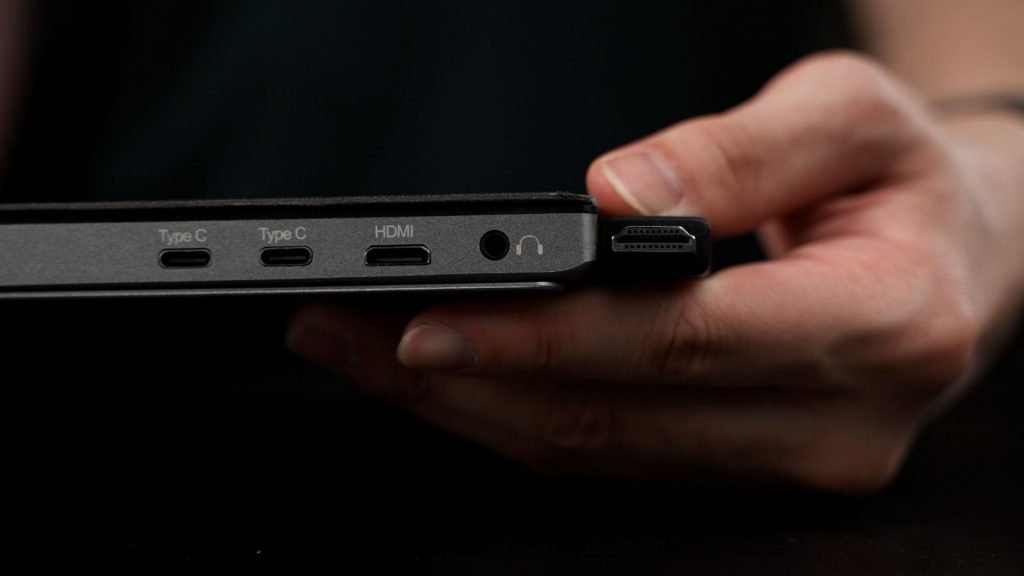 I am quite weirded out that ViewSonic uses a less-conventional mini HDMI rather than a full-sized HDMI port because the monitor is obviously thick enough. Personally, I prefer using USB-C but we'll get more into it after we talked about the monitor's design and build quality.
The entire monitor is made out of metal back with a smooth, glossy display at the front. There are little rubber pads at the bottom for its kickstand to rest on without scratching or skidding off the table too – which is a nice touch. The included folio case is really nicely made and it snaps hard magnetically from the top back part and flips back to the front, covering the display.
This folio case doesn't slide around the display or expose any parts of the display which means it wouldn't get scratched in the bag when I put it alongside with other stuff.
This flip case just nicely designed, honestly. It has this H-shape which serves two purposes. You can detach it from the monitor then lay it on the table then use that H as a guideline on where and how to put the monitor and use it in vertical mode, or don't. You can also flip it backwards with the magnet attached and the middle line there coincides with the kickstand's hinge – which saves space.
The kickstand also has a little cutout for its joystick for OSD menu navigation. Personally, this joystick is a good way to save space while offering a fantastic navigational experience – but the OSD menu itself is clunky. For example, since the OSD menu is using a horizontally tabbed list menu. To enter a tab, I instinctively press down instead – but it closes the OSD menu instead. The same goes for pressing right to enter the brightness menu to change it.
But other than that minor complaint, I have none. The ViewSonic TD1655 supports DCC/CI which means you can use software on Windows to control the brightness and contrast without touching the OSD at all.
Then comes one other weird quirk about this ViewSonic TD1655 portable monitor. It has two USB-C ports and also a mini HDMI port, but this monitor can only take in one input at once. There is no PbP or PiP feature available. Plugging in both USB-C ports won't have any effect.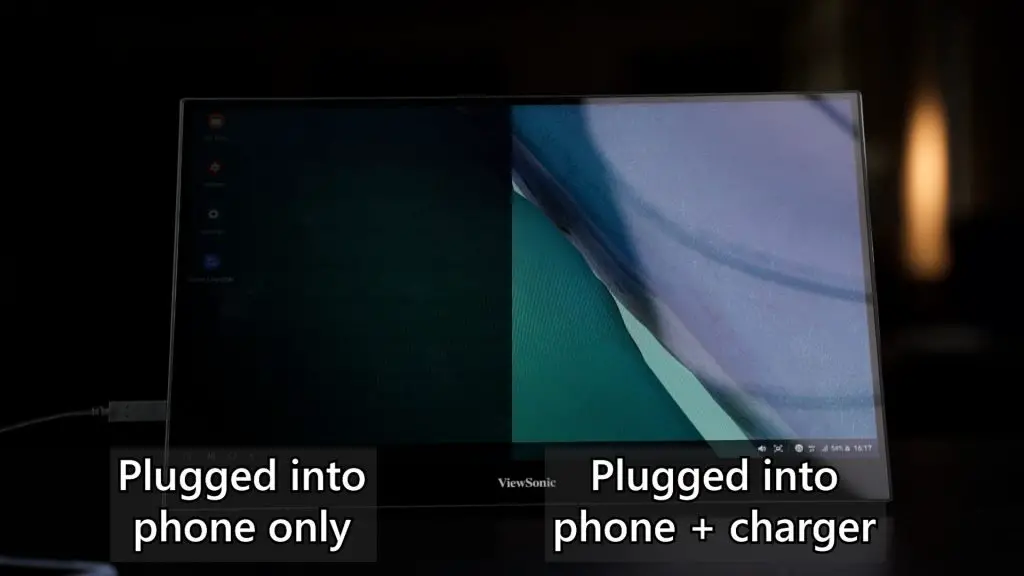 Also, when I first got the ViewSonic TD1655, I plugged in my Samsung phone via the Type-C cable and Samsung DeX worked but the screen is very dim even at 100% brightness. Hmmmm… Then, I went over and plugged it into another laptop and hey – the brightness is really good. So what's going on?
Aha. Then I realized that this monitor doesn't have a battery built-in. If you want to use the ViewSonic TD1655 with a device that only has HDMI input, then you'll need to carry an additional power bank or use the included massive 60W charger brick. But on the bright side, if you forgot to bring the charger or power bank, at least the display is still usable when connected directly to the source.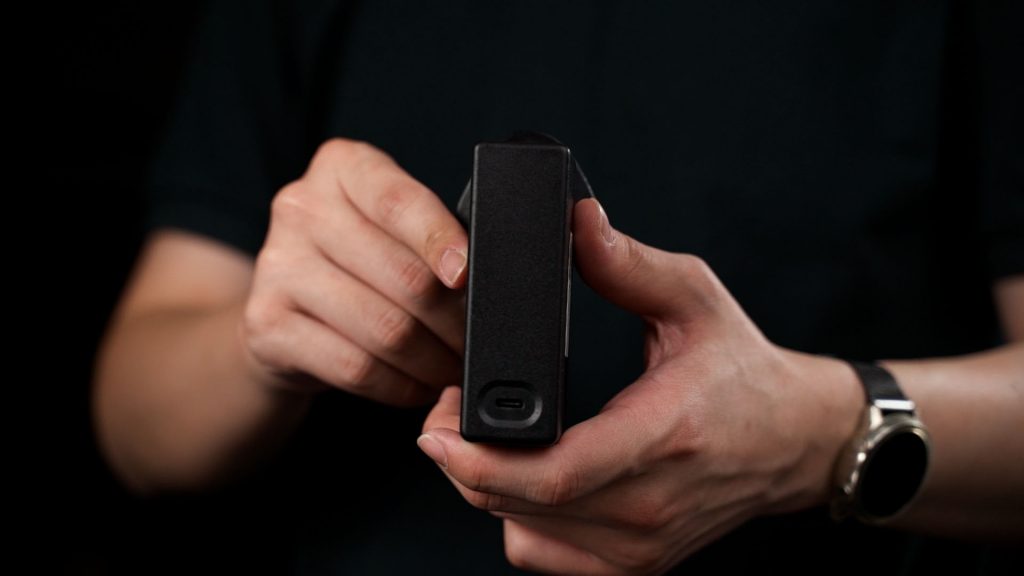 If you're using a device that has a USB-C port with high power output – like a laptop and not a phone, then yes – you can just use the single Type-C cable without worrying about the display brightness.
So at the end of the day, the ViewSonic TD1655 is officially priced at RM1,289 is a very nicely built monitor with great features that all go together with its physical design. It has great build quality, excellent input options which we have never seen on any other portable monitors (triple input options). Last but not least, since this is a portable touch screen monitor, it can be connected to a phone and used to play games instead. In other words, it can be a phone-to-tablet converter. And I also like its small footprint compared to some other portable monitors that we've used. That's a nice touch, honestly.
In future, we're hoping to see how ViewSonic would introduce more features for these made-for-smart-devices displays, for instance, supporting picture-in-picture or picture-by-picture functionality for multi-device support. Consider the market now people have been relying more upon their laptops, tablets and smartphones for work and studies purposes, this kind of portable display should fetch a great response from the users.

Where to buy? (Affiliate links)