This is the 55-inch Toshiba TV M550MP. It is Toshiba's 2023 smart TV line with a built-in Google TV operating system. Let's find out what this TV has to offer.
Video Review
When we take a look at the TV itself, I have to say – this is a very nice-looking TV. The bezels are thin and the overall design is clean and minimalist.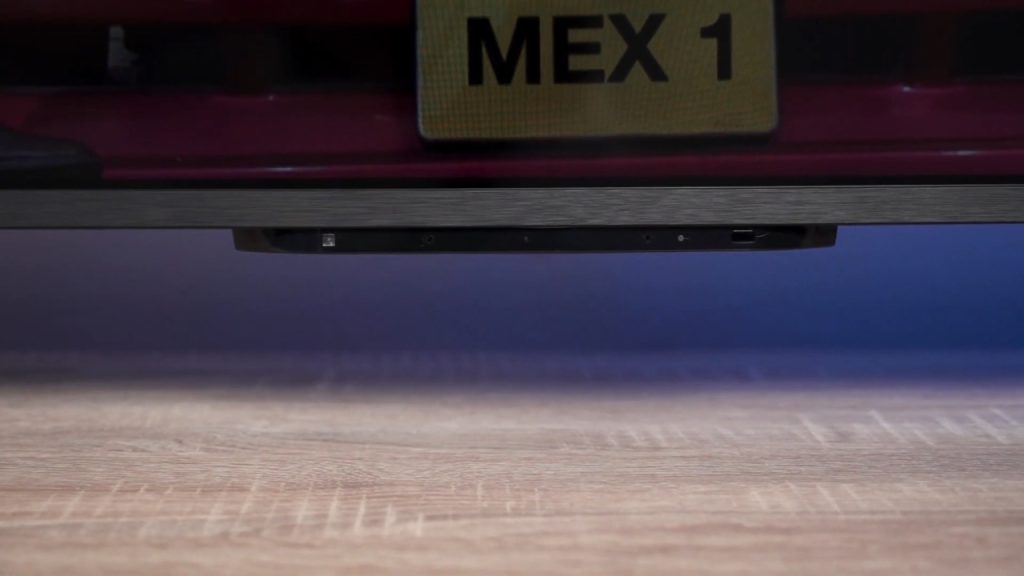 There is just a small protrusion at the bottom bezel for the sensors, microphone and LED indicators.
I like how the new feet provide a raised height just so that you can position a soundbar in front of the TV without blocking the aforementioned sensor module.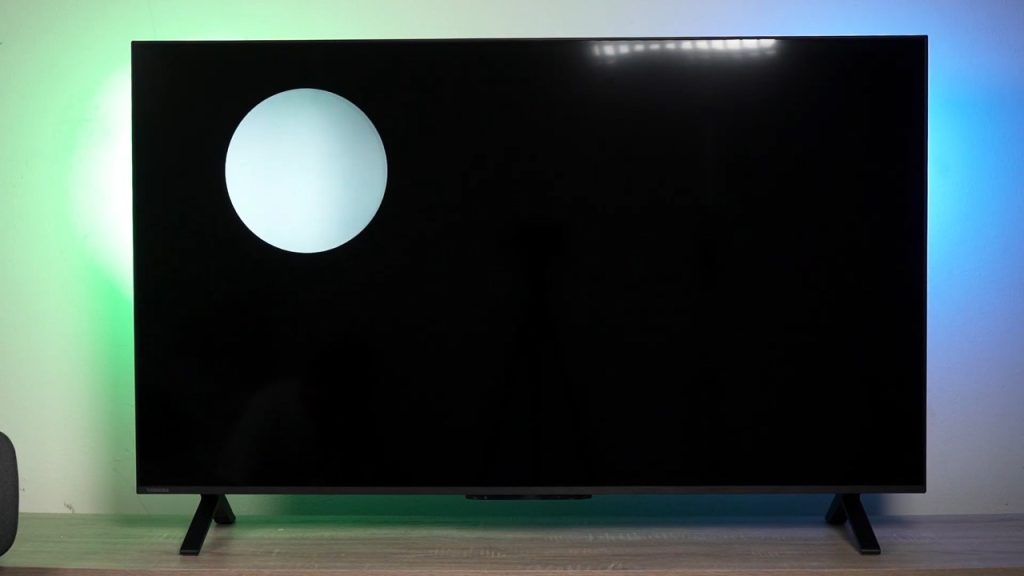 The panel has full-array local dimming technology. Through the test footage with white shapes flying around on a black screen – we can roughly determine that it has 32 dimming zones.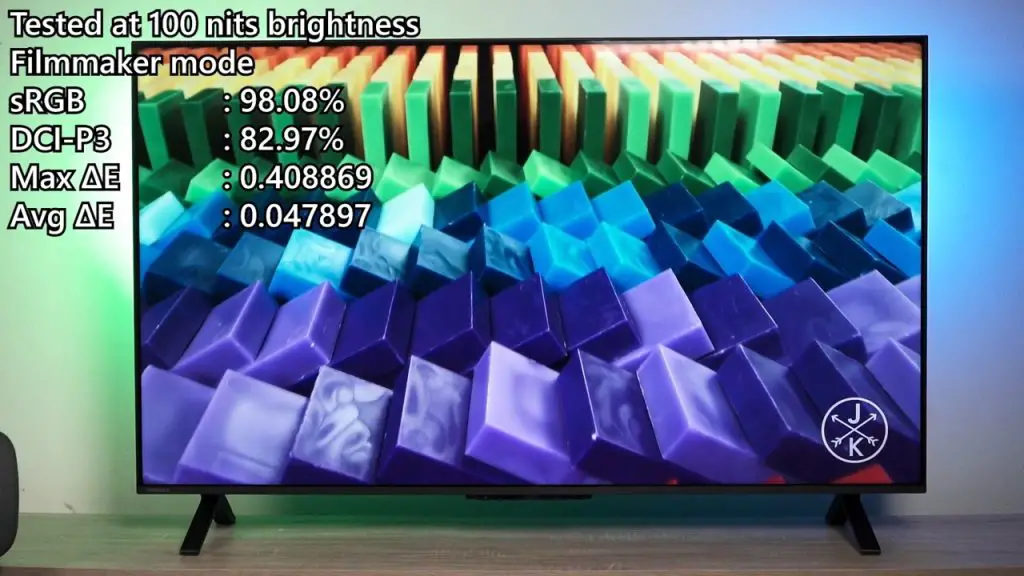 Toshiba TV also highlighted that it is using the REGZA engine ZR to create great visuals and audio experience. We tested the TV using our colourimeter while in Filmmaker mode, it can cover around 98% of the sRGB colour gamut – but that's at 100 nits, and is not super bright for daytime but excellent for nighttime movie sessions.
We tested again at 300 nits and we got around 96%, it is still a very good result especially since the max ΔE number is unbelievably low. Toshiba's REGZA engine means serious business.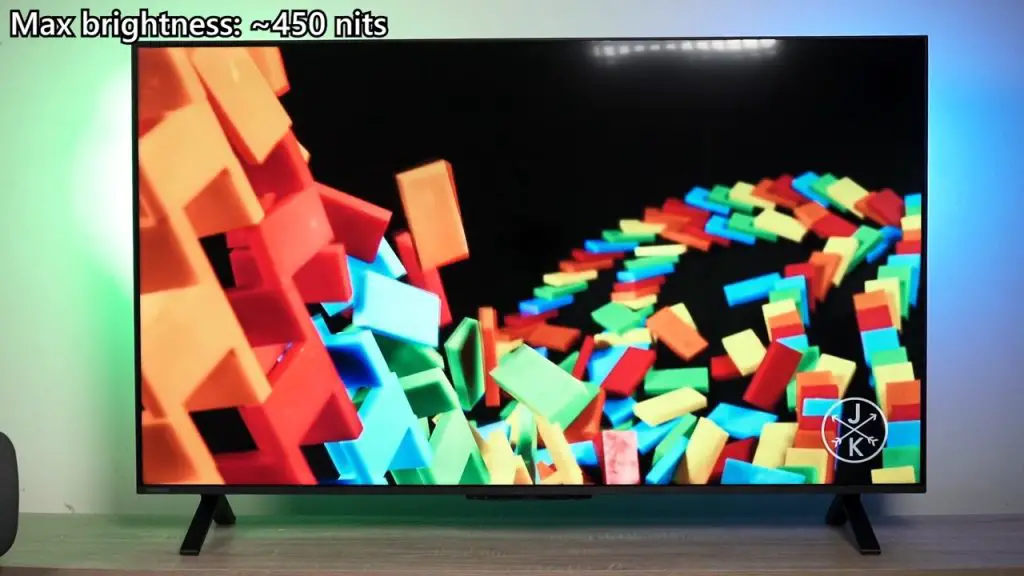 If we want to crank up the brightness, then this M550MP can reach a maximum of 450 nits.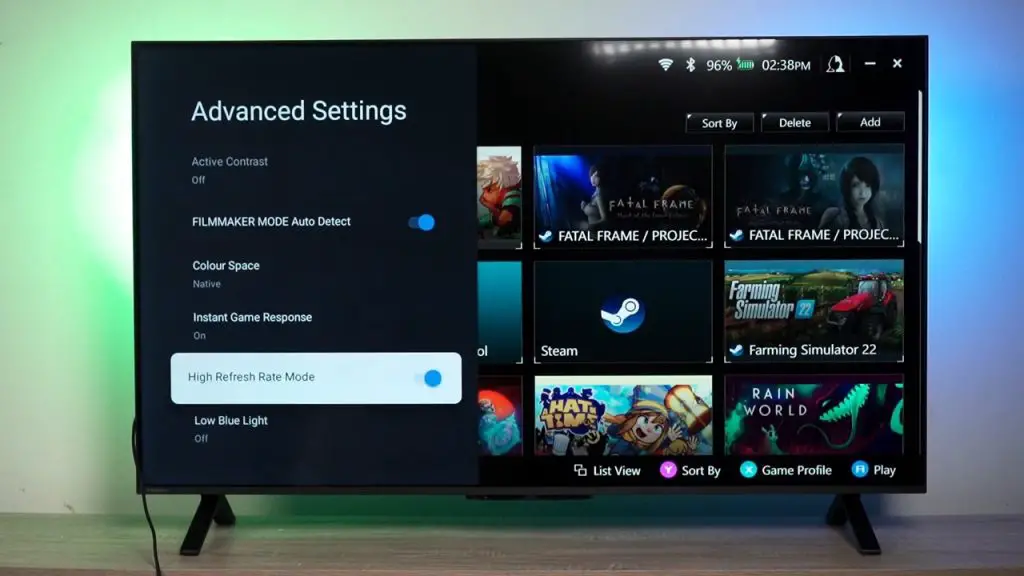 We also connected the ROG Ally to the TV and played some games. It does have Auto Low Latency mode (ALLM) and the gaming experience is fantastic.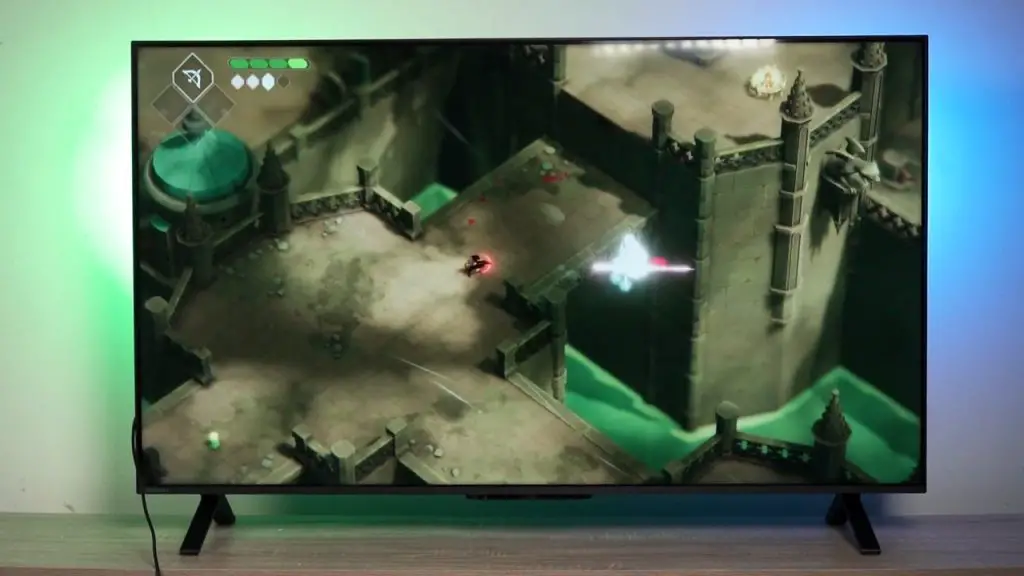 Low input lag and fast response time. One thing that I didn't realize until later was the variable refresh rate. That completely eliminated screen tearing.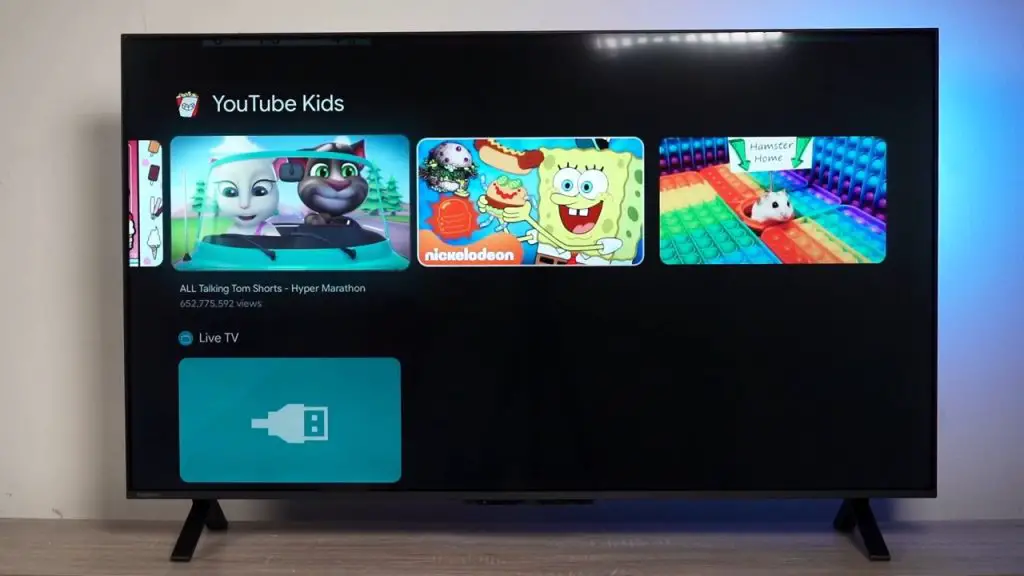 As for the Google TV itself, the interface is pretty much self-explanatory. Since Google TV operating is widely available, some of the users have already got used to this interface and I think it offers an excellent user experience.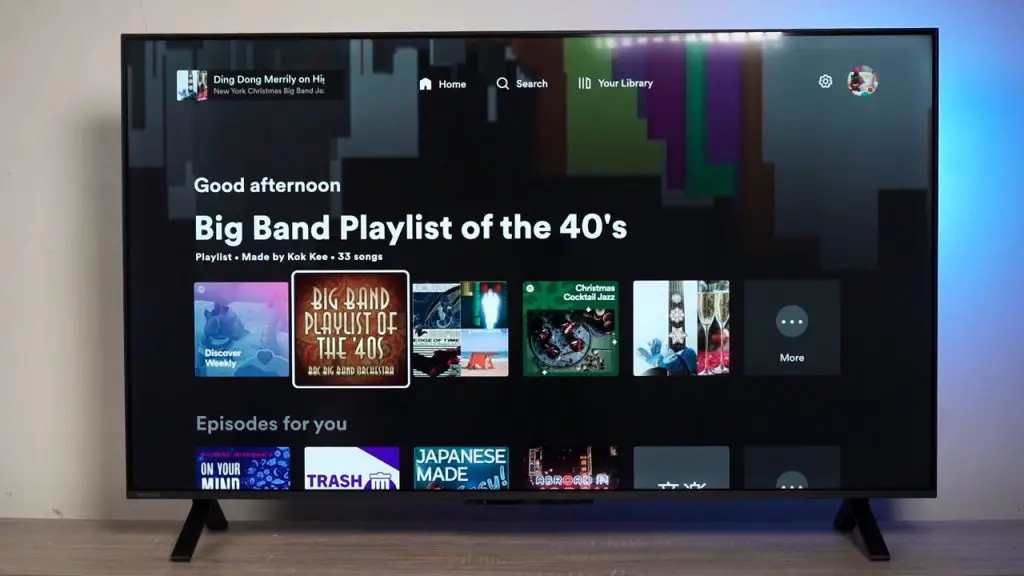 As usual, you have all the standard apps such as YouTube, Netflix, Spotify and many more on the app store.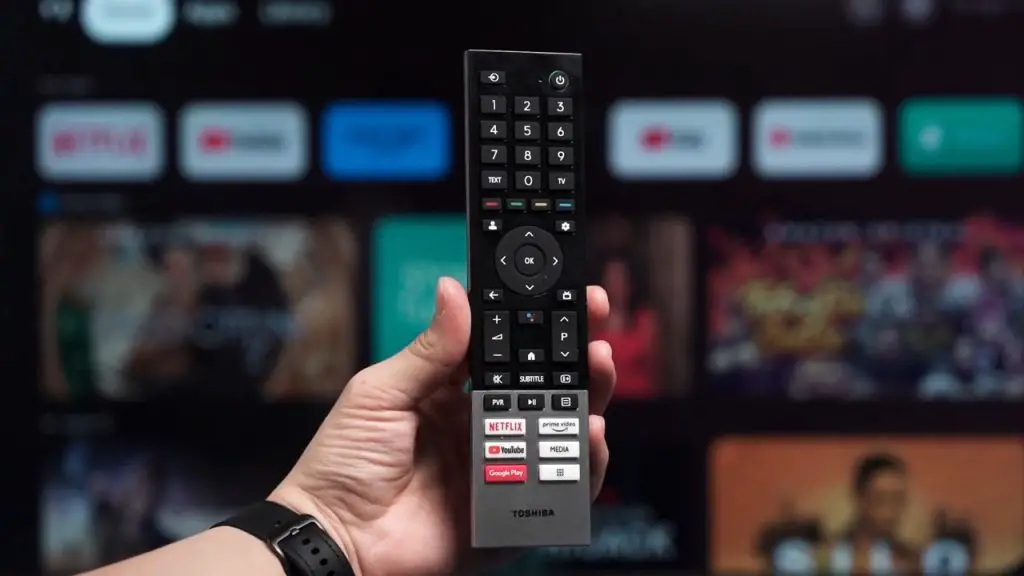 Since it is powered by Google, it does have voice control and Google Assistant built-in. However, the remote control itself does look dated and crowded with all the unnecessary buttons. I believe it is time for them to explore a minimalist remote control, or even better, a solar-powered remote control.
One more random feature that I want to highlight about the Toshiba TV M550MP is the dual-band WiFi support. Yes, it has both 2.4GHz and 5GHz bands and that is quite rare as many other TV brands would choose to have 2.4GHz to save cost. 5GHz band has a higher bandwidth for streaming hence higher quality, and potentially less interference.
Looking at the back of the TV, we have subwoofers. The TV does have a built-in 2.1 speaker with two 10W speakers and a 20W woofer – totalling 40W output. Powered by the REGZA Power Audio Pro, it actually sounds really good too! Have a listen in our video review.
Now, this TV can also be mounted on the wall thanks to the VESA mounting points – but that will affect the subwoofer's performance – so you can turn on a special option in the settings called "wall mount setup" inside the sound menu.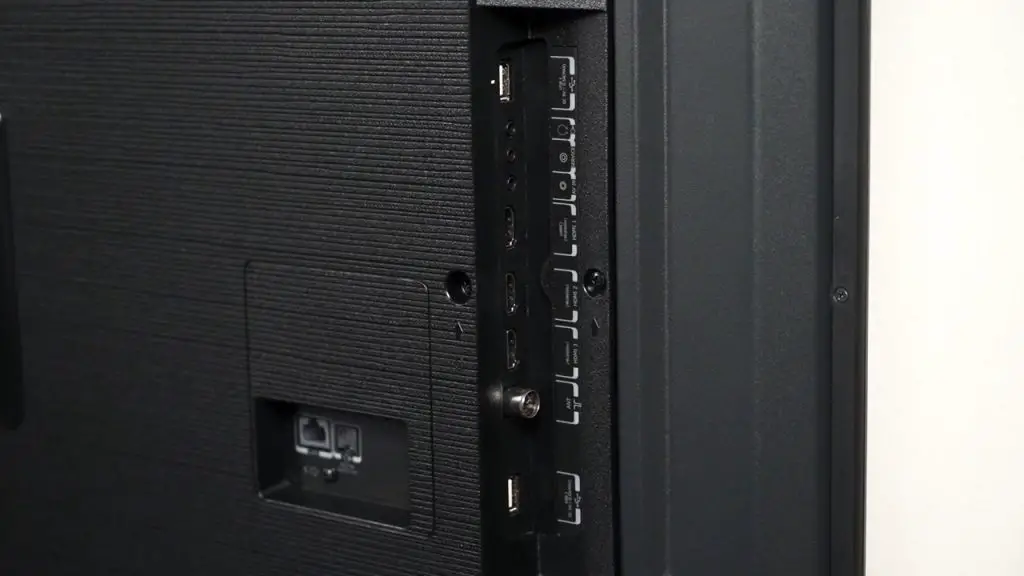 Of course, you can also connect external speakers for surround sound via HDMI eARC or TOSLINK as well. There are lots of ports available on this TV, and I just love the placement of those HDMI and USB ports.
Conclusion
At the time of review, even though this model has been officially announced by Toshiba TV Malaysia, unfortunately, the pricing has yet to be concluded. If we look at the existing M550L model, they are priced from RM1,800 ~ RM2,800 depending on the screen size (50″ ~ 65″). If the new M550M model falls within the same price range, it would be an excellent choice for those looking for the best bang for the buck home entertainment TV.