The first esports hotel in South East Asia opened its doors in Senai, Johor. The hotel is named after the SEM9 esports organization that is currently competing in PUBG Mobile, League of Legends: Wild Rift, Call of Duty Mobile, and League of Legends. The hotel's opening has sparked quite a number of discussions among the PC gaming community members, especially when this is the first of its kind to be available locally.
So what is an esports hotel? Is it just a cyber cafe combined with a hotel or there's something more to it? In order to find out more about the hotel, we booked a visit and stay there for a night to experience it by ourselves.
Location
The SEM9 Esports Hotel is located in Senai, Johor. It is just opposite the Senai International Airport and I think it is a strategic location given how they can organize more international events in the future. There are plenty of parking spaces around the hotel and it costs RM 3.00 per day.
21, Jalan Terminal 1, 81400 Senai, Johor, Malaysia
Google Maps: https://goo.gl/maps/3pgyGNfa8LQdn1G7A
The hotel itself is converted from an airport hotel previously known as Perth Hotel. I believe no one in their right mind would build a brand new hotel from the ground up. That would incur way too many costs for a business venture that takes years to recoup.
SEM9 Esports Hotel
The hotel lobby has been renovated to reflect the gamers and esports personalities with lots of coloured LED strips and TVs broadcasting gameplay videos.
The standard hotel check-in process applies. Depending on the room occupancy, otherwise, the check-in and check-out times would be 3 pm and 12 pm respectively.
While I was waiting to check-in at the hotel, I noticed quite a number of guests entering and exiting the premise. The front desk also revealed that the demand for the gaming rooms is high at the moment. Their booking is full for the week and I could not even get an extension for the next day afternoon. Mind you that I visited the hotel on Monday hoping to not clash with the weekend crowd.
Room Types & PC Setup
Since SEM9 is converted from a conventional hotel, it takes time for them to fully transform into a full-fledge esports hotel. At the time of reviewing, one of the floors has completed the conversion with multiple choices of rooms:
Executive
Deluxe (Quad)
Triple
Double
Double (half day)
Cozy
Cozy (half day)
S9 Executive Room (RM371/night)
The SEM9 flagship Executive suite with two interconnected rooms for sleeping and gaming.
The bedroom is a standard double room with a king bed. Hey, who's gonna sleep when there are high-performance gaming PCs next door, right?
The gaming room is fully decked out with LED strips and decorations that resemble those gaming streamer rooms. There are only two PCs available which is the highest-end offering that features AMD Ryzen 9 5950X and NVIDIA GeForce RTX 3090.
It has the complete Cooler Master gaming peripherals, inclusive of the GM34-CW curved 144Hz gaming monitor, GD120 ARGB gaming desk and Caliber series gaming chairs.
S9 Deluxe Room (Quad) (RM371/night)
If you have more friends joining for the gaming outing night, perhaps you can opt for the Deluxe Room, or I call it, the Quad room.
It has a total of four standard gaming PCs and two queen beds to accommodate your raid party.
While the standard PCs are not as overkill as the ones in the Executive Suite, then again, they have a respectable configuration featuring Intel Core i5-10400F and NVIDIA GeForce RTX 3060. That should be enough to handle most of the modern games without any hiccups. All the PC comes equipped with a ViewSonic VX2418-P 1080p Full HD 165Hz gaming monitor and gaming peripherals.
S9 Triple Room (RM286.20/night)
The triple room is slightly smaller than the deluxe room and accommodates three with the bunk bed.
The same standard gaming PC configuration with Intel Core i5-10400F and NVIDIA GeForce RTX 3060.
S9 Double Room (RM243.80/night)
I spent the night in the S9 Double room. It has a king bed and two standard gaming PCs.
This is way more spacious than the triple and quadruple rooms.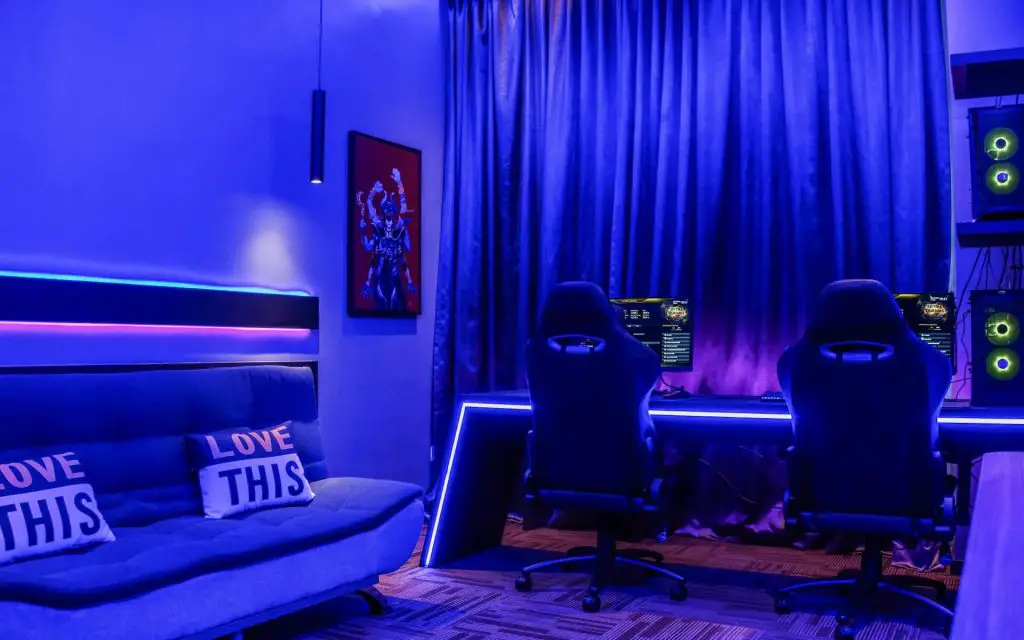 There's also a half-day option available for the double room.
Cozy Room (RM233.20/night)
Unfortunately, we didn't manage to visit the Cozy room as it was fully booked. What you can expect is a cozy setup for mobile and console gamers. Instead of gaming PCs, the room is equipped with a PlayStation 5 with two DualSense wireless controllers. Mobile gamers can also enjoy high-speed low latency WiFi connectivities as the room is equipped with a dedicated WiFi access point.
My Experience
Despite having all the modern gaming hardware and peripherals, the PC interface reminds me of the cyber cafe PC interface. Remember how you used to top up your account to keep playing? Good times. While they have included quite a number of new games to the catalogue, nonetheless, I can still see some of the popular offline games from a decade ago, for example, Call of Duty 4: Modern Warfare, Need For Speed: Most Wanted and Assassin's Creed.
You can also log in to your Steam account to access your game library, just that you might need to wait for the game to download and install with the hotel's 800Mbps internet connection. I certainly hope they would implement a local Steam caching server to prevent guests from oversaturating the downstream network.
Speaking of networking, the hotel has a complete Ubiquiti network setup for a robust network connection for all the guests.
As far as the hotel has excellent internet speed and WiFi coverage, the rest of the hotel amenities inclusive of the bathroom are pretty average.
The hotel guests are here for gaming and one thing I hope the hotel could've done better is to allow the use of the TV for streaming services such as Twitch or YouTube. Their best bet is to allow display output from the PC to the TV. Cable TVs are way too boomer for an esports hotel.
When I'm back from getting a midnight snack, I could hear some of the guests are still gaming while talking to their teammates. On a positive note, the room has decent soundproof and I manage to get a goodnight's sleep.
Esports Hotel or Cyber Cafe?
So how was the SEM9 esports hotel? If you're new to the term – esports hotel, don't worry, you're not alone as it is not common in our region. However, I need to point out that having gaming computers inside a hotel room doesn't automatically make it an esports hotel. Sorry to break the bubble, however, it takes more than just gaming PCs to make into esports.
An esports hotel should have rooms with at least 5 to 6 gaming PCs and on top of that, have a dedicated competition arena to organize esports tournaments. Clearly, they are not available at the time of my visit. The good news is there are plans for a dedicated esports section and rooms designed to cater for an entire esports team. That would make more sense as it would attract local or international esports teams to conduct team building, training activities or even tournaments at the hotel.
In other words, given enough resources, completing the esports hotel is not a huge challenge. It's just a matter of time and how the hotel can resonate with the esports teams and create value for the local esports scene. Until the new facilities are ready, you can pretty much treat this hotel as a weekend getaway to catch up with your games or relive the overnight gaming experience with your friends.
All in all, I think the SEM9 Esports Hotel is going in a very interesting direction. While there is a lot of scepticism on whether the idea would work or not, it all depends on the team behind the hotel to continue pushing forward.