ASUS has introduced two new graphics cards: the ASUS Phoenix GeForce GTX 1630 and ASUS TUF Gaming GeForce GTX 1630. These entry-level GPUs are an excellent choice for users looking for a 1080p gaming experience at an economical price.
The Phoenix GeForce GTX 1630 features a single Axial-tech fan design with dual ball-bearings and IP5X dust resistance, which ensures long-term stability and reliability. This compact-designed two-slot graphics card is a little under seven inches long, making it an ideal option for users using ITX motherboards and small form factor cases.
For those seeking for a stronger card, the TUF Gaming GeForce GTX 1630 and TUF Gaming GeForce GTX 1630 OC Edition are able to handle the latest titles at smooth framerates. It comes with boost clocks of up to 1815 MHz on the OC Edition (1845 MHz in OC mode).
Both of the TUF Gaming models are only 2.3 slots wide and just a bit over eight inches long, allowing users to fit them into most of the standard PC cases easily.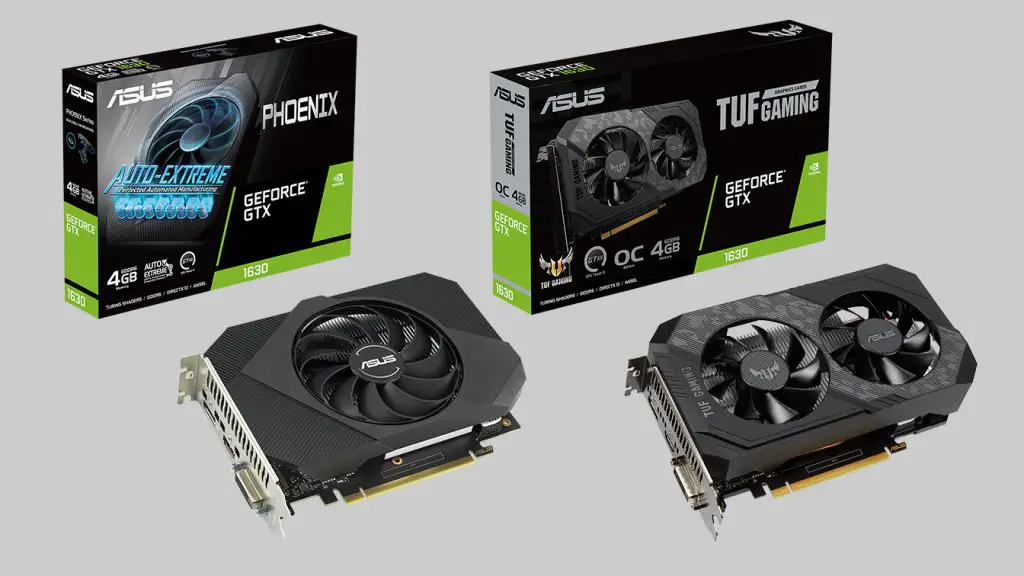 Specification
TUF Gaming GeForce GTX 1630 OC Edition
Phoenix GeForce GTX 1630

CUDA Cores: 512
Core Clock: Up to 1845 MHz
4 GB GDDR6
PCIe 3.0 interface
1 x Native HDMI 2.1b
1 x Native DisplayPort 1.4a
1 x DVI-D

CUDA Cores: 512
Core Clock: Up to 1815 MHz
4 GB GDDR6
PCIe 3.0 interface
1 x Native HDMI 2.1b
1 x Native DisplayPort 1.4a
1 x DVI-D
Visit the following links for more information on the ASUS Phoenix and TUF Gaming GeForce GTX 1630 graphics cards: