The ASUS ROG Zephyrus S15 was announced a few months ago but due to this whole human malware thing happening around the world, our review unit's delivery got delayed slightly. Nonetheless, we finally have the chance to talk about this gaming laptop. The model we received from ROG is the Zephyrus S15 GX502LXS.
Specifications
Video Review
Design & IO
First of all, the 2020 update has removed the backlit logo in favour of an all-black, stealthy design. RGB fanatics may not be that happy for this change. Personally, it doesn't really matter as I would've hoped they change the brushed aluminium lid as it collects oily fingerprints. Other than that, nothing much has changed for the chassis. You still get this AAS cooling system which opening the lid will mechanically open the bottom panel to increase the airflow. The moving panel does compromise the chassis' overall durability but we're pretty confident with the choice of material and build quality after using it for about 1 month.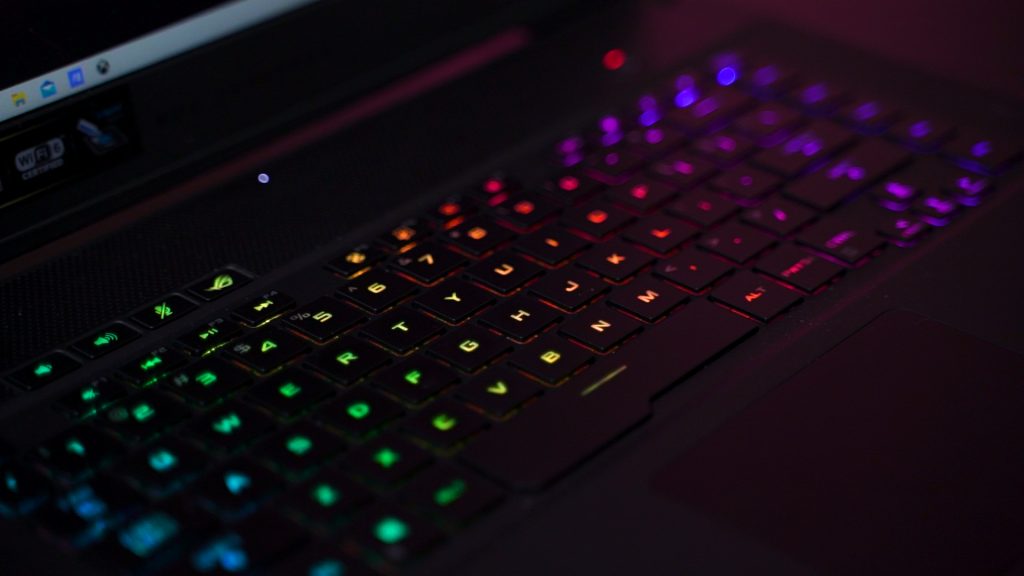 The keyboard and wrist rest panel has a sandy finish surface that is both sturdy and feels great to touch. As for the keyboard, I appreciate that they stick with the current design. It has a large key surface for accurate touch-typing and even though underneath it is just a regular membrane switch, the overall typing and gaming experience has been very positive so far. It has per-key RGB backlit and it can be configured in either Armoury Crate or Aura Creator. One thing I find it weird is that why they still don't change the top function row to allow the F1 to F12 letter to be transparent.
The touchpad uses Microsoft Precision Touchpad Driver and the glass surface provides a good tracking and gesture experience.
Port selection is very generous –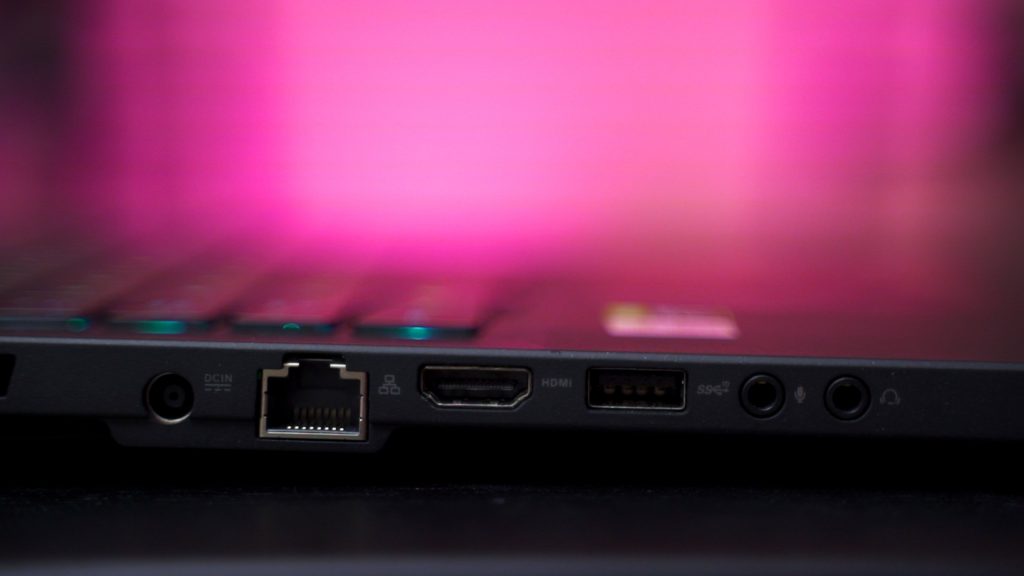 Left:
Barrel charging port
Gigabit Ethernet
HDMI
USB 3.2 Gen2 10Gbps
3.5mm microphone and headphone port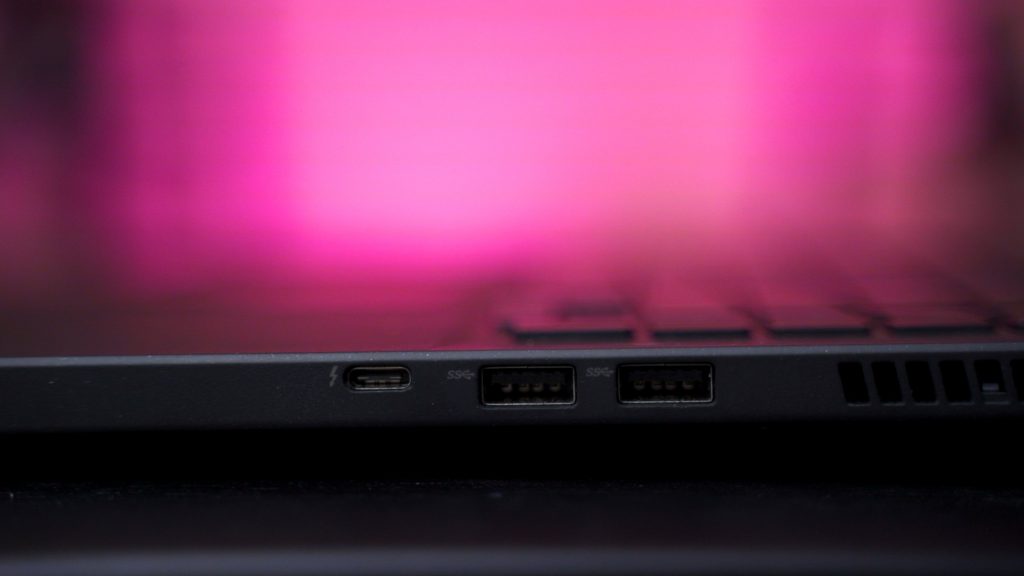 Right
Thunderbolt 3
2x USB 3.2 Gen1 5Gbps
Unfortunately due to the hinge design, they can't position any of the ports at the back of the laptop.
300Hz 3ms Display
ASUS first showcased this crazy 300Hz display on the GX701 last year at IFA 2019. Well, after spearheading the industry with fast refresh rate display since the days of 120Hz, 144Hz and 240Hz, for sure they want to be the first to commercially release this panel on their laptops. Oh boy, sure they did.
300Hz and 3ms response time with overdrive mode enabled. If you're coming from a regular monitor or only experienced up to 144Hz display, your gaming experience on this laptop will be phenomenal. In-game visuals are buttery smooth, it helps you to track and aim more easily. That said, yes, a faster display definitely will help me to improve my awareness in a game, whether if I'm capable of responding to it is a completely different story.
One thing I wanted to point out is that, if I put this panel side-by-side with another 240Hz panel, honestly, I just can't tell them apart. They felt almost the same and for sure all the minuscule movements in-game are still trackable on either display. You see, I'm not a professional gamer who is extremely critical with their display and peripheral choices. Professionals they all have their own preferences because they literally need to stare at the screen for hours because that's their job.
That makes me wonder – sure, we got all these amazing numbers on the spec sheet, are we actually benefit from it? as a general consumer. Or have we reached the point of diminishing returns. I don't know, at CES2020 ASUS and NVIDIA has already shown off the first 360Hz monitor and I'm pretty sure laptops will soon get the same treatment. Perhaps the future is a display that is indistinguishable from real life. Who knows right?
Moving on to the colour reproduction. ASUS claimed about how this NVIDIA G-SYNC panel has been validated by PANTONE for its 100% sRGB colour gamut. For a gaming-oriented laptop, it is more than enough for occasional colour work. Besides, I don't think there is a need to offer an additional SKU with the higher-end colour accurate panel because the Zephyrus S15 was made for gamers. Otherwise, you would've opted for a StudioBook Pro line up for that.
From an IPS high refresh panel, it has a good viewing angle and its maximum brightness is somehow alright. You may need to push the brightness to the maximum if you plan to use this at outdoor cafes but for indoors, it is sufficient. To conserve battery life, the laptop will automatically switch the display to 60Hz when you unplug it from the mains.
Performance
To fully utilise the fast display, the components need to have the ability to push out decent frame rates to match. The review sample we received from ROG is the LXS SKU where it comes with Intel Core i7-10875H and NVIDIA GeForce RTX 2080 SUPER Max-Q. That goes without saying, I am not disappointed with the performance. Most of the games can achieve more than 120 fps at maximum graphical settings. Just that some of the games such as Assassin's Creed Odyssey still struggles to perform. The ROG Armoury Crate has 3 different performance profiles available – Silent, Performance and Turbo. Keep in mind that the Silent mode will reduce your laptop's gaming performance by up to 40% as compared to the Turbo mode. Well, it does has a very aggressive power and fan profile to increase the battery life and reducing the fan noise.
Thermals
The Zephyrus S15 has exceptional thermal performance. When ROG first announced that they will be using Thermal Grizzly Conductonaut liquid metal thermal compound for all their upcoming 10th Gen Intel CPU's, I am both happy and worried at the same time. I'm happy because ROG has once again taken the risk and exploring ways to improve thermal performance. On the other hand, I'm worried about the user serviceability as liquid metal is troublesome to deal with.
Still, judging from the numbers, I am impressed. Out of all the games we have tested, only Apex Legends manage to push the CPU to 98-degrees. Most of the game runs at the average CPU temperature of 80-degrees. Comparing with the ILLEGEAR ONYX G which also uses the same CPU, even if that laptop uses the Thermal Grizzly Kryonaut high-performance thermal paste, the ROG is still 5-degrees cooler on average.
Upgradability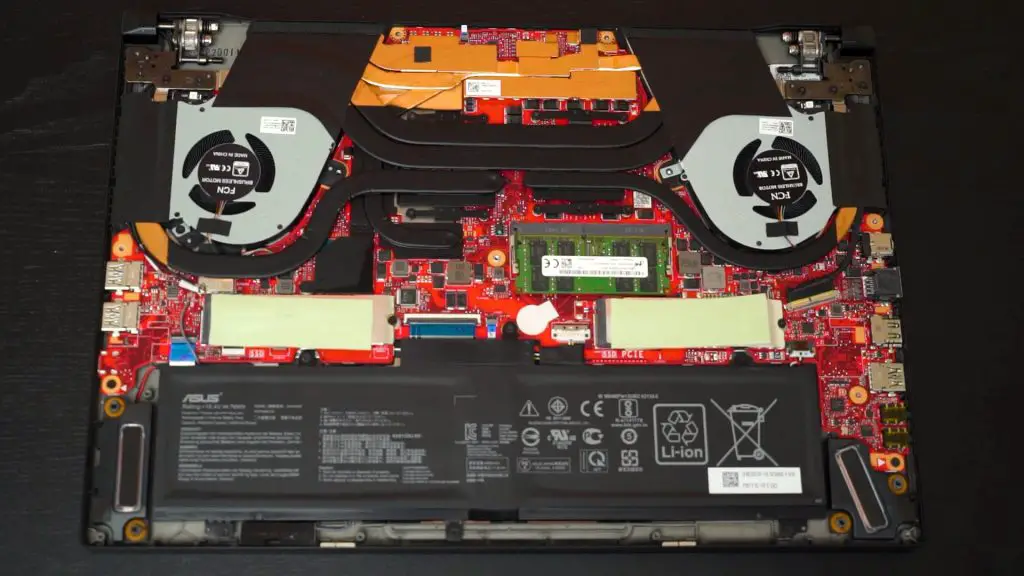 Thermal compound aside, the rest of the components such as the RAM and storage can be easily serviced by the end consumer. The factory's default configuration of 2 sticks 16GB RAM and dual 512GB SSD in RAID0 is pretty much sufficient unless you plan to double that spec.
Battery Life
A single full charge of the 76Wh battery can last for about 5 hours of regular usage, including Chrome Internet browsing, YouTubing, and writing of this review script. That is of course achieved through the automatic refresh rate switching to 60Hz. If you were to use this laptop on battery for gaming, the RTX 2080 SUPER Max-Q will obliterate the battery in less than 2 hours.
Final Words – ROG Zephyrus S15 GX502
So, after using the Zephyrus S15 for about a month now, I can safely say that ROG has done a great job. The performance is exceptional and most importantly its remarkable thermal capabilities, thanks to the liquid metal thermal compound. The fan noise in turbo mode can be annoying but if you game with headphones on, that shouldn't be a problem for you.
Before we end this review, allow me to talk about the price. This configuration comes at the hefty price tag of $2999 or RM15,499. That goes without saying, at this budget range, there are quite a few of competitors out there in the market, including the AORUS 15G, Alienware M17, MSI GS66 Stealth and MSI GE75 Raider.  Putting aside the competitors, if we just take a look at the other Zephyrus S15 (GX502LWS) SKU which comes with NVIDIA GeForce RTX 2070 SUPER and lower RAM configuration, the price is considerably lower at $2399 or RM10,999. You still get to enjoy everything that comes with the laptop – including the 300Hz screen.
In short, if you're looking for a high-performance slim gaming laptop, the Zephyrus S15 should be in your watch list. In fact, I will strongly suggest the GX502LWS SKU with RTX 2070 SUPER because it is RM4500 cheaper than the LXS model that has RTX 2080 SUPER Max-Q.