This is the ROG Ally. We have published a few videos featuring this device, but today – we're going to review it. I spent about 3 weeks with it at this point but I have to highlight that there were many changes to the Ally since I started using it. Lots of firmware updates, BIOS updates, and software updates that changed how the Ally works.
As of the time of recording this video – 12th June 2023, we are running on BIOS version 317 and Armoury Crate SE version 1.2.4.0. Right after we finished the review though, ROG released BIOS version 319 and also Armoury Crate SE version 1.2.10.0.
The most notable change is that the silent power profile is now at 10W instead of the 9W when it was initially launched. From what I know, there are many more changes to the ROG Ally that will come soon, so some aspects that we talked about in this video might be invalidated too.
So, let's get started with the review.
Let's start with the overall looks of the ROG Ally. I have to say, the design is very minimalist but has a tinge of "gaming aesthetics" on it. For example, the lines on the grips. At the back, there are little dots that further improve the grip – especially for sweaty gamers like me.
Personally, I'm not a fan of the white color. Don't get me wrong – it looks great, but it will get dirty easily. For example, my white Xbox controller has stains around this area. That is because I rest my sweaty fingers on that area and eventually, the sweat dried and became stains. I can foresee that the ROG Ally will have these stains too.
The overall controller layout is like taking an Xbox controller and slicing it in half, then gluing a screen in between. Honestly, this offset joystick design is superior when compared to the Steam Deck's symmetrical joystick layout. I do feel that the Ally's button positions are perfect as it works for those with smaller or bigger hands. These joysticks are also very smooth and it almost feels frictionless.
But… what I don't like is the RGB joysticks. I do think that they need to have RGB because it is an ROG product after all. We can easily disable it, as shown in our Armoury Crate SE tutorial video.
Some might say that not having the touchpads on the Ally is a bad thing, but I disagree. Those touchpads are only used in certain situations and let's be honest – we buy devices like this to play games, not to navigate around web pages or anything like that.
We do have four more buttons on the Ally – two of which are the buttons found on the Xbox controller, and two more are special buttons. One for the Armoury Crate SE overlay – you can also hold the button to bring up this menu. The other one is to launch the Armoury Crate SE itself. You can also hold this button to bring up the list of mapped buttons.
Moreover, the two paddles at the back are easily pressed too. The paddle accommodates the way you want to press it. Either from the top or the side, you can press it. I do wish that these paddles were larger and also softer so that they're easier to press. All of the buttons on the Ally are programmable via the Armoury Crate SE software – so please do watch that video too.
I need to highlight that these buttons do have even more functionalities too. Essentially, they work as the Fn key on your keyboard. By default, they will do all of these functions. I use the task manager, screenshot, and recording functionalities the most. It's handy and easy to use.
The shoulder buttons are also nicely designed. They have a very rough texture and that makes them easy to rest on and press without worrying that my fingers will slide off the triggers.
While we're at the top, we should also take a look at all the ports available. We have an audio jack, a microSD card slot, the XG Mobile connector that you can also just use the USB-C portion for changing or data transfers, the volume rocker, indicator LEDs for the battery status and activity, and also a power button that doubles as the fingerprint scanner.
The screen is also rather huge. It is a 7-inch IPS LCD screen with LED backlight, has a standard resolution of 1080p, 16:9 aspect ratio, and goes up to 120Hz refresh rate. This is a display that I think is adequate enough for a gaming handheld device like this. Our particular unit covers around 93% of sRGB and goes up to around 500 nits brightness maximum – and that means you might have a problem using the Ally outdoors during bright sunny days. But, I don't think you'll be doing that anyway. We'll revisit this point later.
The speakers on the Ally are positioned nicely beside where my hands will be, and they sound absolutely amazing. The audio sample is in the video above this review – watch that instead.
Now, it's time to talk about the performance. I'm going to quickly go through the specs here:
AMD Ryzen Z1 Extreme
AMD RDNA 3 integrated graphics
7-inch IPS LCD screen with LED backlight

1080p
16:9 resolution
120Hz refresh rate

16GB LPDDR5 RAM @ 6400MT/s
512GB NVMe SSD (M.2 2230 size)
40Wh battery
I'm going to talk about the performance from a different angle. I'll focus on things that I personally want to play on the Ally. First, Tears of the Kingdom running on Yuzu emulator. With the default settings, it's not going to be a good experience, honestly. I can't even get 30fps consistently on default render resolution with zero graphical enhancement mods.
I also tried a lot of indie games too. A Hat In Time works fantastically well and I had a great time. I actually completed this game twice before.
Bastion also looks amazing though everything looks a bit too tiny but the soundtrack kept me hooked on the game.
Then, I tried Oxenfree. This game had been on my "games to play" list for a long time and I thought it's the perfect time to play using the Ally. Now, this game – as you can see, looks simple enough. A slow-paced 2D game where we talk around, tap on dialogue choices while we mess around with the radio.
I thought – hey, since it's such a simple game, I can play it using the lowest power profile, right? This was before the firmware update – so 9W should be fully sufficient for this game, right? Turns out – no. I was getting lots of stutters and the audio was glitching to the point that it starts having cackling sound. I thought it was an aesthetic choice of the game designers – but no, it's genuinely because 9W wasn't enough for the Ally to run this game properly.
I tried Oxenfree again after the latest firmware update and we now have 10W option instead of the 9W. Remember – for a portable handheld gaming device like this, every watt matters. But unfortunately, 10W is not enough for the Ally to run this game properly. I still had to bump it to 15W so that Oxenfree runs properly.
However, games like Vampire Survivors work pretty well at 10W power profile. I mean, I had a great time – and there were no visual or audio glitches.
Genshin Impact is another game that I tried on the Ally. On Turbo mode, I can run it at the highest graphical settings and get about 40fps even in the new desert area. But, if we play using the lowest graphical settings, then we can even get 60fps even when on battery.
And this is where I want to talk about the problems I encountered with the ROG Ally. There are a lot of problems, honestly. Firstly, the battery life. That 40W battery in the Ally is just insufficient. Genshin Impact at Turbo Mode on battery lasts less than an hour. Yeah, I barely made it in time to finish my daily commissions and spent all my resin. Oxenfree – that indie game that I played at 15W power profile – the battery life is at about an hour and that's it.
I even did battery life benchmarks too. This is how long the Ally will last in each power profile locked at 100 nits brightness. It is absolutely atrocious – but I should reveal one more piece of data, these results are at 120Hz refresh rate.
One might think that decreasing it to 60Hz will make the battery last longer, right? I redid the benchmarks again and surprisingly, no. The battery life is essentially the same. No idea what's happening here – it could be the benchmark's limitation or it could be that the refresh rate just doesn't matter.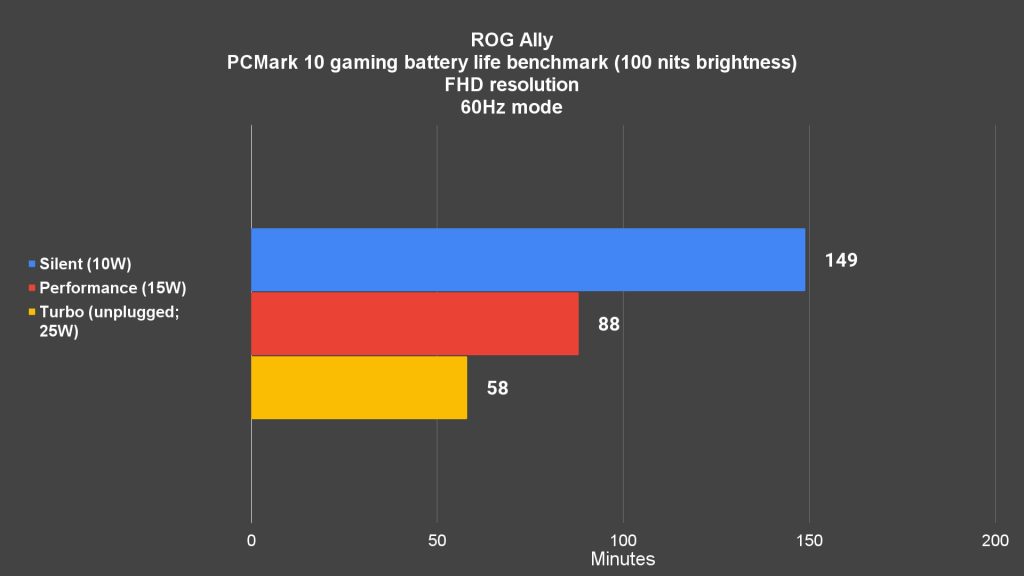 Either way, because of this bad battery life, I brought my Nintendo Switch to Taipei for Computex instead of the ROG Ally. I spent the entire duration of the flight playing Tears of the Kingdom on my Switch while plugged into the plane's USB charging port.
The charger is also something that I want to mention here. It's a 65W charger that is from their laptops. I'm not sure why ROG gave us this instead of the ROG Phone's charger which is more compact and also has a detachable cable. I mean, this works – but not ideal. Either way, I ended up not using the included charger and use our Ugreen GaN chargers instead because it works the same as the original charger and has more ports to charge other things.
The second drawback is the operating system. Yes, Windows 11 is the problem. Well, It's more like a double-edged sword. On one hand, Windows 11 allows us to play a vast library of games on the Ally. Just install it and bam – it's running. You can emulators? There are lots to choose from.
But Windows 11 itself isn't made for handheld gaming devices like this. It's literally your standard touchscreen Windows 11 laptop but cramped into a tiny 7-inch display. Navigation is absolutely horrendous – especially when we want to tinker around or download stuff.
Also – Windows 11 is just too heavy for a handheld device like this. There are lots of background services and telemetry services alongside bloatware in Windows itself that will absolutely tank the battery life and defeat the purpose of a portable, handheld gaming device. At least, ROG didn't include McAfee in the Ally.
I have to give credit to ROG here because the Armoury Crate SE software is absolutely crucial to the Ally's experience. It gathers all of the games from all launchers into a single menu and you can just launch it there. You can also customize profiles for each game – but we've talked about it in another video – link in the description for that.
The Armoury Crate SE is still rather buggy but when it works, it works really well – though I do want to question, why are there two different software updaters? We can update the Armoury Crate SE itself through the Armoury Crate SE, but if we want to get the drivers and BIOS updates, we'll have to go back to the MyASUS app. Why can't everything be integrated into the Armoury Crate SE?
Okay, if Windows isn't the best for the ROG Ally, then what choices do we have? Well, Linux comes into my mind. But, if we want to switch over to Linux though, things will be even more horrible because we don't have Armoury Crate SE software. It'll essentially become a Linux laptop but in a different form factor. Does it actually improve the battery life though? That's something that we'll discuss in a future video – please do subscribe so you don't miss out on that.
We'll also be testing a modified, lightweight version of Windows 11 on the Ally and see how much it affects the battery life – so do subscribe for that video as well.
All in all, I do think that the ROG Ally is a first-gen device. There are lots of aspects of the device that needs polishing and improvements – particularly the software and especially the battery. I also feel like the ROG Ally is rushed to the market as there are still many changes done to it via software updates and BIOS updates. Honestly speaking, I spent more time tinkering with the Ally than actually playing games on it.
As for the price – it's USD $700. For the Malaysian pricing – I can't reveal it yet. I do know the price already – but it's under embargo. All I can say is – the price is enticing.
Either way, I think the ROG Ally will sell like hotcakes regardless of the price. People are hungry for such devices. Will I ditch my Switch for the Ally? Nah, I think they both will coexist. The Switch has so many great games that are just unavailable on other platforms – and has a much better battery life despite its hardware being more than 8 years old.
And that's it for our review of the ROG Ally. Remember – we're not done with this device. There will be at least one or two more videos featuring the Ally – and we'll see you there.
Where to buy? (Affiliate links)