The MSI Titan GT77 is a high-end gaming laptop designed for enthusiast gamers and professionals who demand desktop-class performance in a laptop shell. Before small form factor builders made noise about how they could build a cheaper and more powerful system in a shoebox, I'm talking about a full suite of components including the PC itself with a display and a keyboard, packed in an easy-to-carry setup.
This particular laptop comes equipped with a powerful combination of components including an Intel Core i9-13950HX processor, NVIDIA GeForce RTX 4090 laptop graphics card at 175W maximum graphics power and a 64GB of DDR5 memory. That is just part of the internal components because MSI also throws a 4K HDR display and a Cherry low-profile mechanical keyboard into the setup.
Let's find out more about the MSI Titan GT77HX right after this.
Video Review
Design & Build Quality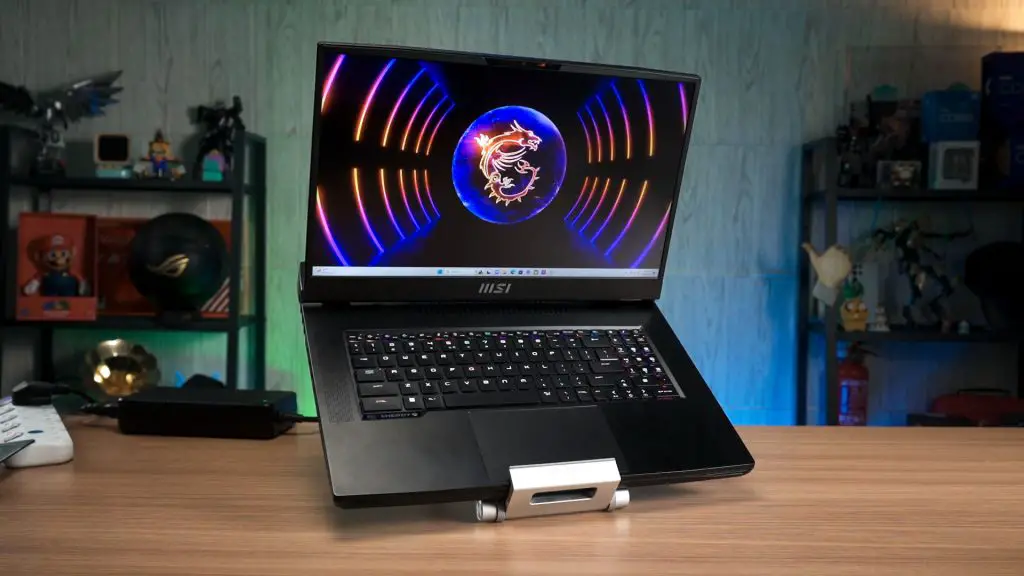 Starting off with the GT77 chassis design that was first introduced last year with 12th Gen Intel processors. There are almost no visual changes for the new model except for the internal component update. As you can see, this thing is absolutely massive.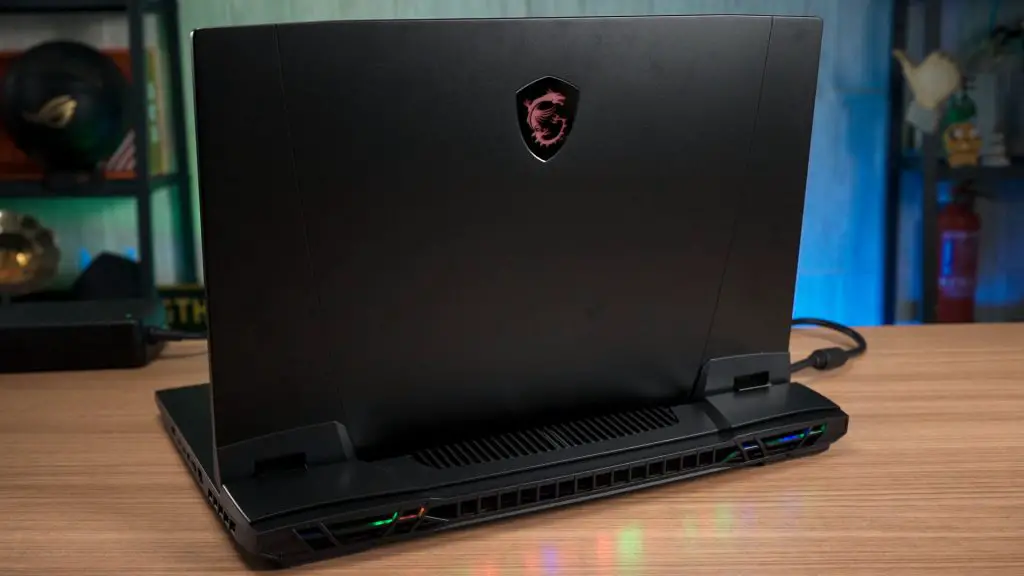 There's a huge extension at the back of the display hinge. That is dedicated to the cooling system. This type of design allows a slimmer laptop at the expense of a larger footprint.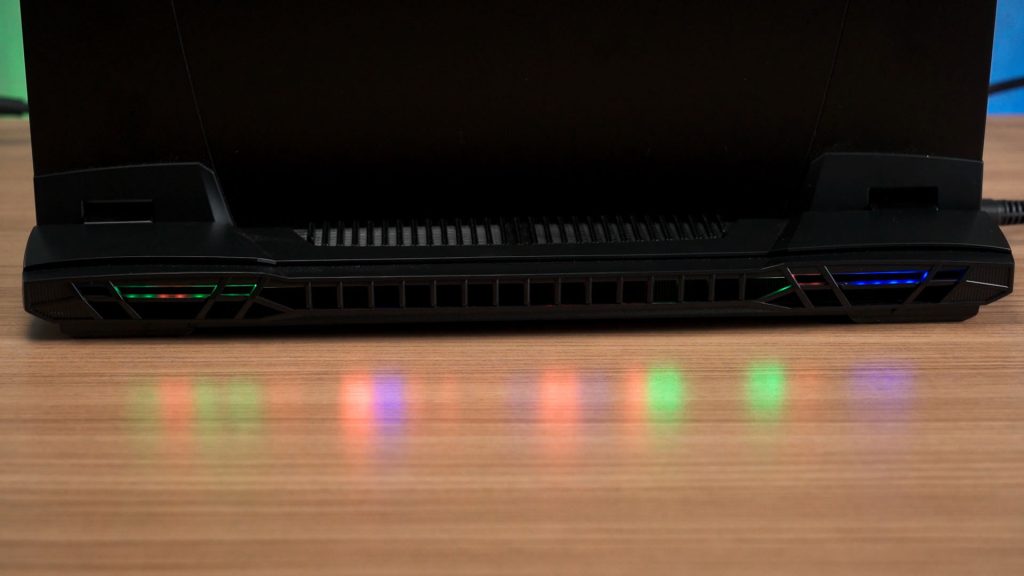 The RGB illumination is available on the MSI logo on the lid and the entire row of rear exhaust vents. That is pretty much all the RGB you get on the laptop chassis if you don't count on the keyboard. I guess RGB lovers will have to opt for the MSI Raider GE77 if they want a unicorn to puke RGB on the laptop.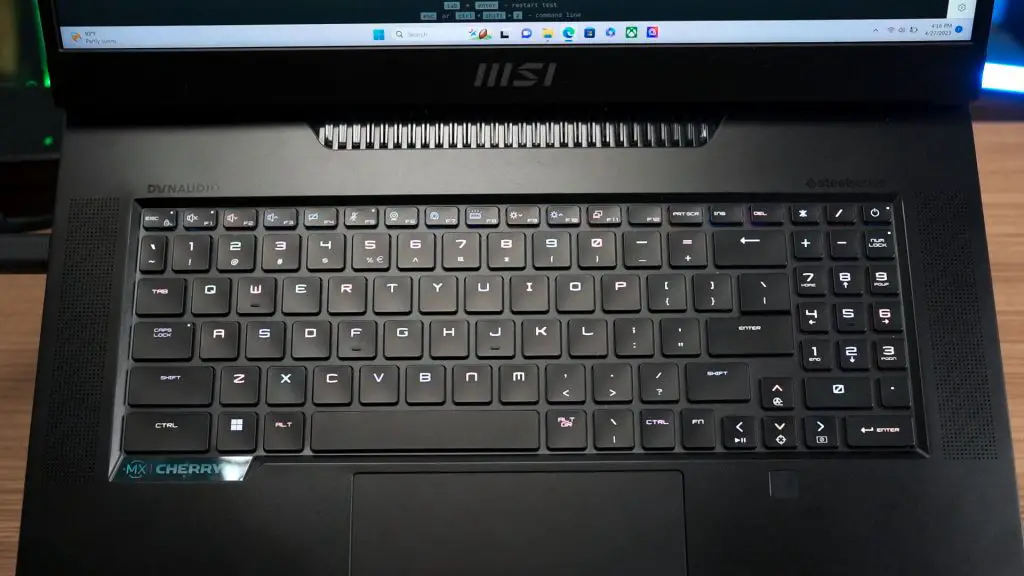 Speaking of the keyboard, this SteelSeries keyboard utilises Cherry MX Ultra Low Profile mechanical switches. Yes, my friends, this is a mechanical keyboard. In case you're wondering it is something equivalent to MX Brown, a tactile switch and this is what it sounds like.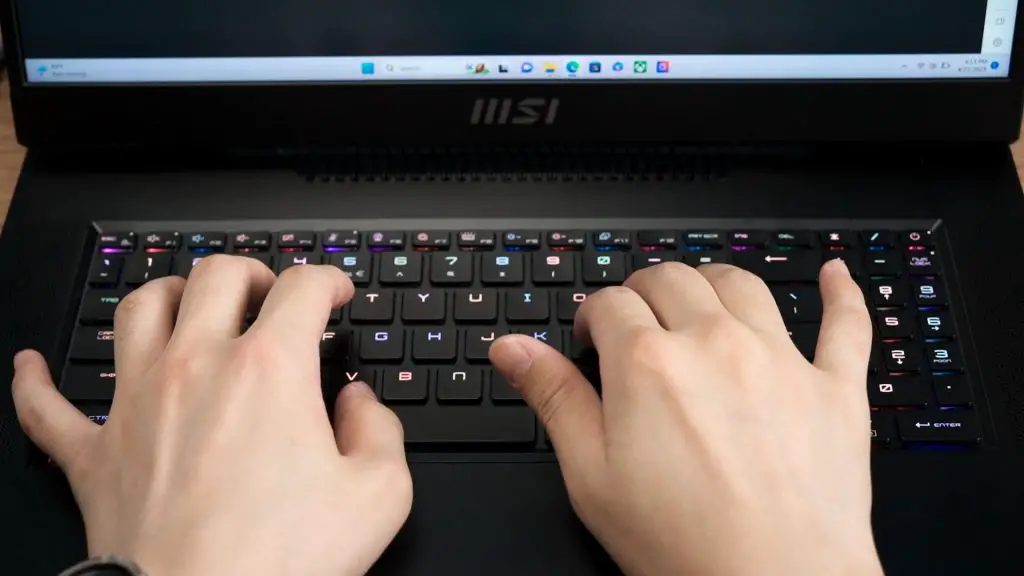 Overall, a bit noisier than what we have on the full-sized MX switches, probably due to the thin keycaps and lack of internal lubes.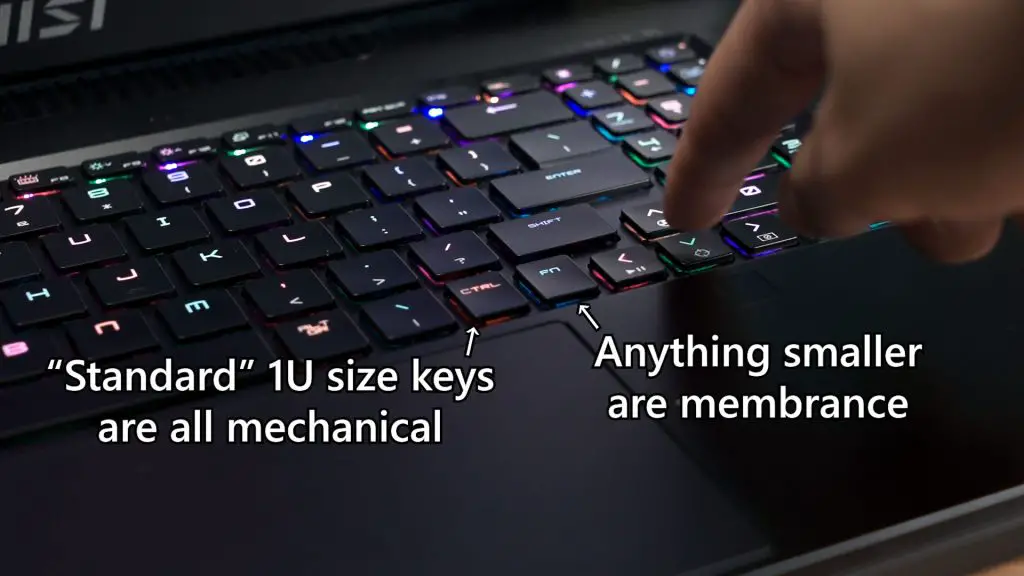 Oh, and one more thing, due to the size restrictions of a Cherry mechanical key switch, only the primary typing zone is using it. The rest such as the function row and the numpad zone is using conventional membrane switches. Nonetheless, I think they have done an excellent job at this keyboard. Normal users might not even be able to tell the small keys are non-mechanical due to the smaller key size and close resemblance of the feedback.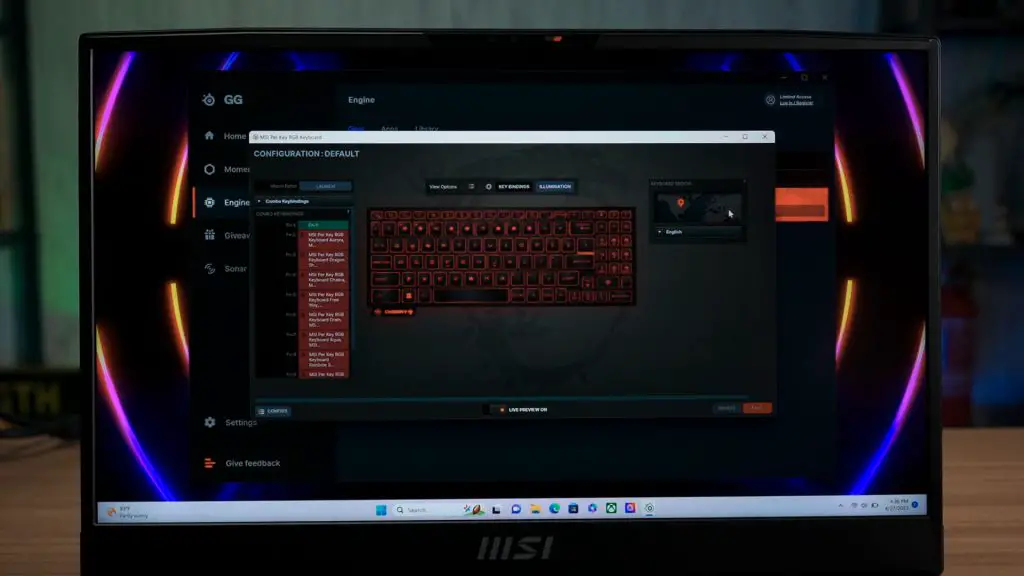 The keyboard per-key RGB is spectacular and bright. You can configure more RGB lighting effects in the SteelSeries GG software as well as macro shortcuts.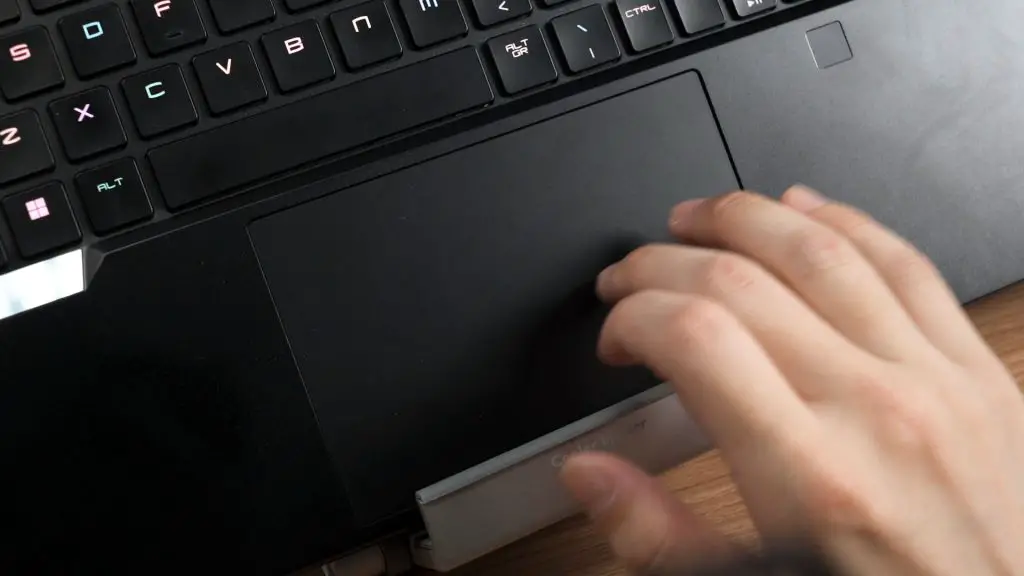 The trackpad is decently sized and useful for web browsing and normal pointing tasks. Gamers would not be bothered by it since they are going to use a mouse anyway.
At 3.3kg, some might argue this is useless as a laptop. Well, that is because you're comparing it to an ultraportable laptop. The point is, this is meant to be a portable desktop. It is for gamers and professionals that demand a powerful PC that they can bring with them easily. Just pack the laptop and the charging brick then they're set.
IO Ports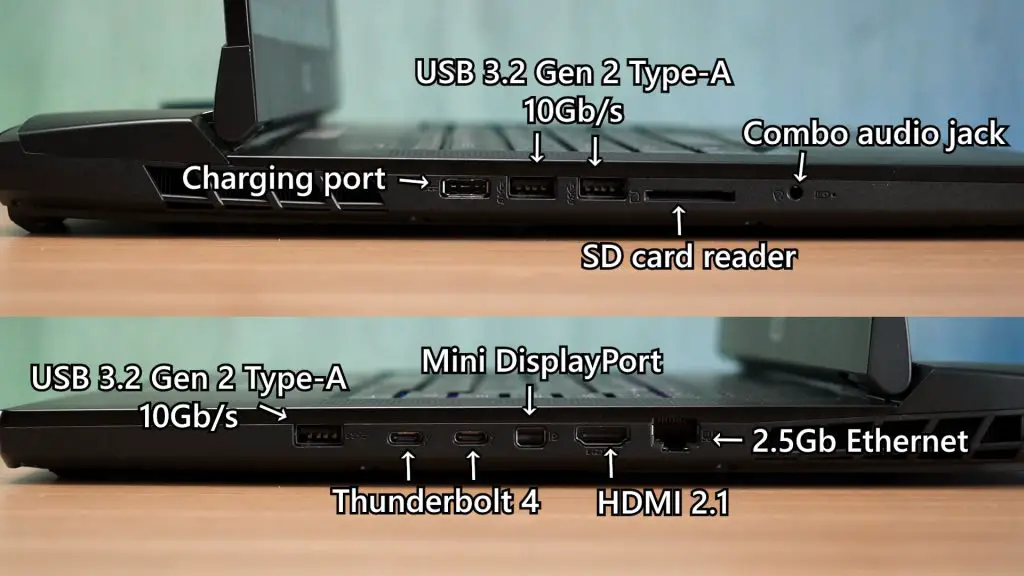 The IO ports are located on the left and right sides. On the left we have,
MSI's proprietary charging connector
2x USB 3.2 Gen2 Type-A port
SD Card reader
3.5mm combo audio jack
The SD card reader is just a standard reader that averages 80MB/s read. Content creators and filmmakers might want to use your own high-speed SDXC card reader instead.
on the right
USB 3.2 Gen2 Type-A port
2x Thunderbolt 4 port
Mini-Display port
HDMI 2.1
2.5Gbps ethernet port
In terms of wireless connectivity, the GT77 is equipped with a Killer AX1690i module that supports WiFi 6E as well as Bluetooth 5.3.
Display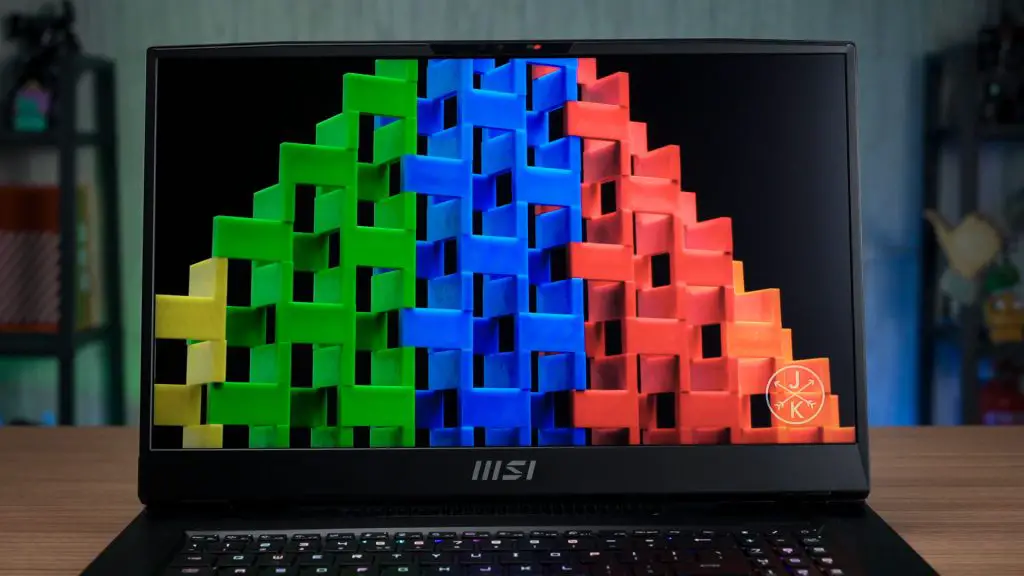 And now the display. This is a 4K 144Hz Mini-LED display. The colours are vibrant and the details are sharp. The black has stark contrast thanks to the local dimming zones. While MSI advertises the panel has over 1000 dimming zones, there is still potential for image blooming if there's a bright object on dark backgrounds. However, I don't think you will need to worry about this since you will rarely encounter such a specific situation. Just that it is quite weird that in 2023 whereby many other brands have moved on to a 16:10 aspect ratio while the flagship GT77 is still stuck with a 16:9.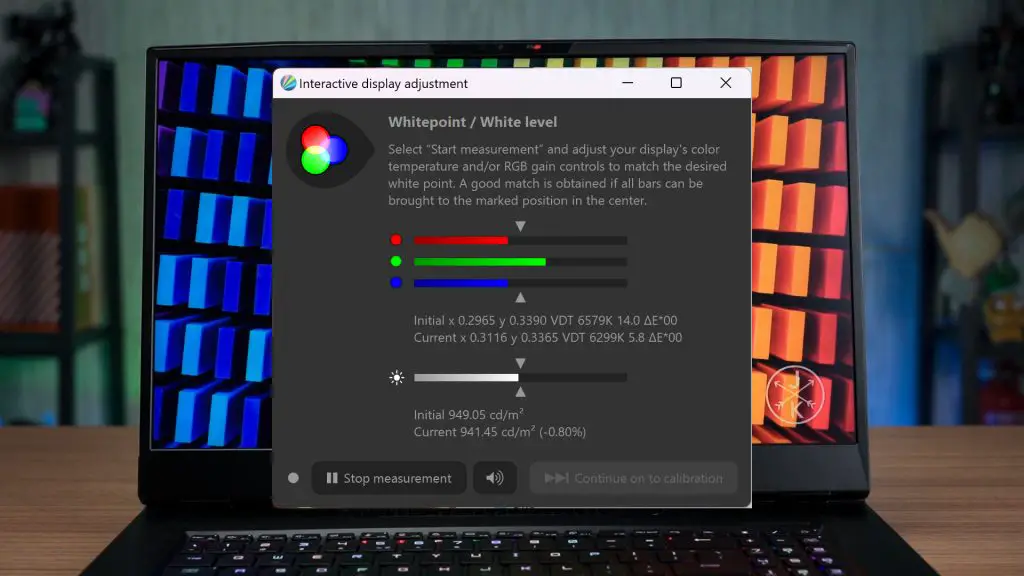 On average the panel can achieve 600 nits of brightness and up to 1000 nits in a completely white image.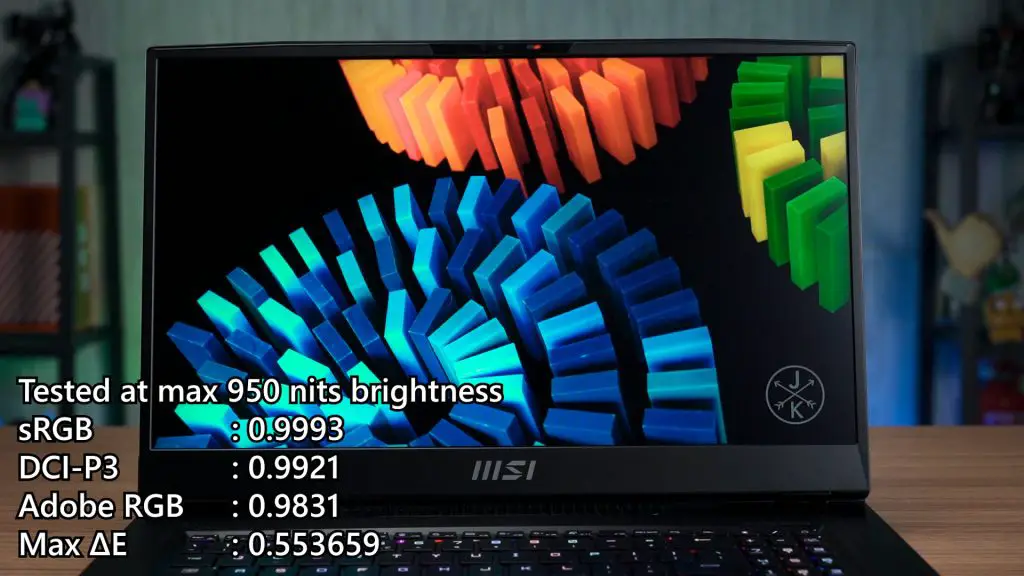 And that brings us to the HDR support for the display, I have to say Windows HDR is extremely problematic. Other than having the need to manually enable it in the display settings, you will also encounter colour profile issues and no HDR option when using the laptop on battery. For once, I had extremely low FPS in games after turning on HDR, averages at just 45 fps in Red Dead Redemption 2 is not normal for an RTX 4090 GPU. I only manage to solve it after disabling and re-enabling the Windows HDR settings.
Overall, the display is high quality and probably only can be utilised fully by a high-end GPU such as the RTX 4090.
Performance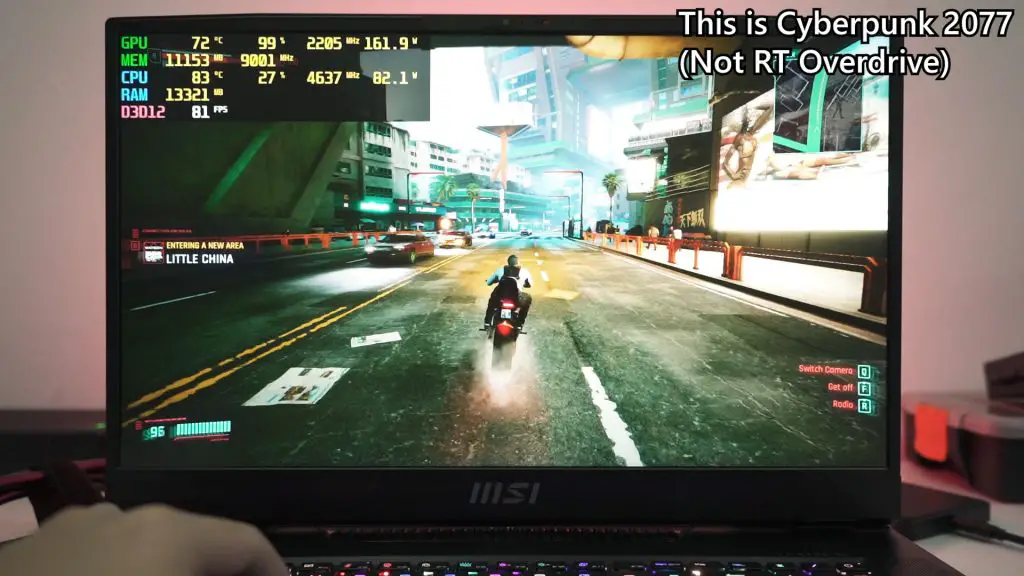 And that brings us to the performance. Our review unit comes with Intel Core i9-13950HX. This particular processor is not supposed to be available for retail since the normal version should have an Intel Core i9-13980HX which is 100MHz faster on the P-Cores. Other than that, the i9-13950HX is more suitable for corporate workstations as it supports Intel vPro Enterprise technology. The CPU is paired with a pair of DDR5-4800 RAM, a total of 64GB.
We are comparing the MSI Titan GT77HX to our recently reviewed ASUS ROG Strix SCAR 18. They have almost identical internal components such as RTX 4090 with a slight difference whereby the SCAR 18 has an Intel Core i9-13980HX.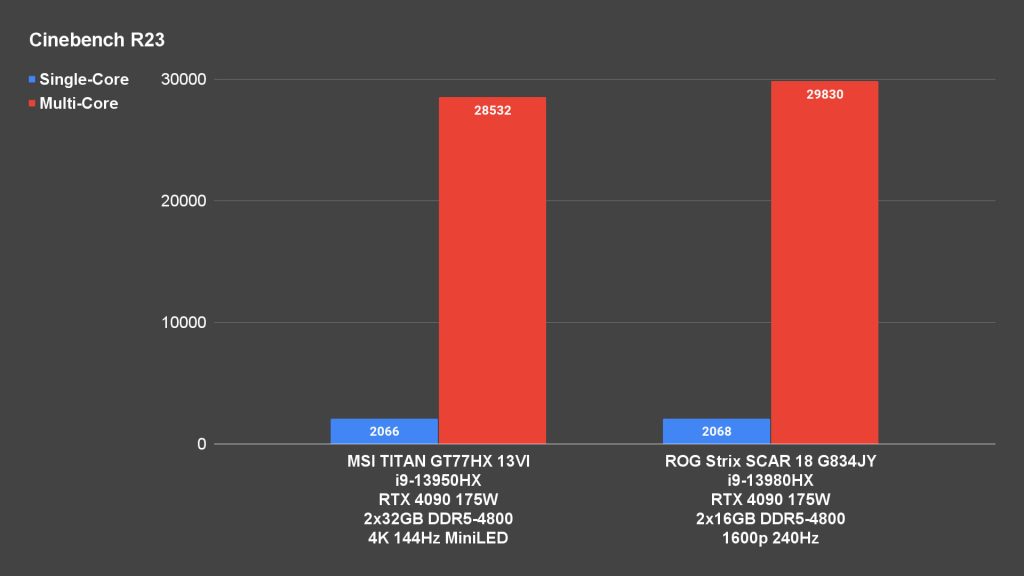 Cinebench shows an almost identical single-core performance and a reasonable multi-core performance difference between the 13950HX and 13980HX.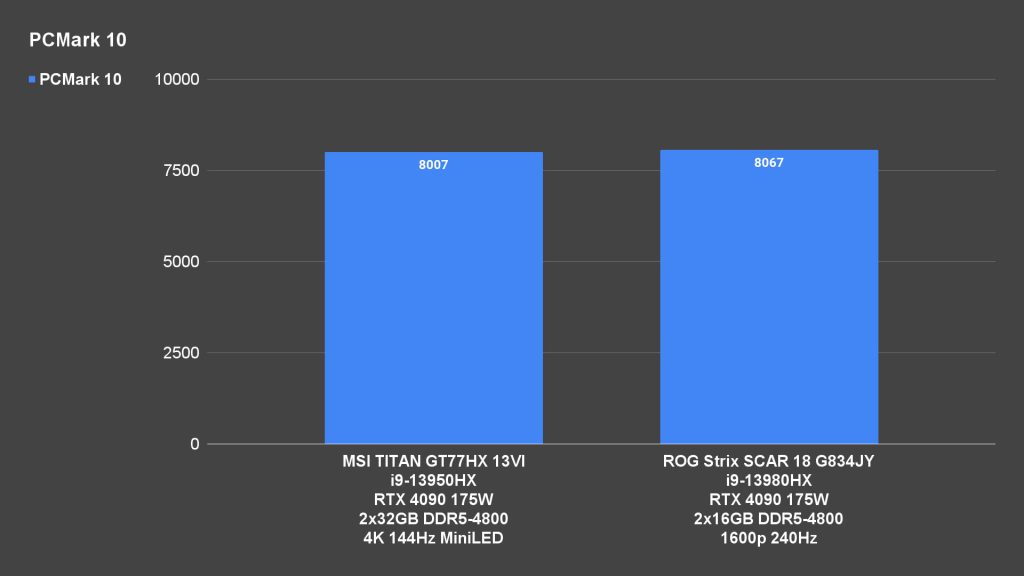 Other than that, PCMark 10 has a negligible performance difference.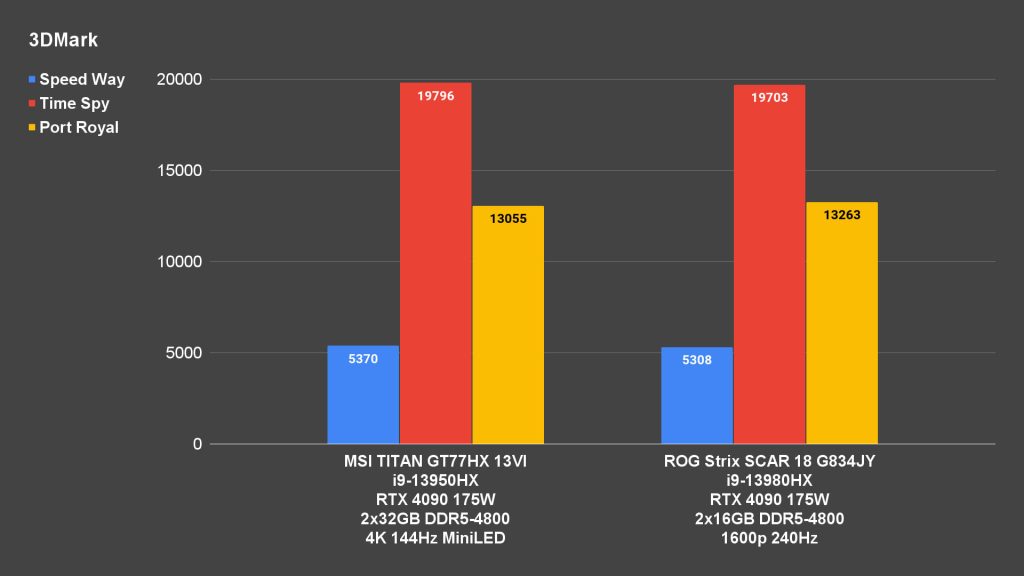 That goes the same for 3Dmark Speedway, time spy and port royal since both laptops have the exact same RTX 4090 GPU.
I have to conduct the gaming test twice on both 4K and 1440p resolution to get a better understanding and better comparison with the ROG Strix SCAR 18 which only comes with a 2560×1600 resolution display.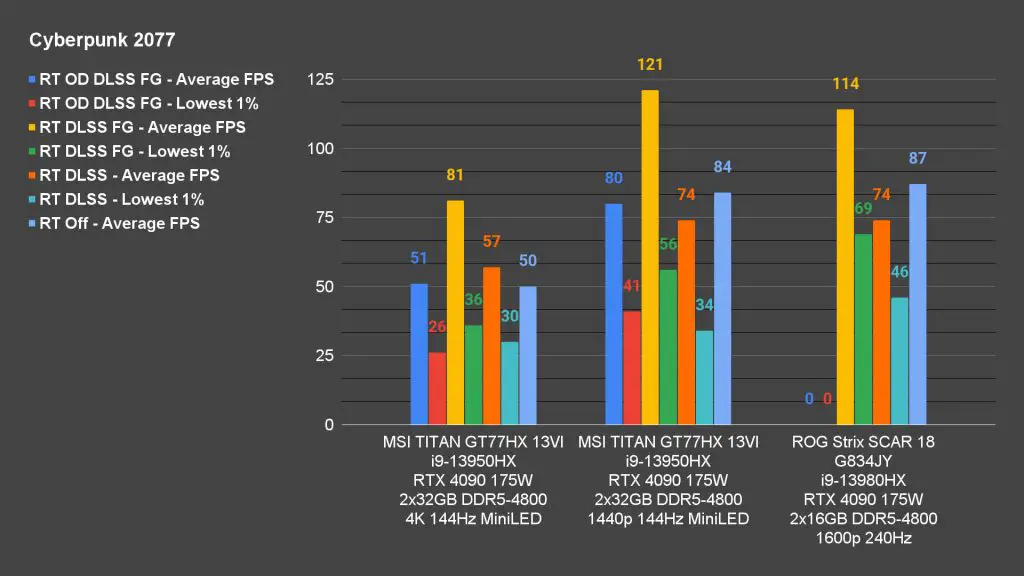 Cyberpunk 2077's latest RT Overdrive update is actually bringing the RTX 4090 down to its knees. You will have to enable DLSS with Frame Generation technology to fully enjoy the new technology.
In our test, averaging at 51fps the game is still playable at 4K resolution with RT overdrive and DLSS FG enabled. I have to say, the Frame Generation technology is the MVP here for enabling over smooth gameplay experience on 4K resolution. Lowering the resolution to 1440p allows the game to run at over 120 fps if you play on RT and DLSS FG.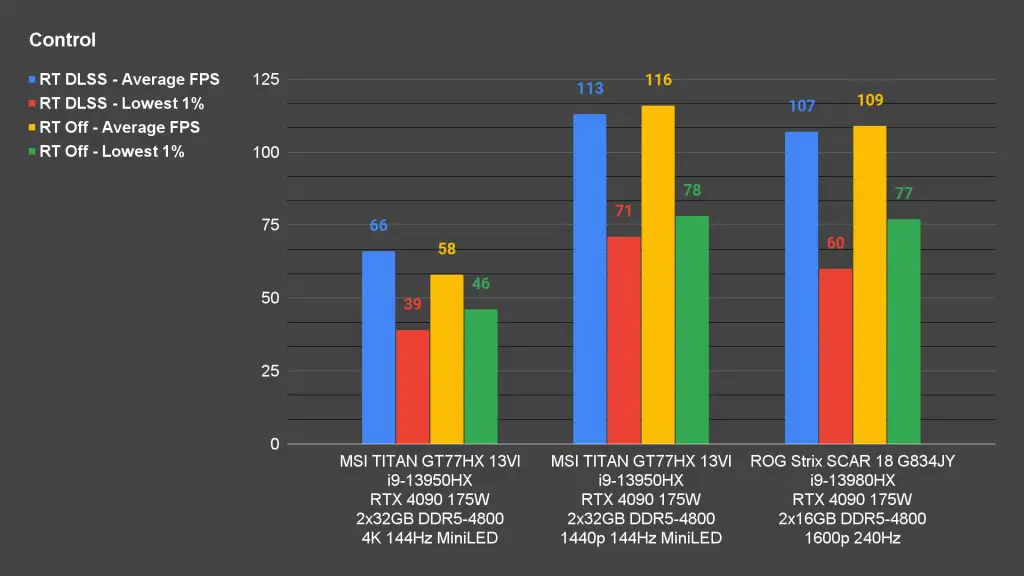 The same applies to Control whereby 4K 60 FPS is possible no matter if you choose to enable RT & DLSS or not. That is pretty impressive.
Older games such as RDR2 and Dirt 5 can easily achieve nearly 100 fps when you max out all the settings on 4K resolution.
All in all, while I still believe 1440p is the best balance when it comes to the display sharpness and performance requirement, not to mention the cost, the RTX 4090 laptop has done an excellent job at proving 4K gaming is finally viable.
Cooling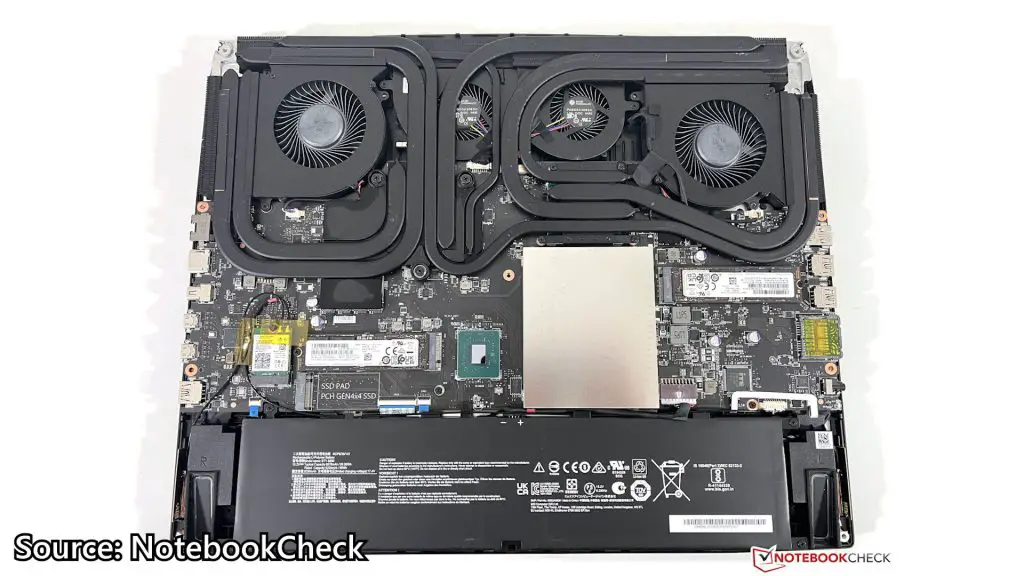 And so, to cool down all those high-performance components is a robust cooling system that combines 9 heat pipes and 4 fans. Yes, you heard/read that right, FOUR fans in a laptop. And yes, they can get REALLY LOUD during load and heavy gaming. The end result? The Intel Core i9 kept under 90~95c most of the time and the RTX 4090 operated at about 75c. That is quite an achievement considering the CPU and GPU are taking in 75W and 175W respectively during Cyberpunk 2077 session.
Outside of heavy loads and games, the fan noise is almost inaudible when you use it for normal web browsing and document processing.
Maintenance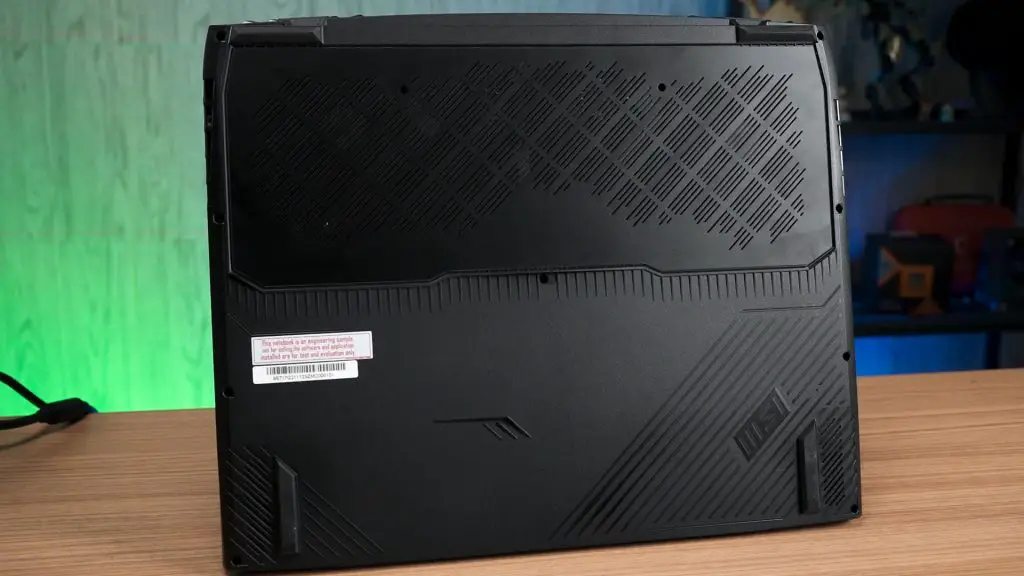 The bottom chassis is attached via standard Philips screws and can be removed with a bit of prying. Depending on the country, some might have those warranty void stickers to prevent users from accessing the internals.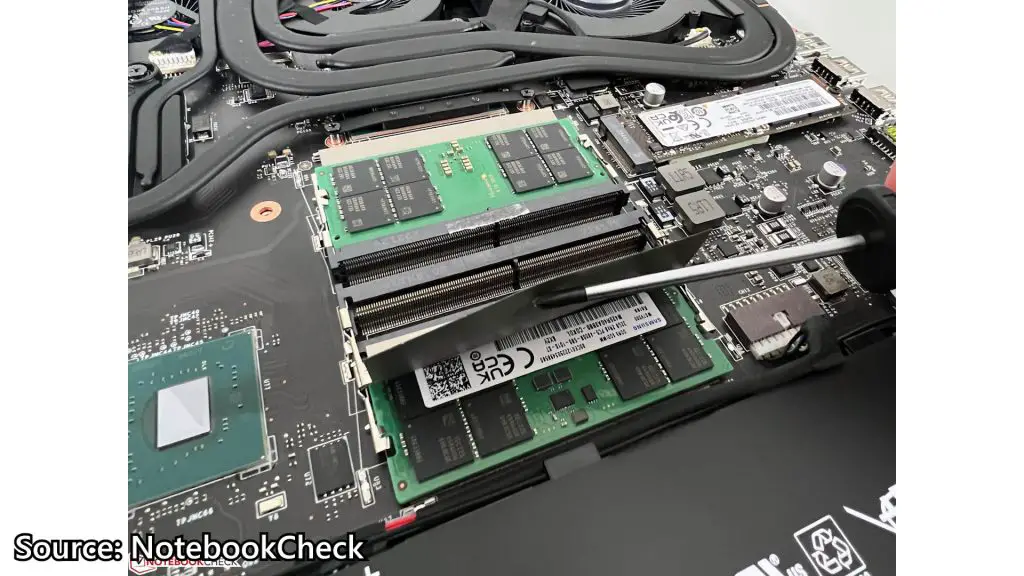 There are four SO-DIMM slots and three M.2 slots for future upgrades.
Battery Life
The MSI Titan GT77 has a massive 99.9Wh battery, which provides decent battery life considering the powerful hardware. With normal usage, you can expect to get around 5 hours of battery life. However, you will have to change to silent mode, limit the display to 60Hz and lower the display brightness.
Batteries on this type of laptop are more like UPS instead of being a battery for long hours of fieldwork.
Conclusion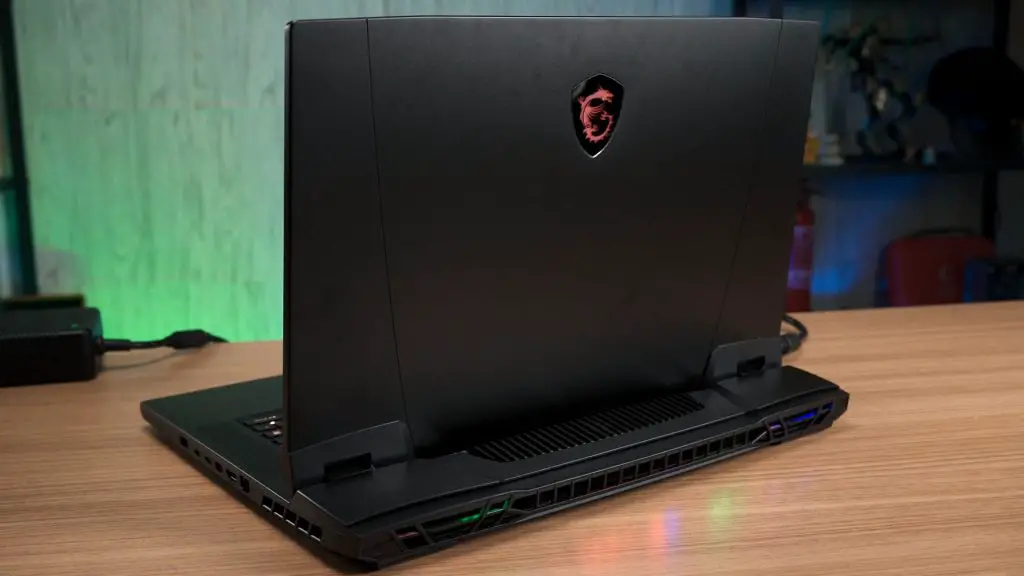 Overall, the MSI Titan GT77HX is an excellent gaming laptop that provides top-of-the-line performance and a rare 144Hz 4K MiniLED HDR display. Honestly, I don't have much to complain about other than the buggy Windows 11 operating system. The hardware provided in this package checks all the marks if my work requires me to travel overboard for quite some time.
All those flagship components result in a jaw-dropping RM27k price tag, that's why it is a niche laptop only for those who can afford it or actually need it.