With AMD finally joining the ray-tracing game hype, gamers can now choose between GeForce and Radeon cards if they've decided to leap to experience ray-tracing themselves. We have the MSI Radeon RX 6800 Gaming X Trio 16G sent in for review this time, so let's see what kind of performance we can expect from this card and how does it fare against the reference Radeon RX 6800.
Specifications
| | | |
| --- | --- | --- |
| GPU | Radeon RX 6800 | MSI Radeon RX 6800 Gaming X Trio |
| Shading Units | 3840 | 3840 |
| TMUs | 240 | 240 |
| ROPs | 96 | 96 |
| Compute Units | 60 | 60 |
| Base Clock | 1700 MHz | 1775 MHz |
| Boost Clock | 2105 MHz | 2155 MHz |
| Memory Type | GDDR6 | GDDR6 |
| Memory Size | 16GB | 16GB |
| Memory Bus | 256-Bit | 256-Bit |
| Bandwidth | 512 GB/s | 512 GB/s |
| Effective Memory Speed | 16 Gbps | 16 Gbps |
| Bus Interface | PCIe 4.0 x 16 | PCIe 4.0 x 16 |
| Additional Power Connector | 2 x 8-pin | 2 x 8-pin |
| TDP | 250W | 250W |
| Recommended PSU | 650W | 650W |
Unboxing
The MSI Radeon RX 6800 Gaming X Trio 16G ships in a pretty standard box, with its prominent features and information printed on both sides of the box. Inside the accessories pack, you'll find the installation guide, MSI product catalog, QR code that leads you to the user's guide page, and a graphics card support bracket.
As for the card itself, MSI equips the Radeon RX 6800 Gaming X Trio 16G with its TRI FROZR 2 triple-fan cooler as the cooling solution. The cooler features a total of three TORX Fan 4.0 which according to MSI, are specially crafted to deliver unprecedented levels of focused air pressure for the best cooling performance.
Although it doesn't come as colossal as the RTX 3080 Ti SUPRIM X 12G in terms of size, it'll still take up roughly 3 slots on your expansion slot with its 2.5 slot z-height. The thick heatsink features five precision-crafted heat pipes to maximize the contact with the GPU die surface to achieve the best possible cooling performance that is complemented by the three TORX Fan 4.0.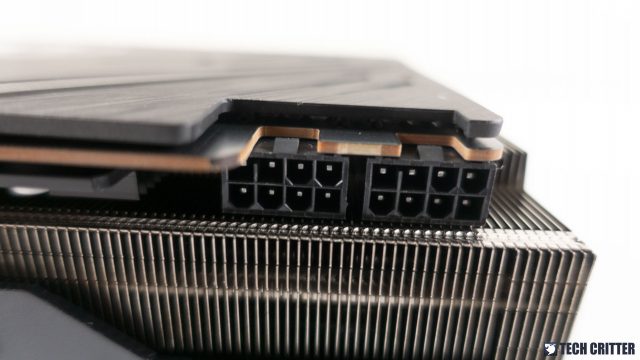 The power requirement is the same as the reference Radeon RX 6800, which is a minimum of 650W power supply with support for 2 x 8-pin PCIe power connectors. That aside, it's good to see that MSI decided to place the PCIe power connectors at the very end of the PCB, which is good for those who are very picky on the cable management part.
Now for those of you who are into the RGB bling, the RGB lightings on the Radeon RX 6800 Gaming X Trio 16G aren't as intense as the previous generation design. Hardcore RGB fans might not favor the reduced RGB but I think it's reasonable enough if you're one of those users who like a balanced build with a reasonable amount of RGB lightings instead of making your system look like a Christmas tree.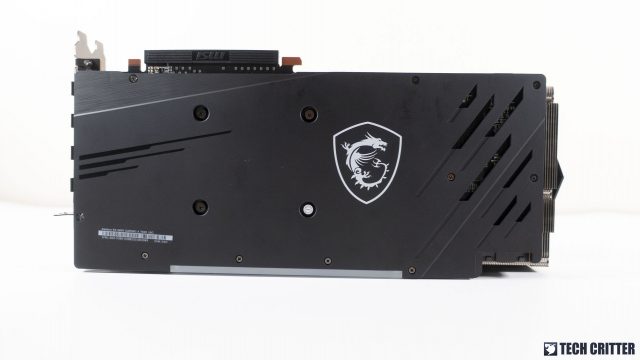 Regardless of the design, a metal backplate is a common inclusion for most graphics cards you'll find nowadays. Although the metal backplate on the Radeon RX 6800 Gaming X Trio 16G is rather plain looking and doesn't have that premium look as what you'll find on the SUPRIM X models, it'll still get the job done as any metal backplate does.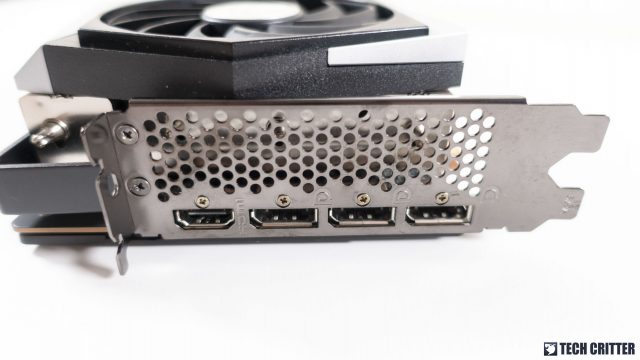 The display output on the Radeon RX 6800 Gaming X Trio 16G is the usual 3 x DisplayPort and 1 X HDMI, which is a pretty standard option for most of the graphics cards you'll find nowadays. Personally, a 2 x DisplayPort and 2 x HDMI option for the display output is something I'd prefer more than what we currently have.
Test System Setup
For our games benchmark test, we've selected a number of AAA titles to run at its highest possible settings using the following setup under an ambient temperature of 31°C:
| | |
| --- | --- |
| CPU | AMD Ryzen 9 5950X |
| Motherboard | MSI MEG X570 GODLIKE |
| Memory | TEAMGROUP T-FORCE XTREEM ARGB DDR4 @3600MHz |
| Graphics Card | Radeon RX 6800 / MSI Radeon RX 6800 Gaming X Trio 16G |
| Power Supply | Cooler Master V1200 Platinum |
| Primary Storage | Corsair MP600 2TB |
| Secondary Storage | WD Black 6TB |
| CPU Cooler | Cooler MasterLiquid Master ML360R RGB |
| Chassis | Streacom Open Benchtable BC1 |
| Operating System | Windows 10 64bit |
Games Benchmark (DX12)
Starting off with the raster performance, the RX 6800 Gaming X Trio 16G pretty much overpowered the RX 6800 reference card in all the AAA titles we've tested so far. The performance difference is very noticeable on both 1080P and 1440P tests but quickly becomes almost negligible as soon as we scale up to 4K. The RX 6800 is seemingly able to handle some of the games we've tested on 4K resolution but you'll have to lower some of the settings from ultra to high or perhaps medium to achieve that above-average 60fps many desired. If you'd prefer to have the highest possible settings without having to sacrifice much on the graphics settings, 1440P is a very reasonable resolution to game on with the RX 6800.
Games Benchmark (DXR)
Moving on to the ray tracing performance, the RX 6800 struggles hard even on 1080P to maintain smooth and playable framerates for newer titles that can be very demanding when it comes to the ray tracing settings. Unlike when it's first released, the long-awaited FidelityFX Super Resolution is finally made public as AMD's answer to DLSS from NVIDIA. It'll still take a while before we can see more games to finally get the support for FSR but as of now, ray tracing on ultra settings is still something that is too much for the RX 6800 to handle.
Temperature & Power Draw
We've also compared the thermal performance and power draw for both the RX 6800 and RX 6800 Gaming X Trio 16G the FurMark GPU burn-in utility, just to see how hot the GPU will get and how much power is it drawing under load.
| | | |
| --- | --- | --- |
| | Radeon RX 6800 | MSI Radeon RX 6800 Gaming X Trio 16G |
| Idle Temp. | 46°C | 39°C |
| Load Temp. | 80°C | 63°C |
| Power Draw | 248W | 252W |
We've seen quite a number of awesome-looking custom coolers from some of the board partners that are literally giving the same performance as the reference cooler, some worse, but the load temperature reading that we've observed from both the reference RX 6800 and Radeon RX 6800 Gaming X Trio 16G is clearly a win for MSI. The 63°C load temperature alone is enough to show that the custom cooler is actually doing a good job to keep the GPU just as how it's advertised.
The slightly higher power draw on the MSI Radeon RX 6800 Gaming X Trio 16G is clearly justifiable from the performance it can deliver, according to our benchmark result. Honestly, I'm quite surprised to see that the performance improvement is somewhat significant despite the slight 4W increase on the power draw.
Final Thoughts
If ray tracing is something that is very important to you, be it the reference RX 6800 or the MSI Radeon RX 6800 Gaming X Trio 16G, it's still not the card I'd recommend as of now. Well, at least not until we can finally see a more mature and wider adaptation of FidelityFX Super Resolution on the existing and upcoming AAA titles. We have yet to see any other public statements from game developers besides what we've seen from AMD's announcement but we do hope to see that it'll be able to unlock more potential for the Radeon RX 6000 series cards, just like what DLSS does to the GeForce RTX cards.
There's no denying that the RX 6800 is still a very powerful card when it comes to raster performance and the custom cooler on the Radeon RX 6800 Gaming X Trio 16G just makes it even better if you're going straight for pure raster performance. The price is still unreasonably high as of now but it's definitely a reasonable option to go for as soon as it's finally gone down to its supposed price.
Pros
RGB lightings are not overwhelming
Solid build quality
Excellent cooling performance
Quiet operation
Graphics card holder bracket included
Cons
Mediocre ray tracing performance
Display output options are rather plain for a card in this category