The long-awaited GeForce RTX 3080 Ti is finally here and it'll be available starting from June 3, 2020. For this review, we managed to get our hands on the GeForce RTX 3080 Ti SUPRIM X 12G, special thanks to MSI Malaysia. As it's now the new flagship model in the RTX 30 series lineup, we've compared its performance against an RTX 3080 and RTX 3090 just so we can get a better idea of its performance and see how well does it fare against the two.
Specifications
| | | |
| --- | --- | --- |
| GPU | GeForce RTX 3080 Ti | MSI GeForce RTX 3080 Ti SUPRIM X 12G |
| CUDA Cores | 10240 | 10240 |
| Tensor Cores | 320 | 320 |
| RT Cores | 80 | 80 |
| ROPs | 112 | 112 |
| GPU Boost Clock | 1665 MHz | 1830 MHz |
| Memory Data Rate | 19 Gbps | 19 Gbps |
| Total Video Memory Size | 12G GDDR6X | 12G GDDR6X |
| Memory Interface | 384-bit | 384-bit |
| Memory Bandwidth | 912.4 GB/sec | 912.4 GB/sec |
| TDP | 350W | 350W |
| Recommended PSU | 750W | 750W |
| Power Connectors | 1 x 12-pin | 3 x 8-pin |
| Dimensions (LxWxH) | 285mm x 112mm x 40mm | 336mm x 140mm x 61mm |
Unboxing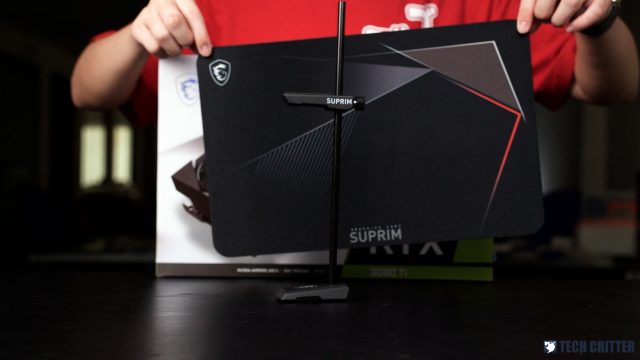 For the accessories included, apart from the usual user's manual that most users will just ignore, MSI has included a cloth mousepad with the SUPRIM branding and a graphics card holder inside the box. While the mousepad is rather plain when it comes to the build quality, the inclusion of the graphics card holder is greatly appreciated.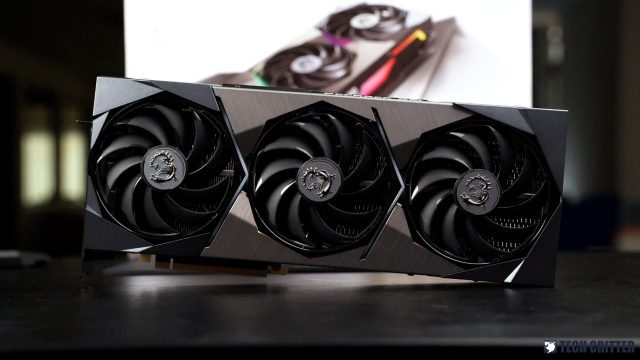 And now the main highlight, the MSI GeForce RTX 3080 Ti SUPRIM X 12G. This is probably the biggest and best-looking RTX 30 series card I've seen to date, even better than the RTX 3080 Gaming X Trio. Given the aesthetics, I'd choose this over the Gaming X Trio without giving a second thought if I can really afford one.
Looking at the cooling solution, MSI equipped the RTX 3080 Ti SUPRIM X 12G with its TRI FROZR 2S cooler – a colossal heatsink with precision-machined heat pipes to ensure the best contact to the GPU die, cooled by 3 x TORX Fan 4.0 specially crafted to deliver unprecedented levels of focused air pressure for the best cooling performance.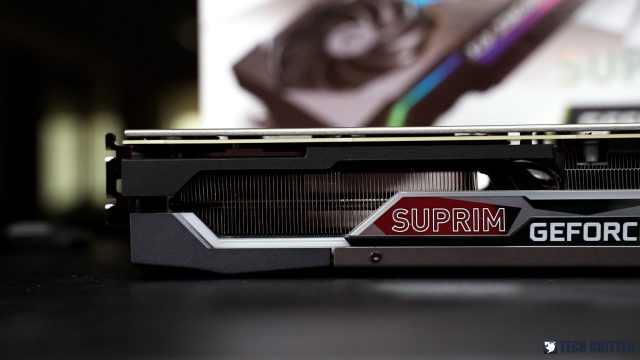 Thanks to its huge cooler, the RTX 3080 Ti SUPRIM X 12G will take up 3 of your expansion slots and will require the use of the included graphics card holder due to its weight to avoid damaging the card or your PCIe slots over time if it's not mounted vertically.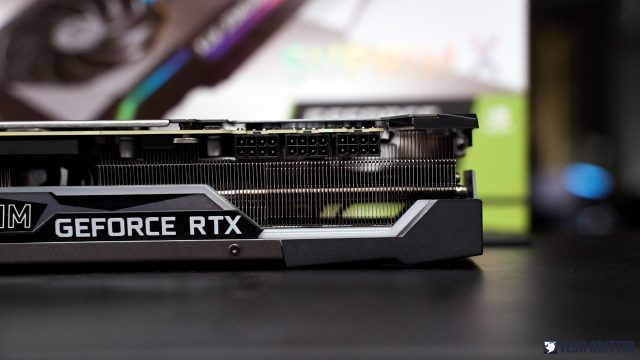 Unlike the Founders Edition models, the RTX 3080 Ti SUPRIM X 12G retains the good old 8-pin PCIe connectors but a total of three is required to power up the card. So that's something to take note of when you're looking for a minimum 750W power supply to pair with it.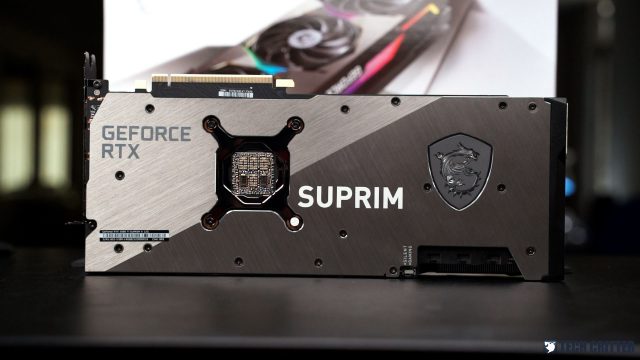 Moving on to the design of the backplate, I don't really have the right words to describe it, but it's definitely one of the best-looking backplate I've seen so far. The attention to detail on the metal brushed texture and two-tone design is something that I appreciate a lot and I can see myself removing the backplate and frame it for decorative purposes when the card reaches the end of its life.
After I'm done with admiring the design of the backplate, I've noticed that it doesn't have the cutout like what I've seen on most of the partner's RTX 30 series cards. I'm not really sure why MSI decided to ditch that design but judging from the size of the cooler, it's somewhat understandable?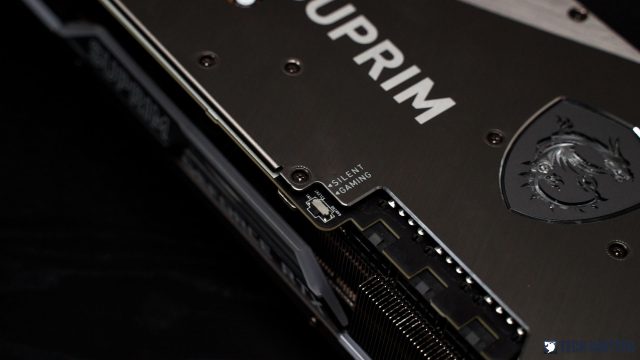 You'll find a dip switch nearby the PCIe power connectors to toggle between gaming and silent mode, but I don't really see any reason to go for silent mode at the moment as the card is already running very quietly even during load.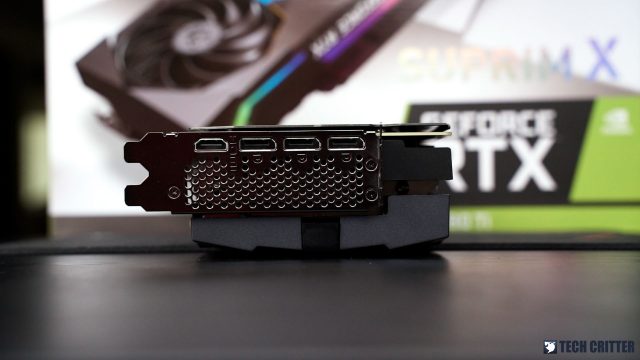 As for the display output options, I'm actually surprised that MSI didn't include any extra HDMI ports on the RTX 3080 Ti SUPRIM X 12G like some of the flagship models we've seen from other NVIDIA partners like ASUS and Gigabyte. It'll be nice if they can at least include a secondary HDMI port, at least.
Test System Setup
For our games benchmark test, we've selected a number of AAA titles to run at its highest possible settings using the following setup under an ambient temperature of 31°C:
| | |
| --- | --- |
| CPU | Intel Core i9-10900K |
| Motherboard | ASUS ROG Maximus XII Apex |
| Memory | TEAMGROUP T-FORCE XTREEM ARGB DDR4 @3600MHz |
| Graphics Card | GeForce RTX 3080 / MSI GeForce RTX 3080 Ti SUPRIM X 12G / GeForce RTX 3090 |
| Power Supply | Enermax MaxTytan 1250W / Cooler Master V1200 Platinum |
| Primary Storage |  Corsair MP600 2TB |
| Secondary Storage | WD Black 6TB |
| CPU Cooler | Cooler MasterLiquid Master ML360R RGB |
| Chassis | Streacom Open Benchtable BC1 |
| Operating System | Windows 10 64bit |
Games Benchmark (DX12)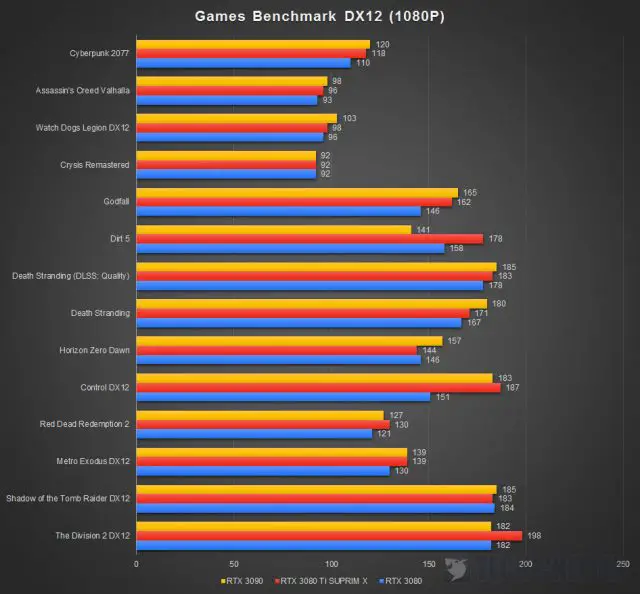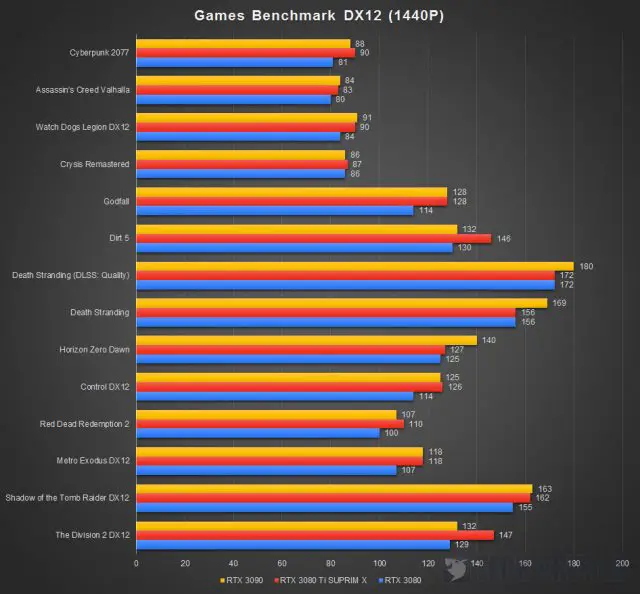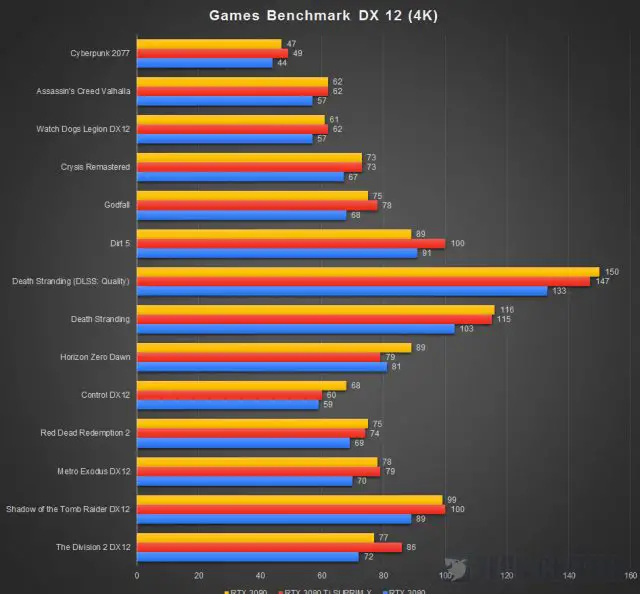 Starting off with the raster performance, we can see that the RTX 3080 Ti is performing mostly on par with the RTX 3090 on most occasions. While we can still see the RTX 3080 managed to keep up with the RTX 3080 Ti on some titles, the most notable performance difference can be seen on 4K gaming, which the RTX 3080 Ti just performs almost exactly like a RTX 3090.
Games Benchmark (DXR)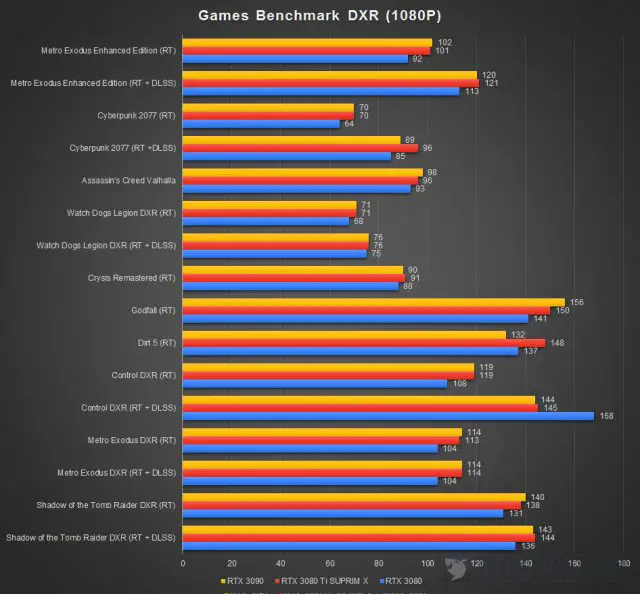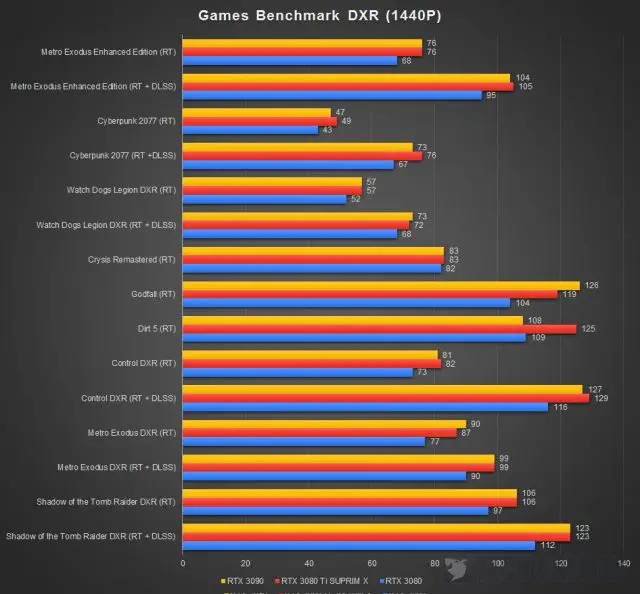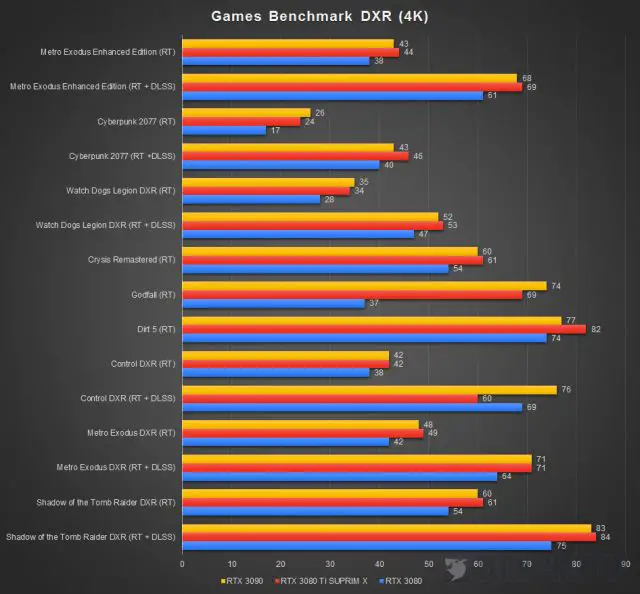 Moving on to the ray tracing performance, we can now see an even wider performance gap between the RTX 3080 and RTX 3080 Ti as we move up from 1080p to 1440p and above. The extra RT cores and Tensor cores definitely help to deliver better performance and again, we can see that the RTX 3080 Ti performing almost on par with the RTX 3090 in most of the titles test.
Thermals & Power Draw
For this test, we've compared the power draw from actual gaming usage against the stress test with FurMark, and turns out that the power draw on the RTX 3080 Ti SUPRIM X 12G is pretty consistent at around 346W-350W. The power draw is very similar to what we've observed on the RTX 3090, but it's totally understandable since both cards share an almost identical performance throughout the tests we've done.
As for the thermals, we're actually quite surprised to see that it actually runs at a higher load temperature of 81°C, as compared to the RTX 3090 which only runs at 74°C during load. Honestly, that's a slight disappointment right there, as I was looking forward to seeing some nice temperature numbers from this huge cooler. In case if you're not comfortable with the temperature, you can always adjust the fan profile through MSI Afterburner software.
Final Thoughts
Although NVIDIA did announce that the price for the RTX 3080 Ti will start from $1,199, it's very likely that you'll see any of the RTX 3080 Ti on sale tomorrow will cost at least twice of that. Given that you're the kind of enthusiasts who are willing to pay for one, or perhaps the price of graphics cards has finally gone down to how it supposed to be in the near future, the RTX 3080 Ti is definitely worth the recommendation.
As most of the games we've seen so far still doesn't really fully utilize that crazy 24GB VRAM the RTX 3090 has even with the highest graphics settings on 4K resolution, I'd say the RTX 3080 Ti a more reasonable option for certain gamers and enthusiasts who want performance beyond the RTX 3080 without having to pay for the extra VRAM that they won't even fully utilize. Else, you can wait for the upcoming RTX 3070 Ti that is launching for $599, which seems like a pretty reasonable deal as well.
Performance-wise, the RTX 3080 Ti definitely has the RTX 3090-ish performance that is noteworthy of the flagship title. We're unsure how the RTX 3080 Ti Founders Edition will perform, but I can say that the MSI RTX 3080 Ti SUPRIM X is a total beast and honestly, I don't really have anything to complain about. The only slight disappointment for me is the cooling performance, which doesn't really match the size of the cooler at all. Although this can be 'fixed' manually through fan profile adjustment in MSI Afterburner, it requires you to increase the fan speed alongside the fan noise, which is something I'd like to avoid if possible.
Pros
Very similar performance to the RTX 3090
Looks really good
Solid build quality
Still uses the standard 8-pin PCIe power connector
Quiet operation
Graphics card holder included
Cons
Very heavy
Out of the box cooling performance doesn't really match the cooler size
Costly
Display output options are rather plain for a card in this category