The MOBIUZ EX3210U gaming monitor is the latest model by BenQ which has 4K resolution and supports up to 144Hz refresh rate. Here's my review after spending about two weeks using it.
Review Video
Unboxing and Setup
Here's what you get in the box apart from the monitor:
power adapter

HDMI 2.1 cable (1.8m)

DisplayPort cable (1.8m)

USB 3 upstream cable
The setup process is straightforward and easy even for a monitor of this size. The neck is screwed to the base with a folding thumbscrew and then snaps into the back of the monitor.
Personally, I'm not a big fan of this type of triangular base as it takes up valuable desk space for the sake of "gamer" aesthetics. Flat bases like the one included with their esports monitor or designer monitor would be a much better option. But hey, maybe the majority of the gamers out there like this kind of design right?
Nonetheless, the stand is highly adjustable to match your ergonomic needs. It has tilt, height and swivel adjustments. If you're wondering, no, you can't use it in vertical mode. 
Connectivities
In terms of the connectivities:
2x HDMI 2.1

1x DisplayPort 1.4

1x 3.5mm audio passthrough

1x USB-B upstream port

4x USB-A downstream ports
The cable routing hole is reasonably sized for most of the thick display cables.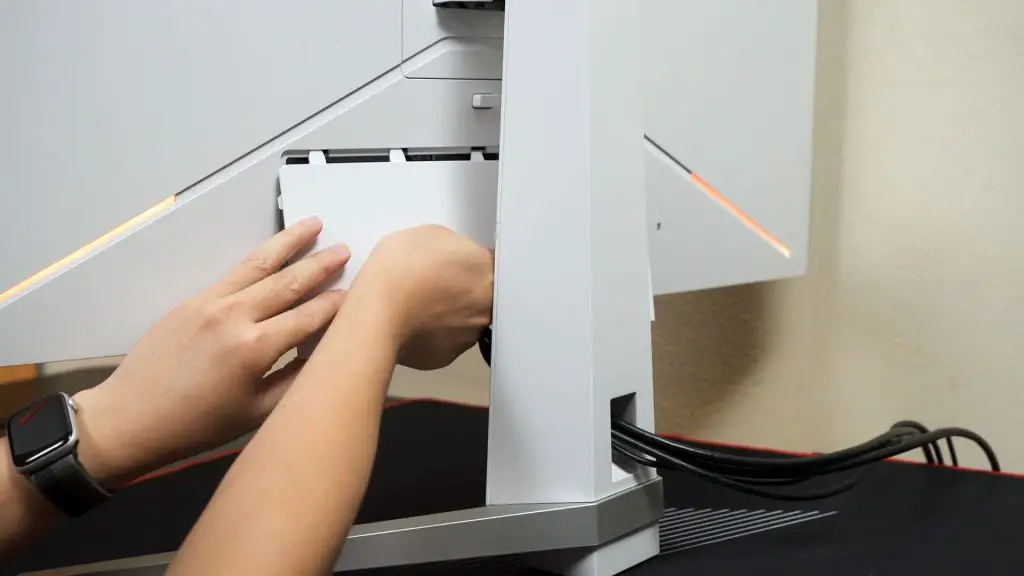 Once you're done plugging in the cables, you can cover up the back with the magnetic cover. One thing I hope BenQ would have done differently is positioning 2 out of the 4 USB ports at the side of the monitor for easy access. 
Outlook design and buttons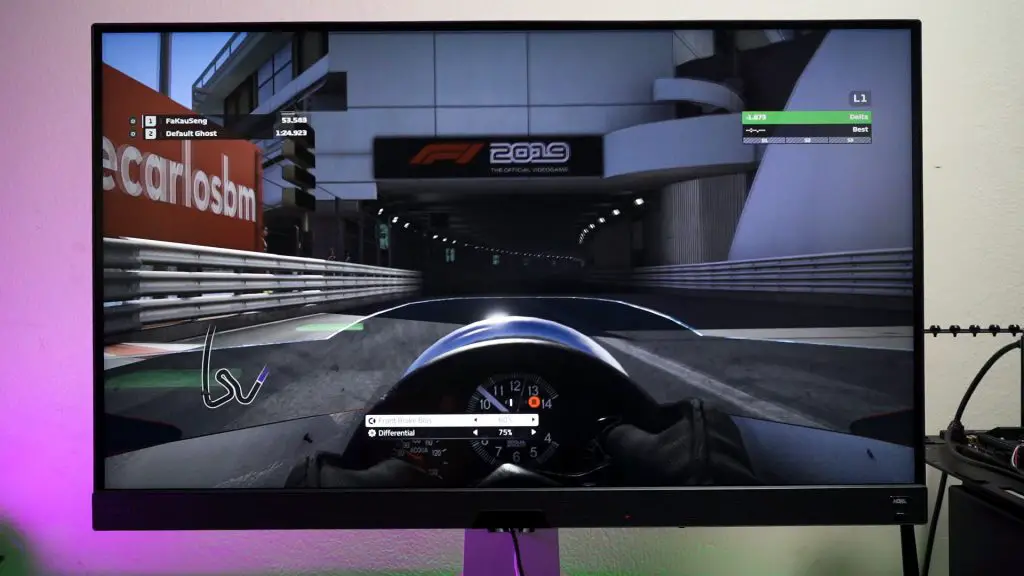 Apart from the gamery look base, the rest of the monitor has a clean design.
While the front bezels are black to avoid distractions, the neck and the back frame is white and comes with 4 LED strips. You can change the colour and lighting mode in the OSD menu.
The OSD control buttons are located under the monitor frame.
BenQ also included remote control for easier control.
Display
Now, let's shift our focus to the key highlight – the display panel. This is a 4K 144Hz IPS panel with 98% DCI-P3 colour gamut.
It has VESA DisplayHDR 600 certification. I know HDR is a very personal thing. Some might like it, some hate it. On windows operating system, it can be a hit or miss, especially windows 11. However, If you're gaming on XBOX or PlayStation 5, then you will appreciate the consistent HDR performance. Exclusive to BenQ monitors is their unique HDRi modes. There's a dedicated button for quickly toggling between the 3 HDR profiles to match your visual preference. 
At this point, some of you might ask why would anyone need a 4K 144Hz monitor? I understand where you're coming from, 4K 144Hz might prove to be a challenge for desktop configuration due to the highest game graphical settings might slow down the GPU performance and frame rates. Then again, you have to remember, PS5 and XBOX Series X/S supports 4K 120Hz. This is the very reason why this monitor has included TWO HDMI 2.1 ports that supports 4K 120Hz. 
Imagine this is how you setup, connect one of the HDMI 2.1 to the PS5 and the displayport to the PC. Now you can easily switch between the PC and console while enjoying the highest possible visual experience. If you got XBOX Series X as well? just plug it into the other HDMI 2.1 port. 
BenQ actually made this monitor to cater with multi-device setup in mind. You can customise different quick menu for each individual display scenarios, then mapping the scenarios to each display inputs. let say, you assign the gaming mode to HDMI 1 and standard mode to the display port. The monitor will automatically switch to the profile once it switches the input source. And Yes, this monitor also supports HDMI-CEC. So when you turn on your console, your monitor will also turn on automatically.
EyeCare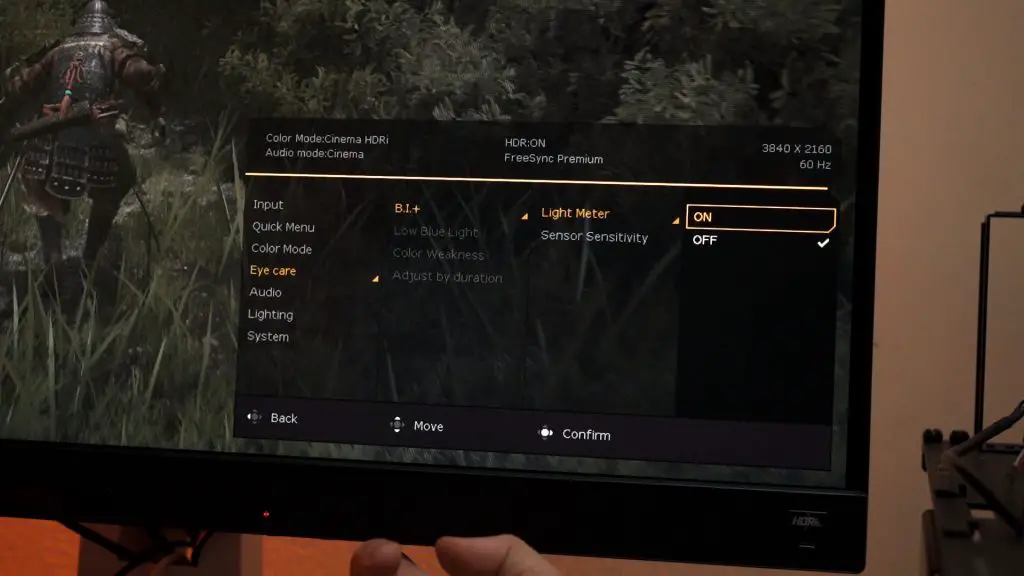 Some of you might already noticed a piece of transparent plastic under the front bezel. What is underneath there is a couple of sensors for BenQ's proprietary Eye-care technology. It will detect your surrounding lighting and automatically adjust the brightness to improve your viewing comfort. The one we have here has Brightness Intelligence Plus which will also adjust the colour temperature. 
Entertainment (audio)
We're getting more monitors with built-in speakers nowasdays. Frankly speaking, most of them are under the usable category and I won't pay any more attention to it. This monitor has something different – it has a 2.1 stereo sound system powered by treVolo.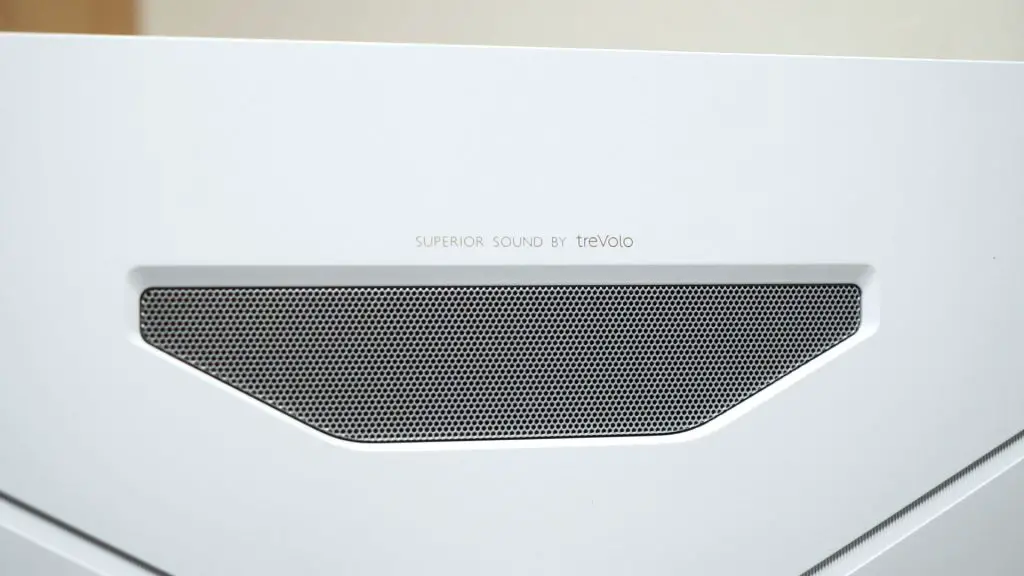 Yes, you heard that right. it has a dedicated subwoofer mounted at the back of the monitor. The end result is a sound system that is better than any other monitors in the market. Check out our YouTube video to have a listen.
Of course, you cannot compare this speaker with any dedicated speakers or soundbars. But hey if you don't want speaker cables from cluttering your desktop, this is actually a very decent alternative.

Other than the speakers, the monitor also has a built-in microphone for online conference calls. You can also mute or disable the microphone entirely in the OSD menu. 
Conclusion
The BenQ MOBIUZ series gaming monitor comes with multiple options such as different screen sizes, resolution, refresh rate and even a choice between flat or curved display. The EX3210U we have here is their top of the line model that is priced at RM4868. You can check out the links below to learn more about other models and specifications. 
BenQ MOBIUZ EX3210U: https://bit.ly/3x035FE
Shopee: https://bit.ly/3NFZu6z
Lazada: https://bit.ly/3z6QXW4
Pros:
Good build quality
Excellent cable routing
Long cables
Excellent display quality
Great sound system
User-friendly OSD menu
Multi-device design
BenQ Eye-care functionality
Cons:
USB port not so accessible
Premium price