As one of the brands that have an actual booth over at COMPUTEX 2022, GIGABYTE has revealed several new products that will be released to the public.
First, we have the associating X670 chipset motherboards for AMD's upcoming Ryzen 7000 series desktop processors. Coming in flavors of X670 AERO D for the designer class, and multiple AORUS series including X670 EXTREME, MASTER, and PRO AX where all 4 of these are fitted with the latest PCIe 5.0 interfaces for both the GPU and M.2 storage slots, as well as the exclusive EZ Latch mechanism to help users easily attach or detach these components.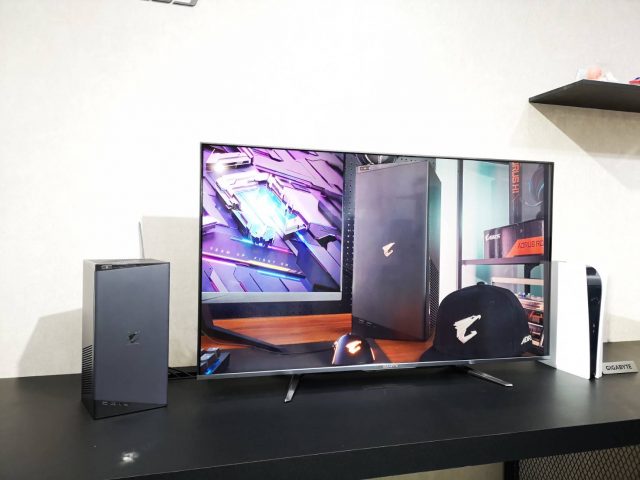 Proceeding towards the showcased pre-builts and we get to see the AORUS Model S, a mini system that is small in form factor but large within its heart. Packed with an Intel Core i7-12700K, NVIDIA GeForce RTX 3070, and a dual 2TB PCIe 4.0 M.2 SSD, the system is great not only for its space-saving design but also for the superior performance it offers. Accompanying the computing parts is the exclusive All-in-One thermal design that dissipates heat from both the CPU and GPU with the concealed intake drawing in cool air in a stealthy fashion. In tests, the CPU temperature can be maintained without thermal throttling occurring while having the acoustic ratings controlled within 36dB which is quite than a library – all within a 14L chassis.
There's another set of rigs on the set but it doesn't come in a full pre-built set (assuming) which is the Project Stealth. Essentially, the chassis is designed to hide every cable into the back panel to display the cleanest setup that has ever been on Earth. The package includes a motherboard that has been specially designed to have the connectors facing backward with the GPU's PCIe power connectors also facing the backside, both the installation and cable management are mostly done by default so that users can finish up the rest with ease.
However, without much information as of now, it is assumed that customers will be able to select the motherboard of either Intel or AMD chipsets and different GPU options to have them fitted into the chassis right away.