It's no surprise that we all stare at our screens for most of our waking hours – be it for work, recreation, or just to chat with friends. Honestly, that means our eyes get used the most out of our daily lives, so we should definitely take care of it.
What we have here is something that I've tried for the first time – daisy-chaining monitors via DisplayPort MST, or multi-stream transport. Our setup here involves a single USB-C cable to our laptop – and it can charge the laptop while extending to two more monitors!
This is the magic of MST daisy-chaining but that is not the only specialty here. You see, these two monitors are the BenQ GW2785TC monitors and they are within the Eye-Care family of monitors. I'm going to run you through how I use these two monitors for work and what conveniences it offers, while also sharing with you why BenQ's Eye-Care technology is one of the best in class.
The specs of the BenQ GW2785TC is fairly simple – it's a:
27-inch monitor
IPS LCD
1080p resolution
75Hz
I've also tested the color accuracy of the monitor, so here are the results. It's pretty good and quite consistent across the two monitors too. Through my own eyes, I can't even see the color difference between the two monitors. That goes to show that the manufacturing tolerance of BenQ is actually rather good.
The included monitor stand is also very good since the entire installation process is completely toolless, and it has a large, kinda flat base that lets us put stuff on top of the base. It also has height adjustment, tilt, pivot, and rotation.
If you want to use your own monitor arm, then this monitor also supports the standard 100x100mm VESA mount.
Let's take a look at the ports available on this monitor. So, we have:
We do not have any other ports – especially USB ports, and that is why the cable management of our setup isn't exactly ideal.
And those two DisplayPorts are where we'll have to talk about the daisy-chain feature. All we have to do to use the MST feature is to connect the DisplayPort cable from the DisplayPort output on the main monitor and connect it to the second monitor's DisplayPort input out.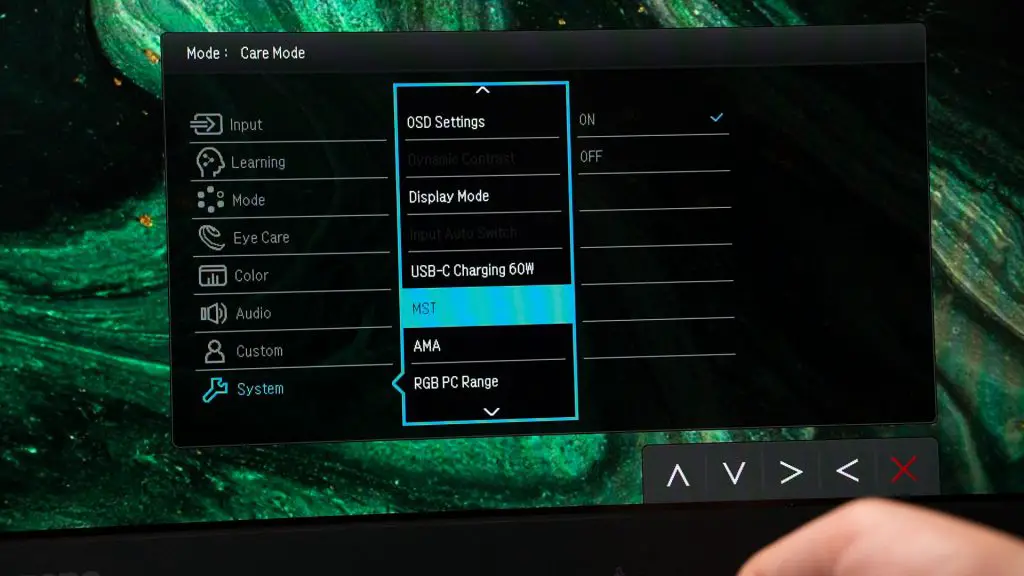 Then, we'll have to go into the OSD menu of the monitor and enable MST – then Windows will immediately recognize all monitors. This is truly convenient as I can just connect one cable and have two monitors working while charging my laptop too.
However, there are two things that you need to take note of:
Apple users can stop reading this article because daisy-chaining via DisplayPort MST does not work with Macs
If you want to connect your keyboard, mouse, or any other USB devices – you'll have to get another dongle single the BenQ GW2785TC doesn't have any USB ports – which is what we've mentioned earlier.
There are even more features built into the BenQ GW2785TC too – particularly all the features that are under BenQ's proprietary Eye-Care Technology. We'll just highlight 3 Eye-Care features that this monitor has.
1. The Brightness Intelligence Technology (B.I. Tech)
At the bottom of this monitor, we have a little chin. Within this chin is a light sensor that detects your surrounding brightness and change accordingly. I mean, you wouldn't want to use your monitor at maximum brightness in complete darkness, right?
2. Low Blue Light Plus Technology
Then, we also have the Low Blue Light Plus Technology. This is to intelligently detect and reduce the amount of blue light that the monitor emits. Don't worry – the monitor won't get jaundice as the color only shifts a little bit to a warmer tone.
3. Flicker-Free technology
One more important technology under the Eye-Care Technology umbrella is the Flicker-Free Technology. This gets a little technical but I'll try to explain it as simple as possible. Our displays usually work in PWM dimming mode. That means the brightness level that we adjust isn't actually dimming or brightening up the backlight. It's actually adjusting how quickly the display flickers in a second to make our brains perceive that level of brightness.
BenQ themselves has a video on this that explains PWM dimming vs DC dimming via animations, which is easier to understand but I think it's still very technical.
Even though we can't actually see the screen flickering (some of us can, actually), PWM dimming strains our eyes and potentially causes headaches, and DC dimming is the true "backlight brightness adjustment" as it is consistent stays lit up and never flickers.
Our explanation here has been cut short – so you can also read this excellent article from Notebook Check that explains the technicality behind PWM and DC dimming.
4. ePaper mode & Coding mode
One more feature here is the ePaper Mode. If you read a lot of documents, then this is going to be a huge boon for you as the display simulates how a paperback display will look like. Plus, you can rotate the monitor and use it in portrait mode – so it really feels like reading a page out of a newspaper.
And especially for coders, there is a special "coding" profile that you can use that makes codes easier to read. If you're using editors like Eclipse or Notepad++, then the dark mode will look better and cause less eye strain. Combining this "coding" profile with the monitor's ability to rotate 90º, this makes the BenQ G2785TC a fantastic monitor for programmers around the world.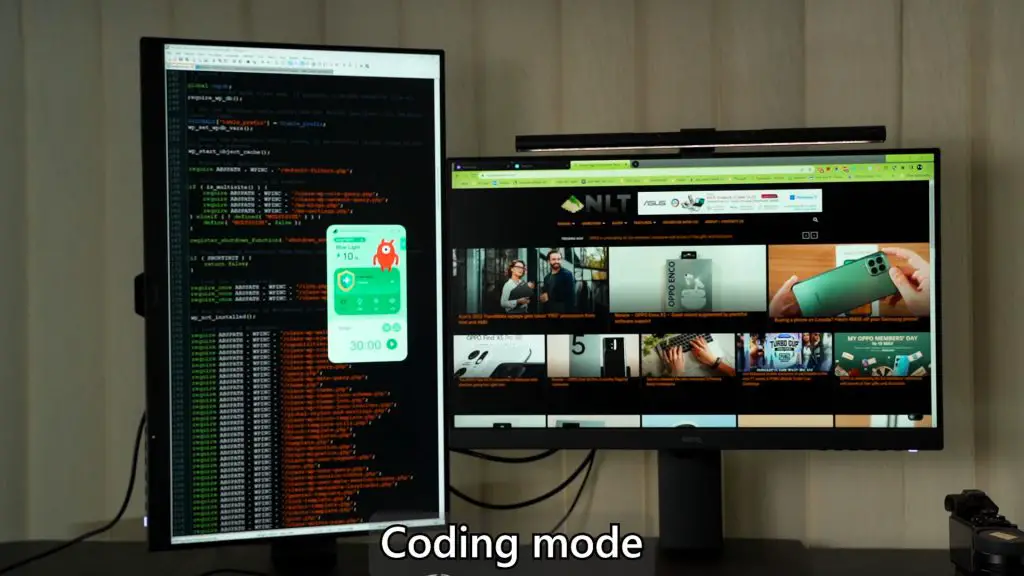 BenQ Eye-CareU utility
The BenQ Eye-CareU utility can control all of the features that I've mentioned in this article too. This utility is very handy since everything is displayed in a handy dashboard. We can even control both monitors via this single software – and expand even further if we have even more monitors daisy-chained to this setup.
But, there is one feature that is not available on the software – and that is the microphone mute button. You see, this monitor has a built-in microphone that we can use.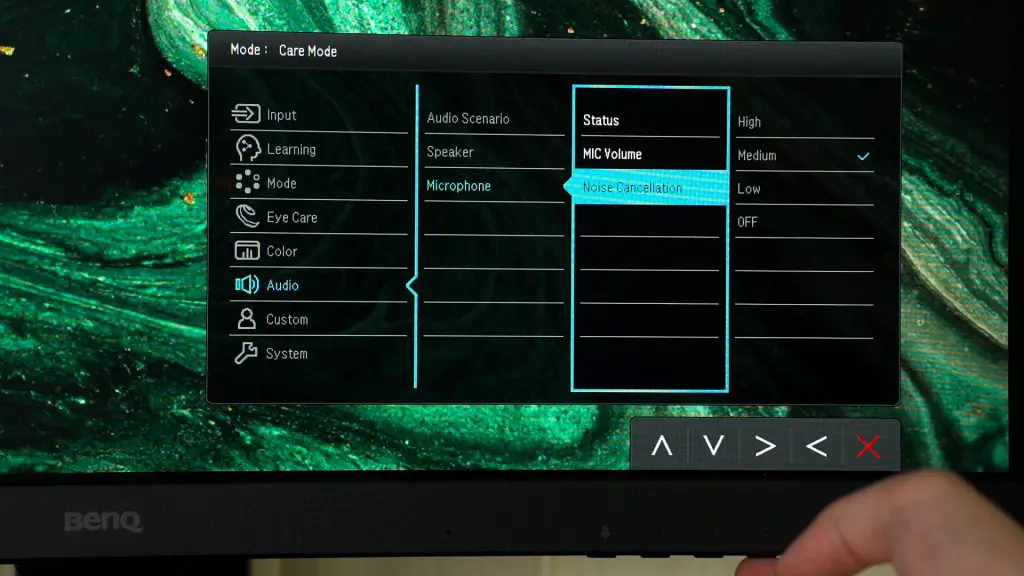 If you are concerned with privacy, then just hit the button on the monitor to turn off the microphone. We also have an LED here to indicate the microphone status. Nice.
Conclusion
And overall, I think the BenQ GW2785TC is an excellent monitor for those who stare at monitors for long periods of time every day. Remember – we only have one pair of eyes throughout our life, so it's best to take care of them as much as we can. You can also learn more about the BenQ GW2785TC monitor here.
I mean, RM1,249 is the price that BenQ is asking for this monitor – and I think we can't put a price to our eye's comfort.
Where to buy? (Affiliate links)