I gotta ask one question – when it comes to a laptop, what do people care about the most? Is it the performance? The design? Weight? Or the screen? I think the screen is what matters the most since no matter what category of users you and I fall into, we all are going to look at the laptop's screen.
That is where this laptop – the ASUS Vivobook 15X OLED M1503 – surprised me the most. At just RM3,299, this laptop has one of the best ever laptop screens that I've tested thus far.
For starters, this laptop does not shy away from the option of going for a plastic chassis but I'd say that the choice is correct since it made the entire unit surprisingly light in the aspect of relative weight to size ratio. Also, the unit we have here is the Quiet Blue color and I can see the "quietness" portrayed in a dark hue sense thus a stealthy yet cool design.
Lifting up the lid reveals the 15.6-inch OLED display and if you thought this is just a run-of-the-mill panel, you're absolutely wrong. The resolution comes in at 2880 x 1620 and it can refresh as fast as 120Hz!
Whipping out our colorimeter and as expected, the near 100% sRGB and DCI-P3 color gamuts are just child play for this screen. It looks absolutely gorgeous and I am just impressed by this display.
Now, even though it is an OLED screen, the maximum brightness is only at around 410 nits which is decent and usable indoors but if you want to use the laptop outdoors during a picnic or camp, you'll need some shade.
And just like other ASUS laptops with OLED screens, it operates in two dimming modes – either PWM when at less than 55% brightness, or DC dimming when the display is at or above 55% brightness.
However, you can actually head into the MyASUS for a secondary DC dimming slider. Perhaps it is a little bit of a hassle to go through hoops for it, but hey, at least it is there. In my opinion, ASUS tried their best and they shouldn't be the one to tank all the responsibilities (Look at you, Windows).
But I have to give credit to ASUS for fitting this amazing screen to a laptop, at this price. No other laptops that I've tested in the past within this price range can pit against this Vivobook 15X OLED M1503QA.
Every other part of the laptop remains rather budget-y feel, but it's fine as I don't have any major complaints using this laptop.
The keyboard is fairly decent but has a rather shallow travel distance – and we do have the number pad here so if you can make use of it, then good for you. I personally think it should be removed from laptops since it creates an offset for the body posture, eventually messing up your health.
The trackpad's performance is rather fine but the trackpad's palm rejection can be funky sometimes. After typing, I usually have my left wrist floating somewhere near the top left corner of the trackpad and when I tried to use the trackpad with my right hand, I always accidentally trigger the pinch-to-zoom gesture.
If you want to play games on this laptop, then here's a quick rundown on the specs:
AMD Ryzen 5 5600H
8GB of DDR4 RAM
512GB NVMe SSD
I tried Genshin Impact at its lowest graphical settings at the native 2880×1620 resolution but it obviously suffers. Dropping the resolution to 1080p does help it breach the 30FPS borderline, just barely – and we'll have to play in windowed mode, unfortunately.
The I/O options provided by the laptop is a bit hit and miss. For example, the USB-A port on the right side is just 2.0. Any problem with USB 3.0 in that regard?
The USB-C port is another dumbfounded one as it is a bare USB 3.2 Gen 2 Type-C port – no DisplayPort Alt Mode, no USB-PD charging protocol – just pure data streaming.
In case there's a need for disassembling the device, the process is simple. Take off a few screws on the back and the plate just comes off. Although the 8GB RAM is soldered onto the motherboard, the extra SO-DIMM RAM slot will let you add on another module at the user's discretion.
Despite being accessible, the M.2 SSD slot is already in use. No extra but hey, you can plop it out and upgrade to a larger single drive.
Wi-Fi card got fried in unfortunate circumstances? Swap it out as necessary with ease.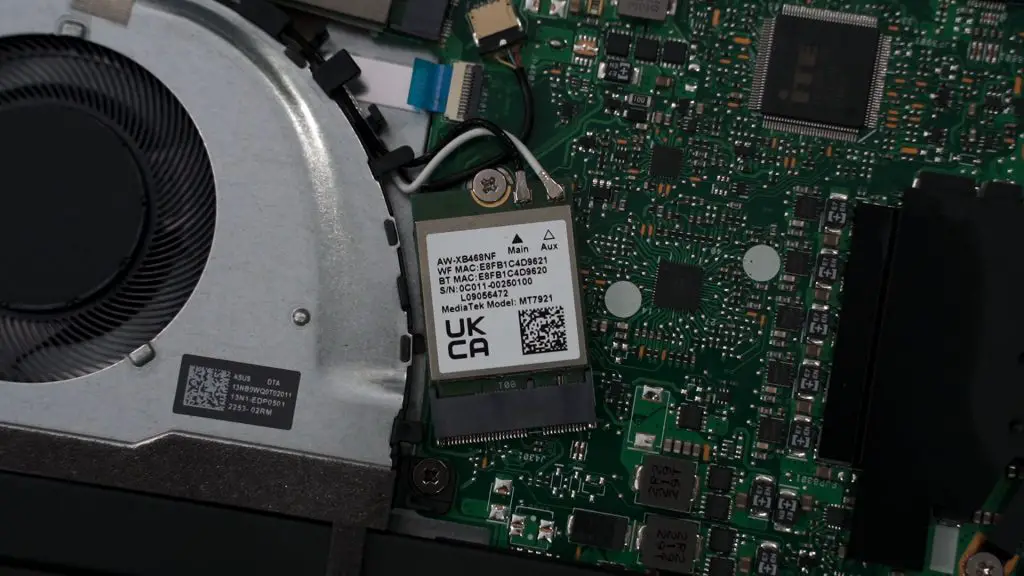 The battery life is obviously something that took a hit here. Combining such a high resolution and a high refresh rate OLED screen alongside the H-series Ryzen 5 processor, the laptop can only last about 6-8 hours on average depending on what I'm viewing on the laptop.
Remember – OLED consumes battery differently compared to conventional LCD screens with an LED backlight. We have a video talking about this quite some time ago – so watch it here to know more.
Conclusion
So, in conclusion. Is the ASUS Vivobook 15X OLED M1503QA worth your money? Well, this laptop actually comes in two variants differentiated by the CPU choices of Ryzen 5 5600H or Ryzen 7 5800H.
AMD Ryzen 5 5600H – RM3,299
AMD Ryzen 7 5800H – RM3,699
But in this case, the Ryzen 5 model's fantastic value for money shines more than the Ryzen 7.
Where to buy? (Affiliate links)