Razer has announced the latest audio virtualization software in the form of Razer THX Spatial Audio, an upgrade from its previous 7.1 Surround application.
Ever since Razer acquired THX for its high fidelity audio and visual reproduction technologies, the company is working hard to incorporate them into the Razer ecosystem. And through this application, spatial audio is achieved through virtualization or software layer which is compatible with all forms of output device that uses 3.5mm, BlueTooth, or USB ports.
Razer THX Spatial Audio Interface
You can turn on the spatial audio property by heading to the default landing page, Audio tab. From here, each individual application will have its own profile so you have the freedom to use standard stereo mode on music streaming services such as Spotify or Youtube Music while your FPS games run the spatial audio mode for your positioning needs.
At the EQ tab, standard equalizer adjustment mechanics applies here as well with features such as Bass Boost, Sound Normalization, and Vocal Clarity using a knob gauge indicator for accurate values.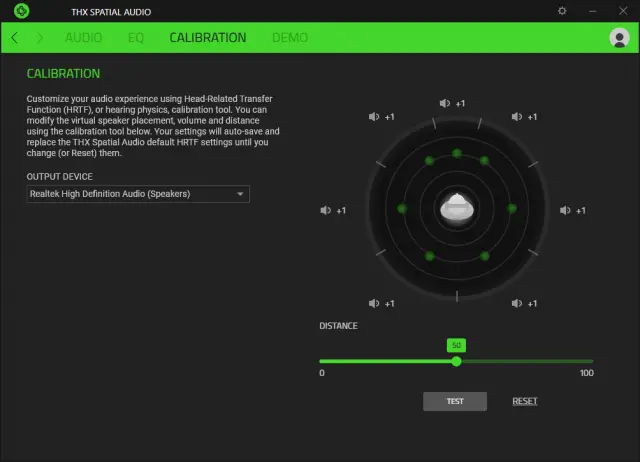 The Calibration tab allows you to select the correct output device if you have multiple devices such as headphones and home theatre setups. In another way of speaking, you can utilize this to create individual calibrated profiles for each unique device and by adjusting the distance slider, and through trial and error you could get the best virtualized spatial audio experience through this software.
The Razer THX Spatial Audio app will cost you $19.99USD for a standalone purchase while existing Razer 7.1 Surround owners will only need to pay $9.99USD for the upgrade.
Find out the full details about the app here.