If you want to play games on the go with a beautiful OLED screen, then ASUS has a few new laptops that can do just that. These new laptops come with a beautiful 1080p OLED panels alongside a powerful processor and also the NVIDIA GeForce RTX 3050 Laptop GPU.
Okay, maybe it's not as powerful as what you might think – and that's why we're here to test out the feasibility of the GeForce RTX 3050 Laptop GPU. Combined with this OLED screen that only goes up to 60Hz refresh rate, I can assure you that I have a lot of fun with this ASUS Vivobook Pro 15 OLED that we have here.
ASUS recently announced a bunch of new laptops and kick-started this new series of Vivobook Pro laptops with OLED screens and an RTX 3050. It seems like ASUS is really going all out on OLED as there are many laptops from the company that is already equipped with OLED.
As far as we've tested, the OLED panels that are equipped in these ASUS laptops are made by Samsung and they do come with really high brightness and color accuracy. We found out that this screen can go up to 400 nits of brightness and nearly 100% sRGB and DCI-P3 color gamut coverage. That's impressive but also expected for screens of such quality.
Let's start off with a quick spec rundown of the laptop we got here then. As mentioned earlier, this is the ASUS Vivobook Pro 15 OLED that comes with:
AMD Ryzen 9 5900HX
NVIDIA GeForce RTX 3050 Laptop GPU that boosts up to 50W
16GB RAM
512GB NVMe SSD
Now, I think this laptop is made for content creators first because this laptop comes with the NVIDIA Studio Drivers pre-installed.
So, I started by doing a little editing work on this laptop. While working on simple videos, this laptop won't even break a sweat. However, when we start to add more effects and start to play around with After Effects, then this laptop will start to struggle a little.
Since your project and my project will be very different, we decided to implement Puget Bench. What we did is to run the benchmark twice, once with the NVIDIA RTX 3050 Laptop GPU disabled and another time with it enabled. And like what we expected, the score difference is humongous.
And now, let's say we're done editing our video and rendered. We're done work our work and we want to destress and play some games. How will it perform on this laptop?
Gaming on an OLED laptop with RTX 3050 is a one-of-a-kind experience
I recorded a few game tests to show you what kind of performance we can expect out of the NVIDIA GeForce RTX 3050 Laptop GPU and how great everything looks on this OLED screen.
I do have to put out a disclaimer here – we can't possibly capture the beauty of an OLED screen through a camera, and eventually reproduce the image on your screen.
Okay, so I downloaded a few games. I first tested Genshin Impact since it's a game that literally everyone can download on their phone or tablet or laptop and start playing. Cranking up all the settings to the highest is definitely taxing the hardware a little and we can get most 50-ish fps and sometimes dips down to about 45. Still, overall a very great experience and if we finetune the graphical settings a little, we can get consistent 60fps.
With that said, the colors and clarity out of this game on the OLED panel are just mesmerizing. I mean, this kind of stylized art style game like The Legend of Zelda: Breath of the Wild with vivid colors will stand out even more when viewed on an OLED screen.
Secondly, I tried GTA V for fun. At the absolute highest graphical settings, we can get mostly about 30fps while driving around, but when there is more foliage and rain starts pouring down, it dips down to about 20fps. Sure, it's a bit extreme for us to turn everything up to the maximum – but hey, it's our job to stress test hardware anyway.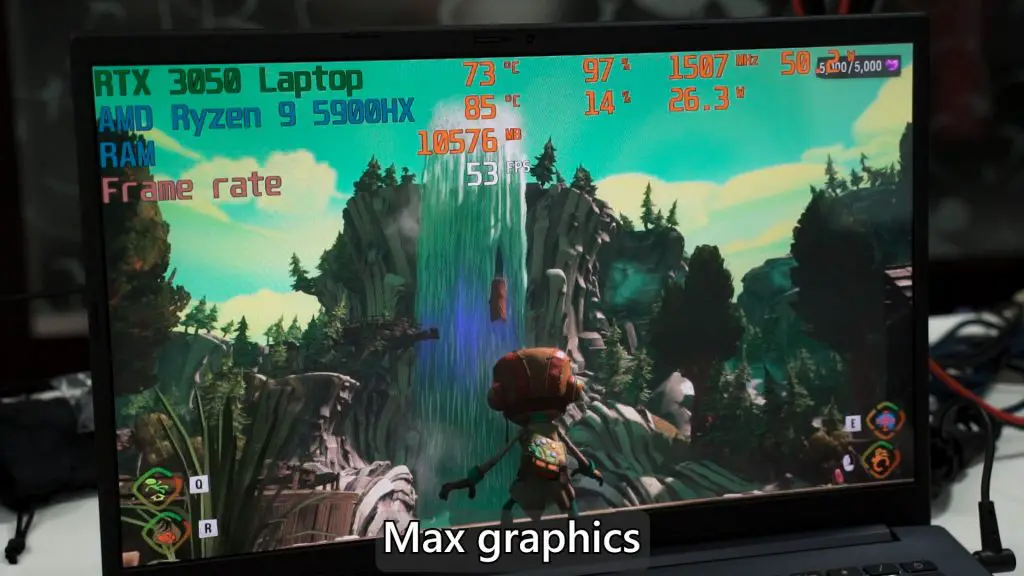 Then, I also tried Psychonauts 2. I recently finished the game but as a spoiler-free gameplay showcase, we ran around the Questionable Area which I think is the most taxing area in the game – and it got about 50-ish fps at its worst. Still, the bright vivid colors of some parts in this game looks absolutely stunning on the OLED screen.
Then comes Control. I did a few tests. I first turned everything to the highest with both DLSS and ray-tracing turned off, and I got about 25-ish fps. It could definitely be better.
Then I enabled DLSS with the render resolution of 1280×720 (the highest one available) and it immediately shot up about 40fps. My eyes didn't see any noticeable degradation in terms of graphical quality, and the colors are still fantastic on the OLED panel.
Then I enabled ray-tracing at medium level, and surprisingly there is no impact towards the frame rate. I'm still getting about 40fps.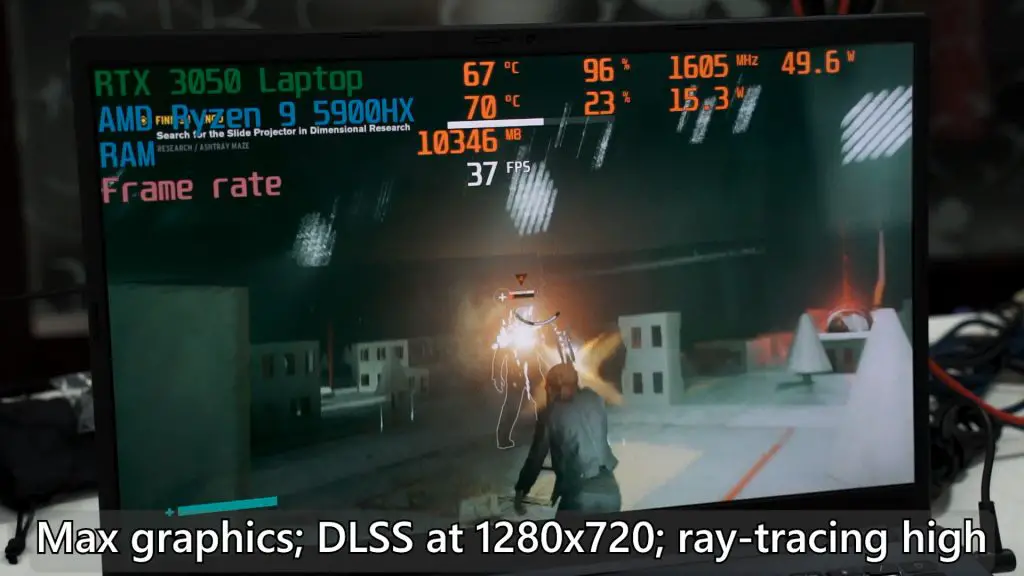 Finally, I enabled the highest ray-tracing preset with DLSS turned on. There is definitely an impact towards the framerate as I was only getting about 35fps ish in some cases.
And as a bonus – just for fun, I disabled DLSS but maintained the highest ray-tracing preset and the whole game became a slideshow. Still, DLSS definitely helped a lot in terms of performance – and that is only made possible because this laptop comes with an RTX 3050 Laptop GPU.
Before you buy…
Let's talk about the price of this laptop. It comes in at RM5,199 and I think that's expensive – but truth is, you don't need that AMD Ryzen 9 5900HX. Games don't utilize that much CPU power. Even content creation software utilizes NVIDIA's CUDA since it is much faster than using the CPU.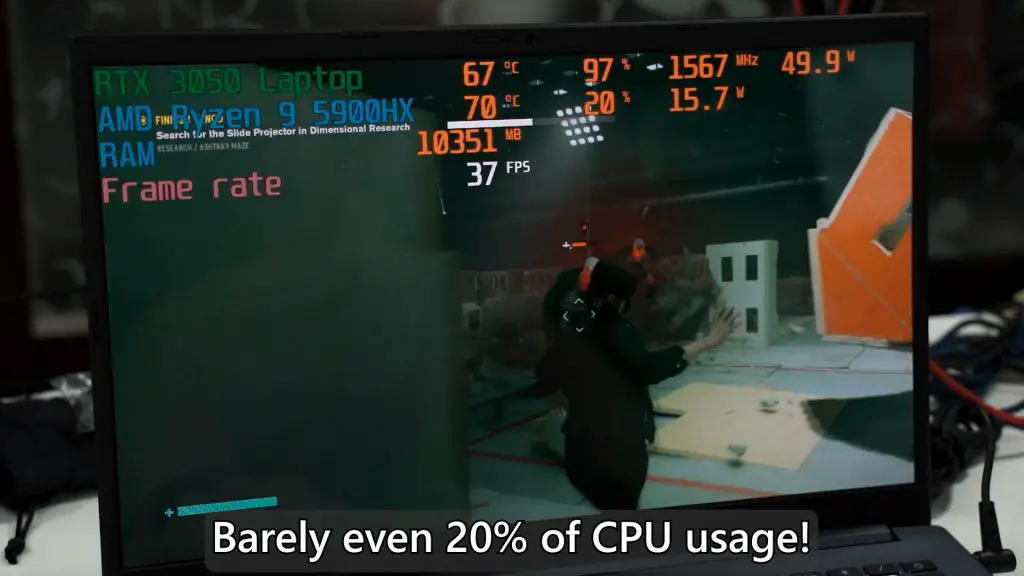 ASUS also offers this laptop with the AMD Ryzen 7 5800H but with the same 16GB RAM and same NVIDIA GeForce RTX 3050 Laptop GPU and the same 512GB NVMe SSD, but only at RM4,799. Not bad, considering that this is a jack-of-all-trades OLED laptop.
Where to buy? (Affiliate links)