Team Green has announced the upcoming GTC 2023 will be happening on March 20 and lasts 4 whole days to tackle all sorts of topics and issues mostly related to AI.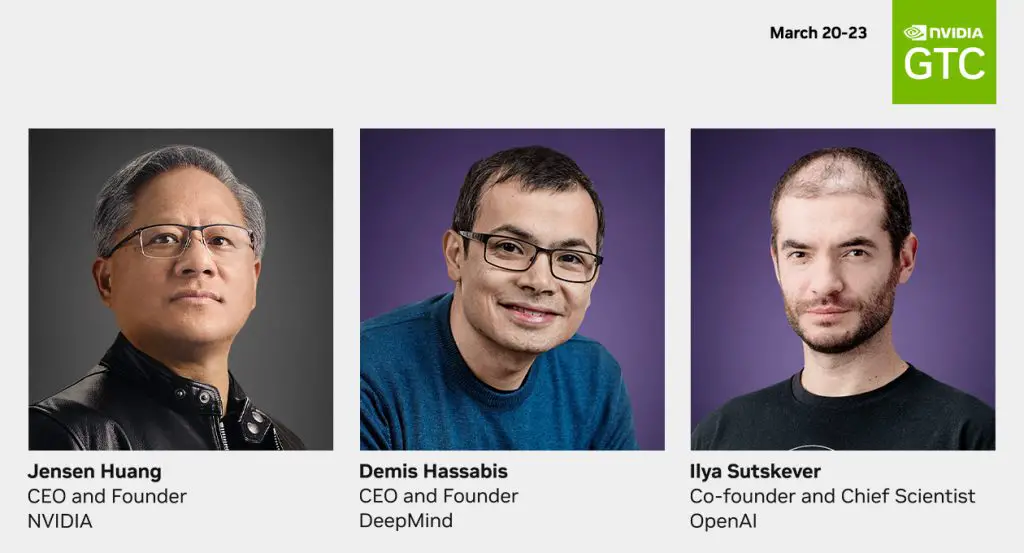 With over 650+ sessions hosted by researchers, industry players, and developers alike, the show will start with Leather Man a.k.a the CEO Jensen Huang will be delivering his keynote on March 21, 8 AM Pacific Time, and after that, talks involving DeepMind's Demis Hassabis and OpenAI's Ilya Sutskever in addition to reputable figures of the following lists (but not limited to) will chime in according to their field of expertise.
● Chike Aguh, chief innovation officer, U.S. Department of Labor
● Soumith Chintala, researcher, Meta, and creator of PyTorch
● Paul Debevec, chief research officer, Netflix Eyeline Studios
● Kathryn Guarini, CIO, IBM Corporation
● Tony Hemmelgarn, CEO, Siemens Digital Industries Software
● Sergei Levine, associate professor, UC Berkeley
● Thomas Schulthess, director, Swiss National Supercomputing Centre, ETH Zurich
● Kathy Smith, artist and professor, USC
● Ashok Srivastava, chief data officer, Intuit
Big tech companies are also joining including Amazon Robotics, AWS, ByteDance, Dell Technologies, Deloitte, Epic Games, Ford Motor Company, Fraunhofer, General Motors, Google, HPE, Jaguar Land Rover, Lenovo, Lockheed Martin, Mercedes Benz, Microsoft, MIT, Oracle Cloud, Pixar, Samsung, Shell, TSMC, United States Space Force and VMware.
And as usual, for those who are really attending GTC for learning purposes, the usual NVIDIA Deep Learning Institute (DLI)-led technical workshops are once again applying discount pricing for a limited time. Training and sessions such as 'Change the World With a Career in AI', 'Fundamentals of Deep Learning', and 'Blueprint to Becoming an Effective Student Researcher' are some of the hot entries around. Credits for DLI workshops will also be given out to minority-serving institutions like HBCUs, HSIs, and community colleges.
On the other hand, the startup program NVIDIA Inception will pour out insights and contexts in the form of 'Essential Tech for GenAI Startups', 'Emerging Venture Themes for
2023 – Generative AI', and 'Riding the Wave – Generative AI'.
Registration is available right now over here.