When Jensen Huang announced the RTX 30-series of cards in his beautiful kitchen, he pulled the RTX 3090 out from his oven and called it a BFGPU. Then, he made the boldest statement that I've ever seen – and I quote – "the RTX 3090 is so big, that for the very first time, we can play games at 60 frames per second in 8K."
With such a claim, we can't help but actually test it out for ourselves because we also happen to have an 8K TV with us.
First off, we really need to thank both NVIDIA and Samsung for making this happen. It's a surrealistic experience that couldn't have happened if it wasn't for these two companies providing their hardware.
We're using the Samsung Q950TS TV (65-inch) and this TV alone is already expensive, to say the least. Combined with our high-end gaming rig with a powerful CPU, a high-wattage power supply, and also the NVIDIA GeForce RTX 3090 – this whole setup is a golden opportunity for us.
By the way, we also reviewed the Samsung Q950TS here.
Our findings
As the video above has shown, our testing this time around isn't on benchmarks but to just run games and see how it goes. The specs for our gaming rig is as such:
AMD Ryzen 9 3950X
ASRock B550 Taichi
NVIDIA GeForce RTX 3090 Founders Edition
KLEVV CRAS XR RGB 4000MHz (2x8GB)
1TB PCIe Gen 3 x4 NVMe SSD
Cooler Master MasterBox K501L RGB (2020)
Cooler Master V1200 PLATINUM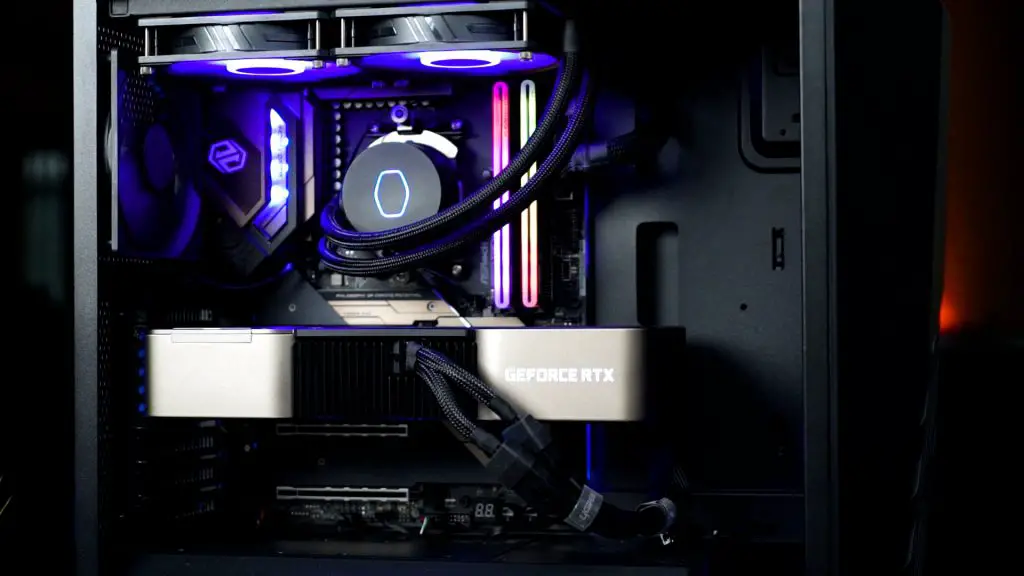 Our selection of games for 8K 60fps testing varies from older games to newer titles and see how they scale up to 8K 60fps. The results are… pretty surprising. We also cranked all graphical settings to the max, by the way.
F1 2019
Straight up refused to start.
DiRT Rally
It's a rather old game that can run in 8K resolution, but the RTX 3090 struggles to keep it at 60fps.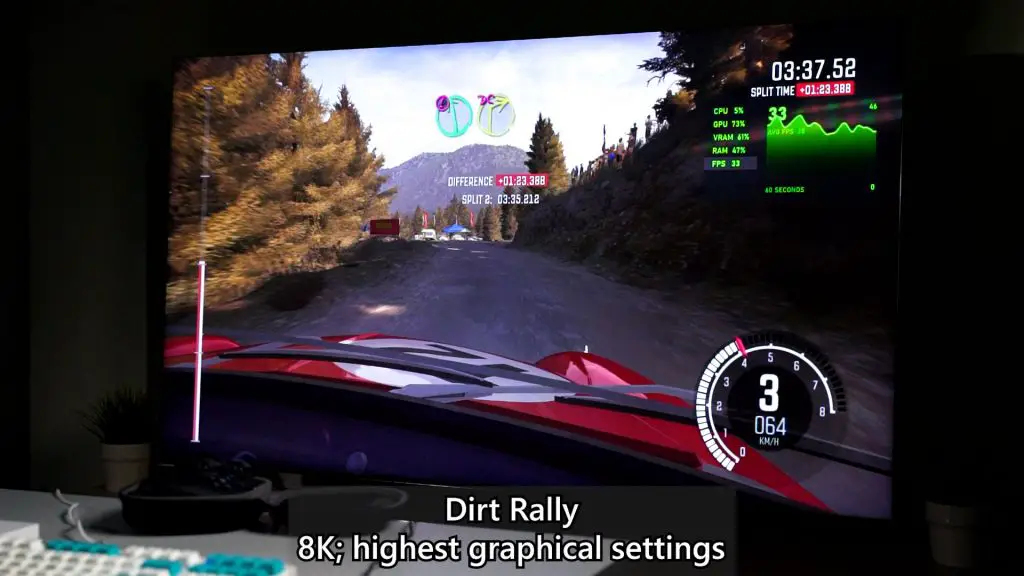 Genshin Impact
Runs fine at 60fps but dips to 50-ish lowest when the scene is busy like in the city.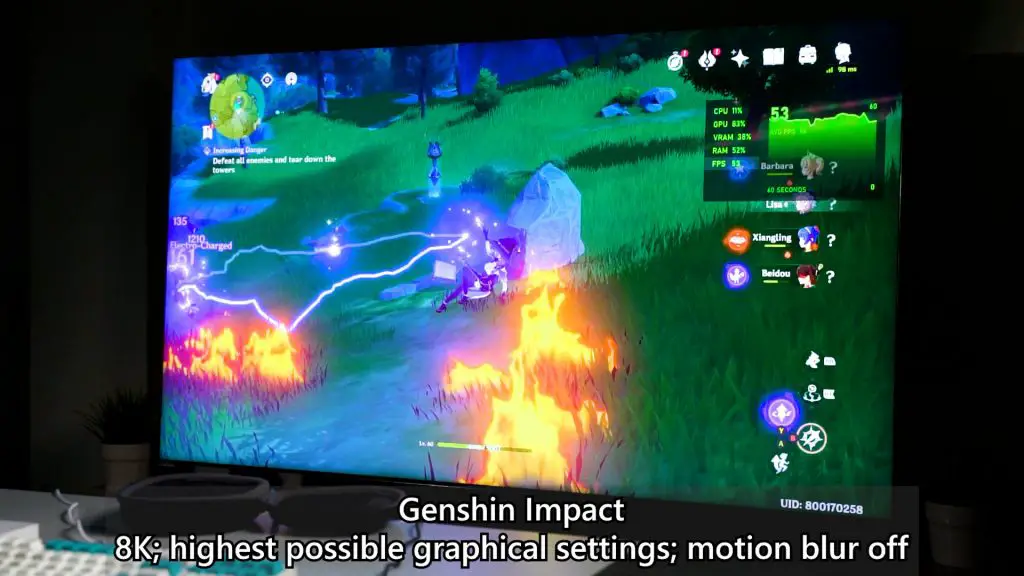 Super Meat Boy
Started once, only available in 4K as its maximum resolution. Then, it kept crashing.
A Hat in Time
One of my personal favorite indie games. Released in 2017, it's a 3D platformer collect-a-thon game that can only run at DX9. Scaling it up to 8K at its maximum graphical settings really just murdered the RTX 3090. One of the most torturous levels, called "She Came From Outer Space", is set in rainy weather which really stresses out the RTX 3090, and the frame rate can't even be maintained at 30fps.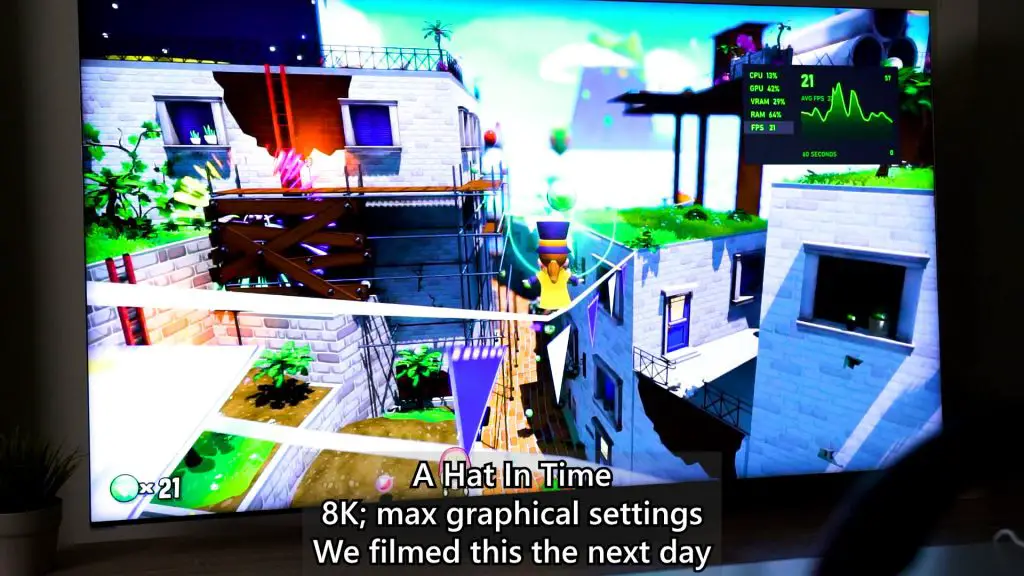 Pumpkin Jack
This is a new indie game that actually supports both ray-tracing and DLSS, yet scales to 8K resolution without any issues. Thing is, if we turned off DLSS and ray-tracing, the frame rate dips a lot. We had to enable DLSS to maintain that smooth, consistent 8K 60fps.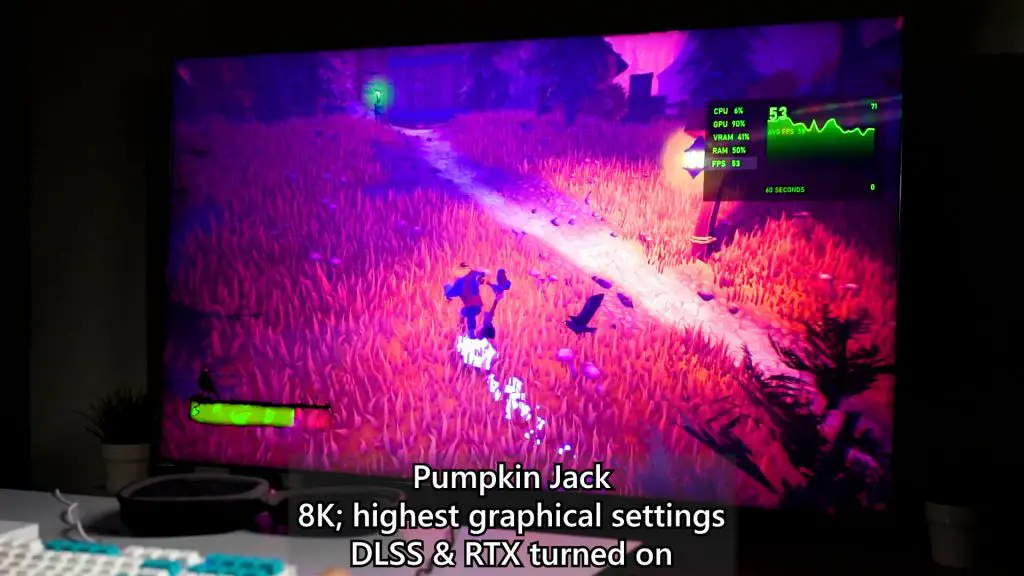 Ghostrunner
Another new title that combines elements from Super Meat Boy, Super Mario, and also Mirror's Edge. This is a weird game because the game – even though it has 8K resolution – doesn't actually scale its elements to 8K. Funnily enough, the texts don't scale up at all – which makes the texts blurry as hell in 8K.
Assassin's Creed Valhalla
Yet another new game. It does scale to 8K in resolution, but can't actually maintain 8K 60fps. There are no RTX features like DLSS, making Valhalla an unplayable experience in 8K resolution.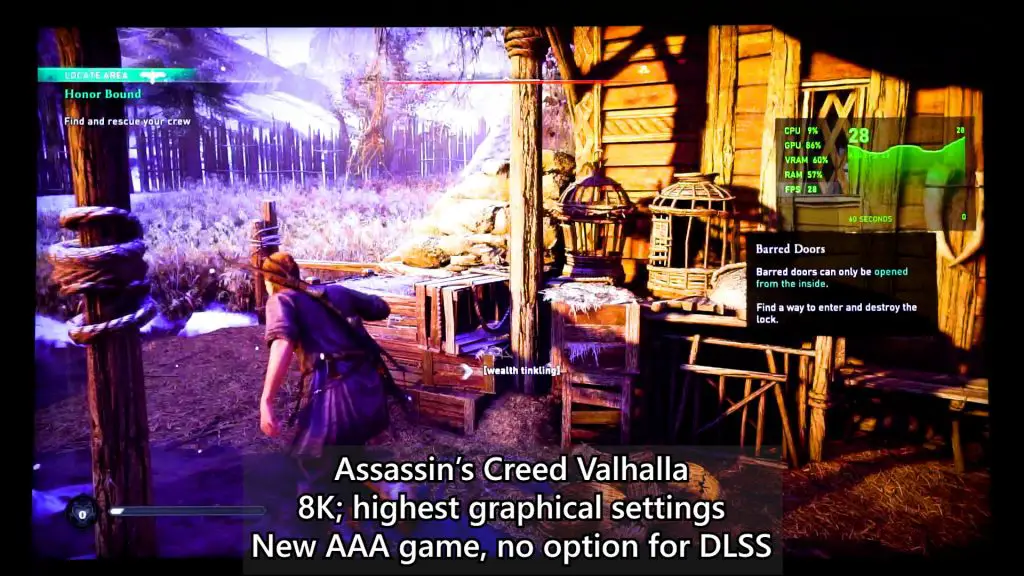 What did we learn?
For starters, 8K 60fps is not guaranteed on all games. This is why we say it's possible instead. There are a couple of factors that affect a game's ability to run at 8K 60fps:
Some games just straight up don't scale to 8K resolution
There are no 8K textures
The game is made using older APIs
The game does not have DLSS
I think the most important point here is about DLSS. From what we have tested here, there's a high chance that the RTX 3090 can't maintain 60fps at 8K resolution if there's no DLSS for that particular game. While some might say DLSS is technically cheating, I beg to differ because DLSS is there and it's ready for everyone to use – and the difference in quality is arguably unnoticeable.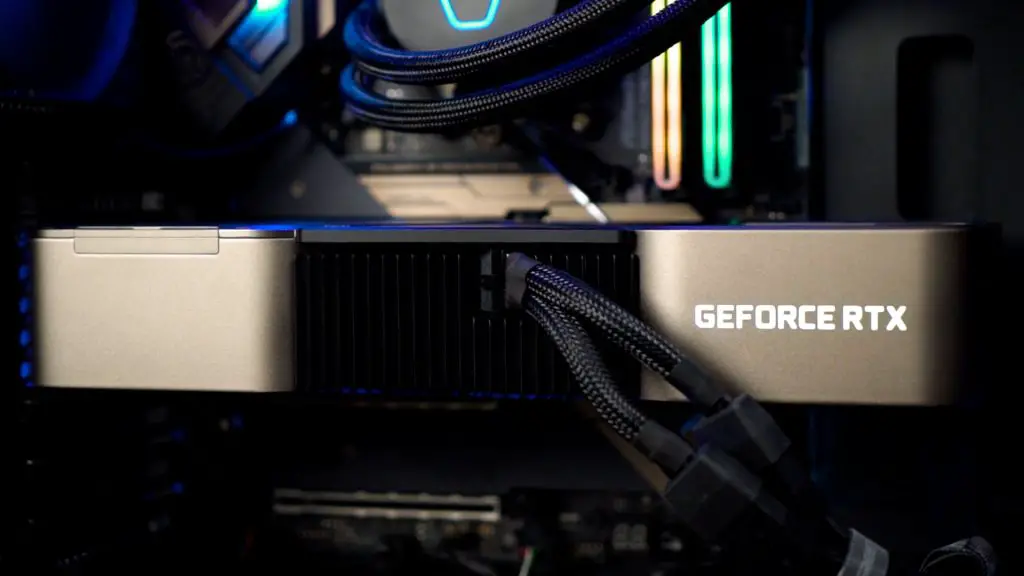 Furthermore, NVIDIA has developed DLSS 2.0 too. The OG DLSS is made possible through a lengthy process in which a "ground truth" needs to be generated by NVIDIA's computers. DLSS 2.0 seems to be using a hive-mind type of approach so that the "ground truth" can be generated and distributed among RTX users quickly.
And with DLSS 2.0 in mind, this means that DLSS technology can be implemented into more games quicker than ever before, making more games able to run at 8K 60fps.
It all comes down to…
Even with all of our findings, it all depends on the game developers. Even when we have the RTX 3090, if a brand new, big AAA game turned out to not have DLSS like Assassin's Creed Valhalla, then it's pretty much unplayable in 8K at its highest graphical settings. In certain scenes, it's like a slideshow.
That is why we mentioned that DLSS 2.0 is an important feature to have.
At first glance, 8K 60fps seems like an unreachable dream – at least for a couple more years. The new RTX 3090 brought that dream within arm's reach (if your wallet allows) and showed us how it can be done today with a few clever cutting-edge technological advancements.
We're not asking you to go out and buy one 8K TV and a high-end gaming rig with the RTX 3090, just showing you that it is definitely possible today.
At this point in time though, we do recommend you to play games at 4K 120fps instead. Theoretically, it's half the graphical demand as 8K 60fps, but that's only in theory and it doesn't work out this way IRL.
Where to buy (if you want to)