When NVIDIA
announces
its Pascal GPU as the new king of consumer graphics, we were already been given a hint that the mobile Pascal GPU is already on its way to the gaming notebooks and will be available by the mid of August, which is today.
Instead of going with the mobile GPU as usual, NVIDIA went full force with desktop Pascal GPU for all the latest gaming notebooks equipped with a NVIDIA GPU to deliver the best possible gaming performance for the gamers on the go. 
Desktop GPU Performance On Gaming Notebooks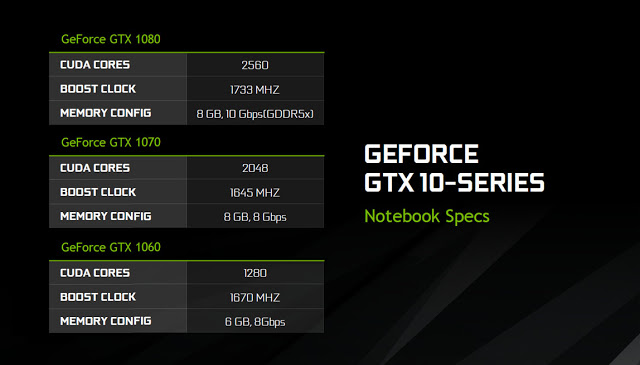 The Pascal GPU to be available on all the upcoming gaming notebooks consists of the existing Pascal GPU with a slightly lower GPU boost clock over its desktop counterpart. The GTX 1070 however, appears to have a slightly higher CUDA cores count of 2048 compared to its desktop counterpart with 1920 CUDA cores count. NVIDIA did not disclose the reason behind the different CUDA cores count but we are assuming that out of all the Pascal GPU for gaming notebooks, the GTX 1070 for gaming notebooks will offer the closest performance to its desktop counterpart with that extra CUDA cores.
According to NVIDIA, the Pascal GPU is capable of up to 3 times more performance that the previous generation Maxwell mobile GPU, claiming that a GTX 1080 on a gaming notebook can easily beat a GTX 980M on SLI. All these Pascal GPU powered gaming notebooks comes with dual-FET power supply for increased power efficiency and power delivery to give higher peak current to deliver up to 95% of the performance you're experiencing on a gaming desktop. 
NVIDIA also confirmed to allow overclocking on the Pascal GPU for gaming notebooks, where it is equipped with a multi-phased power controller to deliver better power density for better overclocking performance just in case if you're one of those enthusiasts who wanted more performance from overclocking. As we're all aware that not everyone will attempt to overclock the GPU of their gaming notebook, we can expect most of the NVIDIA partner to offer their own Pascal GPU gaming notebooks with higher clock speed.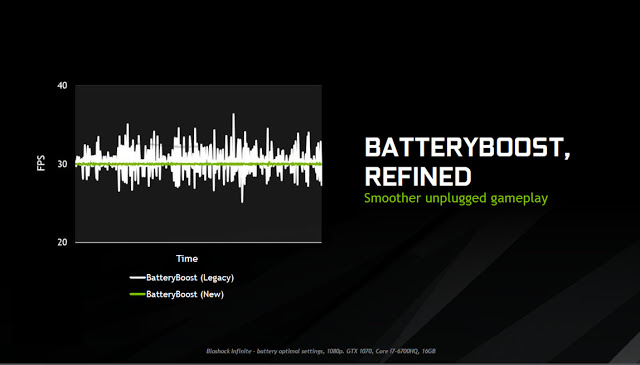 With the now refined BatteryBoost and better power efficiency of the Pascal GPU, NVIDIA boasts not only a 30% better battery life on Pascal GPU powered gaming notebooks but also improved unplugged performance that promises near to zero stutters caused by CPU interruptions as well as controlling the overall frame rates at the seemingly playable 30 fps.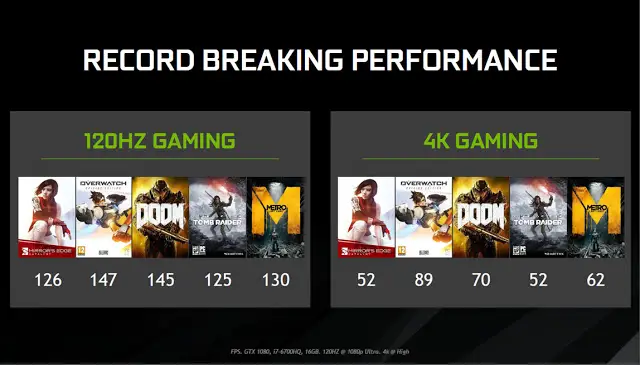 To further leverage your gaming experience, these upcoming Pascal GPU powered gaming notebooks will not only come as thin as 18mm and las light as 4lbs, some of the gaming notebooks will come also with G-SYNC panel capable of 120Hz for a ultra-smooth gaming experience, as well as display resolution of at least 2560 x 1440 and in some case, up to 4k display. 
NVIDIA unveiled some benchmark result of few AAA titles from its test lab as well, showing that the Pascal GPU for gaming notebooks are indeed capable of 120HZ gaming and 4K gaming with a very decent fps count on high settings.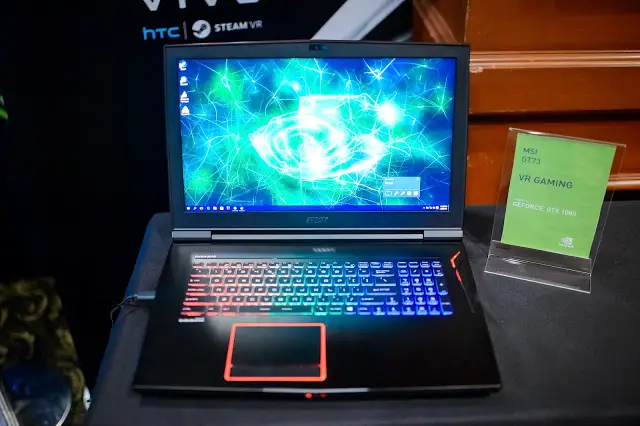 Just like its desktop counterpart, the Pascal GPU for gaming notebooks grant these upcoming gaming notebooks with Pascal GPU the ability to support all the upcoming VR titles with NVIDIA VRWorks integrated i.e: Poolnation VR, Everest VR, Unreal Tournament, Obduction, ADridt, Raw Data, etc. 
The revolutionary in-game screen capturing technology, 
NVIDIA Ansel
too will be supported on the Pascal GPU powered gaming notebooks for the upcoming updates for The Witcher 3: Wild Hunt, Epic Games' Fortnite, Paragon and Unreal Tournament, Cyan Worlds' Obduction, Thekla's The Witness, Boss Key Productions' Lawbreakers, Ubisoft's Tom Clancy's The Division, and the highly-anticipated No Man's Sky from Hello Games.
With the Pascal GPU for gaming notebooks going official starting from today, we can expect to see more of these gaming notebooks with Pascal GPU from involving partners such as Sager, Gigabyte, Lenovo, Clevo, EVGA, Alienware, ASUS, MSI , HP, Acer, Razer, Origin, XMG, etc from now and onward.