ASUS today announced X99-E-10G WS, a new Compact Electronics Bay (CEB) workstation motherboard based on the Intel® X99 chipset and with support for four-way multi-GPU setups at full PCI Express® (PCIe®) 3.0 x16 speed for extreme graphics performance.
X99-E-10G WS also features dual 10-gigabit (10G) Intel® Ethernet on board for high-speed networking, the latest USB 3.1, M.2 and U.2 connectivity for ultra-fast transfers and flexible storage, ASUS-exclusive 5-Way Optimization technology for one-click acceleration, and flawless Crystal Sound 3 audio.

Ultimate graphics power: Up to four double-width PCI Express 3.0 x16 graphics cards
X99-E-10G WS is equipped with seven PCIe 3.0 slots and is able to accommodate up to four dual-slot graphics cards. The new workstation motherboard supports both four-way NVIDIA® Geforce® SLI™ and AMD® CrossFireX™ configurations for extreme multi-GPU performance, making it an excellent choice for graphics professionals who depend on powerful graphics in areas such as design and modeling, medical research, plus processing-intensive simulation and rendering applications.
In addition to graphics cards, X99-E-10G WS's expandability offers ample room for RAID cards, PCI Express-based solid state storage drives, video capture cards, and other components.
10G LAN and latest connectivity: Dual 10Gbps Ethernet, USB 3.1 Type-A & C, plus M.2 and U.2
X99-E-10G WS is the first ASUS workstation board to be stacked with the latest high-speed networking and connectivity. The workstation motherboard's built-in dual Intel® 10G Base-T (10G) Ethernet connections operate at up to 10Gbps — ten times (10X) faster speeds than traditional gigabit LAN sockets — enabling support for the high-density, high-bandwidth and low-latency networks needed for extremely demanding applications.
X99-E-10G WS also has the latest USB 3.1 connectivity that delivers data-transfer speeds of up to 10Gbps — or twice as fast USB 3.0. The board includes both a traditional USB 3.1 Type-A socket, and the all-new reversible USB 3.1 Type-C port for any-way-up convenience. ASUS-exclusive USB 3.1 Boost technology automatically accelerates USB 3.1 performance even further.
M.2 and U.2 sockets are also engineered into X99-E-10G WS, so the motherboard is ready for the next-generation storage technologies. These connections are able to exploit the maximum PCIe 3.0 x4 bandwidth for transfer speeds of up to 32Gbps, offering the potential to attach storage devices that perform up to 5.3X faster than traditional SSDs.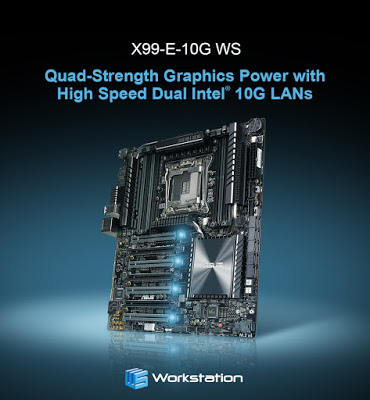 Fast tuning and flawless audio: 5-Way Optimization and immersive Crystal Sound 3
With 5-Way Optimization X99-E-10G WS sorts all the complex settings with a click, for instant, highly-controllable performance boosts. This exclusive technology dynamically optimizes essential aspects of the system based on real-time use, for superb CPU performance, everyday energy savings, ultra-stable digital power, cool and quiet fans and even networking and audio settings that are tailored for favorite apps.
X99-E-10G WS's Crystal Sound 3 audio technology provides shielding and protection from electromagnetic interference by separating the left and right audio channel circuits. A de-pop circuit design and a new power pre-regulator help reduce input power noise; while an audio amplifier and premium Japanese-made audio capacitors gives gamers immersive in-game audio.
X99-E-10G WS also includes SafeSlot, the PCIe slot reinvented by ASUS and engineered to provide superior retention and shearing resistance. Manufactured in a single step using a new insert-molding process that integrates the slot with the fortifying metal for an inherently stronger slot, SafeSlot is then firmly anchored to the workstation motherboard through additional solder points.